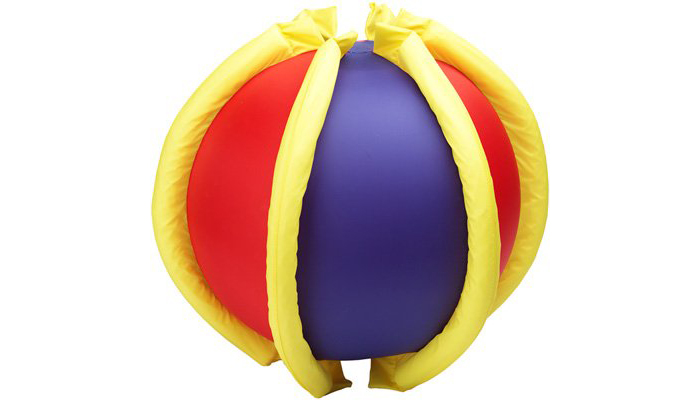 This giveaway is now closed and the winner has been contacted. Congratulations to Amy and thank you to everyone who entered!
Looking for something fun that your child can play with on their own or with friends?
How about a Rib-it-Ball?
The "ribs" on this ball make it easy to grab from just about any direction and for even little hands. Plus the ribs crinkle, which makes the ball fun to listen to, as well.
The ball is also very light weight and easy to pick up and throw (even though it's pretty big at 18″) and those crinkles make a great sound when it hits the ground! And did you notice that the colors are black, white, and red? Perfect for children with low vision!
Would you like to win a free Rib-it-Ball? Entering this giveaway is easy. Simply send me an email letting me know that you want to enter this contest. Be sure to include both your first and last name in the email. I'll be accepting entries until June 30th at midnight.
---
Rules for the ball Giveaway:
One entry per person. There will be one winner for this giveaway. Balls can only be mailed in the US and Canada at this time.
Would you like to earn one extra entry? You can…
Subscribe to our monthly newsletter;
Become a member of the WonderBaby Community (it's free!);
Let your friends know about the contest on Facebook or Twitter;
Or post about this contest on your own blog or website.
Be sure to send me an email to let me know what you did for your extra entry.
This contest will end June 30th at midnight. The winner will be contacted on July 1st.
Good Luck!