What Is Sensory Soft Play?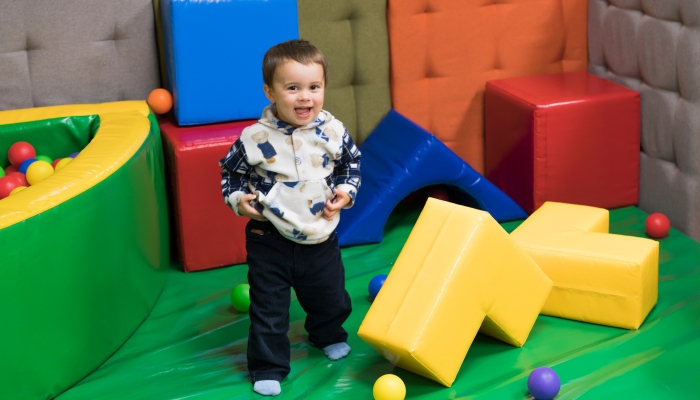 Sensory soft play describes a range of activities designed to stimulate the senses.
You can visit specially designed soft play centers, find sensory rooms in schools and public spaces, or create your own sensory experience at home.
Your child is always learning, especially during play, and sensory play helps develop physical, social, emotional, and cognitive skills.
Picture the scene: Soft surfaces covered in durable padding. Weird and wonderful foam shapes dotted around the room and covered in wipe-clean vinyl. A ball pool, slides, ramps, and tunnels, all tempting your child to climb, crawl, and run free.
Love them, or hate them, soft play centers are popping up all over the place.
Whether you're planning a day out or taking advantage of a brightly colored oasis at the local shopping mall, sensory soft play spaces offer a safe and fun environment for your child to explore and experiment.
For some of you though, this might sound like a nightmare rather than a dreamy day out. Fortunately, you don't need a specialist venue to enjoy the benefits of sensory soft play.
So let's dig a little deeper and find out what all the fun is about.
Sensory Soft Play: What Parents Should Know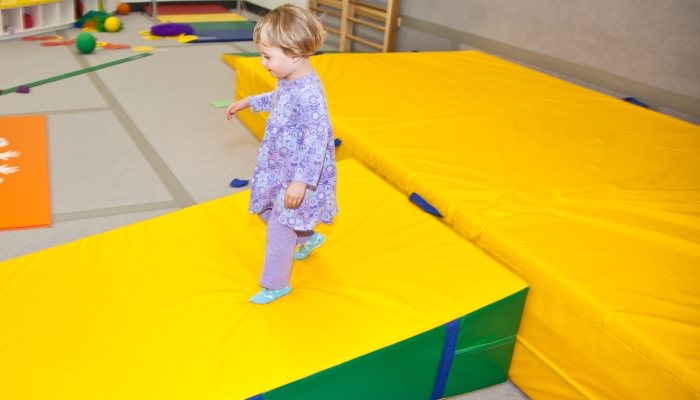 Sensory soft play is often used to describe specially designed play spaces or sensory rooms found at indoor playgrounds, schools, and hospitals. With softly padded walls and floors, themed areas, and inviting interactive elements to delight the senses, your child can choose their own adventure.
This freedom to direct their own play builds your child's confidence and lets them experience the consequences of their actions in a safe space. Discovering how they can impact the space around them encourages your child's creativity and promotes a sense of responsibility.
Knowing your child is safe to explore leaves you free to join in the fun or grab a well-earned rest on the sidelines.
Research by Harvard University11. Shonkoff , J.. The brain architects podcast: Building resilience through play. Center on the Developing Child at Harvard University. https://developingchild.harvard.edu/resources/podcast-resilience-play on "Resilience Through Play" reveals three keys to healthy development:
supportive relationships
reducing stress
building skills
Sensory soft play is a fun way to support all of these by:
providing a focus for you to connect with your child and for them to build relationships with others
offering a safe outlet to release tension and other difficult emotions
helping to boost their learning and develop social and emotional skills
Encouraging your child to play sets them up for an active lifestyle and helps develop resilience so they can cope with unexpected and difficult times ahead.
Who Can Benefit from Sensory Soft Play?
Everyone can benefit from sensory soft play. Playing together helps you bond with your child and build relationships that last a lifetime.
For children with special needs, soft play might be an essential element of their sensory diet. Soft play is low-pressure, flexible, and open-ended, encouraging your child's natural curiosity and independent play.
If your child is sensory seeking and loves to touch everything, a soft playroom offers freedom and relief as they play uninterrupted.
A sensory room can be easily adapted for children who are highly sensitive and often overwhelmed by sensory input. You can choose or design sensory experiences suited to the particular needs of your child and help gently build their tolerance for new sensations.
Children who've experienced trauma or are dealing with stress can find a sensory room especially soothing and healing.
Benefits of Sensory Soft Play in Child Development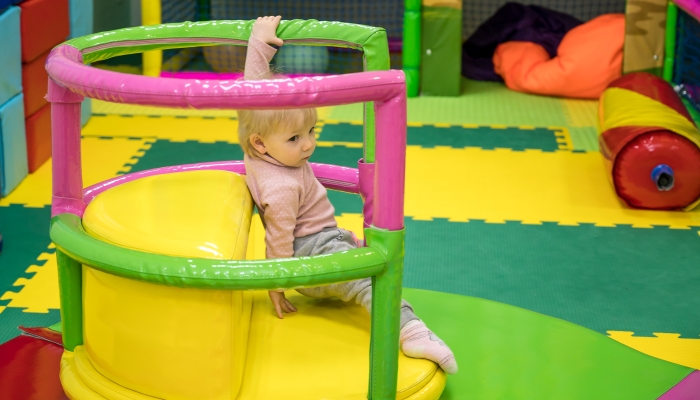 Humans are born explorers and natural learners. Sensory activities help hone these talents and build skills and knowledge, supporting your child's development in all areas.
A 2017 research paper from Zi Sim and Fei Xu on "Learning higher-order generalizations through free play" and published in Developmental Psychology22. Sim, Z. L., & Xu, F.. Learning higher-order generalizations through free play: Evidence from 2- and 3-year-old children. Developmental Psychology. 2017;53(4), 642–651. https://doi.org/10.1037/dev0000278, found that children learn just as well through free play as more formal teaching methods.
It's easy to see how soft play can develop sensory skills as you watch your child negotiating various obstacles, but you might be surprised at the range of physical skills your child is developing too:
gross and fine motor skills
balance and coordination
stronger muscles and bone density
improved reflexes and flexibility
stamina and spatial awareness
Alongside this, the physical challenge of soft play can help improve your child's:
planning skills
assessment of risk
patience
confidence
sleep
The range of activities and equipment involved in sensory play also help develop your child's:
memory and observation skills
vocabulary and conversation
focus and concentration
imagination and creativity
curiosity and problem-solving skills
scientific understanding
The informal nature of soft play allows your child to observe and interact with others on their own terms, offering the ideal opportunity to build social skills and develop new friendships with you close by to help navigate any tricky encounters.
Soft play inspires an adventurous spirit and encourages flexibility, both physically and emotionally, helping your child adapt to change in other areas of life.
Above all, sensory soft play is fun, and your child learns best when they're enjoying themselves.
How to Find a Sensory Soft Play Facility for Your Child
Look for local facilities by searching online or checking your local library, community notice boards, newspapers, and magazines.
Online reviews often include photos and personal experiences that can help you decide if a particular center is right for your family's needs and help you and your child get a feel for a place before you visit.
Other parents can be your best source of information with personal recommendations. They may also be up for visiting together, which can double the fun for you and your children.
Soft play spaces can get busy. Phone ahead to check quieter times or for sessions aimed at particular age groups or children with specific needs, especially if your child is easily overwhelmed.
Tips on How to Incorporate Sensory Soft Play in Your Child's Routine
Soft play centers aren't for everyone and sometimes geography and finances make them impractical for anything other than special occasions.
If you have the space and resources, you can get soft play equipment professionally installed or make your own sensory room on a budget, but you don't need a dedicated space for sensory fun.
You'll find lots of ideas for sensory bins and baskets online, although these aren't essential either. Looking around your home, you're likely to find plenty of sensory toys and materials suitable for both calming or stimulating activities you can enjoy for free.
Create soft spaces for reading and relaxing with cushions, blankets, and beanbags.
Set up obstacle courses in your home or garden using household objects like yoga mats, plush rugs, or grass for soft landings.
Enjoy cooking with your child and find recipes online for homemade dough and modeling materials.
Explore nature in all weather and play with water, sand, and mud. Experience a barefoot adventure inside or out by filling trays with different textures.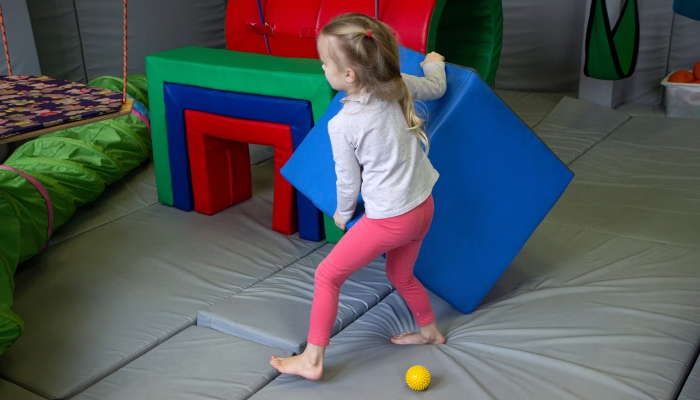 FAQs
Are there any specific safety precautions that parents should be aware of during sensory soft play?
At public play spaces:
Read safety notices and share them with your child
Encourage frequent handwashing, especially when using shared equipment
Report damages or mess promptly
Supervise your child according to their needs and the difficulty level of activities
Stay home if you or your child feel unwell
At home:
Follow good hygiene practices, including washing your hands and toys regularly
Use non-toxic materials and dispose of items safely
When using electrical or specialist soft play products, follow instructions and hire skilled and qualified professionals to fit and maintain where necessary
How can I tell if my child is getting overstimulated or overwhelmed during sensory soft play?
You know your child best. If you notice any warning signs or out-of-character behavior, it may mean your child is finding it too much.
If your child appears:
Irritable or angry
Distracted or confused
Especially pale or flushed
Nervous or restless
You might need to step in and offer more support.
What if my child doesn't seem interested in sensory soft play or gets overwhelmed by it?
Try not to worry, as sensory play can take many forms and it won't appeal to everyone. Observe your child and follow their joy, as that's where the best learning and connection happen.
If your child is overwhelmed, take a break. Get outside or move to a new area. If that's impossible, clear the space to keep everyone safe. Don't try to address behavior in the midst of an outburt, as stress overrides the thinking brain. Stay calm and offer comfort – cuddles, headphones, soft toys, or a calming kit can help.
How do I know if my child is getting the most out of their sensory soft play experience?
Sensory play can be a healthy way to release stress hormones and deal with difficult emotions. Or it might simply be fun. Try not to expect too much from any activity, as that can put pressure on your child. Follow their lead and remember learning happens all the time.
References
Shonkoff , J. (n.d.). The brain architects podcast: Building resilience through play. Center on the Developing Child at Harvard University. https://developingchild.harvard.edu/resources/podcast-resilience-play
Sim, Z. L., & Xu, F. (2017). Learning higher-order generalizations through free play: Evidence from 2- and 3-year-old children. Developmental Psychology, 53(4), 642–651. https://doi.org/10.1037/dev0000278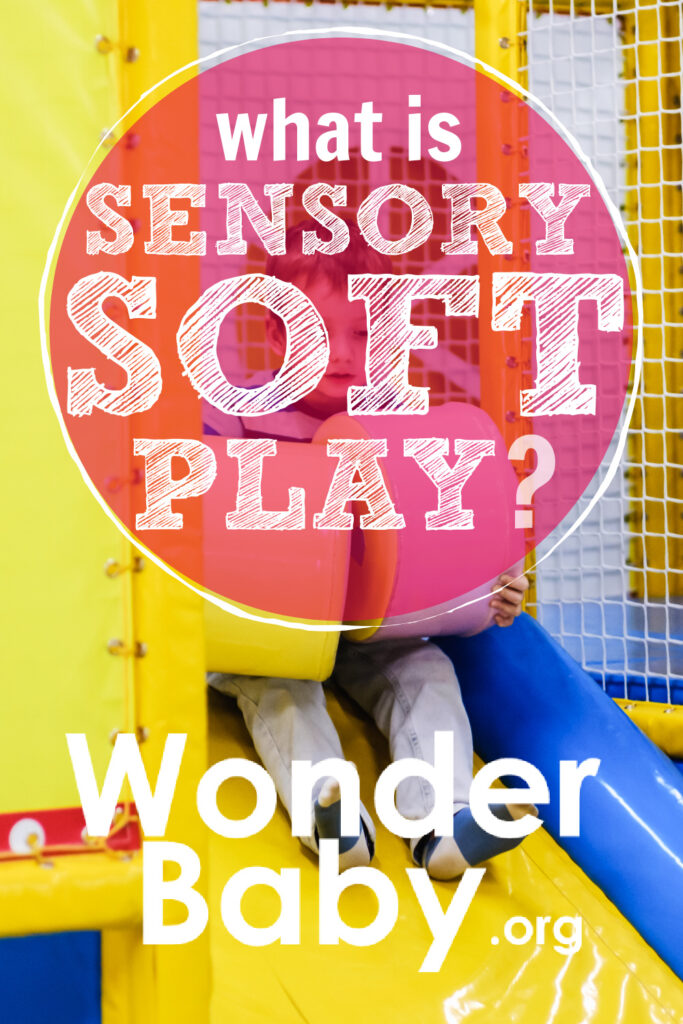 Related Posts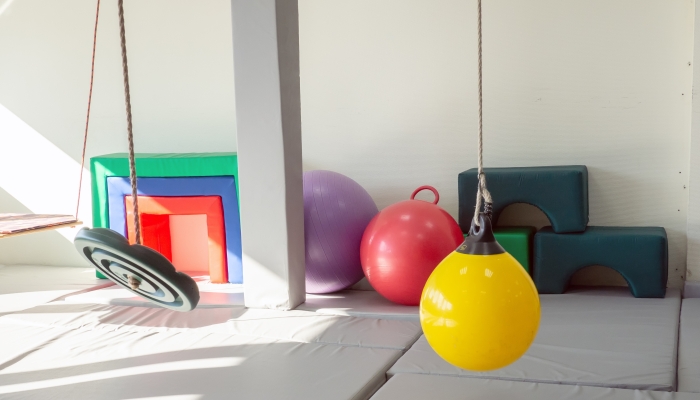 Sensory Activities
Have you considered creating a sensory room or sensory space in your home? It doesn't have to be difficult or expensive. Take a look at these simple ideas.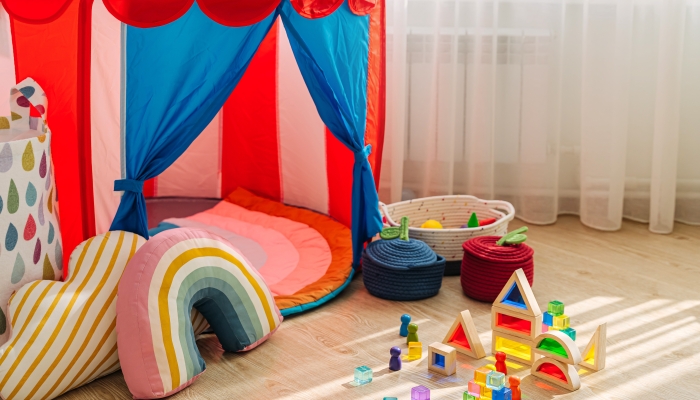 Sensory Activities
If you're looking for resources to help your child's sensory regulation, look no further than a sensory corner! Learn how to create the perfect sensory corner.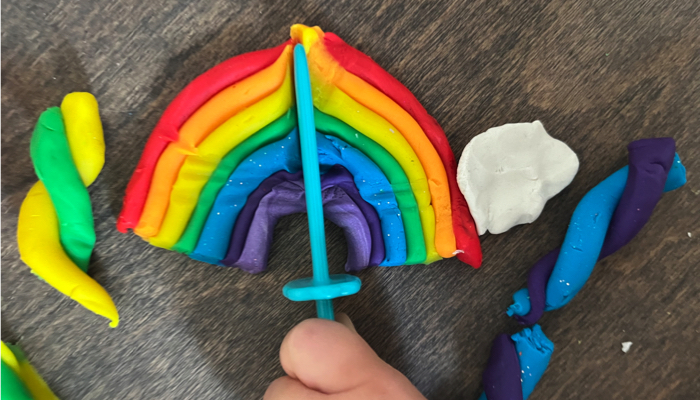 Play, Sensory Activities
This rainbow playdough cutting station is perfect for fine motor skill practice. Grab your playdough supplies and have some fun with your little one!