Smarty Pants & Five Sharks App Reviews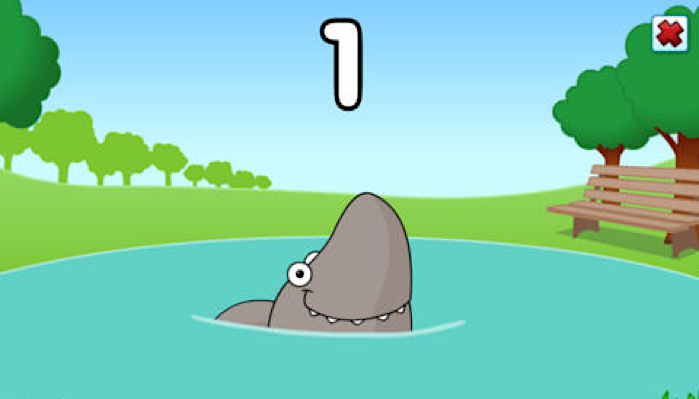 This post may contain affiliate links; please see our terms of use for details.
App Details
Price: $2.99 each
Where to Buy: Find Inclusive Smarty Pants & Five Sharks Swimming at the iTunes Store
Developer: Inclusive Technology
Devices: Compatible with iPad
Operating System: Requires iOS 4.3 or later
Categories: Games & Recreation, Education
What is Inclusive Technology?
Inclusive Technology (or Inclusive TLC as they are known in the US) is a UK company that creates and sells adaptive technology products for people with special needs. They are particularly well-known for their array of software programs for children with special needs, including many that are switch accessible. But these days I'm most excited about their line of fun iPad apps for children and accessible iPad accessories.
Of their five iPad apps, two really stand out as being well designed for children who are visually impaired: Inclusive Smarty Pants and Five Sharks Swimming, and both work with a switch, too.
Inclusive Smarty Pants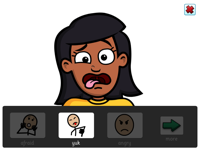 In Inclusive Smarty Pants, your child gets to choose one of four characters then choose which emotion he wants them to act out. From happy and sad to crazy or embarrassed, your child controls how the character responds. It's a great way to begin talking about emotions and feelings and to have your child play along by imitating the sounds and faces the characters make.
The app is designed in a very fuss-free and simple way, so it's ideal for children with low vision. The character's face is clear and large in front of either a white or black background. The emotion buttons run along the bottom of the screen and are easy to pick out.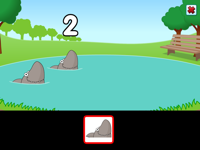 For kids with no vision (like my son) they can help choose which emotion they want to hear and have an adult do the selection for them or they can have more control over choosing by pairing the app with a switch. Each emotion has a distinct (and silly) sound, so it is very fun to listen to as well as watch.
Five Sharks Swimming
Five Sharks Swimming is a counting game that offers a few different levels of difficulty. In the first game, "Song," one shark swims in a pond while a song is played. The song stops and your child simply taps (or smacks) the screen to get the song to continue. The song ends when you've collected all five sharks. This is a wonderful beginner's counting game and also teaches cause-and-effect (you need to do something to get the song to continue).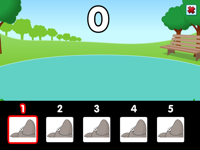 In "Counting Activities," you have three choices: Counting Up, Counting Along a Number Line or Counting in Sets. In Counting Up a shark card outlined in red appears and your child has to tap it to hear the sharks counted. The flashing red outline helps children with low vision find the shark. Counting Along a Number Line is a similar game but all five sharks appear on the screen at the same time and your child has to choose them in order. The last game, Counting in Sets, is the most complicated. Your child is given sets of sharks and asked to identify the correct set.
Like Inclusive Smarty Pants, Five Sharks Swimming uses nice solid backgrounds with high contrast for children with low vision. It is also switch accessible for children who cannot see the screen:
Related Posts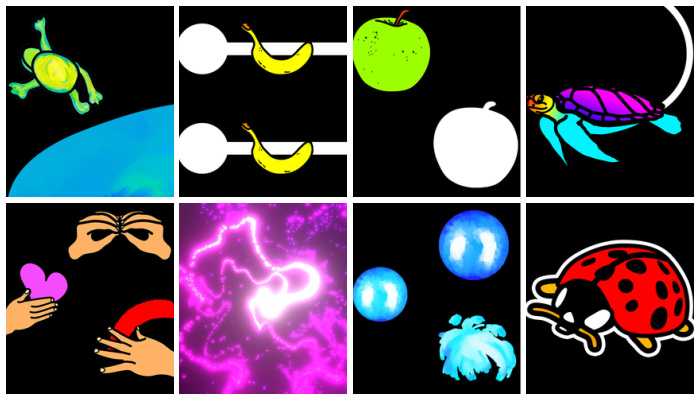 iPad Apps and Accessibility, Visual Impairment
This free digital visual training tool for computer or mobile devices is designed to help toddlers with CVI practice their visual skills.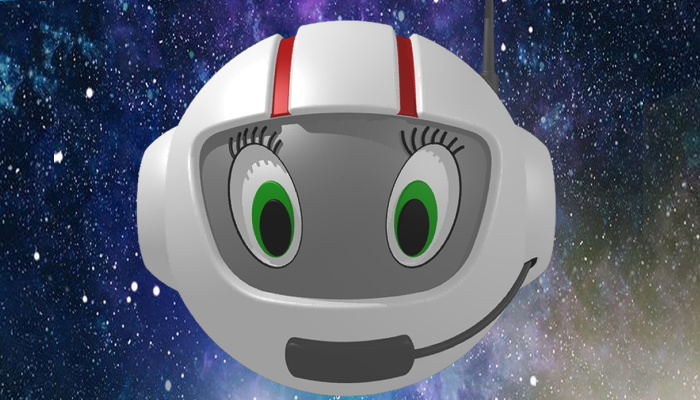 iPad Apps and Accessibility, Math and Science, Visual Impairment
These iPad apps from Sonokids feature the astronaut character CosmoBally who teaches blind children about space and sonification.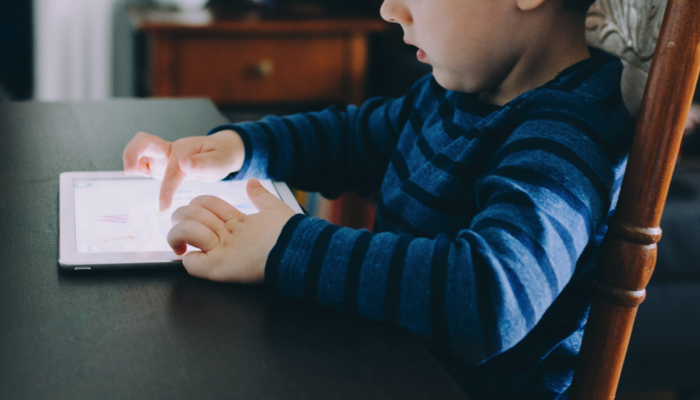 Eye Conditions and Syndromes, iPad Apps and Accessibility
A collection of successful iPad apps for kids diagnosed with CVI as recommended by a TVI and CVI specialist.