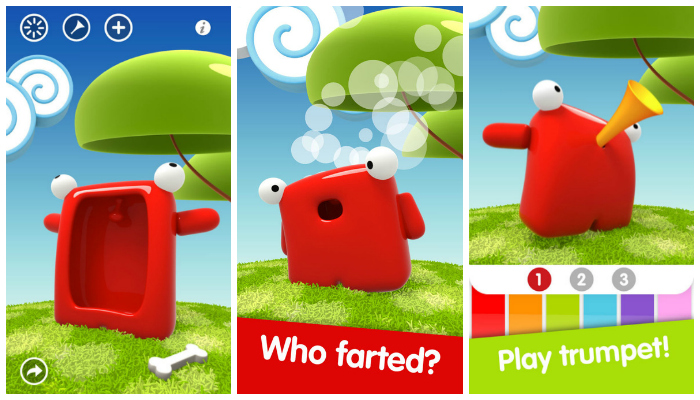 This post may contain affiliate links; please see our terms of use for details.
App Details
Price: $0.99
Where to Buy: Find Talking Carl at the iTunes Store
Developer: Tayasui
Devices: Compatible with iPad, iPhone, iPod Touch
Operating System: Requires iOS 7.0 or later
Categories: Cause & Effect, Games & Recreation
Description of Talking Carl
In a nutshell: Carl is a benign looking, bright red, gumdrop-like creature with bug eyes who inhabits a sunny landscape. Entertaining and unexpected: Carl repeats your words! Say a word or a phrase and Carl will repeat it in his helium-infused voice. Laugh out loud and Carl laughs with you, too!
In Detail: This is a cause-and-effect app that is primarily activated by sound, usually your voice, but Carl will also respond to claps, whistles or just about anything. Whereas other apps generally involve physical contact with the screen to activate them (touch, touch-and-hold, swipe, etc.) Talking Carl "hears" your words (and laughter) and repeats them back to you. His voice is so high-pitched that it is difficult not to laugh when Carl is "talking" to you!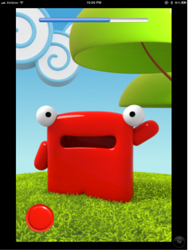 As noted above, Carl is fun for just about anyone—just say something and Carl speaks back. This interaction between user and Carl works for many words and short phrases. It's best to speak deliberately and under conditions where the iPad's microphone can register your voice. Users will learn to develop a certain rhythm of speaking and then pausing while Carl registers and processes your word or phrase and then repeats it.
The developers have added an additional function in the form of an on-screen "button" lying in the green grass to the lower left of Carl. Press it, and a time bar appears on the screen that registers approximately six seconds of time for you to record a message. This message can then be repeated by Carl in its entirety with the "replay" feature. Additional options allow you to email the recorded message to someone or even post it to your Facebook page.
Users can also interact with Carl by touching him with a finger and he may respond as if he has been poked and by saying "hey!" or "ow!" Swiping a finger back and forth across Carl can also get him to giggle and laugh. Carl appears lonely in his landscape and he is eager for companionship—if you ignore him long enough he will begin to grumble for attention.
In this version, Carl "sneezes," "hiccups," "grumbles," and waves. Also, if you swipe your finger on Carl upwards, he will fly into the air and fall back to the ground. If you swipe across his body to the left he will spin around and get dizzy. You can also feed him, tickle him to make him laugh and giggle, or even make him play the trumpet!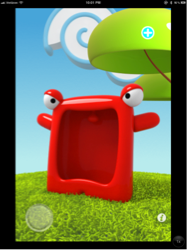 Carl may not be a speech therapist, but he can be good incentive to get non-verbal children to make noises and interact with their environments vocally. Your child may first start by hearing their claps and stomps repeated back to them and laugh. Hearing that laugh can then encourage them to ooh or aah or squeak to get more sounds, and suddenly your non-verbal child is having a "conversation" with your iPad!
Why it's Good for Visually Impaired Children
Blind and low vision users will delight in interacting with Carl because it's easy—just speak and laugh—and does not require learning how to hold the iPad or interact with the screen. Carl may also be beneficial to teaching children with autism about the back-and-forth aspect of communication: you say something, pause, and then Carl says something (repeats what you said, actually), etc.
There are several different apps available in the iTunes Store that are a variation on Talking Carl. The reason why Carl is great for low vision users is because he presents as a simple, squarish figure who is red and he is set against a simple background. For children with Cortical Vision Impairment (CVI), the color red is attractive. They will also benefit from the uncluttered visual display.
Developer Bundle
A five app bundle is now available of the entire Carl app series called the Talking Carl Creative Fun Bundle including the Talking Carl+ app reviewed here, Drawing with Carl, Playing Carl, Carl Laser Draw, and Talking Carl & Gugl. The bundle is available for only $3.99 for all five apps! If purchased separately, combined the apps would cost $10.95.
Related Posts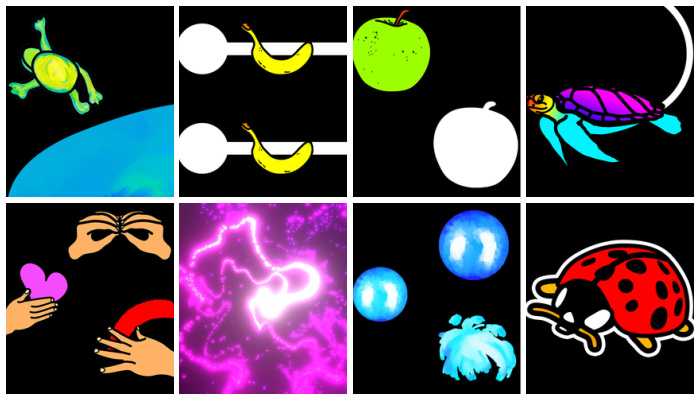 iPad Apps and Accessibility, Visual Impairment
This free digital visual training tool for computer or mobile devices is designed to help toddlers with CVI practice their visual skills.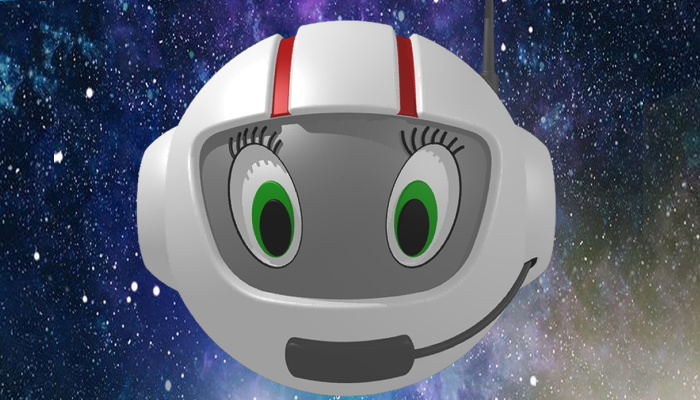 iPad Apps and Accessibility, Math and Science, Visual Impairment
These iPad apps from Sonokids feature the astronaut character CosmoBally who teaches blind children about space and sonification.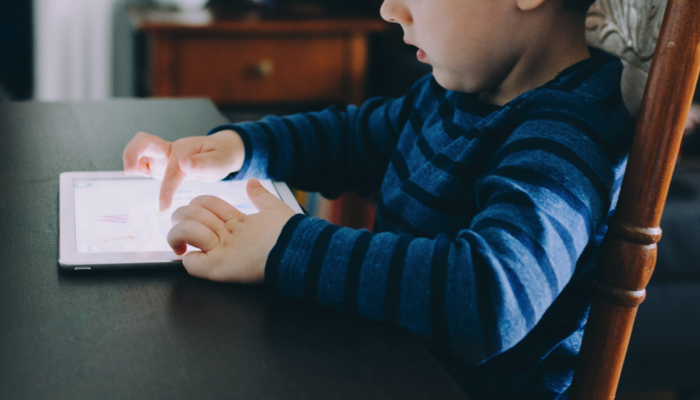 Eye Conditions and Syndromes, iPad Apps and Accessibility
A collection of successful iPad apps for kids diagnosed with CVI as recommended by a TVI and CVI specialist.