41 Healthy Toddler Snack Ideas (Most) Kids Will Love
Toddlers only need 2 to 3 snacks per day paired with their normal fluids and meals.
A toddler portion should be about ¼ of the size of an adult's portion; Keep in mind a portion and serving aren't the same.
Snacks for toddlers should be high in protein and fiber and low in saturated fats and added sugar.
There's plenty of healthy snacks to choose from, but if you need more ideas, check out these 41 toddler snack ideas.
Snack cups, consistency, and mess free options are among the best tips for packing and serving toddler snacks.
Sometimes getting your toddler to eat can be a tall order, particularly when it comes to healthy options. I mean, can we blame them? Most days, I'd much prefer to reach for the bag of chips that's been staring me down than the banana that's been sitting on the counter for days. Even so, we know which is a better source of energy!
Healthy snacks are a key part of keeping our little ones properly fueled, so it's crucial you pick good sources of energy. Enter the never-ending feeding cycle. It's easy to say how important these wholesome snacks are, but it's exhausting to come up with new and exciting ideas your toddler will love.
If you're running low on easy toddler snack ideas, you're in the right place! We've compiled a list of 41 healthy snacks for toddlers, along with everything else you need to know about toddler snack time below.
How Many Snacks per Day Should Toddlers Have Snacks?
Toddlers really only need 2 to 3 snacks per day, though if yours are anything like mine, they'll try to convince you otherwise. Paired with fluids and three meals a day, it's all they need to stay fueled for the day. When your toddler should have their snacks throughout the day is up to their schedule.
There's really no set time to eat. One thing is for sure, though, you'll want them to be done with their snack well before their next meal—about 2 to 3 hours prior. Staggering their eating this way will help them not to spoil their meals and keep them full throughout the day.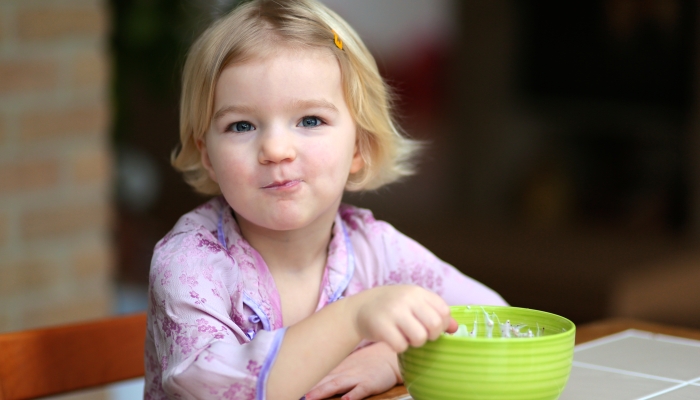 How Much Should You Give Your Toddler for Snacks?
It can be hard to know how much food to serve your toddler, especially when it comes to snacks, since the term lends itself to a smaller portion. For reference, the portion you serve your toddler needs to be ¼ of the size of an adult portion. Even that comparison can leave room for confusion with portion sizes these days being so out of whack.
That said, it's easiest to take examples of a portion of their daily food and use those as snack and portion references. See the table below for healthy snack ideas that fit into the proper daily servings for a toddler.
Food Group
Daily Servings
Portion Size
Snack Examples
Grains
6 to 8
1 ¾ to 3 ounces total
¼ cup cereal
½ slice of bread
Dairy
2
2 to 3 cups total
⅓ cup yogurt
½ cup milk
Fruits
2 to 3
1 cup total
¼ cup applesauce
½ a piece of fruit
Vegetables
2 to 3
1 cup total
¼ cup of vegetables
Meats & Proteins
2 to 3
1 ounce
1 TBSP almond butter
½ an egg
Note that portion size is the amount you're choosing to eat, whereas a serving size is the actual measured amount of food (½ a bagel, for example). Since toddlers are too young to decide their own portion size within reason when selecting a snack, example portion sizes were given above.
What Makes a Good Toddler Snack?
When you're searching for good and healthy snacks for toddlers, it all comes down to nutrients. Not all snacks will be as nutrient-dense as others, so checking labels and nutrient breakdowns is your best bet. You'll want to look for high-fiber and high-protein snacks as they aid blood sugar regulation and growth.
Similarly, you'll want to avoid components like saturated fats and added sugars. Saturated fats can negatively affect cholesterol and increase the risk of heart issues. Likewise, added sugars have also been tied to heart events; for toddlers, though, the main concerns are weight gain and tooth decay.
According to Trisha Korioth of AAP News in the 2014 article titled Give your children a lesson in smart snacking, "The AAP encourages parents to teach children to make healthy choices for snacks and meals at home and school. This can help prevent children from becoming overweight."
She continues on to say, "Overweight or obese children are more likely to have long-term health problems such as diabetes, asthma, heart disease, and sleep problems. They also are more likely to suffer from social and psychological problems."
Despite those facts, it's important to keep in mind that while you don't want to choose toddler snacks high in saturated fats, that doesn't mean all fats are bad. Snacks with healthy fats are encouraged! You'll find these fats in foods like olive oil, nuts, eggs, cheese, and avocados. On labels, these will read as monounsaturated and polyunsaturated fats.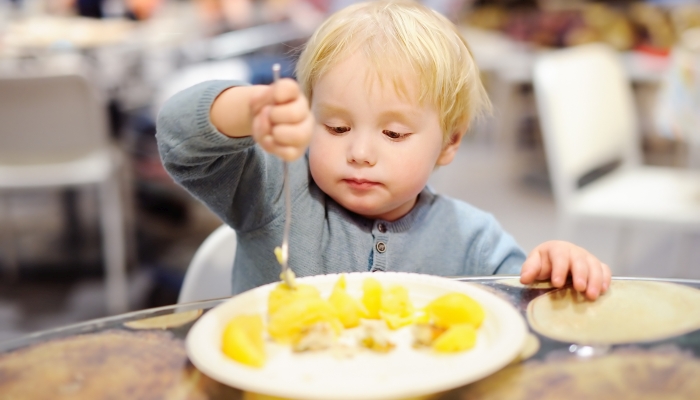 41 Healthy Toddler Snack Ideas
Snack times can be a struggle if your toddler isn't enjoying the food offered or if you've got a picky eater on your hands. No worries, though! We've got plenty of healthy toddler snacks in each category for every type of eater.
Here's a list of yummy toddler food that will undoubtedly make the list of favorite toddler snacks:
Fruits & Veggies
Apple slices: On their own or paired with peanut butter, yogurt, or honey.
Dried fruits: Cherries, apricots, raisins, and the like.
Smoothies: Blend their favorite fresh fruit into a nutritious drink!
Banana or apple chips: All the crunch of a chip with the extra nutrition toddlers need.
Raw veggies and dip: Try ranch, guac, or hummus to dress up their veggies.
Sweet potato chips: Baked or air fried and seasoned lightly with salt.
Fruit leather: Fresh fruit blended and baked to create a healthy fruit roll-up.
Ants on a log: Celery sticks filled with peanut butter and topped with raisins.
Chocolate-covered fruit: Dip fruit into dark chocolate and freeze.
Applesauce: Classic, cinnamon, or fruit flavored.
Grains
Overnight oats: Oats combined with seeds, nut butter, yogurt, and more.
Whole grain pasta: Plain, seasoned, or in sauce.
Granola: No added sugar served either dry or in milk.
Pita bread: To dip in seasoned olive oil, tzatziki, or hummus.
Whole grain muffin: Homemade muffins prepared with fruits, nuts, seeds, and spices.
Rice cakes: Top with thinly sliced meats, cream cheese and veggies, or nut butters.
Whole grain crackers: On their own or served with cheese or dips.
Tortillas: Use them to make roll ups or even a quesadilla!
Whole grain waffles: Prepared mix or homemade with light syrup.
Granola bars: Baked with whole grains, seeds, dried fruits, nuts, honey and more.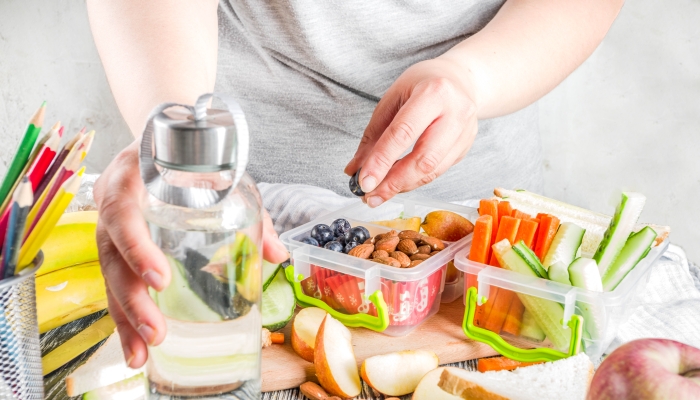 Proteins & Dairy
Cubed cheese and deli meats: Ham, turkey, cheddar, colby, make a DIY lunchable!
Peanut or other nut butter: Put it on fruit, toast, crackers, pretzels, etc.
Hummus: Serve with carrot sticks, breads, celery, cherry tomatoes, or crackers.
Chicken salad: Your recipe served with crackers, pita, or toast.
Greek yogurt: Use plain yogurt to make a parfait or a flavored yogurt on its own.
Cottage cheese: Mix in chopped fruits, honey, or jam.
Tuna: Pick from healthy recipes to make a tuna salad with crackers or toast.
Guacamole: Used to dip crackers, veggies, and chips or to make avocado toast.
Nuts: In trail mix or alone; Almonds, cashews, pecans, pistachios or peanuts.
Hard-boiled eggs: Made into egg salad or deviled eggs.
Pre-Packaged For Lunch Boxes or On The Go
GoGo Squeez Fruit on the Go
Quaker Rice Crisps
Garden Lite's Blueberry Oat Muffins
Emerald Nuts 100 Calorie Packs
Bare Fruit Organic Apple Chips
KIND Whole Grain Snack Bars
Oikos Greek Yogurt
Bumble Bee Snack on the Run Tuna Salad with Crackers
Hippeas White Cheddar Puffs
Kodiak Cakes Flapjack-on-the-Go Cup
Sabra Hummus Grab N Go with Hummus
Tips for Packing & Serving Healthy Snacks for Toddlers
Don't spend your time trying to reinvent the wheel. Check out these proven tips for packing and serving healthy snacks for toddlers that are sure to make your life a lot easier.
Use snack cups: If you're on the go, using toddler snack cups will make for an effortless snack out and about. They prevent spilling while also allowing your toddler to feed themselves through the self-close flaps.
Pick mess-free: Opting for snacks with little to no mess is the way to go when you know you'll be on the run. Snack ideas like a granola bar, applesauce pouches, or pretzels are perfect.
Give them options: We all know toddlers like to feel in control. If snack time feels like a free for all, give them options. You pick between two of the healthy snacks for toddlers on the list and let them have the final say.
Offer new foods: Snack time is a great time to introduce a few foods. Even if your toddler isn't open to it at first, keep trying. They'll likely discover something new they like that you'd never thought they would even touch!
Be consistent: If you can, try to offer your toddler their snacks around the same times each day. Toddlers thrive on structure, and when they know their snack is coming, they'll be less likely to graze or ruin appetites with extra, unneeded snacks.
Don't use food as a reward: In the moment, using food as a reward might produce some short-term victories; but in the long run, it'll do more harm than good. It can cause kids to fall into patterns of overeating, emotional eating, and long-term, disordered relationships with food.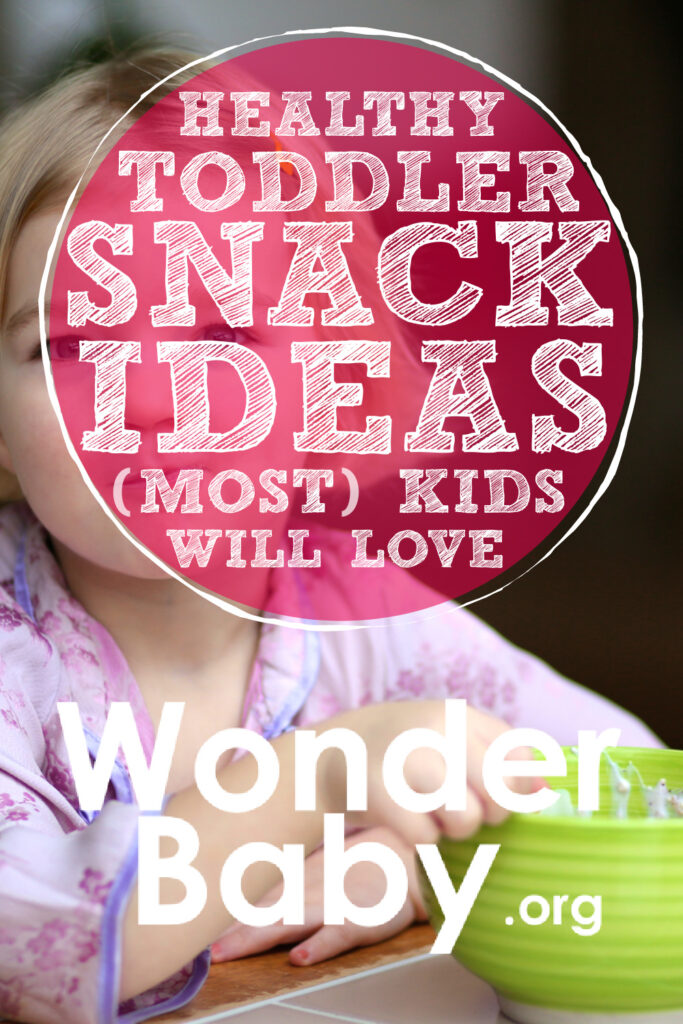 Related Posts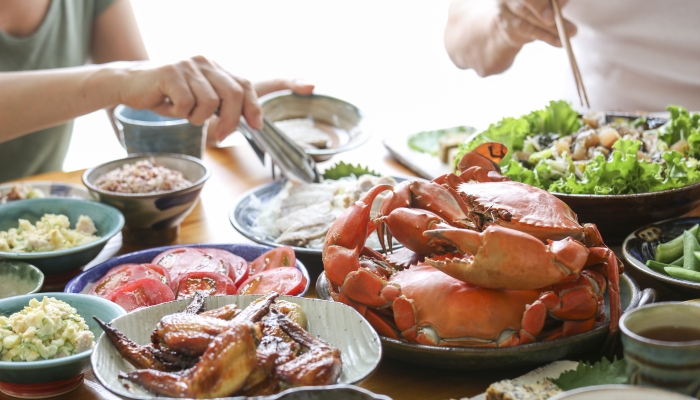 Feeding and Eating
A variety of unexpected foods and environmental substances can trigger an allergic reaction through cross-reactivity to food proteins.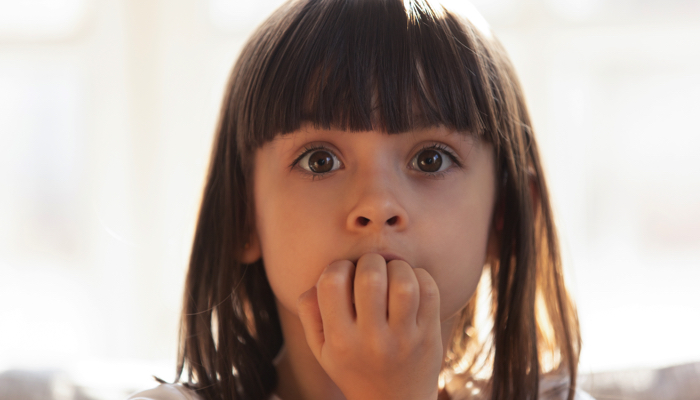 Feeding and Eating
Ongoing physical preparations and speaking openly about anxiety can ease the transition from diagnosis to living well with a food allergy.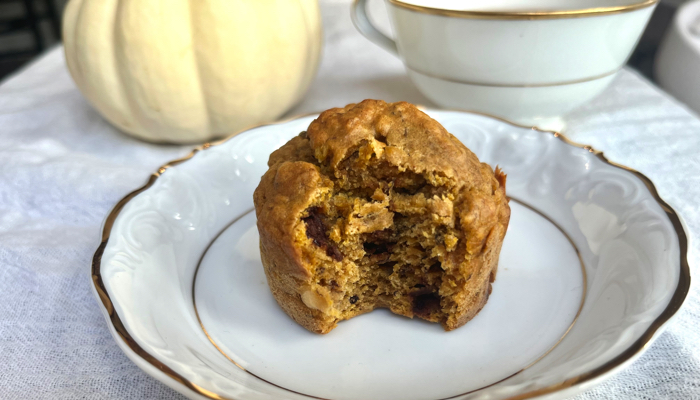 Feeding and Eating
A healthy after-school snack or treat, these banana pumpkin chocolate chip muffins are sure to be a hit! Make them with your kids for a fun fall activity.