13 Beach Essentials for Babies Not to Forget This Summer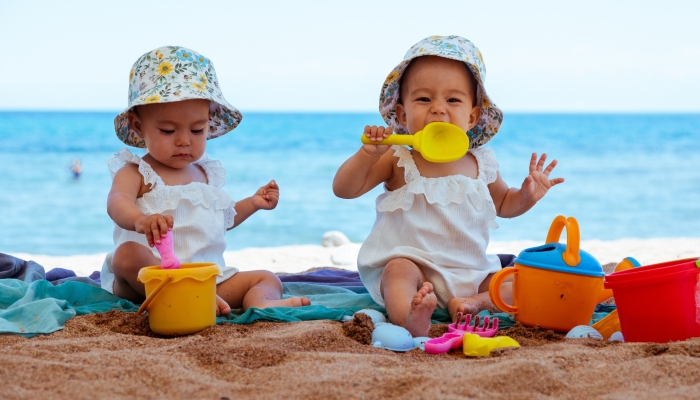 A little preparation will ensure your baby is ready for the elements of summer.
The most important factor to consider is how to keep your baby cool and safe from the sun.
Bring a bottle of baby powder on your next beach trip to make wiping off sand easy.
I vividly remember my first beach trip with a baby in tow. I was so excited to let my daughter experience all the joys of the beach. I pictured us splashing in the water, watching the birds, and scooping in the sand for hours.
As you might have guessed, my dreams were quickly squashed. Instead of playing in the sand, she spent the whole day trying to eat it. Instead of splashing in the water, she cried and refused to go near it.
I made the mistake of taking a baby to the beach without preparation. It was a life lesson I won't forget. Nowadays, I have a baby beach bag with all the best baby beach gear packed and ready to go.
If you plan to take a beach vacation with your baby this summer, start preparing ahead of time. Having the right baby beach stuff in your bag will make all the difference. Take it from this mom of 4 who loves the beach—it's all about what you bring.
Ready to pack for a day full of fun in the sun? Let's go over the beach essentials for babies so you can avoid any beach meltdowns or mishaps.
Getting Your Baby Summer Ready
If your baby is in their first year of life, this is likely their first trip to the beach. When you think of the hot summer sun, harmful sun rays, and potential for ocean creatures, it may not seem very baby friendly. However, I've found that a little preparation will ensure your baby is ready for the elements of summer.
At what age can babies go to the beach?
You likely won't find any official recommendations from pediatricians on when you can visit the beach with a baby. This is a decision that's up to the parents. Some parents might choose to take their newborns along with them on family beach vacations.
The most important factor to consider is how to keep your baby cool and safe from the sun. With the right baby beach essentials, you'll be able to take your baby at any age.
How do I prepare my baby for the sand and water?
Little ones don't always love the water like we hope they will. Despite all your beach day preparation and a large selection of beach toys, they might still resist getting in the water. Remember that it might take time for them to adjust to the new sights and sounds of the beach.
You can prepare your baby by playing ocean sounds at home, spending time outdoors in the water, and playing in sandboxes. This will at least help to minimize a possible sensory meltdown at the beach.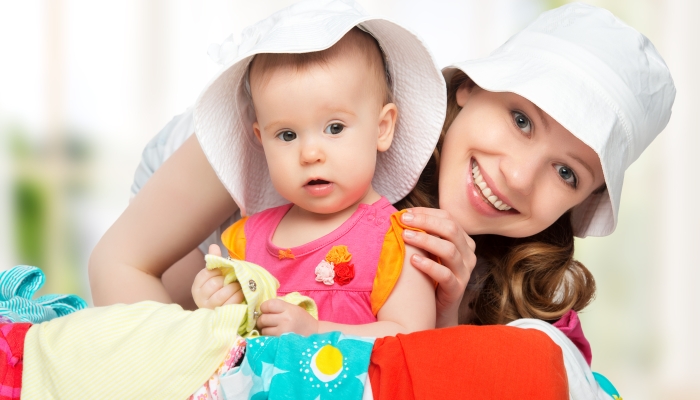 How to Dress Your Baby for the Beach
The way you dress your baby for the beach will make a significant difference in the amount of sun protection they receive. Though baby bikinis and board shorts are cute, they also provide a very limited amount of protection.
Here are a few suggestions for dressing your baby for the beach:
Use Rash Guard Swimsuits
We know that a tiny polka-dot bikini is just irresistible. But that might be a better choice for a day by the pool. Rash guards are one of the best choices for babies at the beach.
Not only do most rash guards provide SPF protection, but they also protect your baby's sensitive skin from the harsh elements of the beach. And they come in adorable patterns and styles. I personally like long-sleeve versions because they stay cool but provide maximum coverage.
Apply Baby Sunscreen
If your child is over 6 months of age, you can apply sunscreen to any exposed areas. Just double-check with your child's pediatrician first. Some babies might react to certain ingredients in sunscreen.
The FDA and American Academy of Pediatrics strongly discourage applying even baby-safe sunscreen on infants under 6 months of age. This is due to the risk of rashes. Instead, they recommend keeping your infant in shaded areas.
Use a Baby Sun Hat
You'll want to make sure your baby's head is protected from the sun. Baby sun hats are the best way to protect their sensitive scalp. With a UV protective hat, you won't have to worry about painful sunburns on their head.
Sun hats also provide shade to protect your baby's eyes from the sun. This is helpful as many babies don't like to keep baby sunglasses on their faces. You'll still get protection with a sun hat even if they ditch the glasses.
Use a Life Jacket
If your baby is going in the water, be sure to also dress them in a life jacket. Even if you're holding your baby in the water, they can still be swept away in turbulent water.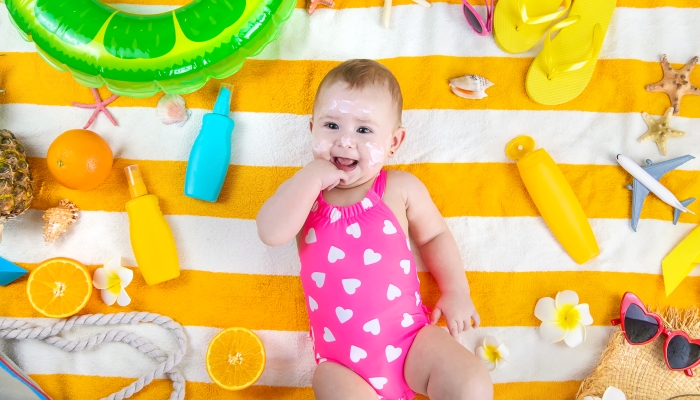 Must-Have Beach Essentials for Babies
After years of experience traveling to the beach with babies, I've come up with a master list of the must-have items we bring. These baby beach essential items make life easier, help us avoid meltdowns, and keep my babies safe and cool.
Follow this list of baby beach gear and essentials to make sure you're ready!
Drinks
Breastmilk, formula, or water are the best choices to keep your baby hydrated at the beach. Remember that the heat of the day will take a lot of moisture out of your baby. Be sure to keep offering them a drink as they play.
Snacks
Just in case you had forgotten this must-have with all the other items on your list, don't forget to pack the snacks. All that play in the sun will make your baby hungry. We like taking items like squeeze pouches, cheese sticks, cereal, crackers, and cut fruit.
Swim Diapers
Make sure you throw some disposable swim diapers in your diaper bag before heading out. Swim diapers are not only convenient, but they're more comfortable than regular diapers for water play. If your child goes in the water with a normal diaper, they might come out with a giant bottom and the absorbent diaper filling spilling out.
Swim diapers are more expensive than regular diapers but worth the extra splurge. Trust me on this one.
Baby Pool
A friend suggested this helpful tip a few years ago, and we've traveled with a baby pool to the beach ever since. We bring a small, plastic swimming pool and set it up under the beach tent. Then the older children grab buckets full of water to help me fill it up.
The baby pool serves as our baby's own personal tide pool. I don't have to worry about the baby being in the sun or nearing the ocean, and they can have a blast splashing in the water and playing with toys.
Baby Powder
If you've never heard of the baby powder beach trick, prepare to be amazed. Bring a bottle of baby powder on your next beach trip to make wiping off sand easy. Baby powder almost makes the sand fall right off your skin like magic.
The reason it works is that baby powder absorbs extra moisture off your skin. When you brush the sand off, it doesn't stick or cause irritation. Hooray for a sand-free ride home!
Beach Toys
Through the years, we've found some of the best beach toys to keep our kids busy in the water or sand. We now have a mesh beach bag full of these items, so we can easily grab them for a day at the beach. 
Some of our favorite beach toys include shovels, scoops, cups, buckets, dump trucks, and watering cans. These all make great toys for scooping up water and digging for treasures.
Beach Tent
When you pack your family beach bag, one thing you don't want to forget is the shade. We like bringing a full-size pop-up beach tent for our entire family. This way I can stay underneath it with the baby and the older kids can take breaks in the shade as well.
If you're not ready for a large beach tent, a baby beach tent is a great alternative. These are small and easy to pack but will still provide a place for your baby to get out of the sun.
Outdoor Portable Bassinet
The best pack-n-play or portable bassinet for the beach is one that's made for the outdoors and has a UV-protective shade. We've found this to be helpful for both naptime and playtime.
If your baby falls asleep, you can lay them in the bassinet and know they'll stay cool, dry, and safe from the sun. If you're tired of scooping sand out of their mouth, let them sit up in the bassinet and use it as a playpen. Either way, you'll be thankful you brought it along.
Beach Wagon
You might be wondering how you're going to tote all these items down to the water from your car. This is where a beach wagon comes in handy. A beach wagon has large wheels that move easily through the sand. You'll be able to throw everything in the wagon and be on your way.
Mesh Bag
When you're done playing at the beach, you'll need a place for all the wet toys. I've found a mesh bag to be the best option. I can wash the toys in the ocean and then throw them in the bag so they can dry out.
You can also use a large plastic bag; just be sure the toys completely dry out before storing the bag away.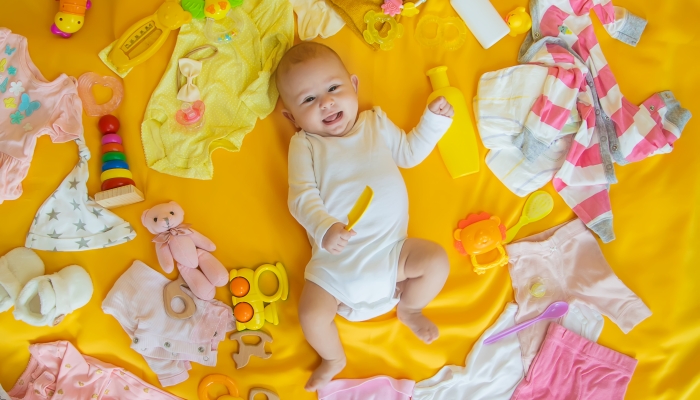 First Aid Items
Aloe, bandaids, itch cream, and other first aid items might come in handy. I usually keep these in the diaper bag or car so we can grab them as needed.
Sunscreen and Bug Repellant
For babies over 6 months of age, be sure to have sunscreen and bug repellent. I take a couple of bottles of each to ensure there's enough for the whole family. A beach day without burns or bug bites is a happy one.
Beach Towels
Bring a few extra towels for drying off, wiping off sand, or sitting on the beach. You can throw them in a wet bag at the end of the day.
Extra Items That Are Nice to Have
Some items aren't a necessity but might make the trip more enjoyable. Here are the items that I don't always bring, depending on space, but are nice to have:
Baby Beach Chair
Portable Fan
Waterproof Beach Blanket
Baby Stroller (Make sure the tires can handle the sand.)
Large Cooler (I opt for a cooler bag when I don't have space for a large cooler.)
Baby Float (If you plan on going in the water with your baby.)
Safety Tips When Taking Baby to the Beach
To make sure your baby is safe during your visit to the beach, use these safety tips:
Always monitor your baby and stay within arm's reach when you're by the water
Keep your baby safe from the sun with sunscreen or shade
Protect your baby's feet from hot sand and shells by using water shoes
FAQs
How can you keep babies cool and comfortable at the beach?
You can keep your baby cool and comfortable at the beach by offering plenty of shade. In addition, you can pack spray bottles full of water to mist your baby. Pack a water bottle with ice water for a cool drink.
You can keep your baby cool while they nap by keeping them in the shade and ensuring the place they are sleeping is well-ventilated.
How do you know if a baby is too hot at the beach?
Watch for signs of dehydration or heat exhaustion in your baby. These include:
Crankiness
Dry or sticky mouth
Dry diaper
Few tears when crying
Hot, flushed skin
Vomiting
Headache
Rapid pulse
Fever
If you notice any of these signs, get your baby to a cool place and call 911 immediately.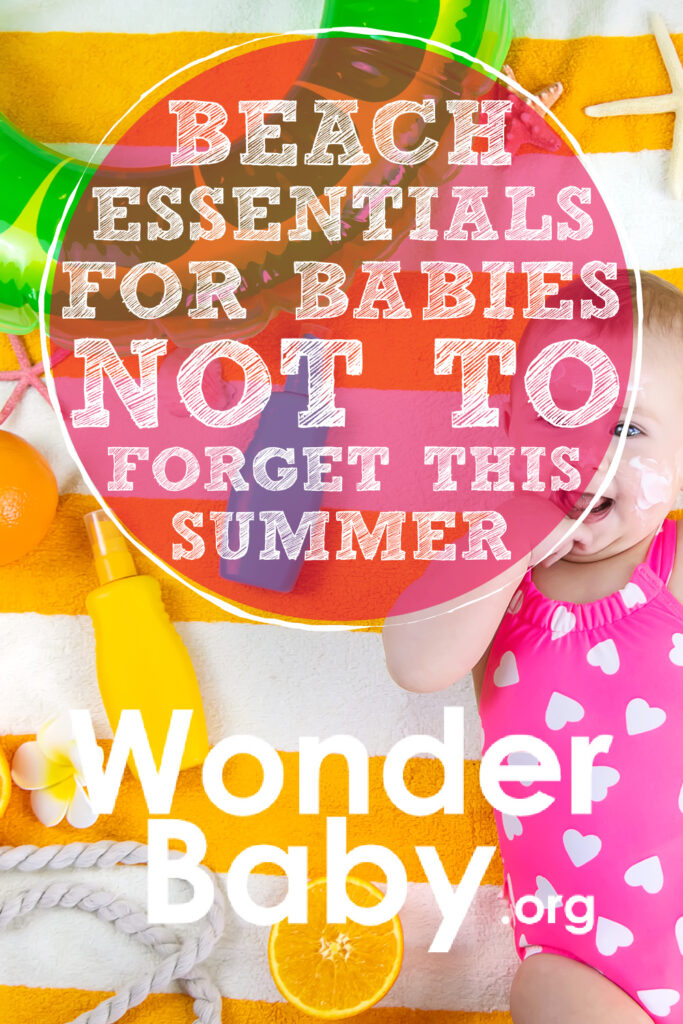 Related Posts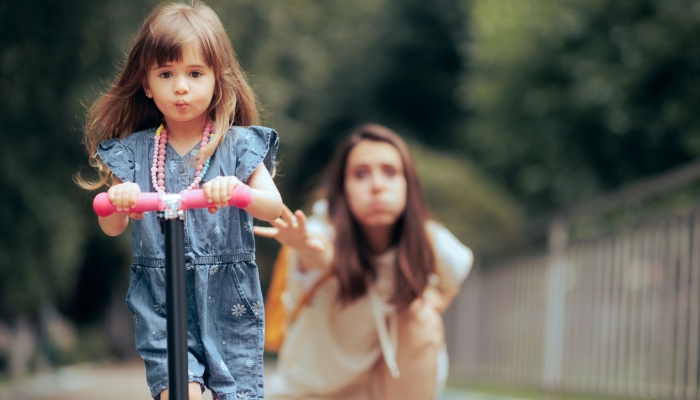 Development, Parenting
Understanding the history, differences, and strengths of proximal and distal parenting will help you decide what parenting approaches work best for your family.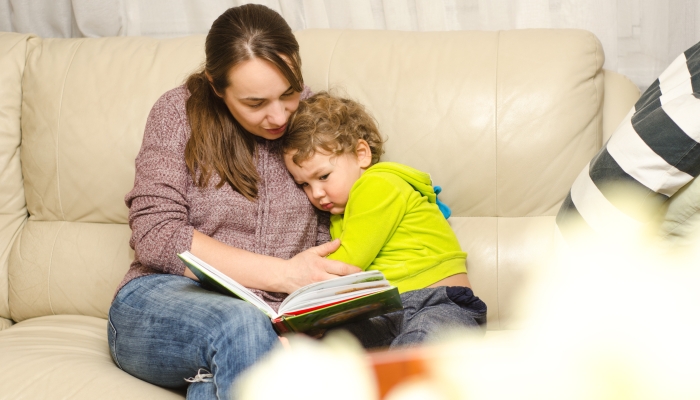 Parenting
Children's books can help you and your kids get through sad and difficult times. We've found some of the most healing books about grief for kids.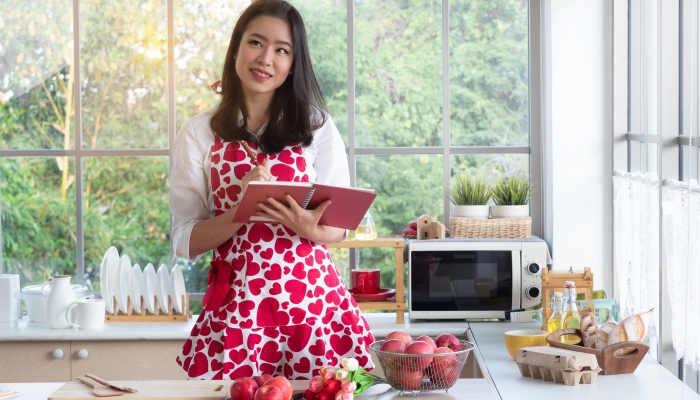 Parenting
Staying motivated as a stay-at-home mom isn't easy when you're responsible for so much. But these motivation boosters are sure to keep you going!