When To Stop Using a High Chair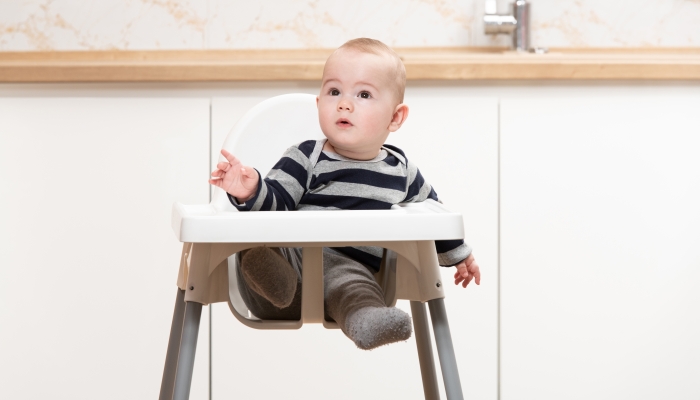 This post may contain affiliate links; please see our terms of use for details.
High chairs are convenient, provide security with safety straps, and allow your child to sit with the family at meal times.
When your child shows signs of readiness, it's time to stop using a high chair.
Booster seats or pads on a regular chair are great options when transitioning away from the high chair.
I couldn't wait until my kids were old enough to put in a high chair so they could practice eating independently. I also used it for crafts, reading, and to keep them entertained while I made dinner.
Most parents purchase a high chair when they're expecting a baby. Baby high chairs are convenient for meal times and allows quality time with the family.
However, your toddler will get to the point where they need a new seat because the high chair isn't cutting it anymore.
If you're wondering when to stop using a high chair, you've come to the right place. We have the top signs for transitioning out of a high chair and what different seats you can use instead.
Signs It's Time to Transition Out of a High Chair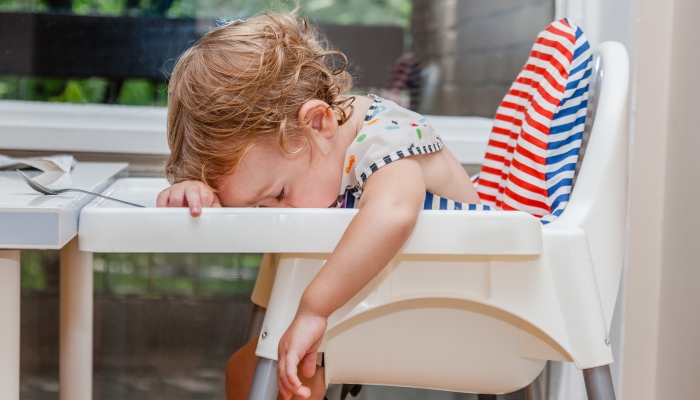 How do you know your toddler is ready to transition from a high chair into a regular chair at the table?
While there are many signs to look for, you'll likely see your child show you they are ready.
Growth Milestones
There are many milestones during early childhood, and it's sometimes hard to keep up with all of them. Your child may suddenly show signs they're ready to ditch the high chair, while others remain content with their throne.
Many children outgrow high chairs between 2–3 years old, but it sometimes depends on their height, motor skills, and personal development. In addition, most high chairs have a weight limit.
Remember, even if your child hasn't hit the weight and high restrictions, their behavior may show that they're ready to move on from a high chair.
Behavior Changes
Almost all toddlers get to a point where they want some independence and are ready to stop using high chairs. While we can't let them do everything, this is a significant behavioral sign that they may be prepared to eat at the dining table.
Your child's development significantly impacts when they'll stop using the high chair.
In addition, if you have an escape artist on your hands, it's time to switch out of the high chair. You'll often find this when children have older siblings.
My middle son was a little climber and was ready much sooner than his siblings.
Five signs to look for before deciding to stop using a high chair:
Trying to climb out
Discomfort when trying to eat
Restlessness when sitting in the high chair
Wanting to sit at the big table
Imitating your behavior at mealtime
Understanding the Role of High Chairs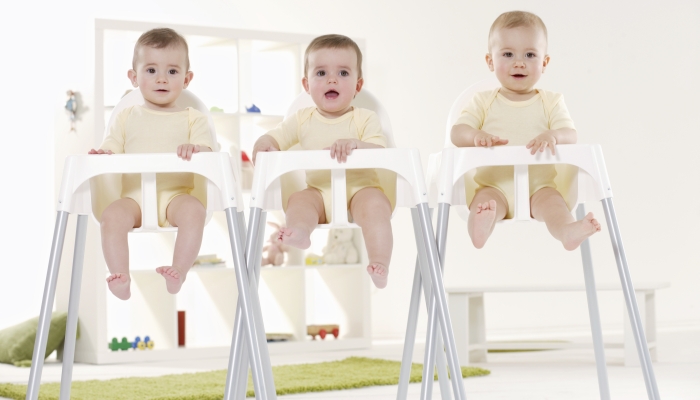 Types of High Chairs
When picking out a high chair, there are plenty of options. Some of the most common types of high chairs include:
Convertible high chair
Standard high chair
It's always best to consider your child's age and how much space you have when picking the best type of high chair.
Hook On High Chair
Fit for Most Tables: This baby high chair can be used for most types of tables up to 4.72" thick (120mm). It is perfect for use at home or for travel.
Safety Harness to Secure: Safety Harness Belt to be secured in seconds, providing superior support and stablility so your baby can enjoy meal as they sit close to the table with family.
Fold-and-Go Design with Carry Bag: The Fast Table Chair is designed to be compactly foldable, and easily removable. it is easy to hide away or take on the go with the carry bag.
Non-Slip Soft Handrails: Handrails are made of non-slip soft plastic to protect tables from being scratched, and precise module parts assure the baby feeding chair can be easily tightened up and firmly fixed to table.
Why Parents Use High Chairs
High chairs make it convenient for parents when it comes to mealtime and help keep a child upright, reducing the risk of choking.
Remember to always stay within a few feet when your child is in a high chair, even if they are strapped in.
Additional benefits of high chairs include:
Five-point harness for safety
Provides a food tray for easy cleaning
Keeps child engaged during mealtime
Convenient to move around the house
High chairs also can help develop good feeding habits by keeping your child in one place while they eat instead of running around the house.
High Chairs and Early Development
High chairs are essential when your baby transitions to a toddler and can eat upright but isn't ready to sit in a regular dining chair.
Remember, while wobbly toddlers aren't ready for a chair, you can still pull them up in a high chair to the dining table.
When you decide to transition, ensure you talk to your child about the basic rules of sitting at the dinner table for family meals. Many parents forget that toddlers likely won't know how to act properly immediately.
Transitioning Away from the High Chair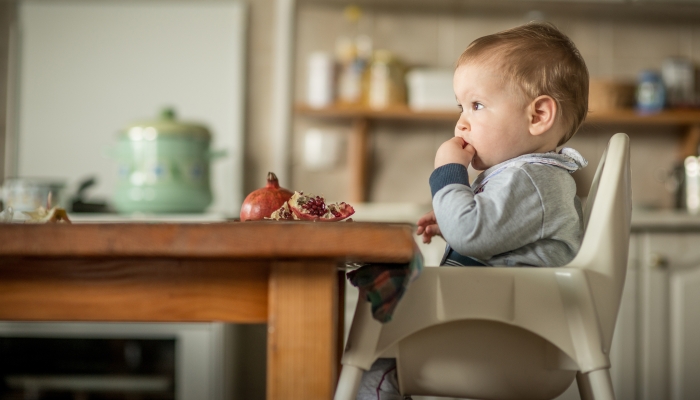 If you're ready to transition away from the high chair, you may not know where to begin. While you should always follow your child's lead, here are some tips.
Choose the Right Seat
When you transition away from a high chair, consider a booster seat or booster chair, which makes your toddler feel like a big kid and is an excellent alternative to using the high chair.
Many booster seats attach to dining chairs, allowing your child to sit at the table. You can also get a child-sized table with a big kid chair for mealtime.
As your child ages, you can get a booster pad to help reach the same height as the table. I used the Sunmall Dining Chair Heightening Cushion.
Sale
Sunmall Dining Chair Heightening Cushion
It's made of durable Polyester and high density sponge.Our pads can be wiped off stains easy with a wet towel.
Independent cover with zipper closure can be easily remove for and hand washed or machine washed.
It is very convenient to use at home and take it with your baby to travel, theater, movie theater, restaurant and more.
Dimensions: 12.6″L x 3.1″H x 12.6″W, fit most of dining chairs. It can be used for toddler children old who can sit at table to enjoy the meal with family together. Also can used for children writing, drawing and play toys.
If you choose a booster seat, ensure it is securely attached to the regular table to prevent your child from falling over.
Things to consider when purchasing a booster seat or other chair:
Does it have a seat harness or safety harness to ensure your child is safely strapped?
What is the weight and height limit of the booster?
Does the booster cover the entire seat, or will there be extra room on the sides?
Will it be comfortable after sitting for a while?
Is it space-saving, or will it take up a lot of space in your home?
Transition Techniques
If your toddler is ready to switch out of a high chair, there are several things to consider, even if they show all the signs of readiness. Remember, kids may not be ready to sit for the entire meal, but any progress is success.
Try these tips to start transitioning from a high chair to a regular seat or booster seat:
Start the transition gradually to help ease your child into the new setup for mealtime.
Take off the removable tray and pull the high chair to the dining table.
Use a weaning table to encourage your child to sit at a table without the concern of falling.
Let your toddler sit at the dining table in their seat, but tell them they will have to move if they don't behave.
Encourage older kids to help by displaying proper behavior at dinner.
Remind your child to stay in their seat until the meal is over.
Finally, make mealtime a social family event, where you talk about your day and enjoy the meal together.
Many children struggle during the transition, so it's important to follow their lead and not rush the process.
Encourage Good Table Manners
When my oldest was three, he was a runner. We'd be sitting at a restaurant, and when he was done, he would get up and run out. While we are, thankfully, past that stage, that's when I taught him to ask to be excused.
It can be difficult for kids to sit at the table for the whole meal, so make a point to applaud them when they do.
Additional table manners you can teach toddlers:
Chew with your mouth closed
Use a napkin to clean your face and hands
Say please and thank you
Bring dirty dishes to the sink
Pick dropped food up off the floor
The American Academy of Pediatrics reports that spending time together and sharing family traditions helps teach good eating habits11. Growing Independence: Tips for Parents of Young Children. Pediatric Patient Education. 2021. https://doi.org/10.1542/peo_document354 and table manners!
Remember, kids need time to learn table manners, so be gentle if they aren't behaving like you'd want. When you model good behavior and offer positive reinforcement, you're more likely to see a difference in your child when they sit at the dining table.
FAQs
Does transitioning from a high chair coincide with other milestones in toddler independence or feeding skills?
Typically, your child is ready to transition from a high chair when they are mobile and can feed themselves. You'll also notice they're acting more independent and want to sit at the dinner table with the family.
What are the psychological impacts of transitioning away from a high chair on toddlers?
Most children don't show signs of psychological impacts from transitioning away from a high chair. However, as with any transition, it's best to go slow and talk to your child about the change.
What are the potential safety risks of using a high chair beyond the recommended age?
When children are too old for a high chair, there's a greater risk of falling or tipping over. In addition, they likely won't be comfortable if they don't fit well. Safe Kids Worldwide reports that an average of 24 children22. Can your high chair be dangerous?. Safe Kids Worldwide. https://www.safekids.org/blog/can-your-high-chair-be-dangerous are treated in an emergency department every day for an injury related to a high chair or booster seat.
How can I repurpose my child's high chair once they have transitioned away from using it?
If your high chair is in good condition, you can give it to a friend or donate it. If you have a wooden high chair and are crafty, you can paint it and turn it into a table for your child's room.
References
Growing Independence: Tips for Parents of Young Children. (2021). Pediatric Patient Education. https://doi.org/10.1542/peo_document354
Can your high chair be dangerous? Safe Kids Worldwide. (n.d.). https://www.safekids.org/blog/can-your-high-chair-be-dangerous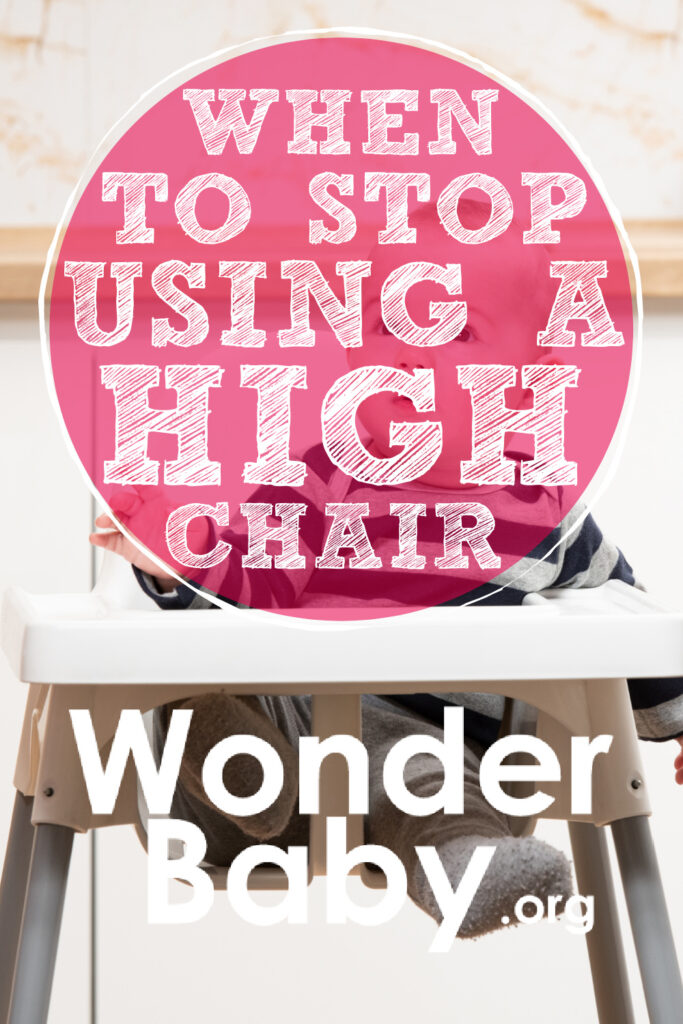 Related Posts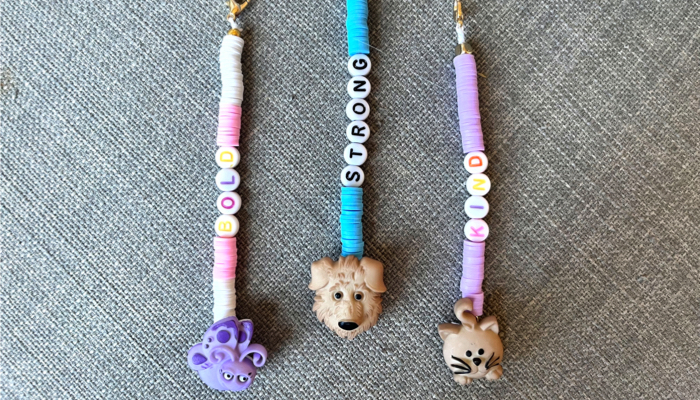 Parenting, Play, Tactile Art
These affirmation backpack buddy keychains are adorable and easy to make. Give your child a little encouragement with this simple craft as they head to school.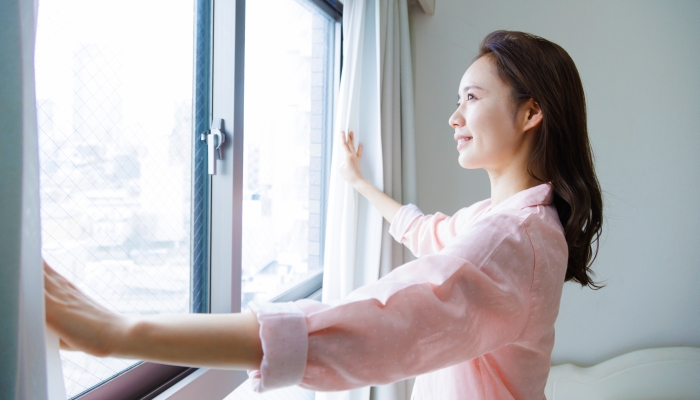 Parenting
Finding purpose as a stay-at-home mom allows you to take time for yourself, set personal goals, build a supportive network, and foster your hobbies and interests.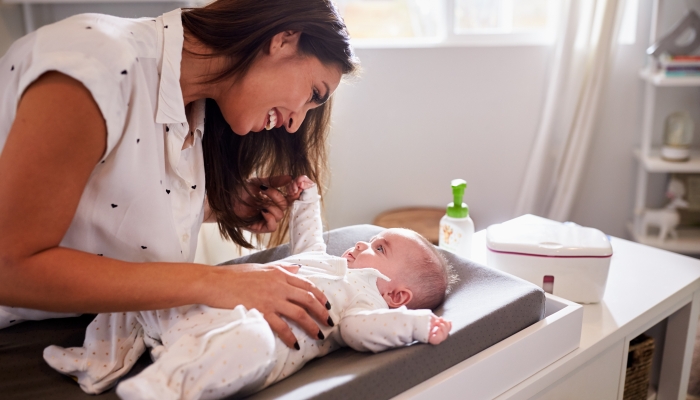 Parenting
Most babies outgrow changing tables when they reach 30 pounds or if they are too tall for the changing table.