Bible Memory Verse Bracelets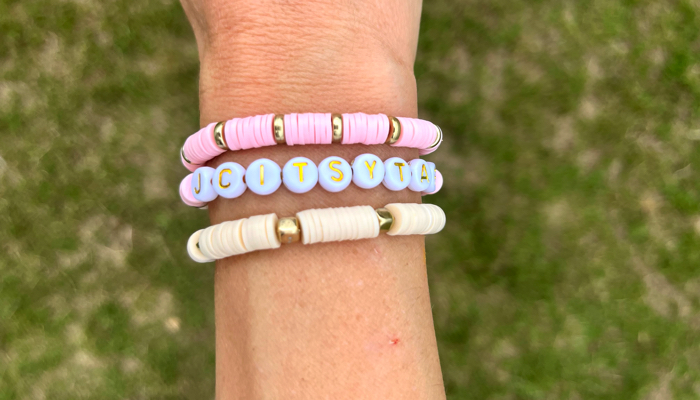 This post may contain affiliate links; please see our terms of use for details.
In our home, we prioritize reading the Bible and committing scripture to memory. Throughout the years, I've found that reciting scripture helps me to focus on the Lord in all situations. Whenever I'm feeling anxious, irritated, or overwhelmed, I meditate on encouraging scriptures.
When I became a mom, I wanted to teach my children how to do the same thing. In the world we live in, our children will face many troubles. However, we can equip them with the truth they'll need to overcome obstacles by helping them memorize scripture.
If you're like me, you likely have a gazillion things on your brain. It can be hard to memorize anything more than your child's birthdate. That's why you need a simple, effective method that keeps verses at the forefront of your mind.
This is where Bible memory verse bracelets come into play. Each bracelet contains the first letter of each word in the verse. This allows your child to practice the verse everywhere they go.
These Bible memory verse bracelets are so effective, that you might even start making them for yourself!
Bible Memory Verse Bracelets: What You'll Need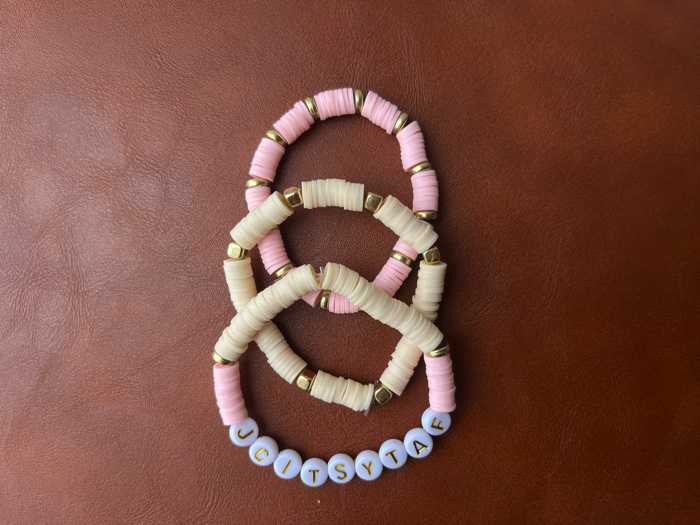 These Bible memory verse bracelets don't require much. Here's what you'll need:
Materials:
Elastic string (or any sturdy string)
Alphabet beads
Clay beads (or any variety you'd like)
Other Equipment:
Directions: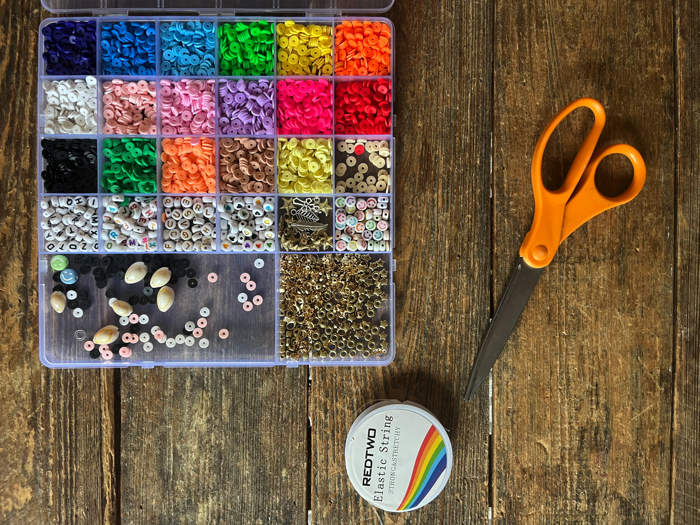 Step 1: Create a bracelet assembly station on a clean surface. We love using plastic jewelry boxes to keep all our beads organized. This is especially helpful when you're using a variety of beads.
Step 2: Select a scripture verse. Choose something short enough to fit the bracelet but that is also meaningful for your child.
Helpful hint: If the verse you like is too long for the bracelet, consider making several bracelets and separating the verse into sections. Your child can stack the bracelets on their arm so they can memorize the entire passage.
Step 3: Write out the verse so your child can read it clearly without having to go back to the Bible to search for it. Have them highlight the first letter of each word in the verse.
Highlighting the first letter and making the letter sound is one way to turn this into a preschool literacy activity.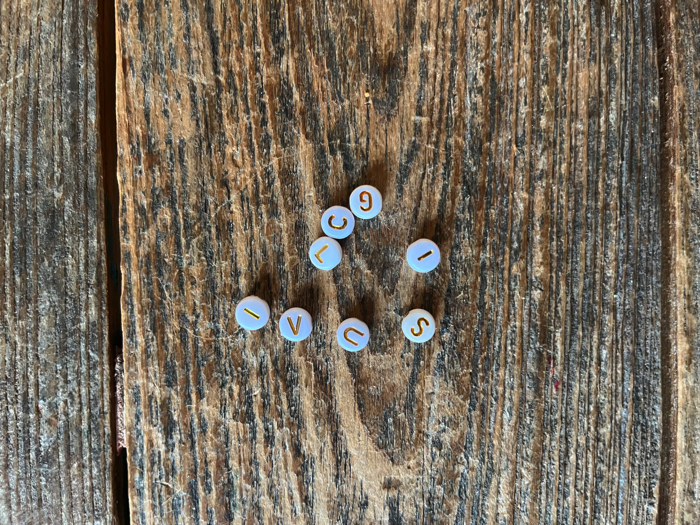 Step 4: Help your child sort through the alphabet beads and find beads for each highlighted letter. Your child will also need help lining up the beads in the correct order. You don't want to finish the bracelet and then realize the letters are in the wrong order.
Step 5: Have your child select the other beads they'd like surrounding the letter beads. They'll add these first onto the elastic string. Be sure to tie a secure knot at one end before they start stringing the beads.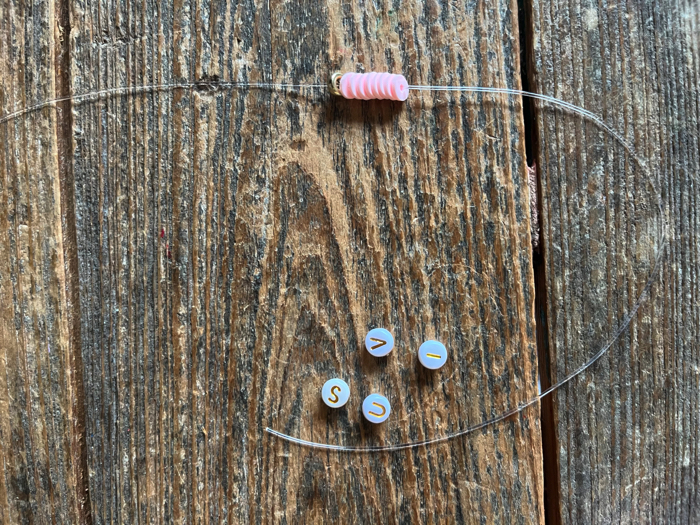 Stringing beads is a fantastic motor skill activity for preschoolers. Give them help as needed, but encourage them to try on their own.
Step 6: Let your child continue stringing the beads and letters until finished. Tie each end of the elastic string together to form a secure knot.
What can I use instead of elastic string?
We've found that clear elastic string is the best for making sturdy bracelets. However, don't let this stop you from trying other types of string. We've used embroidery thread, cotton string, and nylon cord in the past.
We often use what we have on hand rather than buying special items. We have a variety of beads and string in our craft box and use it for projects like the affirmation backpack buddy keychains.
Acrylic Alphabet Letter Beads
BRACELET MAKING:Children can make name bracelets with friends at school and at home
SPELLING PRACTICE:Increase children's interest in spelling
500PCS:You can get a-z letter beads, 2m a roll of crystal elastic thread
BEADS SIZE:Single bead size 0.27X0.15 inc
What type of beads should I use?
There are no right or wrong beads to use. To add lots of color, you might consider purchasing clay beads. These are our favorites to work with and are bright and colorful.
Smaller children will need chunkier beads to be able to string them. I like pony beads for young children, as the opening is wide.
What are some example verses we can use?
When searching for verses for your child to memorize, start with easy verses that apply to their life. For example, if you have a child who struggles with anxiety, you might start with a short verse on God's peace.
The idea is to give your child a confidence boost with an easy verse that's helpful to their life. You can build up to longer verses as they get used to this new system of memorizing scripture. Here are some verses for you to consider:
When I am afraid, I put my trust in you. Psalm 56:3
Love is patient, love is kind. 1 Corinthians 13:4
Seek the LORD and his strength; seek his presence continually! 1 Chronicles 16:11
We love because he first loved us. 1 John 4:19
Set your minds on things above, not on earthly things. Colossians 3:2
Jesus Christ is the same yesterday and today and forever. Hebrews 13:8
How do we use these bracelets for scripture memory?
After your child makes their bracelet, review the Bible verse and show your child how each letter represents a word of the verse. Have them point to each letter as you say the verse together.
Throughout the week, try saying a few words of the scripture together and then ask your child what word comes next. If they don't know, point them to their bracelet. Help them recall the word by using the letter sound.
To get the most out of these bracelets, you'll want to make a habit of reviewing the verses daily. We've found that it's helpful to review while brushing your teeth, getting dressed, riding in the car, or doing other routine activities.
How else can I help my child memorize scripture?
We've found many creative ways to incorporate scripture memory in our home. Here are a few of our favorites:
Scripture Songs
I am always on the hunt for fun kid songs that help my children learn. Songs tend to stick in their heads longer than random facts do. For this reason, we love to use songs to solidify scripture memory.
Seeds Family Worship is a fantastic source for Bible memory verse songs. Their songs are catchy, fun, and easy for the kids to sing along to.
We also make up simple melodies when we can't find a song for the verse we want to memorize. You can often make a verse fit a familiar tune such as "Twinkle Twinkle Little Star" or "Jingle Bells."
Flash Cards
To use flashcards to memorize scripture, write each word on a separate index card. Review the verse with your child and then mix up the cards. Have your child put the verses back in order and lay them out in a line.
Recite to the Beat
My kids love to learn scripture in a way that allows them to move. We'll often chant a verse repeatedly while they drum on the table, clap their hands, or march around the room. The beat helps them remember how many words are in the verse.
Sale
What activities can I add to this craft for enrichment?
Here are some other activities to instill positive values and encourage scripture memorization in your children:
How can I learn scripture along with my child?
As I teach my children new verses, I like to memorize them myself. This helps grow my faith and knowledge of the Bible along with them. I've found that we all learn better when it's a family affair.
Some of my favorite ways to memorize scripture include:
Writing a verse on a mirror.
Writing a verse on a notecard and placing it in my car. 
Reciting a verse each morning during my prayer time.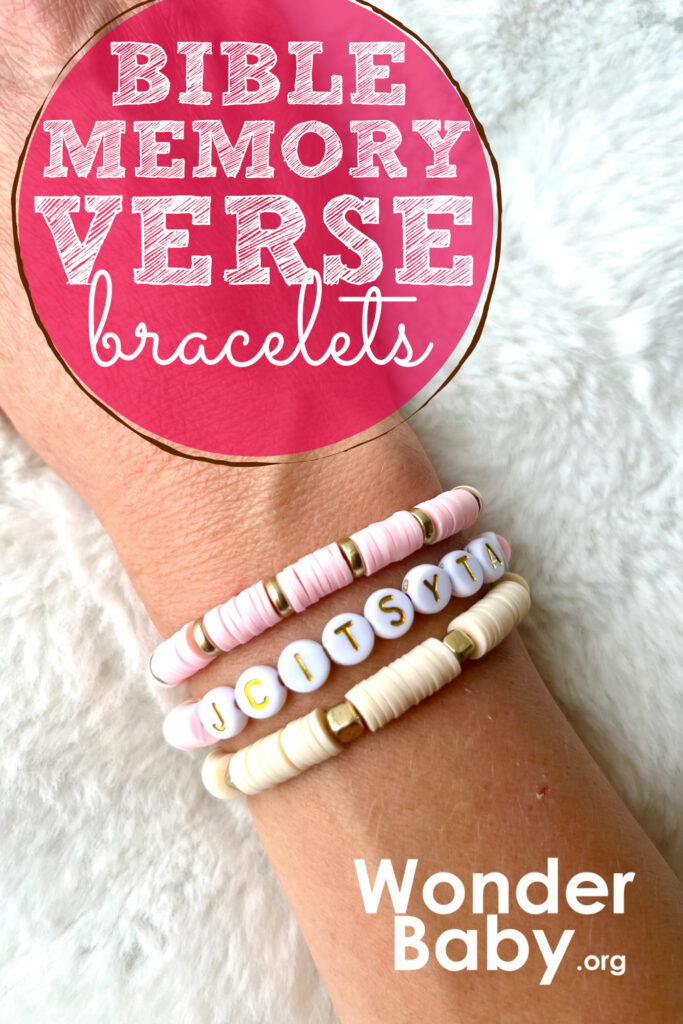 Related Posts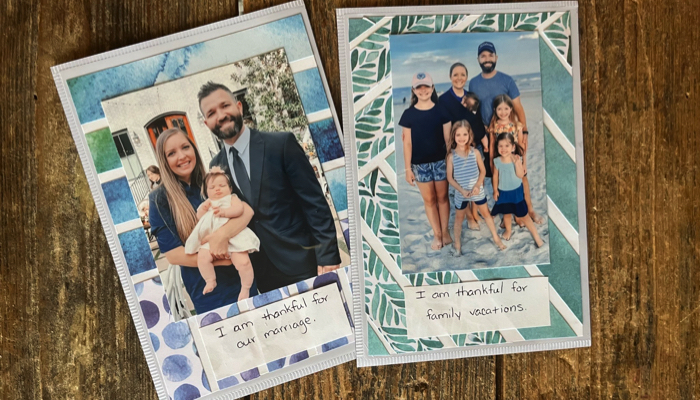 Tactile Art
Looking for a fun way to encourage gratitude in your home? This gratitude fridge magnet craft is not only adorable but also easy to make.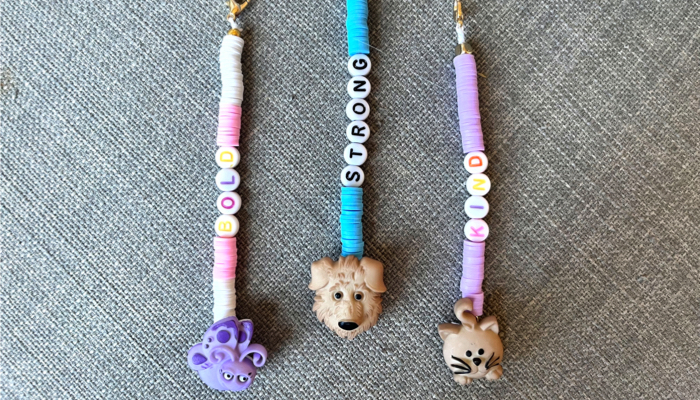 Parenting, Play, Tactile Art
These affirmation backpack buddy keychains are adorable and easy to make. Give your child a little encouragement with this simple craft as they head to school.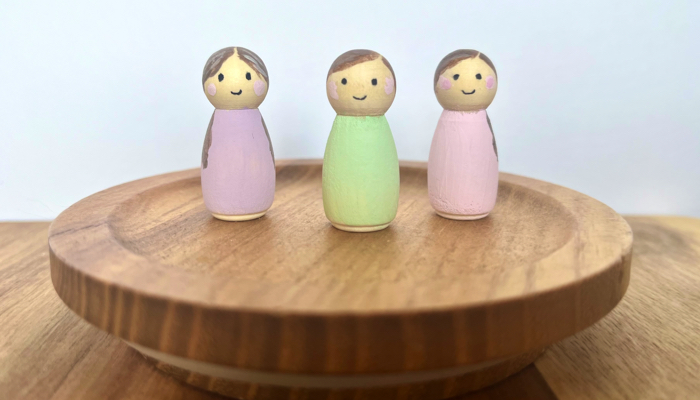 Play, Tactile Art
This peg doll painting activity will delight children of all ages. Peg dolls are simple to paint and can be used for a variety of educational activities.