Using Music to Connect the Generations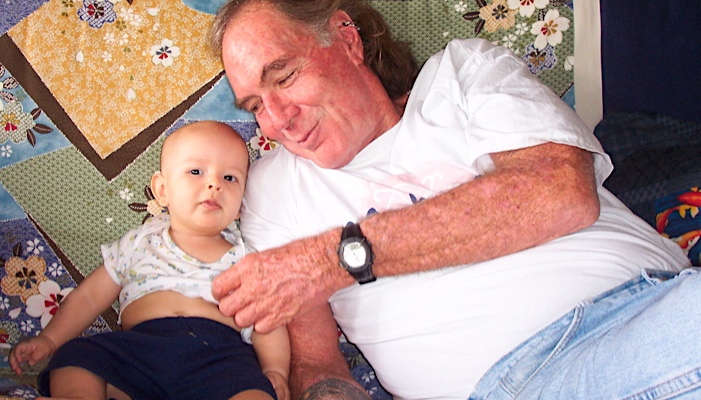 This post may contain affiliate links; please see our terms of use for details.
"Grandpa, what songs did you sing when you were little?"
The answer to that question usually brings a delighted smile to both the grandparent and the young child's face as both get to share a favorite song and a treasured memory.
Aside from being a wonderful way to bond with your young child, music is a great tool to connect the generations and help a little one know about their history, heritage and background.
By sharing even the simplest songs and stories, a grandparent helps a young child discover that they are part of an on-going story and have a special place in their family, no matter what their age or ability.
In case that sounds too serious, let's not forget that music is one of those activities that seems to uplift everyone that it touches, so whether you're sharing holiday tunes, songs of faith, counting songs, alphabet songs or even singing about Miss Mary Mack or that old man named Michael Finnegan, you can be sure that music is weaving beautiful new memories that will create intergenerational delight!
Singing the Classics
At this point, some folks know exactly what kinds of great songs they might want to include in their "fun with the grandkids" activities. Other folks might be a bit stumped for choices. So this is where I suggest you turn to the classics – classic kids songs that is.
What songs did you love as a child? What do you remember from school, from holidays, from playgrounds or summer camps. Did you sing silly parodies like "Jingle Bells, Batman Smells" or count down from 100 bottles of beer on the wall (by the way, new versions of this old chestnut can include cartons or milk or root beer, if you prefer). And if you're stuck for lyrics, you can check out many of the great websites that have tons of songs for kids such as Kiddidles.
You're also welcome to check out my website and songbook. A while ago, I recorded a whole cd called Grandchildren's Delight in response to parents and grandparents offering their choices of favorites songs they most wanted their kids to hear. Grandchildren's Delight features songs such as This Little Light of Mine, Do Your Ears Hang Low, Oh Susannah, You are My Sunshine, Be Kind to Your Web Footed Friends and Playmate.
Songs About Baby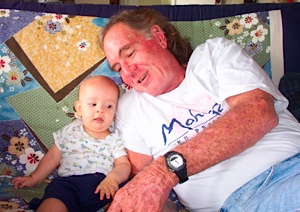 So you can sing or share your favorite children's songs with your kids, but what if you want to get more creative? I always encourage people to become part of the folk process by adapting some of their favorite songs and making them special for their grandchild, their situation or their family.
For instance, who says that My Bonnie Lies over the Ocean really needs to be about Bonnie? Oh Susannah adapts itself to almost any child's name (Oh, my Tommy, don't you cry for me… Oh Alicia, don't you cry for me… etc.) And, if you'd like to write your own special lullaby for your grandchild, feel free to check out some of the related articles below.
You can also play around with some well-loved songs like Bah, Bah Black Sheep. If your child has some vision and is learning colors, why not sing the song about the color of the clothes someone has on… Bah, bah, orange sheep, bah, bah polka-dotted sheep… you get the picture. If you want to sing about your grandchild's family, you can create a new version of Bingo on the spot:
I have a grandchild that I love and Mary is her name-o.
M A R and Y
And Mary is her name-o
You can add to the song with verses like: "She has a brother that she loves, and Billy is his name-o" (etc) and continue with verses that include family members, pets or even stuffed animals.
In this way, music can become a truly creative process as opposed to simply a lullaby meant to whisk a child off to sleep.
Let Your Fingers Do the Walking
Can you remember the times when a fingerplay made you giggle? Finger plays or songs with movements can still be great fun and – guess what – your grandchild can often do them or learn them faster then you.
You can adapt fingerplays to the ability level of the child, or sit them on your lap and let them hold your hands while you enact the movements. You can use fingerplays that most folks remember such as Itsy Bitsy Spider or discover some new ones such as Green Grapes where you get to count backwards using the fingers of your hand:
Five green grapes growing on a vine.
(Hold up five fingers.)
I picked one 'cause it looked so fine!
(Touch thumb and fold it down or ask the child to pick a finger that can be the grape, and put that one down)
Four green grapes… etc
(complete lyrics and movements below)
Check out children's musicians performing some classic fingerplay songs in these nursery rhyme videos.
Fingerplay songs like these are sure to please, but they're also fun for learning numbers or increasing awareness of fine motor skills.
Shake, Rattle and Roll by Making Some Instruments
While you're sharing music, why not make some new instruments such as recycled rattles or an ocean drum that serve as great playthings for both you and your grandchild.
You can explore music, new songs and rhythms together and create some special musical moments that brighten both your days.
Tell A Musical Tale
Most of my favorite musical tunes come wrapped in great stories. A song like Grand Old Flag means so much more to a child if they know it was part of a special picnic honoring returning soldiers.
Feel free to tell stories from your childhood about the songs you love the most. What songs bring back holiday memories for you and who taught them to you? Did you ever have to go to summer camp and felt like singing a version of Hello Mudda, Hello Faddah (lyrics below)? And a song like Playmate (lyrics below) can make a child ask – hey, what's a cellar door and how do you slide down it? Share the songs that made you giggle uncontrollably, taught you to jump rope or inspired your faith to new heights.
You Can't Sing? Then Grab a CD!
Sometimes I hear from grandparents that feel they don't have a glorious voice or are very self-conscious about singing. If that's the case, they don't have to miss out on this type of musical fun. There are plenty of great CD's to put on and enjoy together and dozens of songs that anyone can simply "sing-speak" along too.
Remember, your grandchild is not only a captive audience, but also a captivated one. Their grandparent is someone whose voice and stories they love to hear, even if you might feel self-conscious about your ability to sing.
Singing and making music with a young child is a great way to spend time together. It's learning, it's bonding, it's creative, it passes the time during long car rides or boring chores and will make both of you feel great! I hope this article inspires you to make or share some music with your toddler and do it in a way that creates a lasting memory that warms both your hearts – forever.
Some related articles you may enjoy
Song Lyrics
Green Grapes
Five green grapes growing on a vine.
(Hold up five fingers.)
I picked one 'cause it looked so fine!
(Touch thumb and fold it down.)
Four green grapes growing on a vine.
Hold up four fingers.)
I picked another for my Valentine!
(Touch index finger & fold down.)
Three green grapes growing on a vine.
(Hold up three fingers.)
I ate another, I couldn't decline!
(Touch middle finger and fold down.)
Two green grapes growing on a vine.
(Hold two fingers up.)
I ate another in the sunshine.
(Touch ring finger and fold down.)
One green grape growing on a vine
(Hold up little finger)
I ate it too, cause they were all mine!
(Fold down little finger)
Playmate
Traditional music and lyrics with a new verse by Daria A. Marmaluk-Hajioannou
Oh playmate, come out and play with me
and bring your dollies three
Climb up my apple tree
Slide down my rain barrel
Climb on my cellar door
And we'll be jolly friends forever more
Oh playmate, I cannot play with you
My dollies have the flu
Boo hoo hoo hoo hoo hoo
Ain't got no rainbarrel
Ain't got no cellar door
But we'll be jolly friends forever more
Oh playmate, there is so much to do
Together me and you
We won't be feeling blue
We'll spend the whole day
Finding new games to play
We'll pass the hours away
Just you and me!
Hello Muddah, Hello Fadduh
By Allan Sherman
Hello Muddah, hello Fadduh,
Here I am at Camp Grenada
Camp is very entertaining
and they say we'll have some fun if it stops raining.
I went hiking with Joe Spivy
He developed poison ivy
You remember Leonard Skinner
He got ptomaine poisoning last night after dinner.
All the counselors hate the waiters
And the lake has alligators
And the head coach wants no sissies
So he reads to us from something called Ulysses.
Now I don't want this should scare ya
But my bunkmate has malaria
You remember Jeffrey Hardy
They're about to organize a searching party.
Take me home, oh muddah fadduh,
take me home, I hate Grenada
Don't leave me out in the forest where I might get eaten by a bear.
Take me home, I promise I will not make noise or mess the house with
other boys, oh please don't make me stay, I've been here one whole day.
Dearest fadduh, darling muddah,
How's my precious little bruddah?
Let me come home if ya miss me
I will even let Aunt Bertha hug and kiss me.
Wait a minute, it stopped hailing,
Guys are swimming, guys are sailing,
Playing baseball, gee that's better,
Muddah Fadduh kindly disregard this letter.
Award-winning children's performer, Daria (Daria Marmaluk-Hajioannou), has five CDs that have won national honors. She has the most awesome job of traveling the world to sing for kids and peace. Her website, located at dariamusic.com, was given a 2009 Parents Choice Award for its musical and cultural content.
Related Posts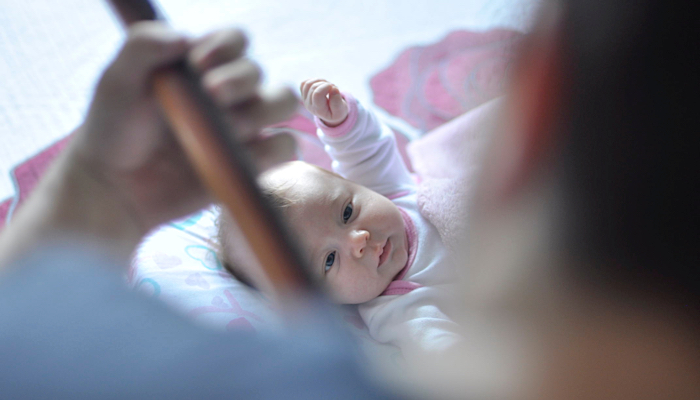 Music Play, Visual Impairment
Jennie writes about how her son, Max, responds to music. Other therapies failed Max and often stressed him out, but Music Therapy has been very successful for him!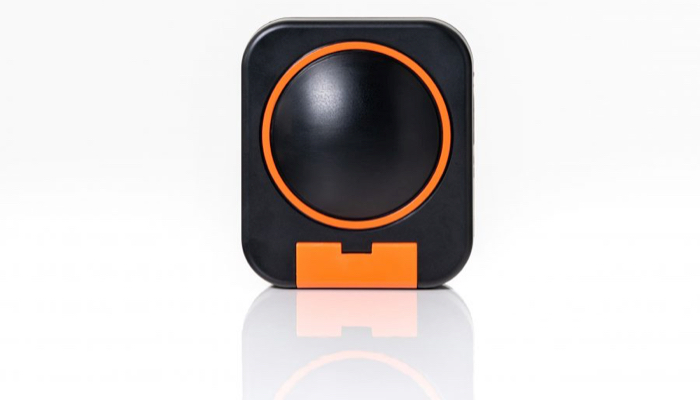 Music Play
The Skwitch is an accessible device that connects to your iPhone, turning your phone into a music making machine with coding and accessibility features too!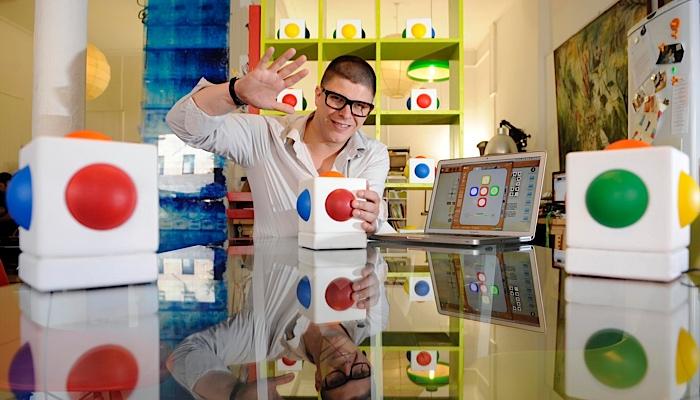 Music Play
The Skoog is a soft music cube that you can manipulate to create different instrument sounds. It's accessible to children with various disabilities, including physical disabilities.