How To Clean a Pack 'N Play Mattress Quickly & Safely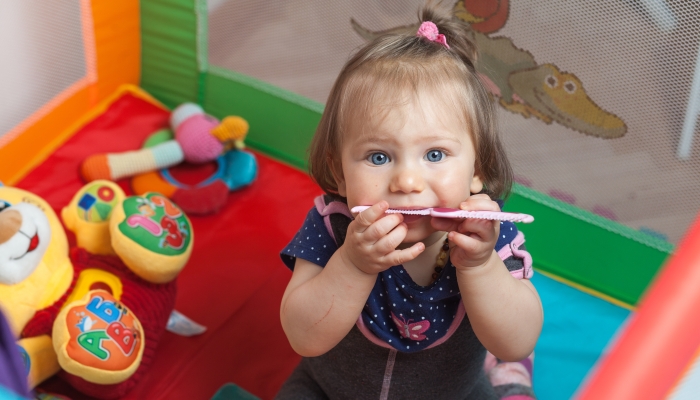 It's essential to clean a pack 'n play or play yard mattress frequently to kill germs and prevent the growth of mold and mildew.
You can effectively clean a pack 'n play mattress with baby-safe cleaning products or just with soap and warm water.
It's not necessary or safe to use bleach or chemical cleaners on your play mat or play yard mattress.
The pack 'n play, also known as a play yard, is one item of baby equipment many parents will tell you they can't live without. It's easy to use, can travel with you, and can be used indoors or outdoors. They're also a safe place for babies to sleep and play until they reach toddlerhood.
If your baby sleeps and plays in your pack 'n play and spends a lot of time in it, that also means you'll be cleaning it often. The pack 'n play mattress will absorb a lot of milk, spit-up, and other fluids over time, so it's important to keep it clean, especially if your baby uses it for sleep.
Unfortunately, you can't just throw a mattress in the washing machine. So how do you clean a play yard mattress? Check out our guide for cleaning your pack 'n play mattress quickly and safely, so it stays a comfortable place for your baby.
How Often Should a Pack' N Play Mattress Be Cleaned?
The National Association for the Education of Young Children recommends that a crib, cot, or play mat should be cleaned weekly and before use by another child.
If your play yard is used daily for sleep and play, it will need regular cleaning. Spot cleaning is a good idea to prevent the build-up of dirt and grime, and it will mean you need to do a deep clean less often.
Fluids and Spills: Clean ASAP
Even the best pack 'n plays are not immune to the spills and spit-ups of babyhood.
So regardless of how often you use your pack 'n play, you should clean it as soon as possible after milk, drool, vomit, diarrhea, or urine have gotten through to the mattress. You don't want the residual germs or smells, and you don't want your mattress to harbor mildew or mold.
Been in Storage for a While?
You should also check and clean a pack 'n play mattress anytime you've kept it in storage and are pulling it out after not using it. It's a good idea to air it out, check for smells, and look for dust and insects.
Sheets and Mattress Protectors
You'll want to prevent your mattress from getting grimy and stained in the first place, especially if you've invested in one of the best pack 'n play mattresses. So keep it covered with sheets, a waterproof mattress cover, or a mattress pad.
These items should also be laundered every week, although you'll probably wash them more frequently because they'll take the brunt of any spills or spit-ups.
For sleep safety, only use fitted sheets and mattress protectors specifically made to fit your exact baby mattress without gaps or excess fabric.
See the American Academy of Pediatrics sleep safety guidelines for more advice.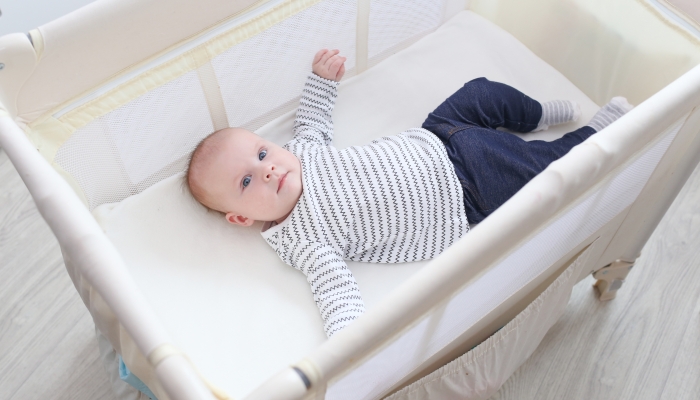 Reasons Why It's Important to Clean Your Pack 'N Play
Any item in your home that your baby comes into frequent contact with should be cleaned regularly.
Frequent cleaning of surfaces, toys, floors, furniture, and carpets with baby safe cleaner is essential for hygiene and to keep germs at bay for the entire family.
Why Clean a Pack 'N Play Mattress?
Even though a fitted sheet will usually cover your pack 'n play mattress, it's still important to clean the mattress when you clean your pack 'n play in general.
You want your baby to have a hygienic, clean, comfortable sleeping surface.
In addition, a play yard mattress is soft and absorbent and often has a cardboard component. These materials must be cleaned properly after they come into contact with milk, spit up, or bodily fluids.
Otherwise, they can become a breeding ground not just for germs but for mold and mildew too. While the surface of the mattress may look clean, mold and mildew could still grow inside the mattress if it's not cleaned and dried thoroughly.
Cleaning the pack 'n play mattress is important for keeping your baby healthy and safe if they spend a lot of time in their play yard, especially if your baby sleeps in the pack n' play.
What Do You Need to Clean a Pack 'N Play Mattress?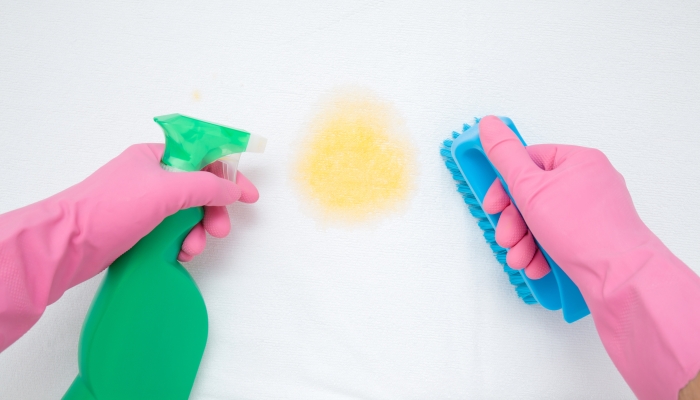 While it's important to clean your pack 'n play mattress, you don't need cleaners with harsh chemicals or bleach to do it.
In fact, these types of cleaners are potentially harmful to your baby and damaging to your mattress, so it's better not to use them. You'd be amazed at how much just a little soap, water, vinegar, and baking soda can do.
Using Caution with Cleaners
The American Academy of Pediatrics (AAP) suggests using caution with household cleaners, sanitizers and disinfectants around children, especially in concentrated form.
These cleaners can be dangerous if your child gets hold of them. They're also not healthy for your child to inhale in the air when you're using them or from the surfaces they sleep on.
The AAP says to consider alternative, less toxic household cleaners, even ones you can make yourself. You still need to use caution with these materials, however. Just because they're safer doesn't make them entirely non-toxic to your child.
Follow the Manufacturer's Instructions
Before you start cleaning, check the instruction manual that came with your pack 'n play for cleaning instructions. Then, follow the pack 'n play cleaning instructions to the letter.
The manufacturer will know how to keep your pack 'n play in good working order and prevent the mattress or the structure from warping or sustaining other damage that could make it unsafe to use.
Make Your Own Cleaners
Warm soapy water is the best and safest thing to use to clean your pack 'n play mattress. You can use baby-safe soap or baby-safe laundry detergent mixed with water.
For stubborn stains, you can try a solution of water with vinegar and some old-fashioned elbow grease. You can also add baking soda to the solution.
If you don't like the smell of vinegar, try non-toxic store-bought cleaners, but make sure they're baby-safe.
Tools You'll Need
You'll need the following tools for cleaning your baby mattress:
Soft clean cloth
Spray bottle for vinegar cleaning solution if you make one
Soft bristled brush for scrubbing at tough stains
Bowl of warm soapy water
Bowl of clean water for rinsing
Drop cloths if you're cleaning indoors
Quick and Easy Steps for How to Clean a Pack' N Play Mattress
Follow these quick and easy steps to effectively clean your mattress:
For a Deep Clean
If it's time to clean the entire mattress, follow these steps:
Remove the mattress from the pack 'n play.
Launder sheets and mattress protector separately.
Spray the top of the mattress with your cleaning solution.
Clean the top of the mattress with a soft cloth or soft bristled brush.
Towel dry any excess water and remove soap.
Spray with clean water to rinse soap residue.
Leave to air dry completely outside or in a sunny spot in your home before use.
Take care not to soak or saturate the mattress. This could lead to warping and make it unusable.
Soaking the mattress will also make it harder to dry. Drying completely is important for your mattress to smell clean and to stop mold and mildew.
For Stains and Spot Cleaning
Remove the mattress from the pack 'n play.
Launder sheets and matter protector separately.
Using a soft cloth, dab at mattress stains with warm soapy water.
Use a paper towel or cloth towel to pick up excess water.
Using a clean cloth, rinse the spot with plain warm water.
Towel dry using a clean towel or paper towels to remove excess water from the areas you worked on.
Leave to air dry completely outside or in a sunny spot in your home.
For tough stains, you may need to repeat this process several times. You can use a soft bristled scrubbing brush to work on stains but take care not to tear or damage the mattress cover.
Important Things to Remember When Cleaning a Pack 'N Play Mattress
There are essential dos and don'ts to keep in mind to clean your mattress properly.
Do

Follow manufacturer's instructions for mattress cleaning.
Use baby safe washing detergent, baby safe soap, or baby laundry detergent with warm water.
Air dry completely after cleaning your mattress.
Replace a mattress if you suspect bed bugs or if you see or smell mold or mildew.
Keep the mattress covered with a fitted sheet.

Don't

Don't use bleach or harsh chemical cleaners when deep cleaning a mattress.
Don't submerge an entire mattress in water because the foam and cardboard will be damaged and unusable.
Don't use very hot water for cleaning because it can damage the mattress foam or cardboard.
Don't put the mattress in the washing machine.
Don't use a hard brush for scrubbing which can damage the top of the mattress.
Cleaning your mattress incorrectly by submerging it in water or using a corrosive cleaner could damage the mattress and make it unsafe for use.
Anything that causes the mattress to warp, change shape, or not fit snugly into the structure of the pack 'n play will be hazardous for your child to sleep on and should no longer be used.
FAQs
What if my mattress still smells after washing?
If vomit, diarrhea, or urine have soaked the mattress, smells might remain. Smells in a mattress might also be a sign of mold or mildew or that a mattress wasn't dried thoroughly.
Try deep cleaning your mattress again to get rid of the smells. Try using a vinegar, baking soda and water solution. Make sure the mattress is left to dry in the sun for several hours.
If smells persist after that, you may unfortunately need to replace your pack 'n play mattress.
Related Posts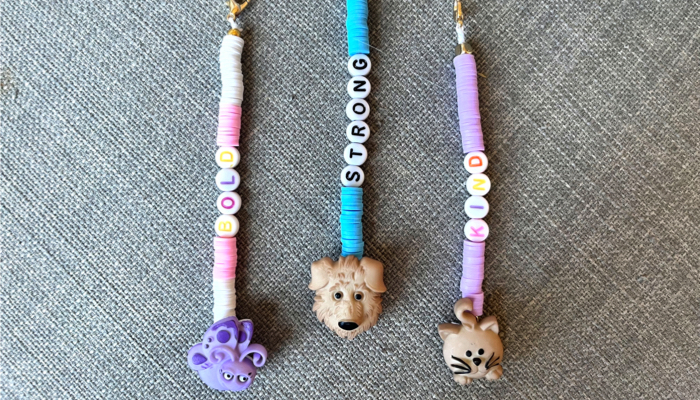 Parenting, Play, Tactile Art
These affirmation backpack buddy keychains are adorable and easy to make. Give your child a little encouragement with this simple craft as they head to school.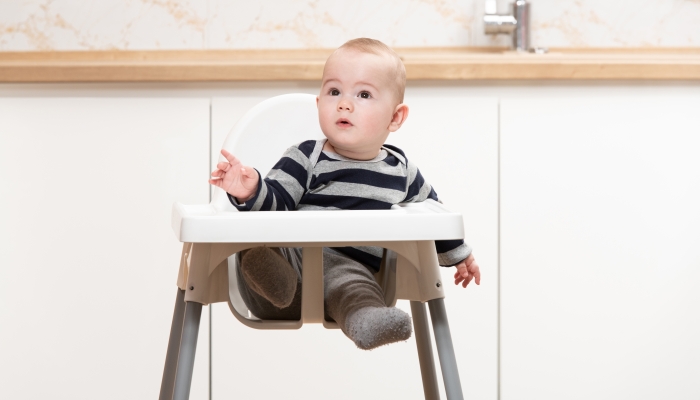 Parenting
Many children are ready to stop using a high chair between 2–3 years old and can begin transitioning to a normal chair or booster seat at that time.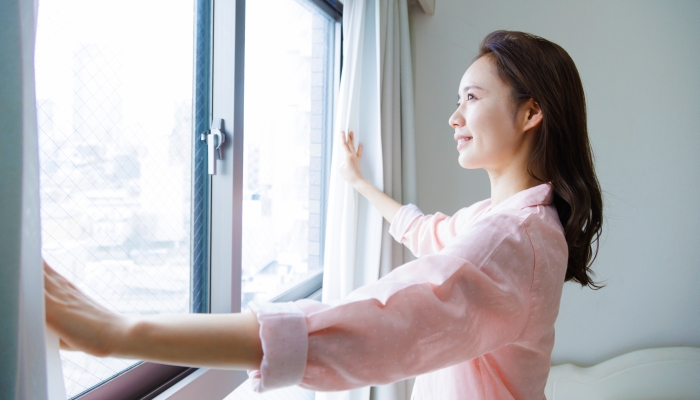 Parenting
Finding purpose as a stay-at-home mom allows you to take time for yourself, set personal goals, build a supportive network, and foster your hobbies and interests.