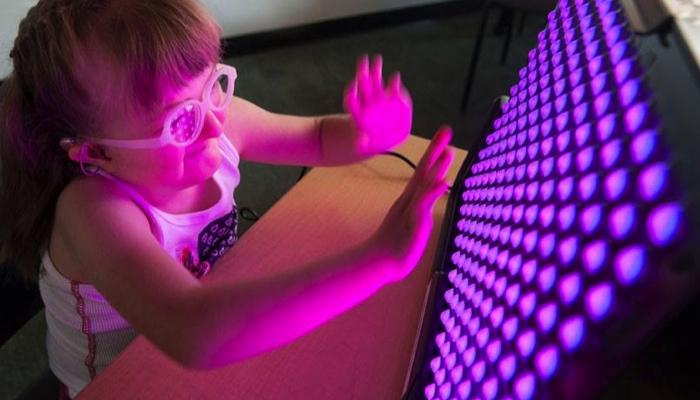 This giveaway is now closed and the winner has been contacted. Congratulations to the winner and thank you to everyone for entering!
We've got a bunch of really exciting giveaways running this holiday season, but nothing can compare to this one!
The LightAide from Philips and Perkins Solutions creates a variety of interactive displays of color that support core learning goals and help instill the building blocks of literacy and mathematical concepts in learners with low vision, cognitive disabilities and other special needs.
The LightAide boasts 224 bright multicolored LED lights that respond to switch interactions from up to four players at a time. It's preloaded with ten activities (with the option to download more later) that range in level from easy to more complex.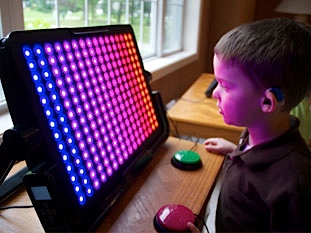 For example, your child could work on simple activities designed to encourage visual tracking, taking turns or the understanding of cause and effect… or they could learn letters and numbers or sequencing and organizational skills. You'll be amazed at all you can do with a board of 224 lights!
The LightAide is portable and light weight and works with any standard assistive switch. The lights don't get hot, so it's safe to touch, and it's super easy to set up. It's pretty much ready to go right out of the box!
This would be perfect for kids with Cortical Visual Impairment (CVI) or any child who loves to play with light up toys or a light box. Some teachers are even thinking about using the LightAide as part of their functional vision assessment.
It's a simple idea taken to a whole new level. Kids with visual impairments are often mesmerized by bright lights. So why not take this fascination and build on it? To learn more about the LightAide and all it can do, visit PerkinsProducts.org/LightAide. Or watch this video:
Yes, I know you want one! And we've got two ways you can get one just in time for the holidays! First, we're giving one LightAide away to one lucky winner! What an amazing way to celebrate the holidays! All you have to do to enter the giveaway contest is enter your name in the widget at the bottom of this post. We'll be accepting entries until December 10th, 2015. Good luck!
But only one person can win the free LightAide, so Philips and Perkins Solutions are also offering a 10% discount on the LightAide until January 8th, 2016! Just use the coupon code holiday10 to buy a LightAide for only $899! And don't worry, we've got you covered if you do win… If you do purchase a LightAide and then win the contest, Perkins Solutions will refund your purchase price.
Good luck to everyone who enters and please share this contest with friends and family!
Related Posts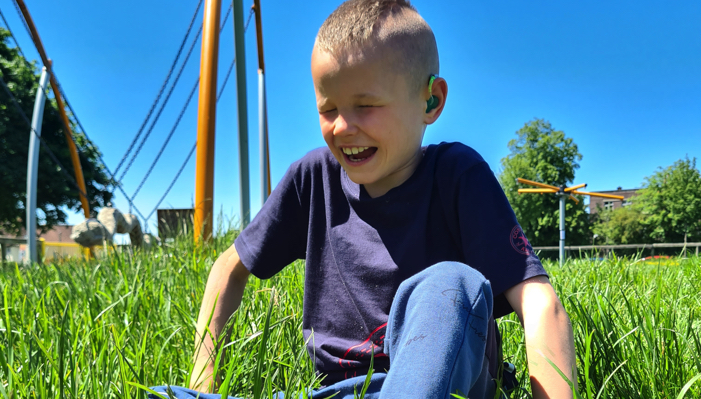 Giveaways
Find out how one mother turned her grief and search for support into a best selling book and an online community.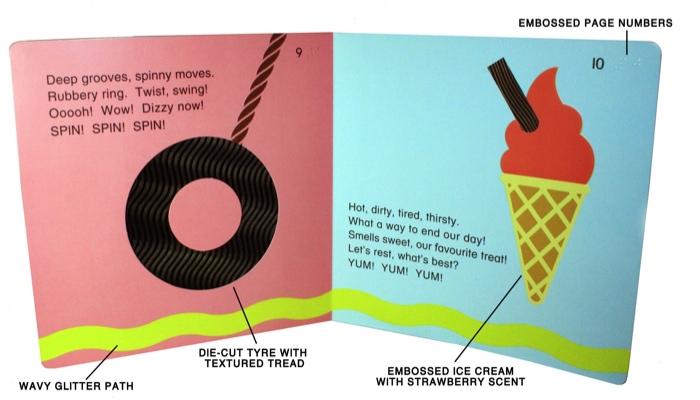 Giveaways
Enter to win the touch-and-feel book Off to the Park! This book was designed specifically for children who are blind or have low vision. Contest ends March 2nd 2016.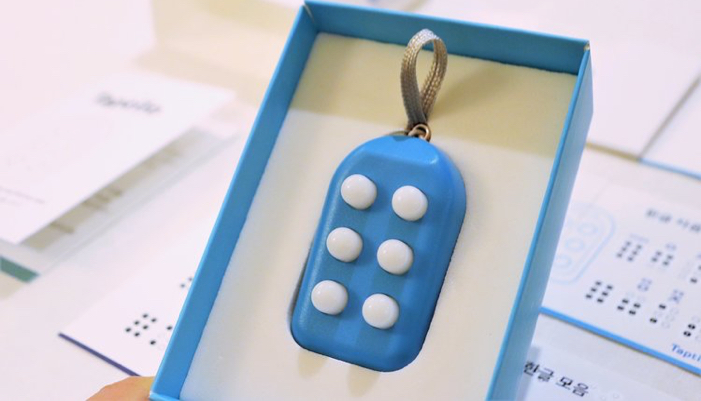 Giveaways
Enter to win a braille starter kit. Each kit comes with one braille block keychain and a set of braille learning materials in both print and braille.