25+ Children's Books Featuring Visually Impaired Characters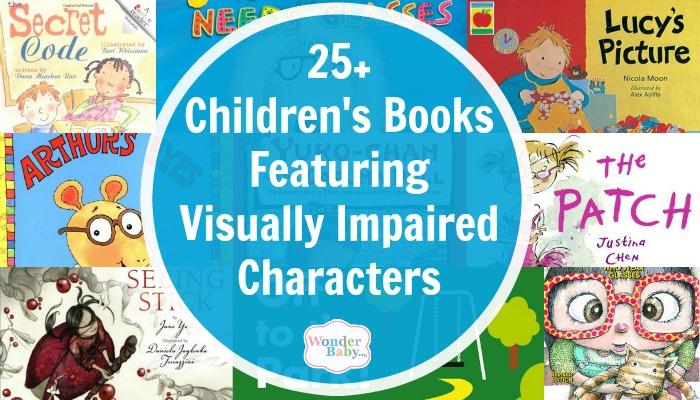 This post may contain affiliate links; please see our terms of use for details.
Following the spirit of the #ToyLikeMe® campaign, we recently posted a collection of toys representing children who wear glasses, patches or hearing aids or who use wheelchairs or service dogs. The point is to find toys that represent disability is a positive way, both for our kids who are disabled to form healthy images of themselves, but also for the entire community to begin to view inclusion in a favorable light.
This post led to a natural question: What about books?
Just like with toys, it's important for kids to see positive role models in the books they read. Donna W. Hill, author of The Heart of Applebutter Hill (which features a blind heroine), puts it this way:
Like everyone else, kids and adults with vision loss and other disabilities need to see themselves in exciting adventure stories. And, To advance inclusion into their natural communities, their peers need to read these stories as well, in order to realize that we all have the same abilities, dreams, faults and foibles.
And she's not alone. Inclusive Minds, a UK-based organization, is calling on more writers and publishers to include characters with disabilities in their children's books with their Everybody In campaign this holiday season. Their philosophy: "We believe in breaking down barriers and challenging stereotypes to ensure that every child can access and enjoy great books that are representative of our diverse society. Every child should be able to find him or herself in books, so mainstream books need to represent every child." Want to help the movement? You can follow (and use) #EverybodyIn.
To help get us started we've collected 25+ picture books, chapter books and young adult novels with visually impaired characters. Each title is followed by a quick description and links to find the book in the US, the UK and in audio or braille format (where available). Do you have books to add to this list? Let us know in the comments!

Picture Books & Chapter Books
Glasses Board Book by Ann Gwinn Zawistoski
Description: Glasses is a positive book about babies and toddlers wearing glasses. It features vivid photographs of young children playing and having fun, and it has a simple rhyming text that talks about different glasses and how they help you to see. You can also check out the Princesses Wear Glasses book that comes with a pink sparkly cape and felt crown so your child can play along with the story.
Find it in the US
Off to the Park! by Stephen Cheetham
Description: Off to the Park is a unique project that seeks to include all children in the reading experience. Containing tactile features, Braille-style numbering, play elements, high-contrast images and a rhythmic rhyming text, this book is designed to create a sensory experience out of a familiar and well-loved journey.
Find it in the US
Find it in the UK
Seven Blind Mice by Ed Young
Description: One by one, the seven blind mice investigate the strange Something by the pond. And one by one, they come back with a different theory. It's only when the seventh mouse goes out and explores the whole Something that the mice see the whole truth.
Find it in the US
Find it in the UK
Find it in Braille (NLS)
Arlo Needs Glasses by Barney Saltzberg
Description: Every child who wears glasses will know just how Arlo feels, and will feel better because of it. And every parent will want that child to know that glasses are cool and fun and enable us to do the things we want to do.
Find it in the US
Find it in the UK
Lucy's Picture by Nicola Moon
Description: Lucy wants to make her grandpa a special picture, but her grandfather is blind, so she decides to make him a picture with twigs, feathers, velvet and sand, so that he can feel it with his fingers.
Find it in the UK
Find it on Cassette (NLS)
I Can't See, But… I Can Imagine
Description: Children will ride along with Patty as she listens to her blind grandmother describe how imagination helps her write songs for her five grandchildren. This book is available with an accompanying CD with the entire story in audio PLUS all five songs. You can also purchase the book in print/braille or you can buy the piano book so you can play the songs as well!
Find it in the US
Find it in Braille
Yuko-chan and the Daruma Doll: The Adventures of a Blind Japanese Girl Who Saves Her Village by Sunny Seki
Description: Yuko-chan, an adventurous orphan who is blind, is on a mission to help people in a neighboring village when she trips and tumbles down a snowy cliff. While waiting for help, she notices that the gourd containing her tea always rights itself when tipped over (because the tea is frozen on the bottom). Using this idea, she creates the famous Daruma doll, a representation to never give up, no matter the obstacles!
Find it in the US
Find it in the UK
Knots on a Counting Rope by Bill Martin Jr.
Description: In this poignant story, the counting rope is a metaphor for the passage of time and for a boy's emerging confidence in facing his blindness.
Find it in the US
Find it in the UK
Find it in Braille
My Three Best Friends and Me, Zulay by Cari Best
Description: Zulay and her three best friends are all in the same first grade class and study the same things, even though Zulay is blind. When their teacher asks her students what activity they want to do on Field Day, Zulay surprises everyone when she says she wants to run a race. With the help of a special aide and the support of her friends, Zulay does just that.
Find it in the US
Find it in the UK
Jeremy's Dreidel by Ellie Gellman
Description: At the dreidel-making workshop, Jeremy's friends think he's molding a secret code on his clay dreidel. But he's really making a special gift for his father, who is blind.
Find it in the US
Find it in the UK
Find it in Braille (NLS)
The Secret Code by Dana Meachen Rau
Description: Oscar, a blind boy, explains to his classmates that his books are not written in secret code, but in Braille. The Braille alphabet is illustrated so that sighted children can learn to recognize the letters and decipher a note that Oscar sends to a friend.
Find it in the US
Find it in the UK
Sense of Play by Dana Meachen Rau
Description: Brother and sister Chip and Joy spend the day playing both outdoors and in. Chip is blind and Joy has vision. They make breakfast, ride bikes, read books, listen to sounds, and bake in the kitchen, among other adventures. Read our full review.
Find it in the US
Find it in the UK
White Cane Day by Kristin Grender
Description: Kristin Grender, a TVI and O&M Instructor in Wisconsin, felt that it was important that everyone know about White Cane Day and what it represents so she wrote a cute picture book for young kids that explains the holiday, the white cane and why we celebrate it.
Find it in the US
The Patch by Justina Chen Hadley
Description: The kids at school want to know why Becca is wearing glasses and a patch. Instead of telling them she has amblyopia, Becca leads her friends on imaginative adventures to explain her new fashion accessory.
Find it in the US
Find it in the UK
Find it as a Digital Talking Book (NLS)
The Pirate of Kindergarten by George Ella Lyon
Description: Doubles are good for lots of things—double scoops of ice cream, double features at the movies. But double vision is NOT a good kind of double. In fact, it can make kindergarten kind of hard. Ginny sees double chairs at reading circle and double words in her books. The solution to her problem is wondrously simple: an eye patch!
Find it in the US
Find it in the UK
Find it in Braille (NLS)
The Sound of Colors by Jimmy Liao
Description: In this breathtaking, evocative book, a young blind girl travels from one subway station to another while her imagination takes her to impossibly wonderful places.
Find it in the US
Find it in the UK
The Seeing Stick by Jane Yolen
Description: This inspirational book tells the story of a young emperor's daughter without vision, who can see with her fingers to open up a whole new world. It's a beautiful story and will offer children a perspective on our many senses and how we can use them to experience our world.
Find it in the US
Find it in the UK
Find it on Cassette (NLS)
Keep Your Ear on the Ball by Genevieve Petrillo
Description: Davey is blind and he is perfectly capable of doing things on his own, but kickball is proving to be a problem. Working together, the children figure out a way to offer help that respects Davey's unique abilities and his desire for freedom.
Find it in the US
Find it in the UK
Find it in Braille (NLS)
Luna and the Big Blur by Shirley Day
Description: Luna figures it's bad enough having a weird name like Luna – now, to make matters worse, she has to wear glasses! Through the story, Luna's father helps her learn to feel good about herself instead of focusing on her nearsightedness.
Find it in the US
Find it in the UK
Arthurs Eyes by Marc Brown
Description: None of Arthur's friends wear glasses and his classmates tease him! But when he stops wearing them, he gets in all kinds of trouble. Maybe four eyes really are better than two.
Find it in the US
Find it in the UK
Find it in Braille
The View from Under the Pew by Diane Winters Johnson
Description: This beautifully-illustrated storybook introduces children to the true story of Walter, a guide dog who assists Pastor Diane through her day at the church. Walter helps Pastor Diane minister to others as they visit the sick at the hospital and attend church meetings and potluck suppers.
Find it in the US
Find it in the UK
Mandy Sue Day by Karen Ritz
Description: This elegant prose poem, illustrated with realistic watercolor paintings, tells how a blind girl, using her senses of taste, hearing, touch, and smell, enjoys a special day with her horse, Ben.
Find it in the US
Find it in the UK
Find it in Braille (NLS)
The Black Book of Colors by Menena Cottin
Description: This innovative book invites readers to imagine living without sight through remarkable illustrations done with raised lines and descriptions of colors based on imagery. Each book also includes the text in braille.
Find it in the US
Find it in the UK
Find it in Braille
Max the Champion by Sean Stockdale
Description: This book is a lively and fun approach to sports, and a very inclusive picture book showing disabled children and children without disabilities enjoying different sports together in a natural way. The sports include football, rugby, athletics, cricket, diving, discus throwing and cycling.
Find it in the US
Find it in the UK
Adventures of Abby Diamond by Kristie Smith-Armand
Description: Adventures of Abby Diamond Abby Diamond is an eleven year old girl who loves to solve the mysteries that surround her and her three best friends: Neils, Andrea and Alison. Being blind does not stop this girl detective from solving the mysterious cases that happen in her home and at school.
Find it in the US
Sarah, Misty and Scribbles' Journey to the House by the Sea by Jacqueline Johnson
Description: Each of the characters in this book has a different ocular condition: Sarah is missing an eye, Scribbles has scratched eyes, Misty cannot see well despite her eyes appearing healthy and Grandpa and Grandma Monkey wear glasses. The book explains orientation and mobility, each eye condition and offers solutions others can use to help people who have a vision impairment.
Find it in the US
Find it in the US & UK
Poppy has Visual Impairment by Gwyneth McCormack
Description: This book contains a descriptive story about a child called Poppy who has visual impairment. The story aims to reassure the reader that they are not the only child who has these issues, and highlights areas of need for the adult who shares the book with the child.
Find it in the UK
The Adventures of Angel and Friends
Description: Join Angel and Friends on a series of adventures as they teach you all about how to interact with a blind person. Through Angels experiences we learn that she is just like all of us – except she cannot see. Each book comes with an accompanying audio CD with the full story and songs.
Find it in South Africa
Grady Gets Glasses by Dede Rittman
Description: Meet Grady, your new friend who wears glasses. Grady thinks that wearing glasses makes a person (or a rabbit) extra special! Grady explains near and farsighted in a simple way, and he shares how his new glasses help him to see his world, from driving his power car to feeding his fish. Grab your glasses and see the world through Grady's eyes!
Find it in the US
Find it in the UK

Young Adult Novels
The Heart of Applebutter Hill by Donna W. Hill
Description: Imagine you're fourteen. You're in a new country with your camera, your best friend and her dog. You uncover a secret, are instantly in danger and can't tell anyone. Join Baggy, Abigail and Curly Connor as they explore Elfin Pond, sneak around Bar Gundoom Castle and discover an underground lake. Oh, and did I mention that Abigail is visually impaired and Curly is her guide dog?
Find it in the US
Find it in the UK
Find it in Braille
Find it in Digital Audio
Blind by Rachel DeWoskin
Description: When Emma Sasha Silver loses her eyesight in an accident, she must relearn everything from walking across the street to recognizing her own sisters to imagining colors. One of seven children, Emma used to be the invisible kid, but now it seems everyone is watching her. And just as she's about to start high school and try to recover her friendships and former life, one of her classmates is found dead in an apparent suicide. Fifteen and blind, Emma has to untangle what happened and why—in order to see for herself what makes life worth living.
Find it in the US
Find it in the UK
Find it in Digital Audio (NLS)
She is Not Invisible by Marcus Sedgwick
Description: Laureth Peak's father has taught her to look for recurring events, patterns, and numbers―a skill at which she's remarkably talented. Her secret: She is blind. But when her father goes missing, Laureth and her seven-year-old brother, Benjamin, are thrust into a mystery that takes them to New York City, where surviving will take all her skill at spotting the amazing, shocking, and sometimes dangerous connections.
Find it in the US
Find it in the UK
Find it in Digital Audio (NLS)
Blindsided by Priscilla Cummings
Description: Fourteen-year-old Natalie O'Reilly's world is turned upside down with the news that she will soon go blind. As if this weren't shocking enough, she is forced to face the fact that she must now attend a school for the blind to learn Braille and how to use a cane. As Natalie tackles the skills that will help her to survive in a sighted world, she inwardly hopes for a miracle that will save her sight. But will that miracle come, or will she need to learn to embrace her new life?
Find it in the US
Find it in the UK
Find it in Braille (NLS)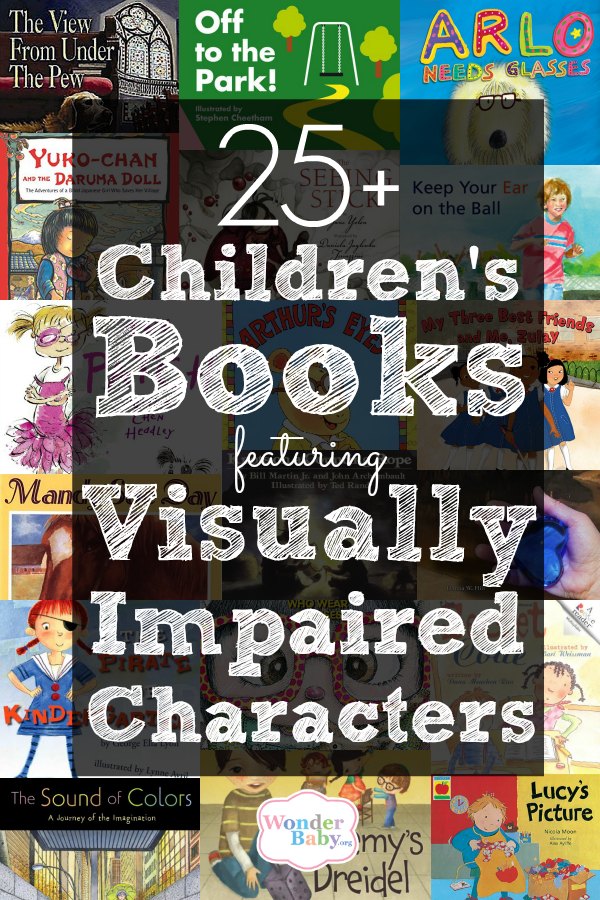 Related Posts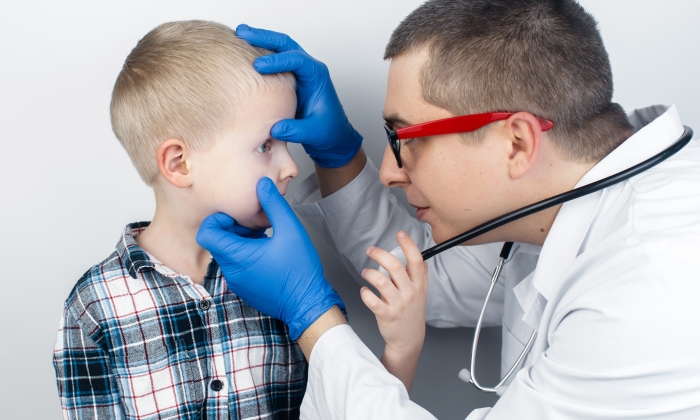 Eye Conditions and Syndromes, Visual Impairment
Congenital glaucoma is a disease where the pressure inside your baby's eye is too high. This can damage the optic nerve and can even make your child go blind.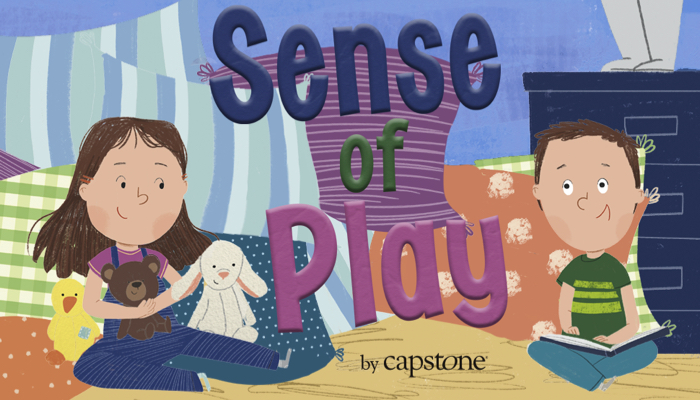 Braille and Literacy, Product Reviews, Visual Impairment
Dana Meachen Rau's book, Sense of Play, follows the adventures of Chip and Joy as they play. Chip is blind, but this doesn't get in the way of their play!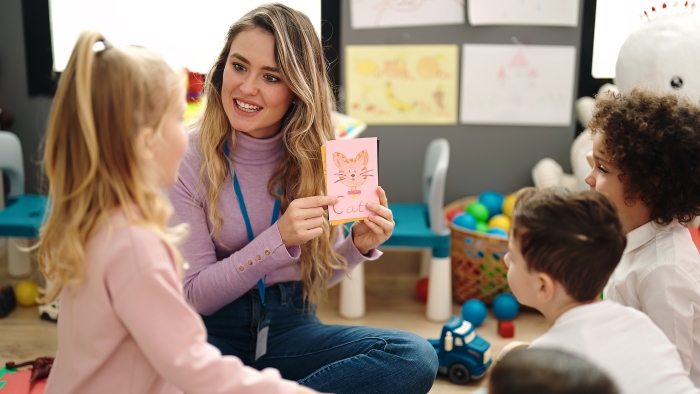 Braille and Literacy
Work on vocabulary early! Enhance early language development and literacy skills through vocabulary games and interactive play for preschoolers.