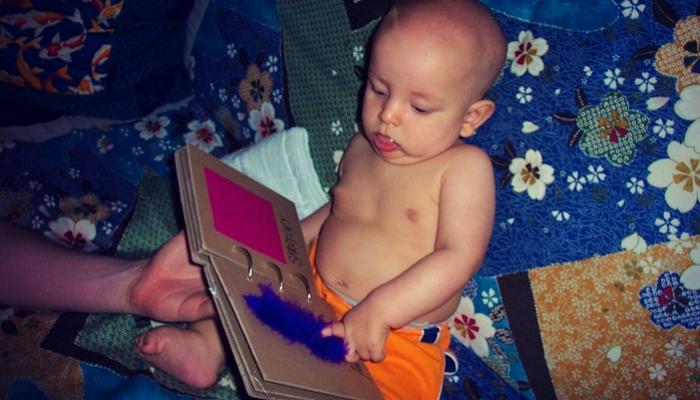 Ivan received a wonderful gift from his Aunty Cori… His very own Touch Book! Since Ivan is blind and interacts with his environment predominantly through touch and sound, Aunty Cori decided to put together a book of textures for him to feel. You can make your own touch book, too. It's easy and fun and can be a great gift for a visually impaired child… or anyone!
---
What You'll Need:
thick pieces of cardboard cut into 5 1/2 x 6 1/2 inches
hole punch
three key-rings
different textured materials, etc
glue
permanent marker
Putting Your Touch Book Together
Begin by collecting different textures from around the house. Materials like velvet or cordoroy are fun. Leather, sandpaper, feathers, bubble wrap, double-sided tape, or sponges all make intersting feelings, too.
Glue each texture to a piece of cardboard. Name the textures using a permanent marker and add Braille, too.
Finally, punch holes in your pages and clip together with key-rings. You're Done!
A Fun Twist…
Try making a Noise Book along with your Touch Book. Use the same techniques as above, but fill your pages with things that make sounds when you touch them, like bells, sticks that can be hit together, bags full of beans, etc. You're only limited by your imagination!
Read this article in Arabic: قراءة هذا المقال بالعربية
Read this article in Spanish: Lea este articulo en Español