Montessori Floor Bed Buying Guide (+ Our Top Picks!)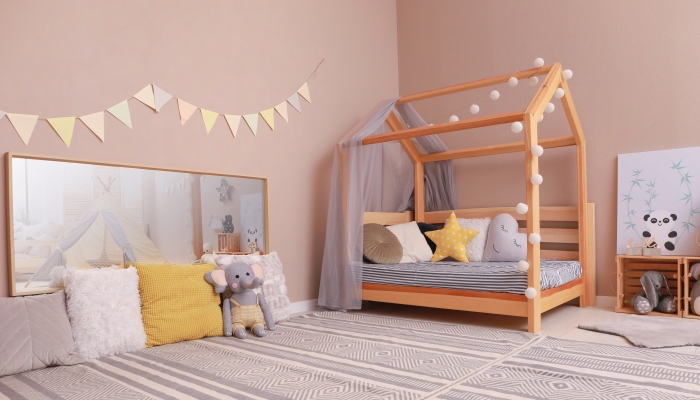 This post may contain affiliate links; please see our terms of use for details.
A Montessori floor bed can provide freedom and promote independence.
When kids outgrow cribs, they can become dangerous, unlike floor beds.
There are five factors to consider when choosing a Montessori floor bed.
There's no need for special mattresses for these floor beds.
Be patient with the transition process from crib to floor bed.
When we officially took my daughter out of her crib and into the floor bed, I was a mess. I'd done all the research, prepped the best I could, and eventually landed on a straight-up mattress on the floor. As a much more seasoned parent to her brother, I later realized there were plenty of floor bed options that would have done the job better.
Whether you're a little on edge about making your selection like I was, or you're full steam ahead just looking for the perfect floor bed, this buying guide has all the answers you need. Take a look at each Montessori bed below, and rest assured you can't go wrong with a single one of them!
Best Choice
Best With Railings
Best With Side Table
Little Seeds Metal House Montessori Bed
i-Pook Montessori Floor Bed
Harper & Bright Montessori House Floor Bed
Best Choice
Little Seeds Metal House Montessori Bed
Best With Railings
i-Pook Montessori Floor Bed
Best With Side Table
Harper & Bright Montessori House Floor Bed
Our Choice: Little Seeds Metal House Montessori Bed
Little Seeds Metal House Montessori Bed
Let your child's playtime imagination run free with this uniquely designed kids' twin house bed
Product Dimensions :77.5 x 40.5 x 63.0 inches
Made of a sturdy metal canopy frame, the low floor bed includes metal slats for mattress support, no box spring required.The Montessori bed fits a twin mattress (sold separately)
1-Year Limited Warranty
Pros

Cons

Metal frame
Sturdy feeling
Easy assembly
Lightweight
A straightforward and trendy design, the Little Seeds Metal House Montessori Bed gets the top spot for several reasons. Unlike most other Montessori frames, it's made of metal which makes for a far more sturdy feeling, not to mention long-lasting bed. For its material, it's lightweight and easy to move, and a cinch to assemble.
Do keep in mind it's not as white as it appears in the picture. If you're looking for a stark white, this isn't it. In person, it's more of a beige. The sidebars are also low, which can be easy for kids to hit their heads on, but they can be removed if that becomes an issue.
Material: Metal | Maximum Weight Recommendation: 250 pounds | Dimensions: 77.5″L x 40.5″W x 63″H
View on Amazon | View on Walmart.com | View on eBay.com
Best With Railings: i-Pook Montessori Floor Bed
i-Pook Montessori Floor Bed
[Floor Bed with Slats] The floor bed is composed of 7 reinforced plywood slats, which not only evenly supports the bed frame to provide greater support but also makes it more stable and solid. Strong enough for teens to sleep or play in floor bed
[Fun and Safe Design] Our bed frame with a fence and door is specially designed for children. The safety fence and small door can provide a safer and more fun sleeping or playground space for them. And the humanized design is safe enough for children to develop sleep independence
[Multifunctional Floor Bed] The montessori floor bed is not only a comfortable sleeping area, but also a relatively safe playing area for children. Because of the low height design, this floor bed can also be used as a reading place or play space to explore their imaginations
[Solid Wood Bed Frame] The floor bed is crafted from premium pine wood and engineered wood. The wood structure and metal hardware are firmly fixed and strengthened mutually by every part, sturdy and durable. Weight capacity:200 lbs. Recommended mattress thickness: 6 inches or less
Pros

Cons

Swinging door
Solid wood
Surrounding rails
Holds up to 200lbs

Only for six-inch mattresses
Side rails are thin
If you're not completely sold on a floor bed with no railings, the i-Pook Montessori Floor Bed is a great middle ground. With rails that surround the entire floor bed, your little one has no chance of falling off. The swinging door also allows them to be fully enclosed but also get in and out all on their own during wake times.
With the main components made of solid wood, this bed easily holds up to 200 pounds, so it's primed for long-term use. It's got to be coupled with a mattress that's six inches high or less, though, or the railings will be useless. The side slats for the rails are a bit on the thin side too, but with proper care, that shouldn't be an issue.
Material: Wood, Pine, Metal | Maximum Weight Recommendation: 200 pounds | Dimensions: 84.5″L x 63.7″W x 17.5″H
View on Amazon | View on Walmart.com
Best With Side Table: Harper & Bright Montessori House Floor Bed
Harper & Bright Montessori House Floor Bed
【Creativity Playhouse Bed for Kids】This twin kids bed with house-shaped headboard, which has a roof frame structure, window, and a platform with fence guardrails.this interesting appearance gives your creativity free reign and you can decorate this twin floor bed with your kids. just infuse the trendy style bed into your home!
【Floor Bed with Fence Guardrails Design】This low profile of the floor bed for kids which is easy to get in and out, twin house bed with fence and a sturdy pine frame ,this kids twin bed offers a safe space . Thanks to the semi-enclosed space, your kids will have their own sleeping space that affords a comforting atmosphere for better sleep.
【House-Style Headboard with Cushion Stand】The house-style headboard with the built-in cushion stand contains the roof frame structure and window grids to make feel at home. This intelligent design saves the extra space and cost for the need of a bedside cabinet.
【Quality and Safety Guaranteed】This twin floor bed for kids is crafted with premier quality in mind, the montessori bed for girls is made of high-quality pine wood and MDF, All of the wood pieces have a smooth, splinter-free finish on all sides.the house bed twin is durable and can keep serving your kids as they growing up.
Pros

Cons

House-style frame
Cushioned side table
Safety rails
Pine framing

Bigger than others
Screws exposed
For a floor bed with a built-in side table, look no further than the Harper & Bright Montessori House Floor Bed. With a cushion top, the side table is easily multi-purpose and even has a storage cubby below. The semi-enclosed design has safety rails around the majority of the frame with a small opening for freedom.
Though this house-like pine framed bed is a fun and sturdy solution, it is bigger than other options, so be sure you're ready to commit to its width in your space. Also, this house bed doesn't come with any caps to cover the screws once they're in place. While that's solely aesthetic, it is something some may not like the look of.
Material: Pine wood+Plywood+PB | Maximum Weight Recommendation: 200 pounds | Dimensions: 79.5″L x 60.9″W x 58.9″H
View on Amazon
Best for Storage: Bellemave House Twin Montessori Bed
Bellemave House Twin Montessori Bed
【Floor Bed in House Shape】:This twin size Montessori bed is the best gift for kids and helps make the transition to a "big kid's bed" easier. This Bellemave house bed gives your child a sense of independence and inspires exploration. The low to ground height is convenient for children to crawl or play without worrying about the risk of falling.
【Kids House Bed With LED Lights】: Modern LED Platform bed frame uses LED strip with switch set, its located under the side of the roof. The warm light will give you a dreamlike atmosphere and makes your kids bedtime smart and wonderful, you can switch on/off by adapter at ease.This twin size floor beds reflects the modern sense of technology, add charming to your bedroom.
【Open & Spacious Twin Bed Frame】:This open concept allows for creativity to decorate with any special piece of art. Perfect for girls and boys to make up their own theme. There are additional storage space above the shelf of the headboard and footboard, which can place small items to maximize the use of space.
【Advanced Wood Frame】: Crafted with solid pine wood and high quality MDF, this twin floor bed frame is manufactured for sound stability and security that can withstand playing without dangerous wobbling. With strong load-bearing capacity and bed slats kit, the house bed can withstand the test of time, provide strong protection for children.
Pros

Cons

Storage shelves
LED light strip
Sturdy craftsmanship
Fun design
A floor bed with shelving at the head and foot, the Bellemave House Twin Montessori Bed is able to keep all your child's favorite items nearby. Not to mention the LED light strip! Positioned on the side of the roof, it gives off just the right amount of light for sleep with a feeling of security.
The bed is a fun tent-like design that your child will no doubt get a kick out of! Parents will be just as happy since it's sturdy and able to withstand tons of wear and tear. It is heavy, though, so be sure it's not something you plan to move often, as that'll get old really quickly!
Material: Pine wood+Plywood+PB | Maximum Weight Recommendation: 200 pounds | Dimensions: 91″L x 43.8″W x 65.8″H
View on Amazon | View on Walmart.com
Best for Multiple Sleepers: Bellemave Two Twin House Beds
Pros

Cons

Two sleep spaces
Two railing types
Space saving design
Drawer storage option
Whether you're accommodating twins or just prepping for co-sleeping and sleepovers, the Bellemave Two Twin House Bed offers more than enough space. It's got two separate beds, one with semi-enclosed railings and the other railing free, an awesome feature for room-sharing siblings of different ages!
The space-saving L-shaped design fits perfectly into a corner, taking up minimal room for how much sleep space you get. Plus, this floor bed has a model option that comes with storage drawers underneath, if that's something you need. The only real downside is the difficulty of assembly.
Material: Plywood+MDF+Pinewood | Maximum Weight Recommendation: 250 pounds | Dimensions: 118.1″L x 76.6″W x 75.1″H
View on Amazon | View on Walmart.com | View on Bellemave.com
Montessori Floor Beds: What Parents Need to Know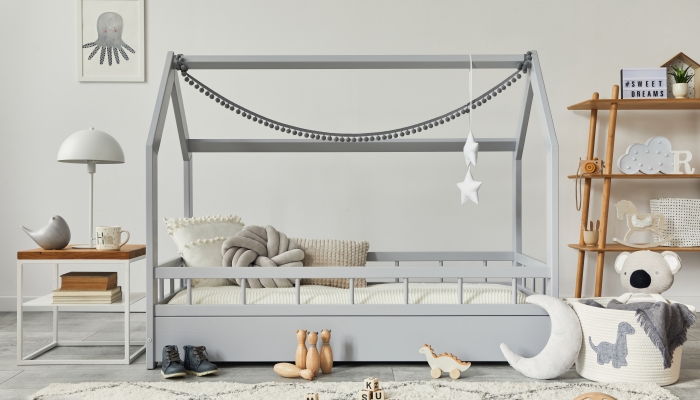 You may be asking yourself what a Montessori bed is anyway. How are they different from toddler beds or a normal child's bed? Montessori beds are simply a mattress or bed frame with a mattress on the floor, or sometimes super low to the ground.
The idea behind these beds is to encourage self-reliance, giving a young child the ability to get in and out alone. Over time this supports their independence and makes mornings easier on you! It also fosters their curiosity and exploration as they're no longer confined to one particular space.
Some parents may be nervous about the level of independence a floor bed gives their little one, though, wondering if it's really a safe option. A fair concern, but nothing to be worried about! As long as your child's bedroom has been baby-proofed, they'll be safe. It's far more dangerous for them to fall out of their crib trying to escape than sleeping on a floor bed.
That said, once their chest is higher than the crib railing, it's time to make the switch. For most kids, this will be somewhere from two to three years old, though it's not uncommon for families practicing the Montessori lifestyle to move to a floor bed way before that age range. Consider consulting your child's doctor for their professional input.
What to Look for When Buying a Montessori Floor Bed for Your Child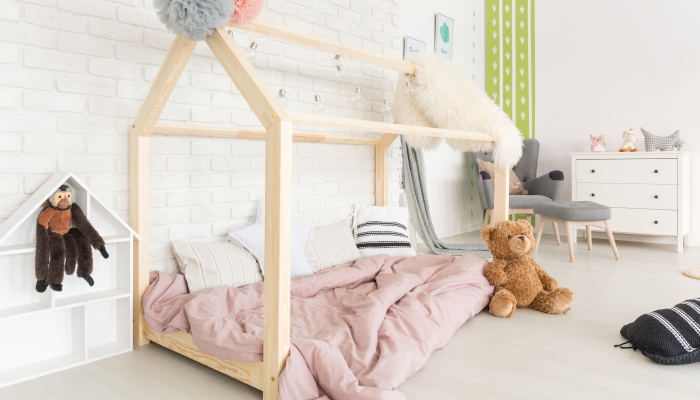 As you can tell, Montessori floor beds are pretty simple structures, so they don't vary hugely in design. Even so, there are some key elements you'll want to be on the lookout for when you're looking into these crib alternatives.
Height: For the purpose of this article, we took a look at strictly floor beds, but Montessori beds also include frames lifted off slightly from the ground. Consider the height best for your child and your family's needs in the long run.
Size: You'll find that most Montessori beds come in a twin size, fitting a twin mattress. Parents may be surprised to find that these beds come in larger sizes as well. If you plan to co-sleep or use the bed long term, choose a bigger size.
Material: The majority of Montessori floor beds are manufactured in some form of wood, whether real or engineered. There are a few metal options as an alternative material, though, which in some cases may last longer.
Barriers: Since these beds are made with little ones in mind, many Montessori floor beds are designed with barriers or side railings to prevent falling off the edge. Consider if you'd like a barrier or a bed with no side framing at all.
Extras: You can find some floor beds with bells and whistles like storage, end tables, bookshelves, trundles, and the like. For some of these extras, you'll have to be okay with a slight raise off the floor, not a full-on floor bed.
FAQs
Do I need a special mattress for a Montessori floor bed?
You won't need a special mattress for a Montessori floor bed; a typical twin mattress will do just fine. While these floor beds do come in bigger sizes and even toddler bed sizes too, the twin is the most common. Since the mattress sits either directly on the floor or on a platform of slats, a box spring won't be needed for this setup.
How do I transition my child from a crib to a Montessori floor bed?
Start by talking it up, explaining how exciting it is that they get a brand new bed. With my daughter, once her bed arrived, we spent some time there during the day, which helped.
Consider testing it out at nap time during a normal time in your toddler's sleep schedule too. Be prepared for some night wakings as they get used to things. If they need to ease into it, consider letting them fall asleep in their crib and moving them to the floor bed once they're asleep.
How long can a child sleep in a Montessori bed?
The Montessori bed can be used for children up to 12 years old since most of these frames hold well over 150 pounds of weight, usually more. Even so, it's most common for kids to move away from the floor bed around six years old. At that point, they'll likely want more of a big kid bed in the classic platform style.
Related Posts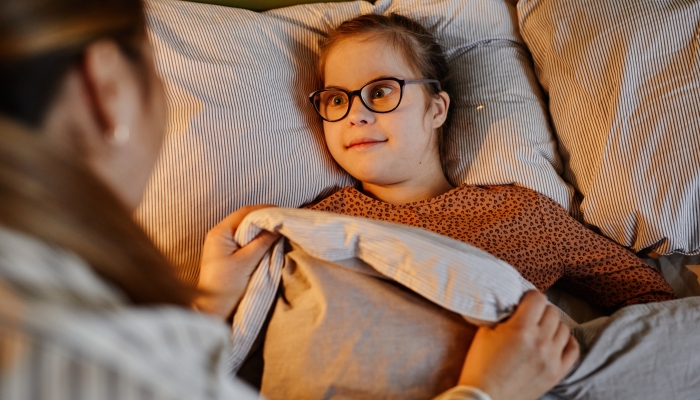 Product Reviews
Heard a lot about weighted blankets and lap pads and wondering how to choose one? Here's our guide to the ins and outs of finding the right weighted blanket.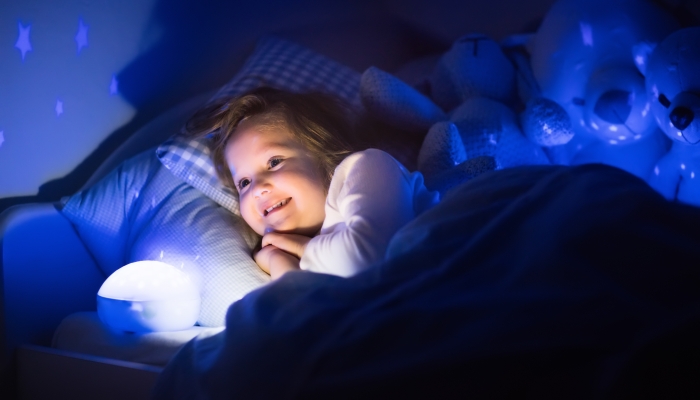 Product Reviews
Looking for the right night light to help your little one ease into bedtime? Check out our guide for everything you need to know about toddler night lights.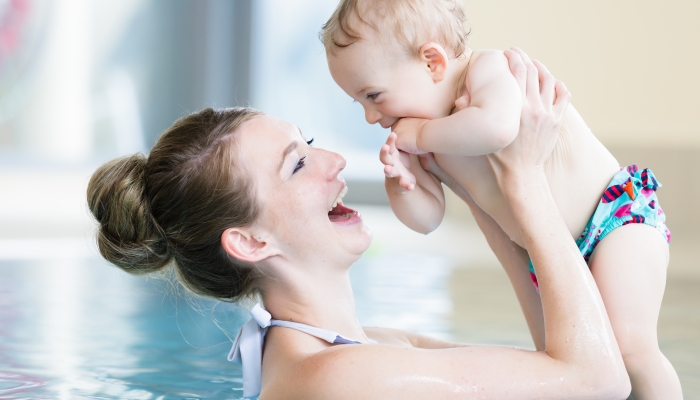 Potty Training, Product Reviews
The best swim diapers are comfortable and help prevent your baby from having an accident in the pool or ocean. Find our favorites in this round-up!