Rainbow Playdough Cutting Station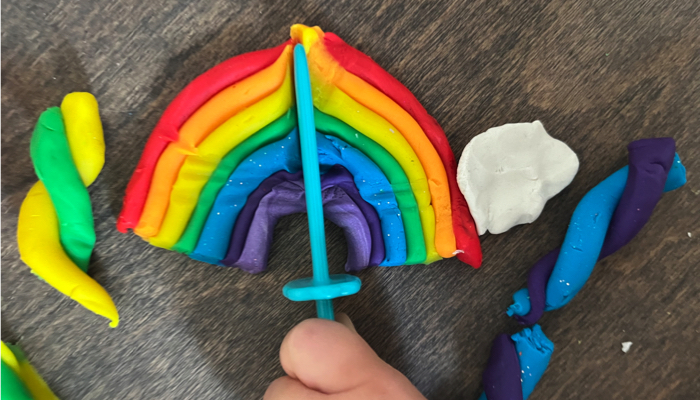 This post may contain affiliate links; please see our terms of use for details.
As a former kindergarten teacher, I know the benefits of playdough stations. In my classroom, I'd often set up stations around the classroom using playdough. Some of these playdough stations included letter forming, sight word stamping, and color mixing.
I've found that playdough makes some of the best fine-motor activities for preschoolers. The best part about it is that it's cheap and easy to find.
Now that I homeschool my own children, I bring many of these playdough activities into our curriculum. My newest activity is a rainbow playdough station that includes cutting, mixing, pulling, and a variety of other fine motor skills. Setting up this simple station for your child will bring a little joy into their day while also strengthening their hand muscles.
This rainbow playdough cutting station takes just a few minutes to assemble. You probably already have what you need on hand!
Rainbow Playdough Cutting Station: What You'll Need
Pull out your playdough stash and all the cutting tools you have on hand. You don't need the exact colors or tools that I used to make this a fun station for your little one.
Materials:
A few colors of playdough (If you don't have the ROY G BIV colors, be creative!)
Cutting tools (Any playdough tool such as a knife, pizza cutter, or scissors)
Cookie cutters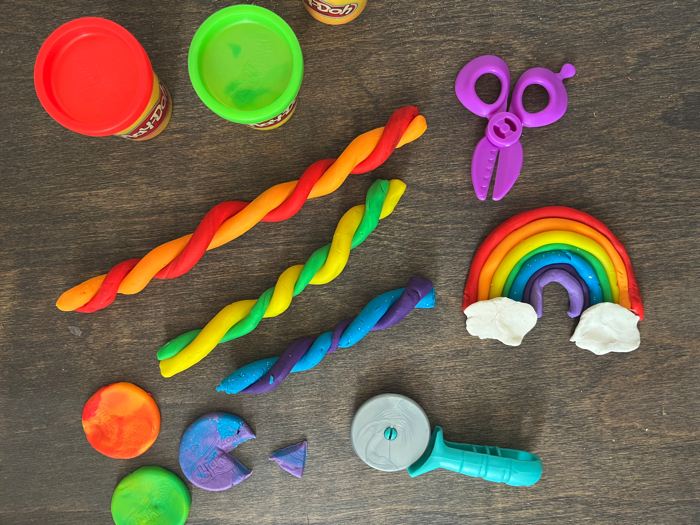 Setup:
Before my child came to the playdough station, I assembled all the pieces she would be cutting. Long snake-like pieces are one of the best shapes for scissors practice. For this reason, I formed several long pieces for her to use for slicing and snipping.
Round playdough cookies are perfect for cutting with a pizza cutter. Long twisted ropes are ideal for pulling apart.
You could also have your child help you make the station. This would also work on fine motor skills. I chose to make it ahead of time for a fun surprise and to let my toddler spend more time playing with the cutting tools.
Time to Play
Now it's time to let your child explore and play. Independent play is beneficial, but for this activity, playing alongside your child will help increase the skills being learned.
Here are some fun activities to encourage your child to explore:
Scissor Cutting
When your child uses the scissors, help them put their hands in the right holes of the scissors. It's important that children learn how to use scissors correctly from the start. Bad habits are harder to break later on.
Help your child place their thumb in the top hole and their pointer and middle fingers in the bottom hole. You may need to hold their hand as they cut until they get used to keeping their thumb facing upward instead of sideways.
My toddler loves using the scissors to cut the long ropes and cookie shapes.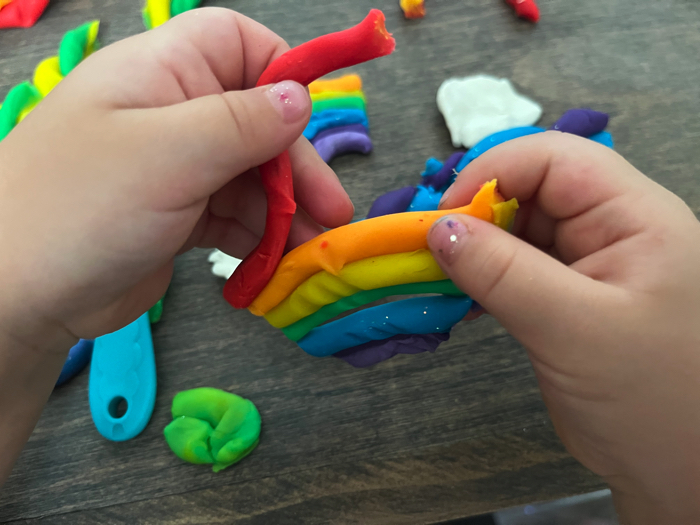 Pulling
The rainbow pieces, as well as the twisted ropes, provide a great opportunity for your child to pull the playdough apart. Encourage your child to pinch and pull each individual piece away from the rest.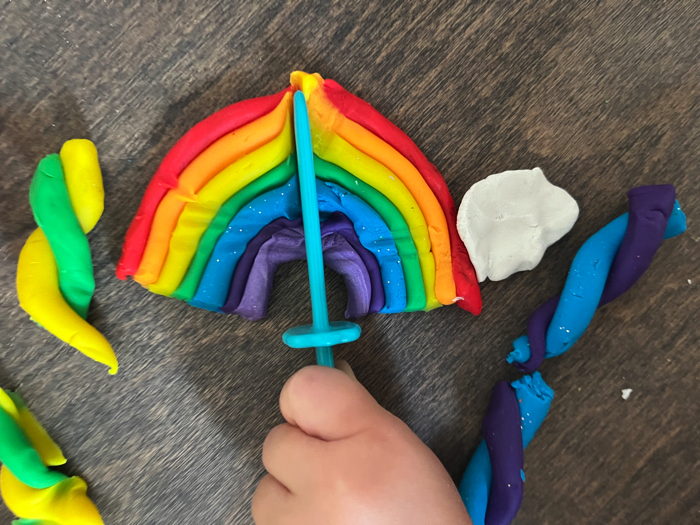 Slicing
Slicing skills take more practice than you might think. Help your child learn to hold the pizza cutter and knife. Just like using scissors, your child will take time to learn how to hold the tools correctly.
You'll always want to help your child push down as they slice. They'll need to apply enough pressure to cut all the way through.
Color Sorting and Mixing
When my toddler was finished pulling apart the rainbow pieces, we sorted them into color categories. Naming each color as you sort is a great language activity for preschoolers. We also put them in order of the colors of the rainbow.
Children that are beginning to read will enjoy learning the ROY G BIV acronym for the colors of the rainbow. It's also a fun lesson to teach them about indigo since it's not commonly mentioned.
What can I use if I don't have playdough-cutting tools?
If you don't have playdough tools, don't let that keep you from creating this activity. You could also use a pair of kid-safe scissors. Instead of a playdough knife, you can use a disposable plastic knife and supervise your child.
Can I make the playdough myself?
Yes! We love making homemade playdough. It's very simple to make and only takes a few ingredients.
Most recipes call for flour, water, salt, vegetable oil, and cream of tartar. I've found that these homemade playdough recipes make some of the softest playdough we've found. Plus, playing with warm, fresh playdough is a fun sensory activity.
What else can we add to the playdough station?
To make this station even more fun, you can add in other items for play. Items like beads and buttons can be pressed into the dough. Add glitter to make this a sparkly play experience.
What are the benefits of playing with playdough?
Playing with playdough might seem like simple childhood fun, but there is so much more to it. Here are a few benefits that come from playing with playdough:
Builds Fine Motor Skills
If you're not familiar with fine motor skills, these are the skills needed to cut, draw, pinch, and more. These movements take lots of practice. Your child will need to build the muscles in each hand to perform these tasks.
Encourages Creativity
Playing with playdough encourages a child to create new items and engage in pretend play. Pretend play is seen throughout the stages of play and is an important part of child development. Your child might create an ice cream shop, play chef, or open a hair salon all while using playdough.
We love this Play-Doh Barber Shop toy for encouraging pretend play and creativity.
Strengthens Eye-Hand Coordination
Eye-hand coordination is strengthened through touch and sight. The more your child combines the two senses through cutting, rolling, shaping, etc., the stronger their coordination will become.
Calms Emotions
Playing with playdough provides a calming sensory experience. If you want to know how to handle a toddler meltdown or a sensory meltdown, playdough is a clear winner. I've used playdough many times to distract a child and help them self-soothe.
Develops Social Skills
If you sit alongside your child or invite another friend over to play with the playdough, you can help them develop their social skills. Sharing, collaborating, and pretend play can all help your child learn how to interact with those around them.
A Rainbow of My Own
Freeman, Don (Author)
English (Publication Language)
32 Pages – 12/14/1978 (Publication Date) – Puffin Books (Publisher)
What other ways can I enrich this activity?
I love taking activities and enriching them through literature, music, and other modes of learning. Here are a few ways you can enrich this play activity:
Read the book A Rainbow of My Own by Don Freeman
Create rainbow suncatchers for the window
Mix paints in all the colors of the rainbow and create new colors
Study the types of clouds and talk about the weather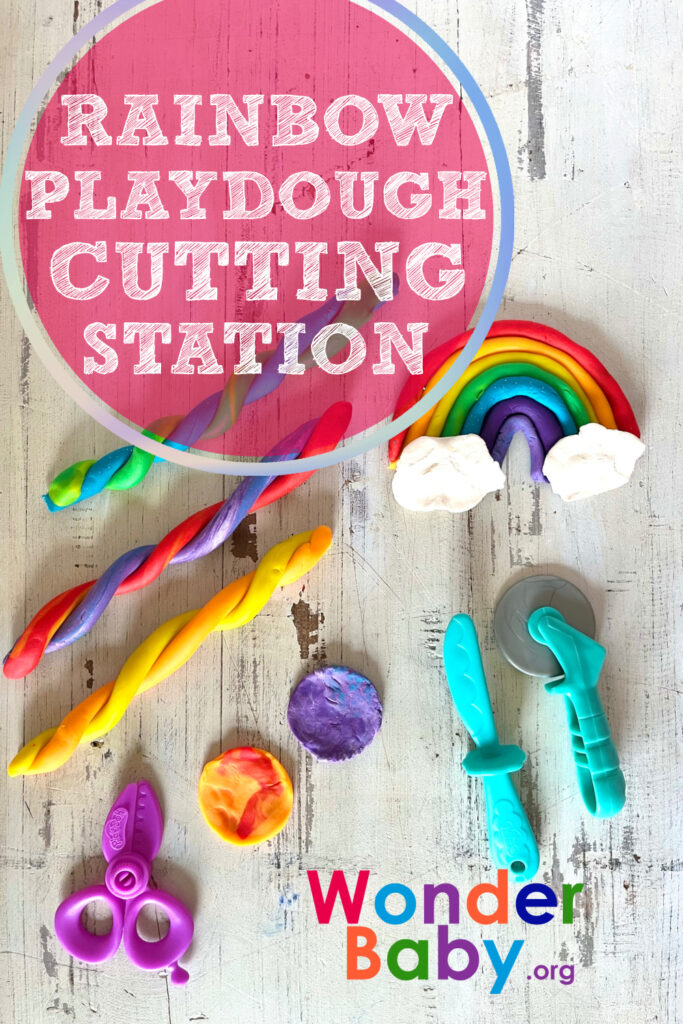 Related Posts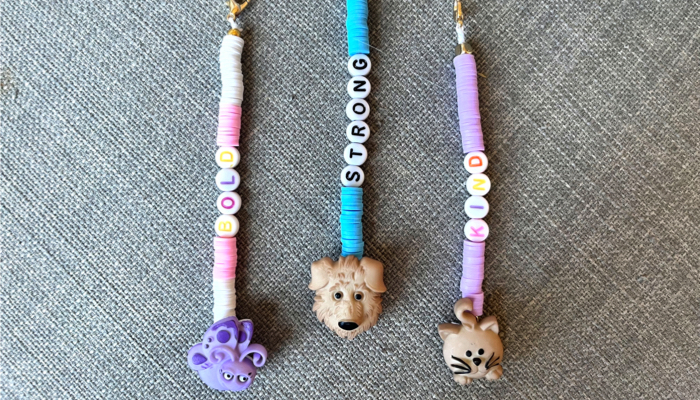 Parenting, Play, Tactile Art
These affirmation backpack buddy keychains are adorable and easy to make. Give your child a little encouragement with this simple craft as they head to school.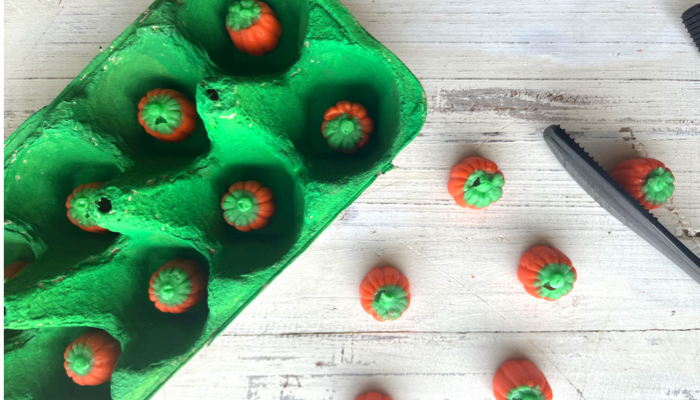 Fine and Gross Motor, Play
This adorable pumpkin picking fine motor activity is a breeze to make! A perfect fall activity for preschoolers and toddlers alike.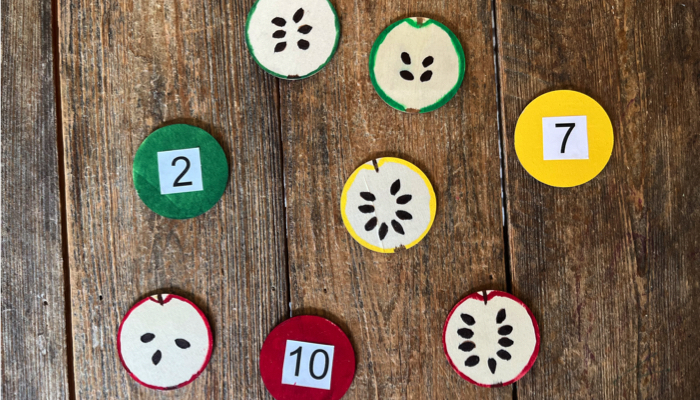 Math and Science, Play
This apple seed counting game is easy to create and fun to play! With just an oatmeal container and a few supplies, you can surprise your child with this delightful...