Developing Multisensory Skills in Blind Babies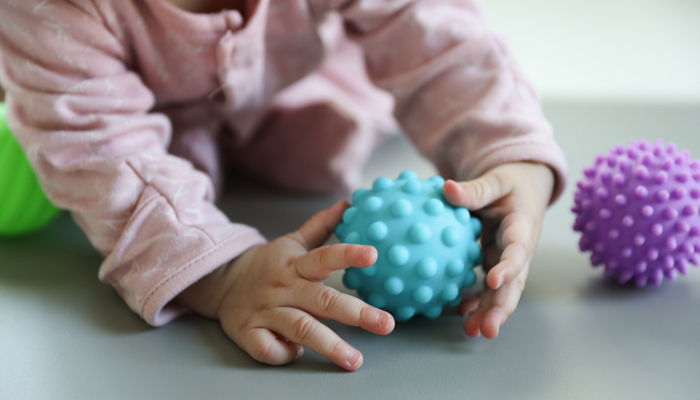 This post may contain affiliate links; please see our terms of use for details.
Typical infant development is very visual, but this modality is missing or strongly diminished in babies who are severely visually impaired.
Most of our understanding of infant development relies on observing how babies respond to visual cues.
Understanding how both blind and sighted babies interact with touch and sound can help us support blind babies as they learn about their world.
Vision acts as a way to integrate different sensory inputs. For example, if you see a dog, hear it bark, and touch its soft fur, you can use your vision to pull all those elements together to understand what a dog is. For infants who are visually impaired, the loss of the visual component makes it difficult to understand that the soft animal they are touching and the barking sound they are hearing are coming from the same source.
Vision is even more critical when developing an understanding of space and how your body is oriented in a room or how objects are related to each other.
A recent study titled Multisensory Spatial Perception in Visually Impaired Infants and published in the November 2021 issue of Current Biology explores how sighted and severely visually impaired (SVI) babies respond to touch and sound and how this may affect their understanding of how they are oriented in their environment.
The study researchers emphasize that "the important role that vision plays in the early development of multisensory spatial perception raises the possibility that impairments in spatial perception are at the heart of the wide range of difficulties that visually impaired infants show across spatial, motor, and social domains."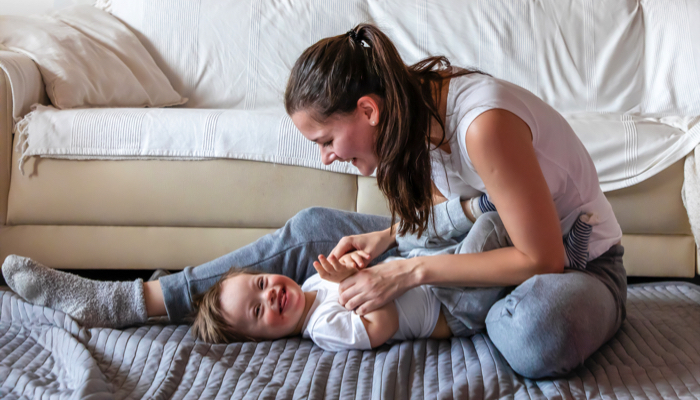 Touch, Sound, and Sensory Integration
Sensory integration relies heavily on the visual. Body perception, manipulation, interaction, and coordination all rely on a strong sense of sensory integration. Sighted babies use all of their senses together to understand their bodies and the world around them.
But what if we were to try to isolate how both sighted and blind babies respond primarily to touch and sound?
This study looked at how both sighted and blind babies responded to objects that (a) made a sound, (b) vibrated, or (c) made a sound and vibrated at the same time. These objects were placed in babies' hands and their responses recorded.
When given objects that make both a sound and vibration, both groups responded faster than with tactile or audio alone, but the sighted babies were quicker and more accurate.
When presented with one object that makes sounds and one that vibrates, sighted babies showed a preference for sound and blind babies overwhelmingly preferred touch.
Interestingly, when blind babies were presented with objects that vibrated but did not make noise, they showed "faster and more accurate localization of tactile stimuli on the hands when their hands were crossed" than their sighted peers.
Some of the conclusions from the study were:
Blind babies prefer to interact with touch more so than sound and are better at identifying objects by touch than sighted babies.
Blind babies are more comfortable with toys on their bodies and have a well-developed understanding of their own bodies.
Blind babies struggle with understanding how the world around them is oriented and struggle with spatial awareness.
This difficulty may also affect how blind infants interact with other people or how they develop socially.
These differences are noticeable in baby development. Blind babies, for example, often won't reach out for a toy that is making sounds until they are 12 months old, while sighted babies reach for sound-making toys around 5-6 months old.
Textured Toys
Vibrating Toys
Body Awareness Toys
Teachable Touchables Sensory Squares
Textured Toys
Teachable Touchables Sensory Squares
Vibrating Toys
Body Awareness Toys
Focusing on multisensory play, combining sounds and touch, and playing with toys close to your baby's body then pulling them away to encourage reaching and exploring can help your baby develop better spacial awareness. According to researchers, "Such approaches may help visually impaired infants make better use of auditory and multisensory space to help them link the tactile world of the body to the outside world of objects and people."
5 Toys To Encourage Development of Sensory Integration and Spatial Awareness in Blind Babies
1. Wrist Rattles and Foot Finders
Sale
Wrist Rattles & Foot Finder Rattle Sock
💜 CUTE DESIGN — All Wrist Rattles and Foot finder socks have bells inside, the Wrists rattles attach with simple Velcro, easy to put on and take off. The wings of Bee and Butterfly were with sound paper, encourage baby to reach and grab.
💜 SAFT SOFT MATERIAL — Made of high quality environmentally friendly fabric,soft and safe for babies to use.Non-toxic and 100% safe for baby to play; it can be washed when get dirty, always keep it clean.
💜 EARLY DEVELOPMENT — These colorful smiling cute animals and bugs will entice little baby to touch, grab and look at them. It will help to develop their hand, foot and eye co-ordination. Strengthening Color Cognition/Vision Cognition/Hearing Development & Voice Development.
💜 BABY PARTNER — Baby Rattles set was suitable for 0 month up babies boys or girls.The toys always keeps in hand, baby will not lose them or throw them on the ground. Best toys for babies when they're in stroller/infant Car Seat/mamaroo/bed/baby chair/Baby Carrier alone.
These wrist rattles and foot finders are fun tactile toys designed to be placed directly on your baby's body to encourage body exploration and movement, including crossing midline.
The wrist rattles are attached with velcro, and the foot finders are basically socks with silly toys attached to the toes! Each toy makes sounds when they shake, so your baby can also learn that they can create noises when they move their hands or feet. This not only encourages body awareness but also introduces the concept of cause and effect while also teaching your baby that they can manipulate their environment.
Once your baby is comfortable reaching for the toys while they are attached to their body, try taking the toys off and holding them a few inches away from your baby's body. Encourage reaching and moving a bit outside their comfort zone!
2. Toys With Multiple Textures
Sale
Multi-Sensory Soft Taco
This soft taco play food fill-and-spill toy is a fun way for infants and toddlers to discover textures and sounds
The 12-piece infant toy includes a soft foam taco shell, 3 smooth fabric pieces, 3 textured crinkle pieces, 3 food-shaped fabric pieces, 2 attached textured pieces
Sort, squeeze, and stuff to help encourage sensory, fine motor, and problem-solving skills
Melissa & Doug infant and toddler toys inspire "a-ha!" moments of discovery. Adorable, diverse characters and a variety of fun shapes and textures encourage exploratory, skill-building play
Exploring toys with multiple textures can help blind infants discriminate between objects. Help your baby touch different tactile sensations and find out which they prefer. This Multi-Sensory Taco from Melissa & Doug is a great early toy because it includes differing textures, a crinkle sound in some of the pieces, and allows your baby to place objects in or take them out of the taco shell.
Sensory mats are another fun way to introduce new textures to your baby. Mats are great for tummy time, or you can place the mats under your baby's feet while they are in a baby jumper. We have a set of these sensory bean bags with different textures and absolutely love the quality and durability of these touchable pieces. As your child grows, this also doubles as a fun sorting or matching game!
3. Toys That Combine Touch and Sound
Sale
Multi-Sensory Crinkle Rattle Caterpillar
3 IN 1 BABY ACTIVITY TOYS – We combine the fun of rattle toys, music toys, and animal plush toys into this toy. Let your baby experience a variety of fun just on a caterpillar toy.
VISUAL DEVELOPMENT – There are a variety of colors, fabrics, patterns and textures to interest the baby. The Baby's eyes and hands will stay active when exploring these. Which helps tactile and visual development ..
AUDITORY DEVELOPMENT – The cute musical caterpillar can make 4 different sounds: 1x music box (with one song) in the head; 1x BB squeaks, 2x crinkle sound paper on the back; 1 x rattles in the tail. The baby can explore the joy of various sounds from it.
RECORD GROWING UP – The intimate design ruler design allows moms to measure the baby's height during the baby's tummy time easily. The maximum size is 50cm/20ft. Never mind if the baby is higher than the scale, measure twice is ok. Note: Pls pull on the plush toy to get a more accurate size.
This large Crinkle Rattle Caterpillar is a fun option that combines sounds and textures. The caterpillar is made of different textured fabrics and includes crinkle and rattle sounds while also playing music. The antenna doubles as safe teethers, which is a bonus for children who explore orally.
Sale
Kids Musical Piano Mat
【Easy to Play】This music toy has 2 modes, the random mode can play 15 melodies, one-click mode has 10 music keys and 7 instrument sounds. you can adjust the volume of music blanket to choose the suitable volume for your kid.The sound of the mat music rewards the baby's liveliness and adds a lot of fun to the baby!
【25 Music Sounds】The musical mat contains 25 built-in sounds, including 7 instrument sounds,15 melodies and 10 music keys. This music play mat keeps your child fun for hours and also helps kids to gain music knowledge.
【High quality and safe piano music mat】The piano music mat is made of non-woven fabric, tasteless and non-toxic. High-quality fabrics do not hurt kids' feet and it is easy to clean, but not water washing.
【Educational Music Toys】The piano music floor mat is colorful and can help children identify different colors and musical instruments and animals. Music can help children develop brains, memory, self-confidence, patience, imagination and temperament. It is an ideal gift for children's birthdays, Christmas and other holidays.
If you are trying to encourage your baby to explore more freely, large Piano Mats are enticing musical toys that lay flat on the ground and are great for crawling or reaching babies. Use a glue gun to add different textures to each piano key, and you've got an appealing multi-sensory musical play spot!
4. Toys That Vibrate
Sale
Mr. Blue Dancing and Singing Bird
SOUND ACTIVATED: This adorable dancing bird will come to life in response to the noises your baby makes.
ADORABLE DESIGN: Fall in love at first sight with this little bird's big beautiful eyes, teeny wings, and happy yellow belly.
SOFT, ROUND, PLUSH TOY: When the dancing stops, Mr. Blue makes a brightly colored and soft snuggle buddy for your little one to cuddle and roll around with.
FUN SOUND EFFECTS: As your child talks, laughs, and sings, this interactive toy responds by tumbling around and making silly sounds of his own.
Toys that vibrate and make sounds are an excellent option for blind babies. This Dancing and Singing Bird is a soft plush texture and plays music while also vibrating, giving plenty of sensory feedback. Vibrating toys can also be a fun to encourage reaching or scanning as they jump and move about on their own and can get away from your baby if they don't hold on tight.
If you prefer vibrating toys that stay in one place, this Hug and Tug Musical Bug can hang from a car seat or stroller, encouraging reaching and exploring in a safe place. The bug plays music and vibrates for 90 seconds after being pulled, making it a great cause-and-effect toy and also coaxing your baby to reach out again when the music stops.
5. Hanging Toys That Make Sound
Sale
Wooden Baby Gym
Best Newborn Gift for Baby Growth: A great wooden baby gym to have fun and do exercise in a way that appropriate activities to promote brain and motor skill development, this comfy baby play gym comes with 7 removable infant activity toys to play with that help the baby build strong motor skills and hand-eye coordination.
High Quality Safty Design: PgUp Wooden baby play gym crafted using 100% baby-safe materials. FSC-certified wooden pieces are made of high-quality New Zealand natural pine and removable accessories are sanded to a nice, smooth surface with no sharp edges that could cause harm to the baby, organic does not contain toxic or chemicals.
Easy to Assemble & More Stable: PgUp baby gym was relatively simple to put together, only two screws and figured out which way the wooden planks went! Removable construction enables to modify or add more toys, it also adapts extremely well to any nursery and space in the house. The fixed bracket can supply more stable support, the bracket will not swing at will and the security is higher.
Foldable Baby Gym Perfect Size: The width between this wooden play gym's legs is 19.7" (50 cm), Depth is 22.8" (58 cm), Height from the floor to a play gym bar is 18.9" (48 cm). Perfect size fits over almost all kinds of baby mats, loungers, rockers and baskets.
Simple mobiles or baby gyms are designed to motivate babies to reach and feel more comfortable exploring away from their bodies, which can be difficult for blind babies to master. Baby gyms that also include sounds, like this Wooden Hanging Activity Center, combine both reaching and sound prompts, making it perfect for visually impaired babies and toddlers.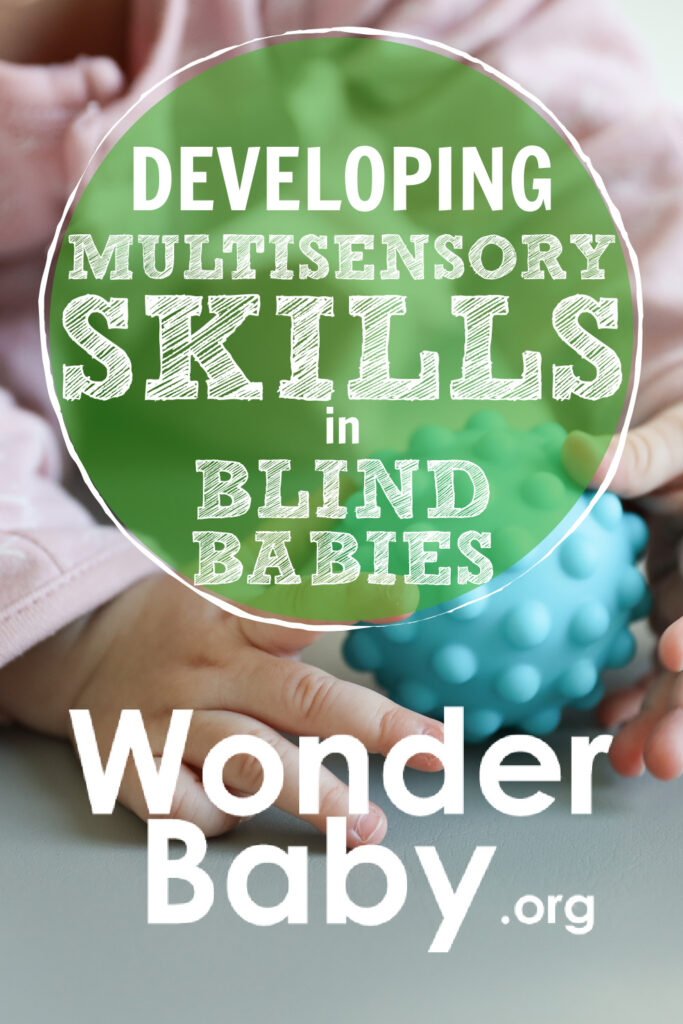 Related Posts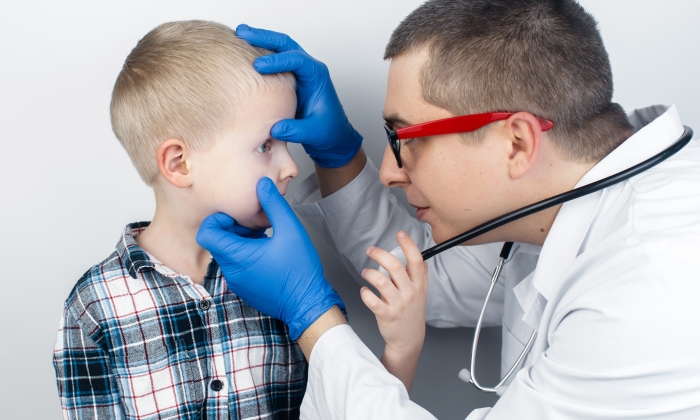 Eye Conditions and Syndromes, Visual Impairment
Congenital glaucoma is a disease where the pressure inside your baby's eye is too high. This can damage the optic nerve and can even make your child go blind.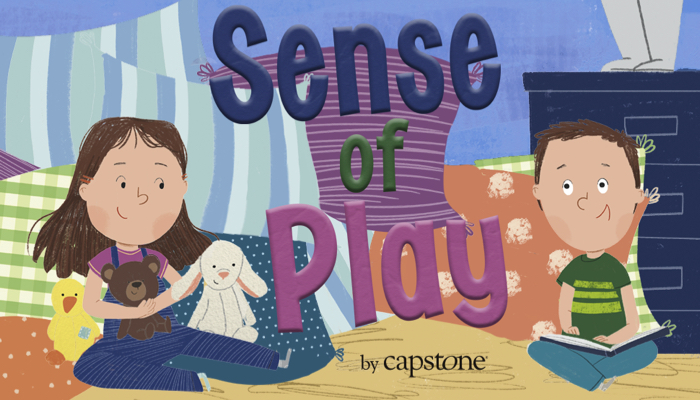 Braille and Literacy, Product Reviews, Visual Impairment
Dana Meachen Rau's book, Sense of Play, follows the adventures of Chip and Joy as they play. Chip is blind, but this doesn't get in the way of their play!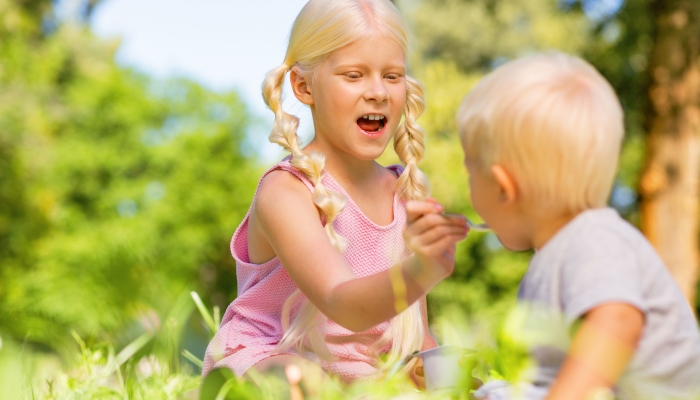 Eye Conditions and Syndromes, Visual Impairment
Albinism is a genetic condition that reduces melanin. There are many myths about albinism and vision, so educating yourself with the facts is important.