My Talking Picture Board App Review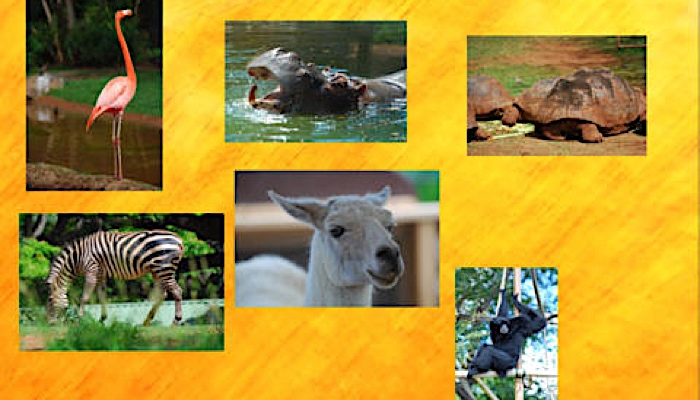 This post may contain affiliate links; please see our terms of use for details.
App Details
Price: $19.99
Where to Buy: Find My Talking Picture Board at the iTunes Store
Developer: Little Bear Sees
Devices: Compatible with iPad
Operating System: Requires iOS 5.1 or later
Categories: Cause & Effect, Music & Sounds, Communication, Education
Description of My Talking Picture Board
My Talking Picture Board comes from Little Bear Sees, the makers of the first iPad app especially designed for children with CVI, Tap-n-See Zoo.
Like Tap-n-See Zoo, My Talking Picture Board is designed for children with CVI, but can also be used as a simple visual discrimination app for anyone who needs help learning to locate and identify two dimensional images.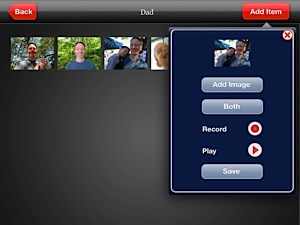 My Talking Picture Board connects directly to your photo library on your iPad and allows you to grab images of recognizable people and objects and turn them into picture or story boards.
Under the option "Library" you can create any number of folders with related images. For each image you can choose to record a sound, make the image move or both. So, for example, I've created a folder called "Dad" with images of Ivan's father. For each image I recorded a short description, like "Daddy is smiling," that Ivan will hear when the image is tapped. I can also choose to have the image move when it is tapped for added visual stimulation.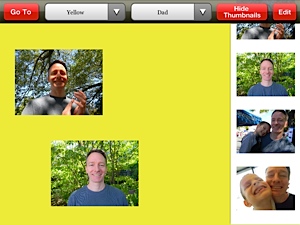 Once you have your library full of photos that you'd like to use, you can select the "Play" option to create a picture board.
Place your images anywhere on the board and resize them any way you like. You can also choose different backgrounds, from simple black or white backgrounds, to bright colors and even really complicated patterns.
Start simple and work your way up to the more intricate backgrounds. You can place one photo on the board or multiple photos. Find ways to encourage your child to reach out and interact with the photos then challenge them with more images or patterned backgrounds.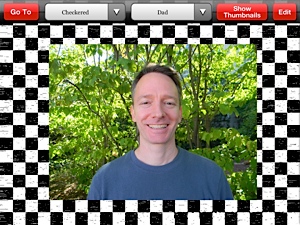 Accessibility
My Talking Picture Board is designed to be set up by a parent or teacher, then the child just plays with the "Play" screen. There is very little to distract your child from the task at hand, ie the image(s) on the screen, so it is highly accessible for that reason.
If the top menu bar is distracting or if your child accidentally hits one of the menu buttons, an easy solution is to cover the top of the screen with a thin cloth headband. Just wrap the headband around the iPad and the menu bar is gone!
You can watch this short video to see the app in action:
Related Posts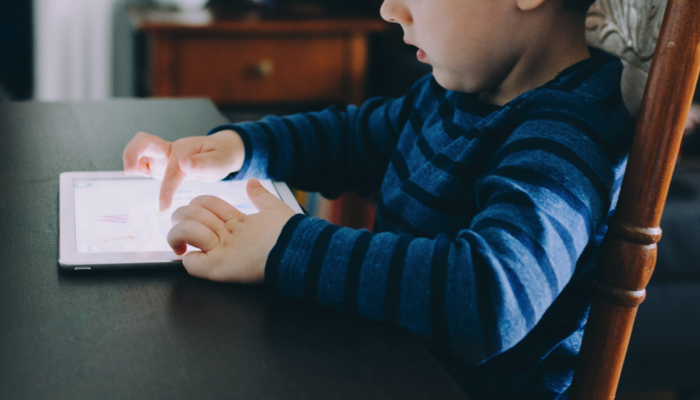 Eye Conditions and Syndromes, iPad Apps and Accessibility
A collection of successful iPad apps for kids diagnosed with CVI as recommended by a TVI and CVI specialist.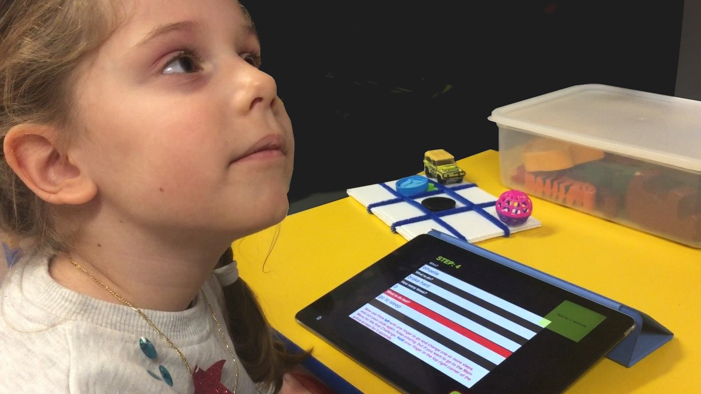 iPad Apps and Accessibility
For children who are blind or visually impaired, iPads represent multi-purpose, portable Assistive Technology devices that can replace expensive AT devices.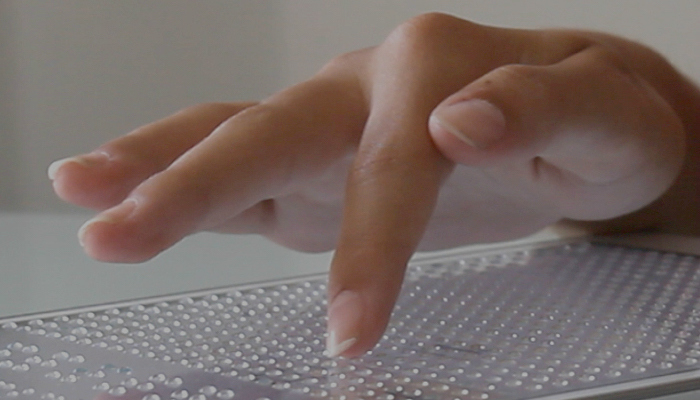 Assistive Technology, iPad Apps and Accessibility
Feelif is a tactile tablet that is able to combine native features of the Samsung tablet, like vibrations and the built-in screenreader, with a tactile surface to create a whole...