Potty Training Twins: Strategies and Tips That Work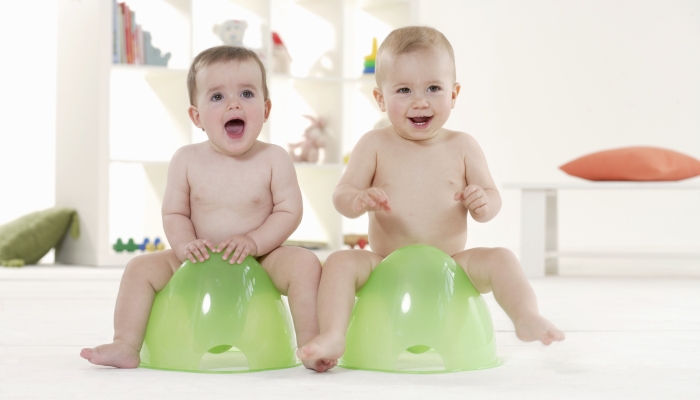 This post may contain affiliate links; please see our terms of use for details.
Potty training twins takes time, patience, and cleaning up a few messes.
When your twins are ready for potty training, you can select a potty chair or potty training toilet seat, depending on their preference.
Finding the best potty training method will help you have a successful experience.
Everyone told me you never see a college student leave home without being potty trained. Well, thanks, but that's not helpful when my child is peeing everywhere but the potty.
Potty training one child is one thing, but two kids is another ball game. As a twin parent, you know that two toddlers bring their share of chaos, but what about when you have to teach them to go potty in a toilet, not their diaper?
Potty training twins should be an Olympic event, with all parents deserving a gold medal. However, since it's not, the pride and excitement we have for your children when they go in the potty will suffice.
Successfully potty training twins is possible, and we are here to help!
Strategies for Potty Training Twins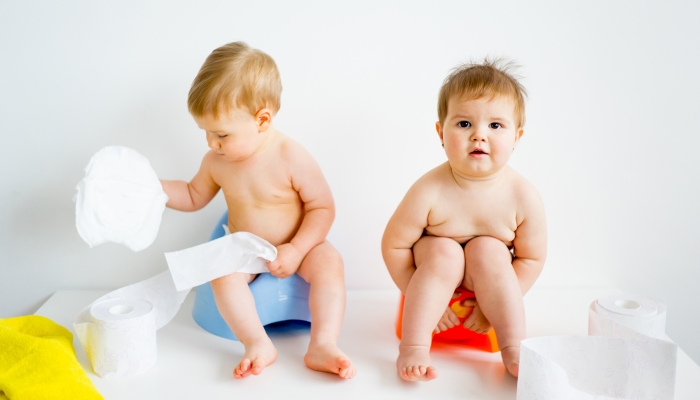 Every good plan has a strategy, and that's no different with potty training twins. While some methods prove more fruitful than others, we hope the following ideas lead you to success.
Training One at a Time vs. Both Together
When you potty train twins, you'll have to decide whether to do tandem training or one at a time. You know your kids best and will likely know which approach will work better, but it's also good to remember you can change your method if it's not working.
There are pros and cons to each approach you'll want to consider when you potty train twins.
Pros of potty training your twins together include:
More time-efficient to do it at once
Your twins can motivate each other
You'll save money by stopping diapers all at once
Cons of potty training your twins together include:
Double the mess
Logistics may be more challenging
Your twins may learn at different paces
Double the work
Pros of potty training one twin at a time:
More time to focus on each child
Reduces stress
Easier to track progress
Cons of potty training one twin at a time:
You'll have to do the process over again with the other twin
Higher costs with one still in diapers
Potential regression for a child who is potty trained
Create a Routine to Potty Train Twins
All parents know routine is vital when it involves their children, and that's no different when potty training twins. It's always a good idea to have a schedule of when your child needs to try the potty.
Many parents set an alarm to remind their children, allowing them to get used to associating the alarm sound with going potty. Remember, this technique may work for one twin but not the other.
You may also invest in a potty training watch, which makes the process more fun. Creating bathroom habits will help your child feel like a big kid and aid in toilet training.
If you decide on a watch to help potty train, I recommend The Original Potty Watch, which turns "Potty Time into Party Time."
Utilize Positive Reinforcement
Many parents use reward charts when potty training twins, which can help get your twins excited about the process.
Remember, rewards don't have to be big or expensive; little kids love stickers and sticker charts are a massive hit with potty training! You can also pick up potty training books to help prepare your twins for potty training.
My favorite children's book about potty training is Potty; it's short, sweet, and to the point. If you have twin girls, you'll also enjoy Big Girls Use the Potty, with stickers and a reward chart.
Consider making different incentives for your twins since they may have other interests. I learned that what worked for my oldest wouldn't work for the others, so I had to adjust my plans.
Understanding the Basics of Potty Training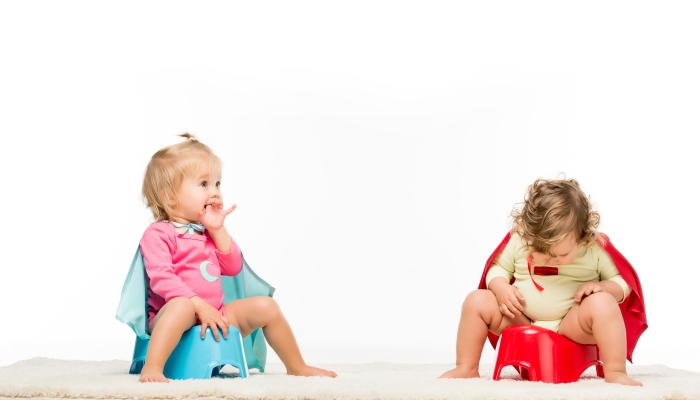 While the process seems simple enough, understanding the basics of potty training can lead to a successful outcome.
Recognizing Readiness Signs
Most children show they are ready to potty train, which is always a fantastic sign. If you have a less eager twin, it's best not to pressure them to use the potty and, instead, go at their pace.
For example, start with the twin interested in potty training and let the other go at their own pace. They may become more interested if they see their sibling going potty!
Remember, toddler twins often live in their own world, so allow for some grace while you potty train them.
A 2008 article by Choby et al. published in the American Family Physician11. Choby, B. A., & George, S.. Toilet Training. American Family Physician. 2008;78(9), 1059–1064. https://pubmed.ncbi.nlm.nih.gov/19007052 found that because each family and child are unique, recommendations about the ideal time or optimal method should be customized.
The article states that children usually don't master all necessary potty skills until after 24 months of age. Remember, they say after 24 months, so don't worry if your kids aren't potty trained at two years old. (None of mine were!)
Choosing the Right Equipment to Potty Train
Finding the right potty seat can make all the difference when training twins. In addition, you'll likely want two training potties, so each twin has their own place to sit.
My favorite potty seat for potty training is the BabyBjörn Potty Chair, mainly because of its high splash guard. (My fellow boy moms understand!) You can also put potty chairs in your car, which is helpful when out and about!
However, some parents choose against a training potty and get a potty-training toilet seat that sits on top of their toilet. I preferred the convenience of a potty chair, but understand it's not getting your child used to sitting on a regular toilet.
Addressing Common Challenges in the Potty Training Process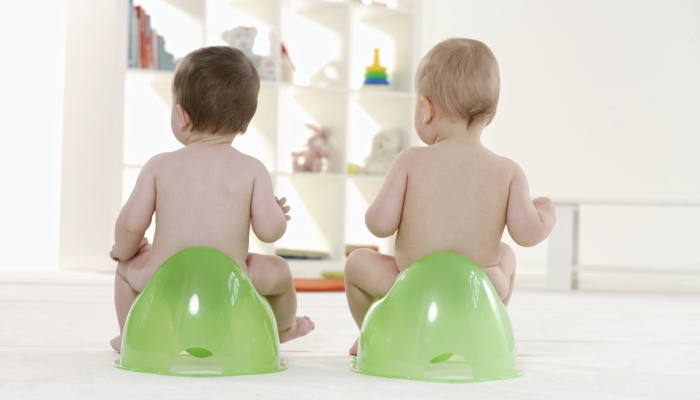 While I wish I could have clicked my heels together and magically potty-trained my kids, I realized it wasn't that simple. Here's a look at three common challenges you may encounter when you potty train twins.
1. Resistance
Unfortunately, when you potty train twins, you'll quickly notice that they aren't as excited as you are to be out of diapers. Power struggles are inevitable, so it's all about how you address the resistance from your twins when you potty train.
If your twins started school recently or had another significant life change, you may notice resistance to potty training. It's best to remain a positive influence and allow your children to feel comfortable using the big potty, not pressure them.
2. Accidents and Setbacks
All three of my kids potty trained at different speeds. My oldest slowly got the hang of it, my middle son potty trained himself, and my youngest didn't want to be inconvenienced with going to the bathroom every time she had to go potty.
While you don't want to resort to pull-ups or training pants, you don't want to throw them away yet.
In addition, some parents keep them on hand in case of potty training regression. It's always a good idea not to make a big deal from an accident or setback. Many children will regress if they feel stress from their parents, so as your twins potty train, don't forget to take a few deep breaths.
3. Nighttime Potty Training
When you start potty training, you'll want to consider if you wish to work on nighttime potty training, too. Some parents tackle both simultaneously, while others focus on daytime potty training and then nighttime.
Parents frequently wake their children up when potty training at night; however, that can be exhausting for everyone involved.
Here are a few strategies for nighttime potty training success with twins:
Have your child go to the bathroom right before bed
Limit liquids before bed
Put a nightlight in your child's room so they can use the potty easily
Put a floor potty by their bed for easy access
Consider getting two potties so each twin has a place to go
Buy disposable bed sheets to make changes easier
It's always important to remember never to get mad at your child if they have an accident. Remember, it's not their fault, and any criticism could lead to a regression or make them feel like they are doing something wrong.
Tips from Parents Who Have Been There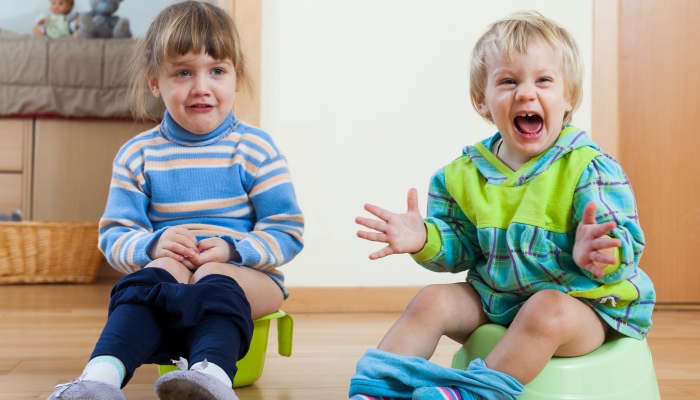 Your children may go at the same pace while potty training, or you might have one toddler who has no issue using the potty while the other would rather stay in diapers. Children are picky like that, but you should be consistent to receive positive results.
My top 10 tips for potty training twins are:
Make reward charts to offer potty training rewards for having a successful potty moment.
Talk to your twins about what you are preparing to do so they are ready, which may help develop more interest in the process.
Ensure there are no significant life events surrounding when you want to begin and don't set a date for when you want your twins potty trained.
Look for potty training readiness signs so you can take advantage of them when they are ready.
Invest in two floor potties and take a potty break every 30-60 minutes for a few days as your kids get used to going potty.
Be flexible because while the 3-day potty training method works for some, it doesn't work for everyone.
Tell your twins what big kids they are for using the big potty; encouragement goes a long way with potty training!
Take one child at a time to pick out their potty and incentives so they feel like a big kid.
Put travel potties in your car so you can easily let your kids go if you are out and about.
Remember to take a deep breath when you start potty training twins and practice patience because it isn't for the faint of heart.
Frequently Asked Questions
How do I manage outings and travel when potty training twins?
I always had a potty seat in the car and would pull over if my child had to use the bathroom. While it verges on slightly gross, I'd rather deal with my kids going to the bathroom in the car than their pants.
I also had a Jool Baby Folding Travel Seat for Toddlers, which could easily fit in my diaper bag or stroller. In addition, it's always a good idea to have your twins go potty before you leave the house.
What are some techniques for transitioning twins from potty chairs to adult toilets?
If your kids are used to using a potty chair, you can add a potty seat to your regular toilet to help with the transition. Some kids fear falling in, so you can use the Potty Training Toilet Seat with Step Stool Ladder, which has a safety armrest with a grip.
What should I do if one twin influences the other negatively during potty training?
Siblings have a way of egging each other on, regardless of their age. If one twin negatively influences the other, separating them when they use the potty is best. You can also remind them of the reward chart and how they won't receive an incentive if they bother their sibling.
How can I deal with twins who react differently to the same potty training techniques?
All kids are different, and sometimes, you have to change your technique for each child. While it can be a nuisance, it will likely work out better when you've acknowledged which method works best for each twin.
Reference
Choby, B. A., & George, S. (2008). Toilet Training. American Family Physician, 78(9), 1059–1064. https://pubmed.ncbi.nlm.nih.gov/19007052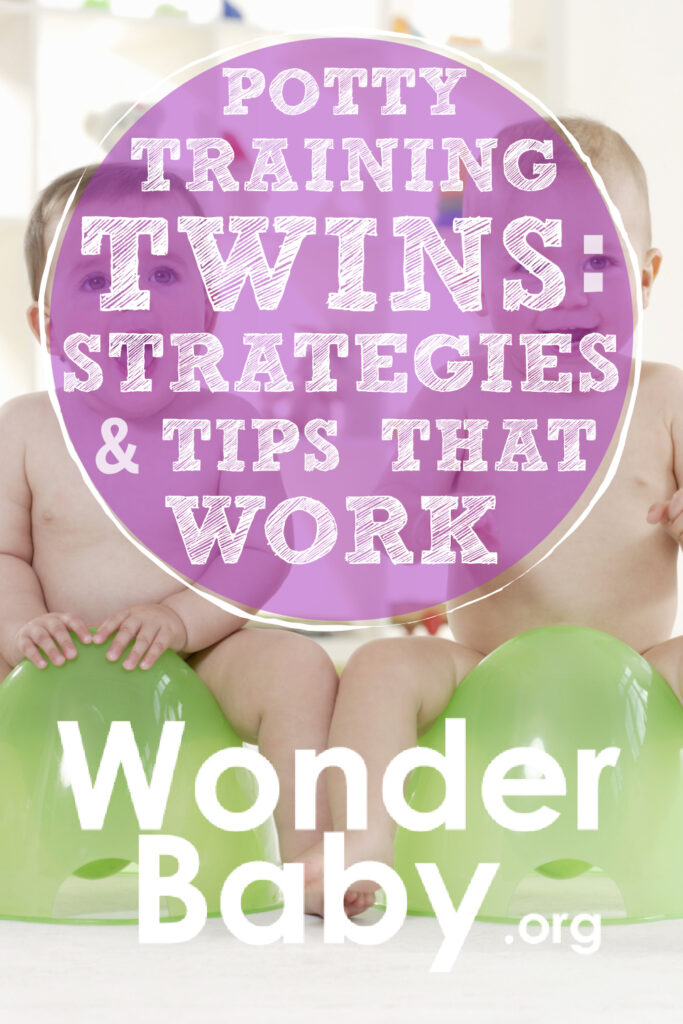 Related Posts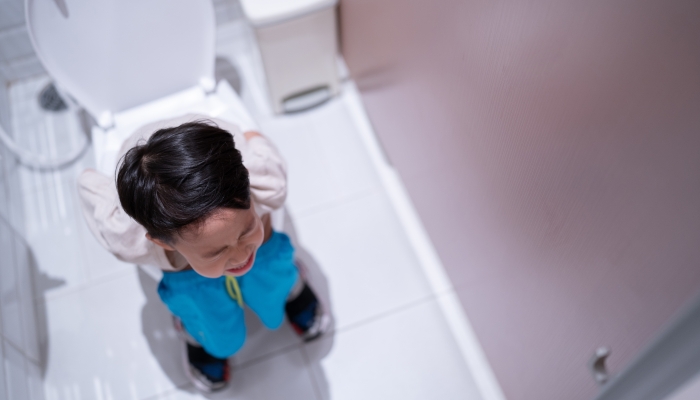 Potty Training
Constipation is common amongst children of potty training age. Many children suffer from potty training constipation, but there are things you can do to help.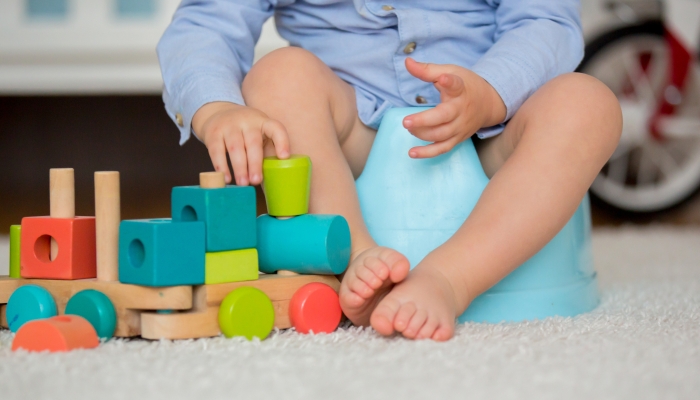 Potty Training
Learning to use the toilet doesn't have to feel like hard work. There are lots of potty training games you can play with your toddler to make learning fun.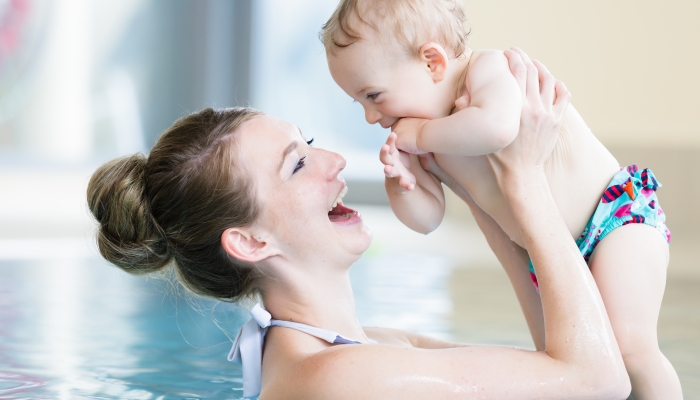 Potty Training, Product Reviews
The best swim diapers are comfortable and help prevent your baby from having an accident in the pool or ocean. Find our favorites in this round-up!