7 Best Potty Training Seats of 2023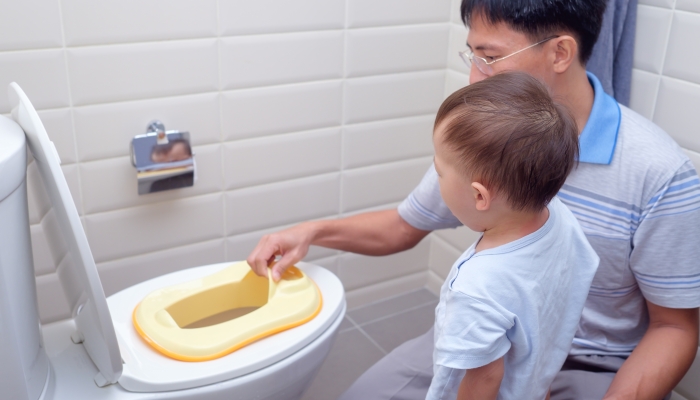 This post may contain affiliate links; please see our terms of use for details.
There's a distinct difference between potty chairs and seats.
Many factors go into the potty training seat selection process.
There are several accessories for your potty seat that will make training easier.
The transition timeline to the regular toilet seat varies by child.
Consider a travel seat for outings to help keep your child comfortable.
Potty training can be a challenging (albeit necessary) phase in the parenting process. Teaching your child a new skill, especially one that involves quite a bit of mess, welcomes frustration from all sides.
The good news is there are plenty of teaching aids that make the process a whole lot easier—and a potty training seat is number one!
As with most kid products, there are so many potty seats to choose from. When I started training my daughter I had no idea where to start. Would she be drawn to a potty seat with a ladder or would a stool make her more comfortable? Maybe a potty seat with handles would make her feel more secure, or maybe they'd be a distraction.
If you're about to start potty training or still on the hunt for the best potty training seat your little one will love, we've got you covered! Take the guesswork out of the equation and check out the 7 best potty seats of 2023.
Best Overall
Best for Independence
Best Design
Spuddies Spuddies Potty with Ladder
SKYROKU Potty Training Seat
Enteenly Toddler Toilet Seat
Best Overall
Spuddies Spuddies Potty with Ladder
Best for Independence
SKYROKU Potty Training Seat
Best Design
Enteenly Toddler Toilet Seat
Potty Chairs vs Potty Seats
Before we jump in, it's important to note some distinctions in potty training lingo. Believe it or not, potty training chairs and seats aren't the same. While we're not discussing the best potty chair, keep in mind that potty chairs are a mini stand alone potty. They're great for kids who might be intimidated by the regular toilet, though many parents find them a bit clunky.
A potty seat connects to a regular toilet. The removable potty seat means you can go right into flushing without removing trays or dumping. These seats familiarize your little one with the stature of a regular toilet seat, prepping them for the future; the flip side is they might be too scared to use a seat due to the height.
Our Favorite
Spuddies Spuddies Potty with Ladder
This potty training with ladder allows your child to use the bathroom with independence
Foldable feature for easier storage
Anti-skid base for added safety
Fits most standard toilet seats
I can tell you from experience that the Spuddies Spuddies Potty with Ladder is hands down the best potty seat of 2023. But don't just take my word for it! There's a reason it gets over 15,000 stellar ratings.
For starters, this ladder creates a level of stability and independence your child needs to succeed.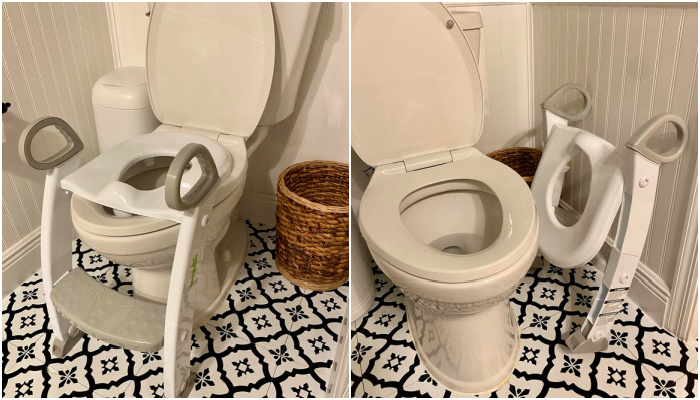 We tried similar products with my daughter that wobbled all around and she was immediately scared to try again. This seat also has way less crevices than similar products which makes cleaning up those splashes a lot less grody. As if that wasn't enough, this seat folds for storage much smaller than other seats we've used.
The simplistic yet functional seat is less bulky than most.
Last, and maybe most important, is the handles. The handles on this seat are unlike its competitors, in that they're far larger and much more accessible. Others have the handles built into the base which only offered a small opening for my daughter, making them harder to grab.
Pros:
Ladder stability
Less crevices = minimized mess
Foldable for storage
Sleek design
Large handles
Cons:
A short fit for some toilets
Material: Plastic | Style: Foldable
View on Amazon | View on Walmart.com | View on eBay.com
Best for Independence: SKYROKU Potty Training Seat
Sale
SKYROKU Potty Training Seat
FITS MOST TOLIET SHAPES AND SIZE: SKYROKU kids potty training seat fits all standard size and elongated toilet seats(like V/U/O shape.NOT for square ). Foldable design make the potty training ladder moves easily, you can put toilet training seat aside when you don't need it.
SPECIL DESIGN: This upgraded toilet seat contains many advantages:(1) design for adjustable ladder for different height; (2) design for protecting the spine; (3) design to avoid splashing urine; (4) design of soft and removable cushion for comfortable and clean use; (5) foldable design; (6) rotating design for adjusting different toilet.
SUPER STURDY: Made of PP material, can hold 75kg(165lb) mostly, sturdy enough when your toddler climbs up/down. Also environmental friendly.
TRAINING TODDLER:This toilet trainer ladder is both suitable for boys and girls with pee catcher design and it is very cute one with pink and blue color , which makes her or him super interested in potty time.
While the SKYROKU Potty Training Seat isn't our favorite of the year, it's a close second. With a similar structure, it has many of the same advantages as the Spuddies Spuddies potty seat. The ladder allows for independence, eliminating the need for a step stool; the splash guard is also a must have in the learning process.
There are a few flaws you need to know though.
Though it does adjust to your toilet's height, I couldn't ever seem to make the legs fall on even ground enough to make it a sturdy potty seat. Likewise, the anti-slip guards on the base of the seat weren't effective in keeping my daughter from sliding around. The removable pad is helpful in cleaning but the velcro attachments are already worn down.
Pros:
Adjustable height
No need for a step stool
Splash guard
Foldable for storage
Cons:
Less sturdy than some
Anti-slip guards could be improved
Padded seat attachment loosens
Material: Acrylonitrile Butadiene Styrene | Style: Adjustable, Foldable | Dimensions: 25.59″L x 14.57″W
View on Amazon | View on Walmart.com | View on eBay.com
Best Design: Enteenly Toddler Toilet Seat
Enteenly Toddler Toilet Seat
👶[Skin-friendly Material] – The potty training seat is made of high-grade harmless frosted plastic. The cushion pad is made of soft and durable PU material which means the pad is hard to age and crack, adds extra comfort to protect your toddler's skin, and brings warmth to the baby's bottom in the winter.
👶[Safety & Stability] – The training seat has easy-grip handles and non-skid edges to keep your child from falling over. The top of the seat is ergonomically designed to help toddlers sit on the toilet correctly, helping them feel safe and secure.
[Less Cleaning Involved & Easy to Clean] – The 3.54in higher built-in splash guard is especially useful when it comes to little boys, you needn't worry about urine splashing. The waste goes straight into the toilet and you simply flush. Plus, the padded part of the seat is removable, so you can clean it with warm water or with some wipes easily.
👶[Easy to Store] – Enteenly potty training seat doesn't take up any extra bathroom space since it simply rests over the regular toilet seat. If you don't want to store it on the floor, you can use the built-in hook to hang the potty training seat on a towel bar or on the side of the bathtub.
At first glance the Enteenly Toddler Toilet Seat looks like your average one size fits all seat, but it's got some major noteworthy features. Where most seats like this are just placed on top of the regular seat, the Enteenly seat takes it up a notch; having a bottom buckle and adjustable arms, it creates a secure and custom fit.
The padded seat is not only comfortable but removable for easy washing. It's also built into the seat, not just velcroed on top.
One thing to consider with this potty seat is the height of the splash guard. Some parents have noted this higher guard makes it harder for smaller children to get on and off of the seat.
Pros:
Arms that adjust underneath for a snug fit
Built-in padded seat
Colorful design
Anti-slip strips
Cons:
High splash guard
Requires more cleaning
Material: Polyurethane | Style: Modern | Dimensions: 15″L x 12.6″W
View on Amazon | View on Walmart.com | View on eBay.com
Best for Comfort: Nickelodeon Soft Potty Seat
Nickelodeon Soft Potty Seat
FITS MOST TOILETS: Fits securely on most regular and elongated seats
CONVENIENT AND SAFE: Patented easy-grip handles provide extra security and stability for your child to also help build confidence while potty training
DURABLE AND CONVENIENT: Polypropylene construction ensures easy use of this potty training seat until your child is ready for the regular toilet; Easy to clean by removing the soft cushion and washing with mild soap and water, then air dry
STYLE: PinkFong Baby Shark and the family sing and swim through the sea
The thickness of the padding on the Nickelodeon Soft Potty Seat is what makes this one a winner. Comfort can be a major obstacle in the potty training process, so if you're worried that'll be the case for your child then this is the seat for them! It can be completely removed for cleaning and even comes with a detachable splash guard.
This comfortable seat comes in all different character designs too so if your little one has a favorite show, you're likely to find it with that design. It can be a great way to get them excited about the potty!
A few customers have mentioned issues with the seat being a proper fit, causing sliding issues. It's recommended you measure before purchasing.
Pros:
Thick, comfortable padding
Completely disassembles for cleaning
Detachable splash guard
Fun character patterns
Cons:
Issues with sliding
Smaller opening than some
Material: Plastic | Style: Sharktastic | Dimensions: 13.5″L x 13.5″W
View on Amazon | View on Walmart.com | View on eBay.com
Best in Simplicity: Jool Baby Potty Training Seat
Jool Baby Potty Training Seat
Our Toilet Training Seat fits most standard toilets securely, working great for boys and girls.
Specially Designed Splash Guard: Prevents urine from spilling out of the toilet and keeps your bathroom clean!
Made with a non-slip materials, allowing your child to gain confidence when using the bathroom as a beginner.
Jool Baby Potty Training Seat is so simple for your child to use. It's light weight so your child can place the potty on the toilet seat. When your child is done, they simply place it back on the included hook! Perfect for travel as well!
If you're looking for a streamlined option that gets the job done, the Jool Baby Potty Training Seat is for you. It doesn't have all the bells and whistles some of the other seats have but that can be an advantage if you have a child that's easily distracted.
With a built in splash guard and constructed in one solid piece, there's very few cracks and grooves you'll have to deep clean. This potty seat also includes an adhesive hook for storage that meshes with just about any surface.
Some reviewers have noted though that the splash guard isn't high enough for their liking, for boys in particular.
Pros:
One piece, simple design
Built-in splash guard
Easy to clean
Includes hook for wall storage
Cons:
Splash guard is small for some boys
Storage loop on seat is difficult to use
Material: Non-slip | Style: Modern | Dimensions: 15.39″L x 11.81″W
View on Amazon | View on Walmart.com | View on buybuyBABY.com
Best in Entertainment: Summer Infant My Size Potty Seat
Sale
Summer Infant My Size Potty Seat
FUN SONGS & SOUNDS: Give your toddler something to look forward to after a job well done with 5 upbeat songs and flashing multicolored lights that play at the push of a button (press and hold button for 5 seconds to turn on)
REALISTIC FLUSH: The large "flushing" button on the top of the seat is easy for kids to use and makes a realistic sound, just like using the real thing!
AT HOME OR ON THE GO: The Summer My Size Potty Ring Lights and Songs lets you turn most standard-sized adult toilets into a convenient potty training seat, perfect at home or when your child has to "go" on the go.
ANTI-SLIP DESIGN: Grips on the bottom of the potty ring keep it from slipping on an adult toilet, while built-in handles give your toddler added security when in use.
Are you trying to figure out how to potty train your stubborn toddler? Do they need a little extra convincing to stay on the potty longer? If that's the case, the Summer Infant My Size Potty Seat will be practically irresistible. This little seat entertains with 5 songs and dazzling lights, not to mention a flushing sound that's just like the real thing.
Anti-slip design and with large handles too, it's sure to make your child feel safe during use. You'd be hard pressed to find many concerns with this training seat, as it's reported to be a top choice for making potty training fun. The only major concern is that it may have the opposite effect of being too distracting.
Pros:
5 songs to listen to
Multicolor lights inside the seat
Anti-slip design features
Larger handles
Cons:
Might be distracting to some
Material: Plastic | Dimensions: 3.5″H x 11.5″W x 13″D
View on Amazon | View on Target.com | View on eBay.com
Best in Functionality: NextStep 2 Toilet Seat
NextStep 2 Toilet Seat
CLUTTER FREE: Built-In plastic toddler potty Seat secures magnetically in cover when not in use to keep the bathroom clean and organized
FITS ADULTS AND CHILDREN: Makes potty training fun, giving them independence by using the "big potty"
NO SLAMMING: Seat closes slowly and quietly with a tap to eliminate pinched fingers
NO MORE WIGGLE: With the STA-TITE Fastening System your seat will never come loose
A unique built-in design that's as convenient as it is sturdy, the NextStep 2 Toilet Seat is one of a kind. Its functionality allows you to switch back and forth with ease from the adult seat to the kids sized seat. You'll simply take off your old toilet seat and install this on and that's it! No hooks, storage, or removal each time.
With a slow close seat and no pads or grooves, it has no shortage of features that please. A few customers have reported that it stains easily though, so that's something to keep in mind before purchasing.
Pros:
Convenient use for the entire family
Simple installation
No need for storage or removal
Slow closing
Cons:
Seat is reported to stain easily
Child seat might need to be readjusted often
Material: Wood | Style: Toilet Seat | Dimensions: 16.81″L x 14.38″W
View on Amazon | View on Walmart.com | View on Sears.com
Recommended Accessories
While they're not necessarily must-have items, these recommended accessories are helpful to have around during toilet training. Depending on their potty training age, they might even prove to be critical!
Storage Hook: Potty seats that are just the seat alone without a ladder attachment can easily be stored on a hook. These hooks hang on the side of the water tank allowing you to place the seat aside when it's not in use.
Step Stool: Again, if your seat doesn't have a ladder you'll want to purchase a step stool to create more independence. Even if your seat does have a ladder, a step stool comes in handy for practicing handwashing.
Faucet Extender: Not exactly a potty seat accessory, it's still a necessity through the potty training process. Faucet extenders push the water down a funnel attached to the existing faucet; this makes it easy for your kiddo to wash their hands all on their own!
Factors to Consider in Choosing the Best Training Seat
With so many to choose from, it can be hard to narrow down the best seat. That said, there are plenty of factors you can consider to help you make your choice. Here's a short list to keep in mind:
Comfort: Likely the most important consideration, comfort is everything when it comes to choosing a training seat. Part of that is ensuring the surfaces aren't too hard and there's no possible places for pinching. Stability is also an important element. The last thing you want is your child being scared of falling.
Cleanliness: While this is more for the parents than anything, it's still a factor you don't want to neglect. Does the seat have a ton of creases, lips, or cracks? Are there removable parts for easy cleaning? These are all questions to keep in mind.
Ease of Use: It's important to examine each seat from your child's perspective. Being able to independently use the seat you choose is a critical part of their potty training confidence. If the seat is hard for them to get into or requires your help most of the time, it might not be the right selection.
Size: Selecting the proper training seat size hinges on the size of your child. It's not uncommon for bigger kids to go through a few training seats before finding one with enough space. Similarly, a child on the smaller side of the scale may feel vulnerable with a seat that has an opening too large.
Space: Another factor for the parents—space. It's no secret that much of our kid's stuff takes up a good amount of room, training seats being no exception. If you have the space, a floor potty chair might not be a second thought. If you're low on space though, a ladder or folding seat is definitely worth considering.
FAQ
How long do kids need to use potty training seats?
There's no exact timeline for when to stop the use of toilet training seats. It's really dependent upon what your child is comfortable with and their progress thus far. Even so, it's smart to begin introducing the regular sized toilet once your child is fully potty trained. The reason being that even the most confident toddler can hit a roadblock with this introduction.
Not only is the regular toilet seat not what they're used to, it's higher and often with a wider seat. When you're out and about or even at a playdate your child may come to find the regular toilet is their only option. That said, when they've mastered the potty training seat, move right along to the regular toilet.
What about potty training urinals for teaching boys?
If you're opting for a urinal to potty train your little guy, there are plenty of great choices. Lucky for us, many of them have been made with parents in mind too. Features like removable bowls or trays, flushers, and mounting options make for easy use and clean up. Many are made with water wheels that have a way of making the training process fun!
They can also be used in tandem with a potty seat when you're potty training—a great way to prep your boy for outings in any scenario.
What are the best potty training seats for travel?
Bathroom trips outside the home can be tough to navigate without the right tools. If your little one has mastered the art of toilet training but is not quite ready to take on a full seat, there are plenty of simple fixes.
The first option is a foldable, portable potty seat. These seats usually fold up into a small pouch you can throw right into the diaper bag. Easy to use on any seat, they're pinch proof and practical.
A second common choice is a travel potty with folding legs. You can insert a disposable bag for easy clean up and storage as well. This is the best potty seat option if your child is scared of the regular toilets in public bathrooms.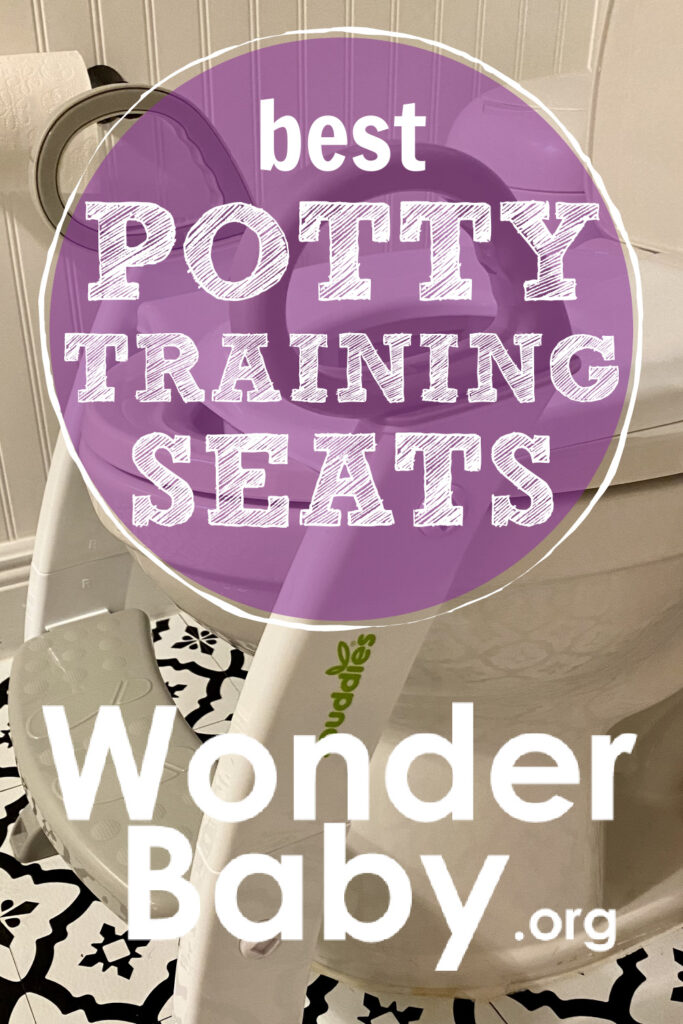 Related Posts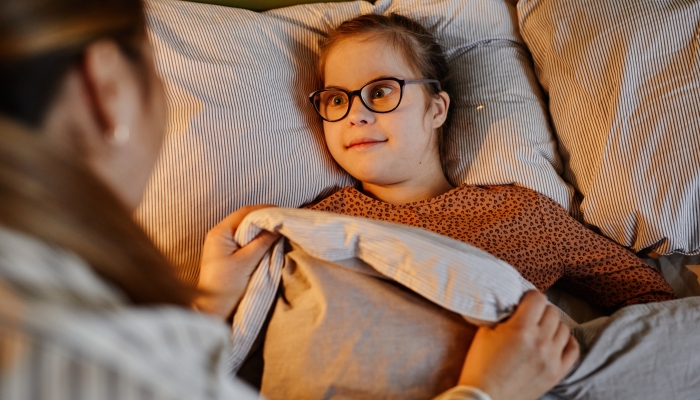 Product Reviews
Heard a lot about weighted blankets and lap pads and wondering how to choose one? Here's our guide to the ins and outs of finding the right weighted blanket.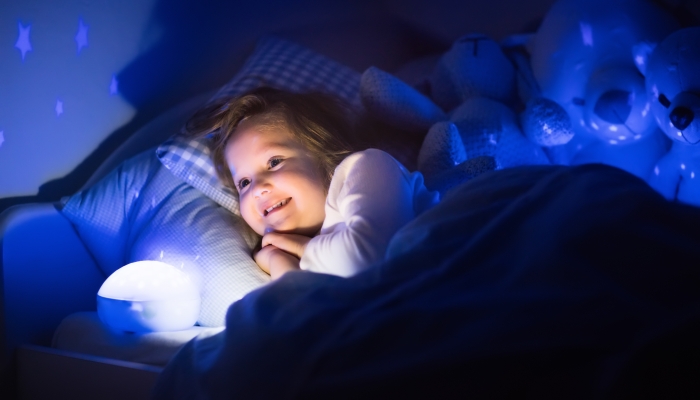 Product Reviews
Looking for the right night light to help your little one ease into bedtime? Check out our guide for everything you need to know about toddler night lights.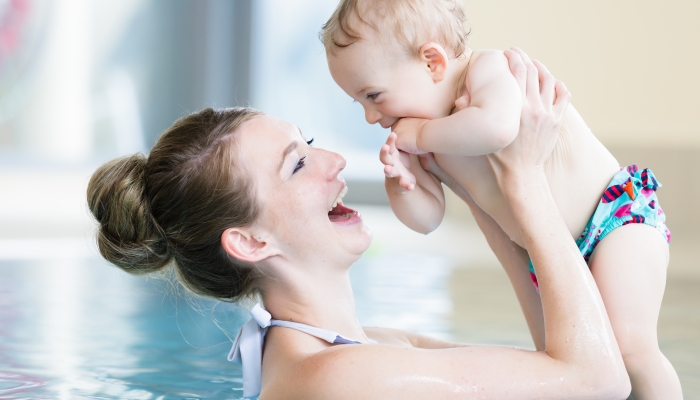 Potty Training, Product Reviews
The best swim diapers are comfortable and help prevent your baby from having an accident in the pool or ocean. Find our favorites in this round-up!