Rhyming Words with Dr. Seuss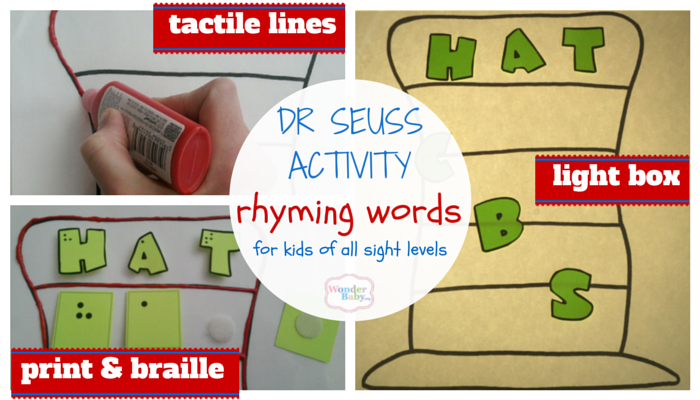 On March 2nd, we celebrate the famous Dr. Seuss- the author of wacky rhyming words who gave us the curious Cat in the Hat, and somehow, actually talked us into eating green eggs and ham. The National Education Association has also deemed the day as "Read Across America Day" to promote reading and literacy across the country. Teachers and students may take the "Read Across" pledge, and plan events for their schools using the resources on NEA's website. The world of children's literacy sure would have been different had he not filled our imaginations with such fun to say words like "Woset" and "Yottle", or challenged our tongues to the ultimate twists in "Fox in Socks." The everlasting rhymes continue to introduce generations of young children to the most common words to build a lifelong love for reading.
We've developed this rhyming and word-building activity in salute to Dr. Seuss and Read Across America Day to encourage kids to explore the alphabet, letter sounds, and blends. Here we used a free hat printable we found on Pinterest and letter pieces, which you can print and cut-out yourself, or use these Letter Jewels we found on Amazon that are perfect for light play! You could also use these print and braille letter magnets on a magnet board to keep everything in place, and a great inclusion method for a group of kids with varying sight levels. The activity can be used on a light box for children with sight or low vision, or adapted with textures and braille to appeal to blind kids.
Activity Ideas
Start with a word at the top of the hat and ask your child to build rhyming words in the spaces below it.
Make up your own silly words together and see whose is the funniest!
Try using different color letters for the initial letter of the word to reinforce the end rhyming sound. For example, use red letters for "at" and have kids pick from letters of other colors to put on the front to build words like "bat" and "cat."
Build words as you read along in one of Dr. Seuss's books like "One Fish Two Fish." Many Seuss books are available in braille and audio, too!
Practice copying print words to braille on the line below, and braille words to print!
Most of all, HAVE FUN!
Is your school hosting a "Read Across America" event or do you have a Dr Seuss activity to share? Let us know in the comments section below, or share it with us on Twitter and Facebook!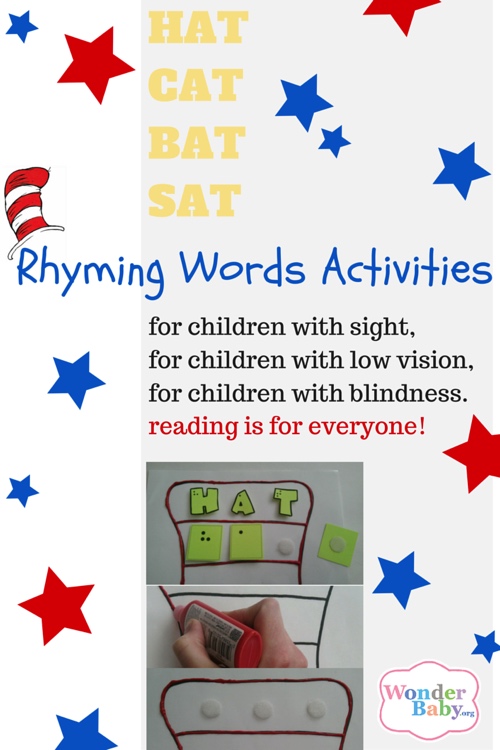 Related Posts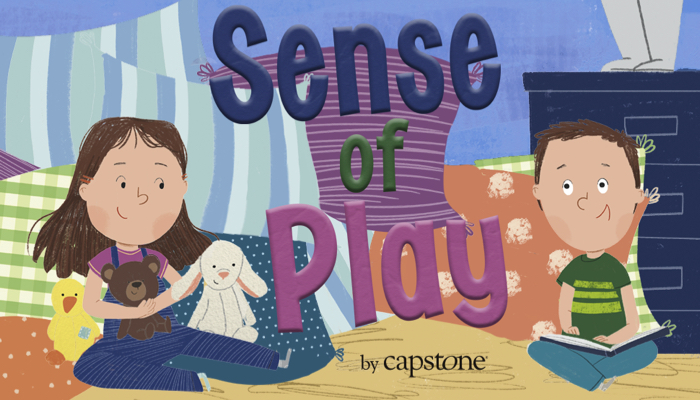 Braille and Literacy, Product Reviews, Visual Impairment
Dana Meachen Rau's book, Sense of Play, follows the adventures of Chip and Joy as they play. Chip is blind, but this doesn't get in the way of their play!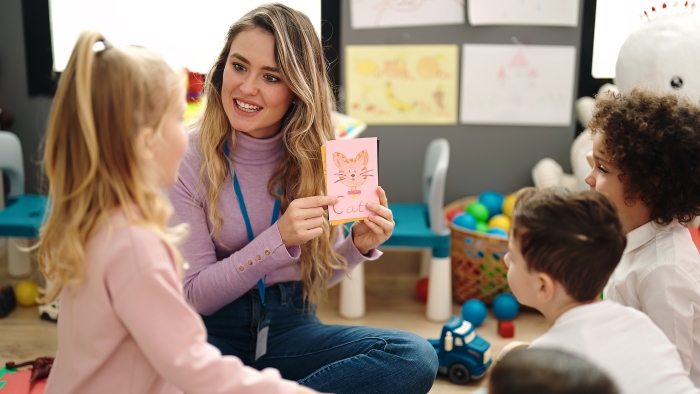 Braille and Literacy
Work on vocabulary early! Enhance early language development and literacy skills through vocabulary games and interactive play for preschoolers.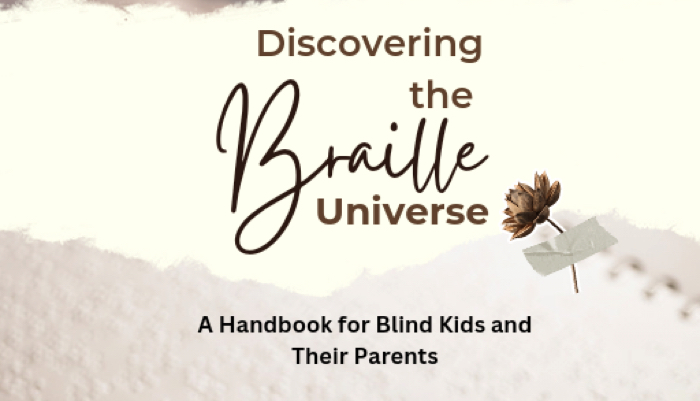 Braille and Literacy
Discovering the Braille Universe is a navigational tool providing valuable insights, advice, and guidance for individuals living with blindness.