Tacey's Story: Surviving Retinoblastoma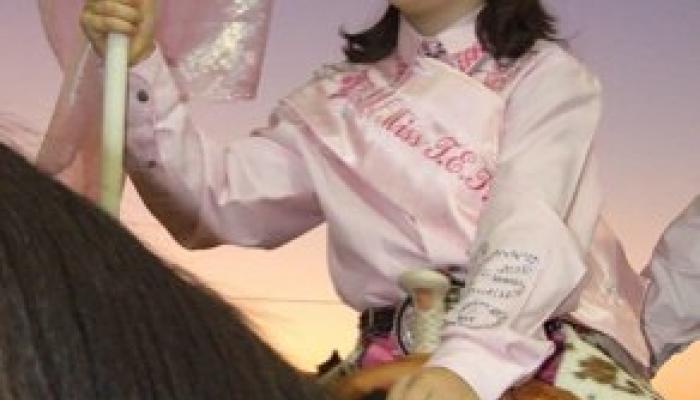 By Tammy Raulerson
How a nine-year-old blind cancer survivor was crowned the first ever Miss Tough Enough To Wear Pink Four States Rodeo Queen
Her left hand trembles as she reaches for the reins. White-knuckled, she grips the flag pole. A bystander might see just another little girl getting ready for the rodeo, but actually she is so much more.
Tacey Raye Raulerson was diagnosed with an extremely rare cancer, Retinoblastoma, when she was seven and a half months old. Retinoblastoma causes malignant tumors to form in the eyes of infants. When she was diagnosed, the doctors were not very optimistic that Tacey's eyes could be saved but they were willing to attack the disease with some aggressive chemo in the hopes of saving at least some of her vision, but more especially, her life.
Only six weeks into the chemo, the doctors realized her left eye could not be saved. The tumors were on the verge of spreading through her optic nerve to her brain. The left eye had to be removed.
This was just the beginning of a long road of multiple rounds of chemo, radiation, laser therapy and cryotherapy. By the time she was two years old, Tacey had endured more medical procedures than most adults would in a lifetime.
After years of fighting to save her right eye and as much vision as possible, the doctors and her parents came to the realization that in order to continue to save her life it was necessary to also remove her right eye. One month before her seventh birthday, Tacey underwent the surgery that would leave her blind.
Once again, Tacey emerged happy and strong. She adapted very quickly to her new life. However, her fight was not finished. Tacey had to again undergo very intensive and aggressive chemo in order to save the rest of her body from any spreading cancer cells.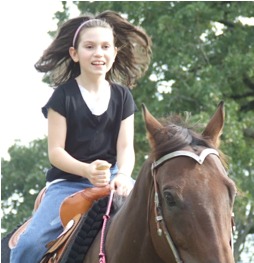 One week after her surgery to remove her right eye, Tacey rode her first horse. A new passion was fueled. From that day forward, Tacey talked about riding horses and owning horses.
Special friendships were developed through her love of horses with many wonderful people. Horses opened a window where several doors had once been shut. Freedom that was no longer part of her everyday life was discovered in the saddle.
As the friendships grew, stories of Tacey abounded. Friends shared with other friends. A blog was developed. Emails were passed on. The stories dominoed and were even spread internationally.
One special friend, Dr. Michael Johnson, shared the story of Tacey with his friend, KatieJo. Michael and KatieJo also shared a love of horses and rodeos. In fact, KatieJo was a former rodeo queen. Talks of Tacey and her adventures led KatieJo to an idea.
Tacey was a huge fan of rodeos. She often talked of being a rodeo queen. In fact, it had become a goal of hers.
As a representative of Wrangler, KatieJo was very familiar with the Wrangler Tough Enough To Wear Pink campaign. Using her knowledge of rodeos and rodeo queens, she contacted the director of the Four States Rodeo with her idea.
Wouldn't it be special if the Four States Rodeo would crown Tacey as the 2008 Miss Tough Enough To Wear Pink Four States Rodeo Queen? The idea was an instant hit. Sponsors stepped forward to provide the gifts typical of rodeo queens. Montana Silversmith would provide the crown and buckle. Resistol would provide the hat. Wrangler would provide the jeans and shirts. Billy Cook would build the saddle. More and more sponsors and individuals came forward to help make this wonderful idea a reality.
Because of her love of horses, her fight against cancer, her love of rodeos, her zest for life and her courage to face life she could only see in her mind and heart, Tacey became the FIRST Miss Tough Enough To Wear Pink Four States Rodeo Queen. By the way, Tacey was crowned the week before her ninth birthday. She chose to have her birthday in Texarkana with her family and friends because being a rodeo queen was the most special birthday present she could receive when turning nine years old!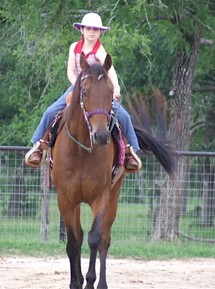 Cancer may have taken her sight, but it did not take her courage. Now those dreams are being realized as she reigns as the first ever Miss Tough Enough To Wear Pink Four States Rodeo Queen. During her reign, Tacey has many duties, but her primary task is to spread her uplifting spirit and to encourage others to set their sights high.
Some would say she had the misfortune to be born with such a horrible disease. While no one would ever consider her fortunate to have suffered and fought so hard, one can also see the incredible events that have unfolded in her short life.
Before she was crowned as a rodeo queen, Tacey had a special visitor in her home. Miss Rodeo Texas, Avery Gonzales, paid a special visit to Tacey to talk to her about being a rodeo queen. During that visit, Tacey talked about when she will be Miss Rodeo Texas.
Tacey had the opportunity to meet other rodeo queens after she was crowned. Amy Wilson, Miss Rodeo America, made a special trip to Texarkana to escort Tacey during the Miss Four States Rodeo Queen's Style Show. This began Tacey's talk about becoming Miss Rodeo America.
Little did Tacey know this was just the beginning of her brush with rodeo queens. After appearing at a rodeo, she was invited by a member of the National Cowgirl Hall of Fame to attend the annual induction luncheon. Yes, this prompted her to start talking about being a member of the Cowgirl Hall of Fame.
Upon her arrival in Ft. Worth, she was met at a local hotel by ten rodeo queens. Miss Rodeo America and Miss Rodeo Texas greeted her as if they were old friends while quickly introducing her to the other eight state rodeo queens. She was even allowed to ride to the luncheon in the limousine with all the other queens. During the luncheon, she was introduced as a visiting rodeo queen along with the others. How many nine year olds can say they have been a rodeo queen and introduced at the National Cowgirl Hall of Fame?
Tacey rides a bay, thoroughbred gelding, Hope Runs Deep, who is Tough Enough To Wear Pink! Tacey and Hope are working on Western Pleasure riding. Tacey makes appearances at rodeos, Cowboy Churches, cancer benefits and other special events. She and her horse are available to carry a flag, lead the grand entry, or ride through the arena during a break in the rodeo. She also talks to individuals, greets fans, poses for photos, signs autographs and cheers for the participants.
Wherever Tacey goes, she spreads hope, inspiration and encouragement with her joy and zest for life. Tacey shares her story and courage with all she meets.
You can learn more about Tacey's story at Tacey Raye Raulerson's Homepage.
Read this article in Arabic: حيوا-السيدة-العمياء
Related Posts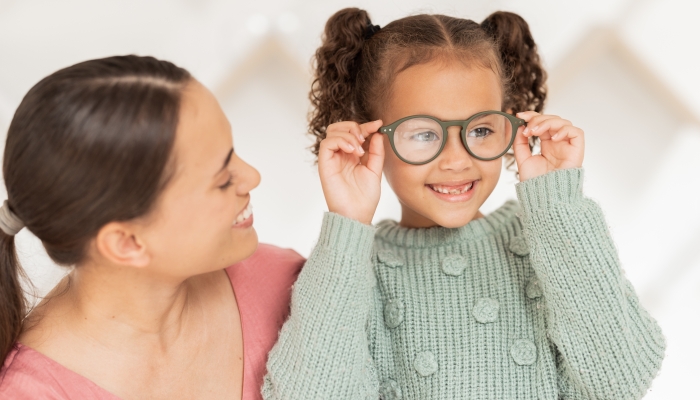 Eye Conditions and Syndromes, Visual Impairment
If you have a child with retinitis pigmentosa (RP), family members, therapists, and eye specialists can help you manage the stress that comes with vision loss.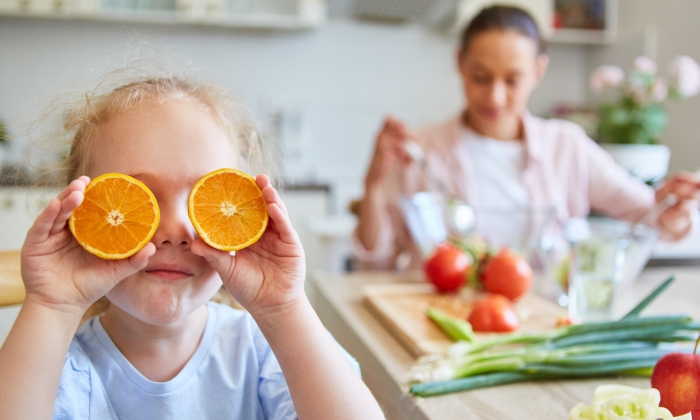 Eye Conditions and Syndromes, Health & Nutrition
Eye health nutrition is something all parents should know about. It's a way to protect your child's vision by ensuring they eat foods that promote eye health.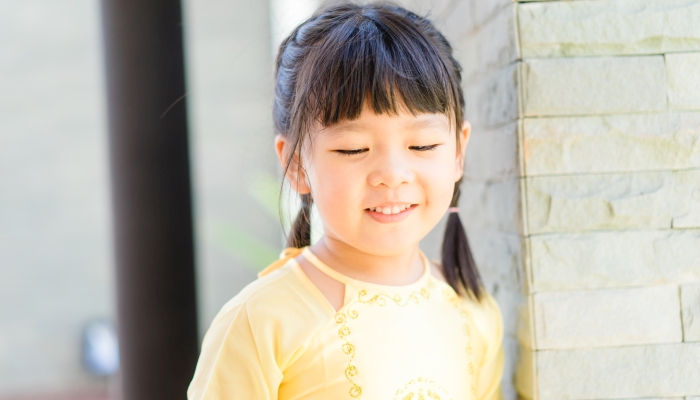 Special Needs, Visual Impairment
Vision impairment in young children can be caused by congenital and acquired conditions. Many services are available to help children with low vision achieve their healthy best.