Ten Tips to Help You Teach Yourself Braille
This post may contain affiliate links; please see our terms of use for details.
Maybe your child is just getting ready to begin learning Braille or maybe your blind infant is years away from phonics lessons but you want to get a head start. Whatever the reason, as the parent of a blind child you're going to need to know Braille. You may not be planning to be your child's primary educator, but you will want to have an answer when she comes running up to you asking, "Mom, what's this say?" And the earlier you learn Braille, the better, so you can encourage literacy in your baby from the beginning.
Braille is difficult, but it's not impossible to teach yourself. Here are my Top Ten Tips to help get you started…

First, get yourself a good Braille instruction book. I like Just Enough to Know Better: A Braille Primer, by Eileen Curran. Yes, it has a funny name, but it's a really great book with lots of example exercises. Our vision specialist brought us a free copy along with a bunch of other free Braille supplies (like a Braille table mat, Braille magnetic letters, and a print-Braille children's book) from National Braille Press as part of their ReadBooks! Program. Check out their web site or ask your vision specialist for more information.

Think about taking a course from the Hadley School for the Blind. Hadley offers free courses to parents of blind children through their Family Education Program. The courses are self-led with an instructor's knowledge to back you up. They're free and so are all materials. Hadley offers two Braille courses: Introduction to Braille and Contracted Braille.

Get yourself a braille label maker. You can find one online, but see if you can get one for free from your vision specialist, early intervention program, or school district. Once you have it, label everything! In order to learn something like Braille, it helps to be surrounded by it everyday.
Also, if your baby is going to be a Braille reader, it's important to introduce him to Braille as early as possible. Sighted kids are surrounded by print (on TV, in books, on cereal boxes, on DVD cases… everywhere!), so when they begin learning to read, print letters aren't all that new to them. It should be the same for your future Braille reader. Get used to labeling everything so that you can practice Braille and your baby can experience as an everyday part of normal life.

Getting your own dictionary and flash card set can also be a big help. The Braille Bookstore sells both.

You should also try to get a Braille writer. They're very expensive, so see if your school district or vision specialist can get you one. We have one on loan from our state's Library for the Blind. You can also ask them if they will sell you one of their old ones at a discounted price (but be sure they have it serviced first so you know it's in good condition).
Once you have a writer, use it to Braille a scrap book or journal for your child to read when he gets older—remember, your child won't be able to look at pictures of himself when he was a baby, so you need to collect memories in other ways.
If you want to check your contracted Braille, you'll want to get a print-Braille translation program. These are very expensive (some even more than $5,000!), but the Duxbury Braille Translator (DBT) has a free demo that will check your sentences for you—of course, some of the real cool features are disabled, but the demo will work in a pinch. And it's free!
Sign up with your state's Library for the Blind. Through the library you can order audio books for your child (we were surprised at how much our son enjoyed audio books from a very early age—even at 9 months!), Braille books, and print-Braille books. Start with some print-Braille books. You can read them to your baby, he can feel the Braille, and you can practice your Braille skills, too.
Speaking of books… Get more books! You can register for a free Braille book from Seedlings, or join National Braille Press' Children's Braille Book Club. You can either choose to receive a notice of each month's book and decide wether or not to buy or you can sign up for their Annual Subscription and receive 13 books for $100 a year. Maybe a bit pricey, but that's only $7.69 per book!

Check out BRL: Braille Through Remote Learning. This site offers lots of Braille resources, from online dictionaries to self-led courses. They also cover specialized code like chemistry and music Braille.

Whenever you have the chance, sign up to receive newsletters and correspondence in Braille. This is a fun way to practice Braille and your child will feel like Braille is really a part of the big world when she notices Braille in your post box.
Speaking of Braille in the big world… Remember to point out Braille to your child in public places. Whenever you notice Braille on an elevator or on a sign, let your child feel the symbols while you read what it says.
Finally, Here's an extra tip: Download and print our Braille Cheat Sheet. This blank sheet is a simple way to write down contracted Braille symbols that you may have a hard time remembering (for example, I can never seem to remember the "SH" symbol). Keep the sheet with you and use it as a reference when you're reading. Eventually you won't need it at all!
And while you're at it, you can also download our Braille Alphabet & Numbers Sheet. Post it on your refrigerator for quick reference.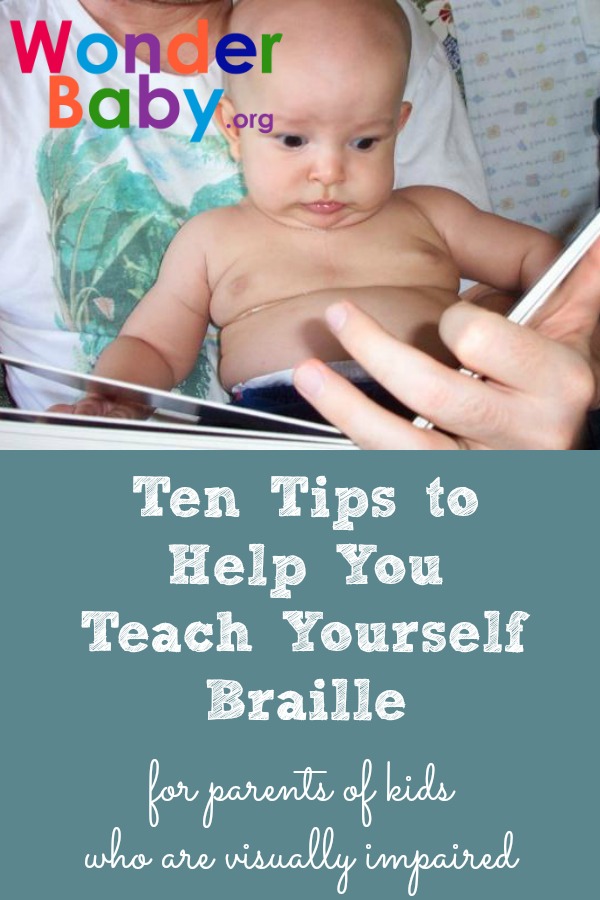 Related Posts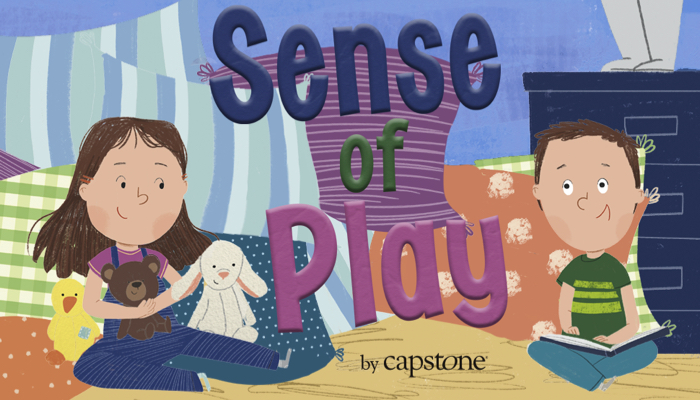 Braille and Literacy, Product Reviews, Visual Impairment
Dana Meachen Rau's book, Sense of Play, follows the adventures of Chip and Joy as they play. Chip is blind, but this doesn't get in the way of their play!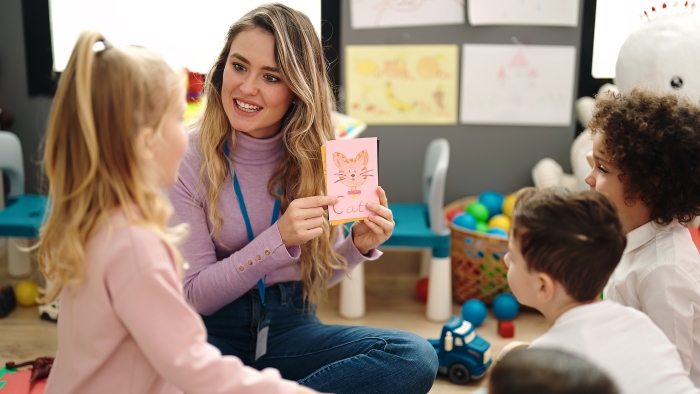 Braille and Literacy
Work on vocabulary early! Enhance early language development and literacy skills through vocabulary games and interactive play for preschoolers.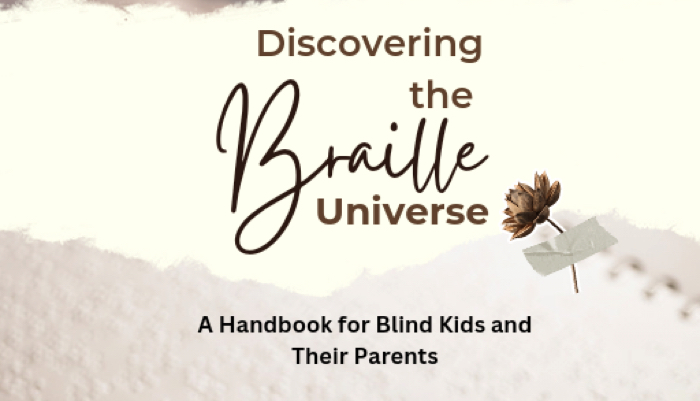 Braille and Literacy
Discovering the Braille Universe is a navigational tool providing valuable insights, advice, and guidance for individuals living with blindness.