Tiggly Interactive Toys & Apps Review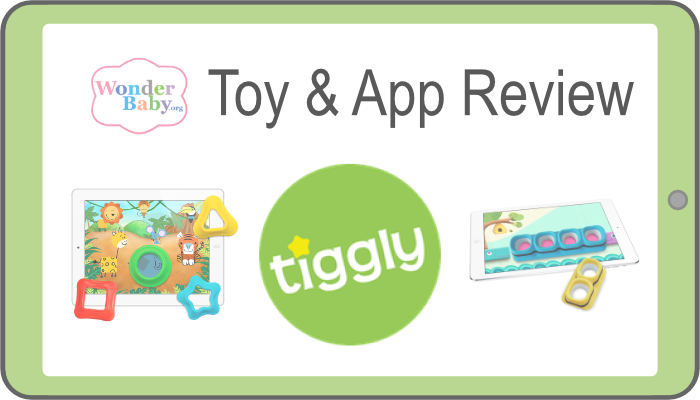 This post may contain affiliate links; please see our terms of use for details.
Tiggly® Interactive iPad Toys & Apps
Reviewed by: Hillary Kleck
Price: Apps are FREE, Toys Retail $29.95/set
Where to Buy: Find Tiggly® Apps free on the iTunes Store, and Tiggly Toys on Tiggly.com or Amazon
Developer: Kidtellect Inc.
Devices: Compatible with iPad, iPad Air, iPad Mini
Operating System: Requires iOS 5.1.1 or later
App Titles Currently Available: Tiggly Safari, Tiggly Stamp, Tiggly Draw, Tiggly Chef, Tiggly Cardtoons, Tiggly Addventure
Toys Currently Available: Tiggly Shapes, Tiggly Counts
Categories: Education
What are Tiggly Interactive Toys & How Do They Work with iPad?
Tiggly has developed two sets of multiple award-winning tactile toys, Tiggly Shapes and Tiggly Counts, to interact with their six free iPad apps to enrich the learning experience through hands-on activities combined with the engaging sounds, stories and graphics via iPad. Tiggly's interactive toys are actual 3D objects your child can hold in their hands, feeling each corner of the shape, and tracing along the sides to identify each of the four Tiggly Shapes or counting each box of the five Tiggly Counts. All you have to do is purchase the Tiggly Shapes or Tiggly Counts set, then download one or more of the free Tiggly apps onto your iPad, and finally, play and learn! It's that simple! When you place the Tiggly toy on the screen of your iPad while playing one of the Tiggly apps, the iPad will recognize which of the Tiggly toys it is and react appropriately. Each set of toys and their associated apps teach different skills, but each of them promotes creativity, fine motor skills, and language.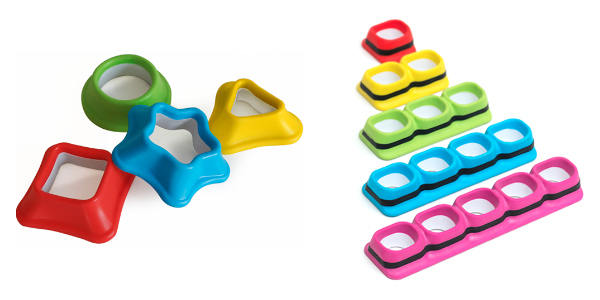 More about Tiggly Shapes: Tiggly Shapes were the first set of Tiggly interactive toys to become available as dimensional objects for kids to play with the iPad. The set includes four easy-grip shapes of varying bright colors: yellow star, green triangle, blue star and red square. Kids can use the Tiggly Shapes along with Tiggly Safari, Tiggly Stamp, and Tiggly Draw. Each app helps children develop motor skills and spatial reasoning, while encouraging creativity through each app's unique objective. Tiggly Safari teaches kids to identify shapes by sight while building a fun little animal character step by step by placing the matching shape on the screen. For kids with no vision, parents can give a verbal clue to describe the shape, i.e. "This shape is round without any corners," for a circle, "This shape has four sides," to describe a square, "This shape has three sides," for a triangle, and "This shape has five points," for the star. Parents could also give an example of a real object that is the same shape like, "This is the shape of the sun," for a circle, and so on.
Tiggly Stamp puts the creativity in the hands of the child by allowing her to create an entire scene of characters and objects at the tap of a shape, then take a picture or record her own movie. Each time the child taps a shape, a drawing is created at the spot and the app tells what was drawn or makes a fun sound effect. Kids who love making up their own stories will love this app!
Tiggly Draw is a simpler app but geared more towards children with some vision. Users simply tap a shape on the screen then drag eyes, noses, mouths, hats, arms and legs to create their own silly shape character. The background color is customizable and you can snap a pic at the end to save or share your child's art online. Here's a video to show you what it's like:
More about Tiggly Counts: Tiggly Counts are focused more on learning math than art and freeplay as with Tiggly Shapes. The apps are all extremely engaging with verbal instructions and fun sound effects. Our favorite Tiggly Counts app is Tiggly Chef because of its totally silly and hilarious concoctions that will make your child want to learn numbers and addition facts in order to hear the crazy recipe names like "Spicy Hula Monkey Cake." The screen layout is more restricted, as it only uses half the screen for most of the playtime, so children with visual impairments will need to learn exactly where to place the toys on the screen each time. The Chef characters teach kids to count objects on screen while blind kids can listen for the number and place the corresponding Tiggly Counts piece on the screen. The app gives quality and accurate feedback in recognizing each piece while giving a "correct" or "incorrect" sound effect, which is perfect for kids with visual impairments.
Tiggly Cardtoons is a great app for kids with some or all vision, but isn't directly accessible for blind children using VoiceOver. The app teaches kids numbers and counting while also learning to use the tap and drag & drop features on the iPad screen, then rewards the child at the end of a problem with a funny paper animal or story that comes to life.
Tiggly Addventure is a wonderful counting app for kids with some or all vision. It teaches number sense using a number line in creative ways like building bridges, ladders, and other paths to finish the challenge. It could be used with blind children with some guidance by a sighted user using verbal instructions of what is shown onscreen, however it's highly usable as an independent activity for children with some or all vision and a super learning tool that's fun for kids! Here's a video to show you what it's like:
Why We Love Tiggly for Children with Visual Impairments
While we've been waiting for tactile pieces to become a larger part of the digital play revolution, Tiggly's tagline "Feel what you learn" instantly grabs the attention of parents and teachers searching out hands-on activities for their children with visual impairments. The toys are smooth to the touch and easy for little hands to grip. They're very safe for every child, as they have no sharp edges or corners, no electronics and are non-hazardous even if your child has a tendency to mouth or chew everything he touches. So you can feel at ease while your child is playing with Tiggly interactive toys! Each app has a 'Parents' tab that is protected by custom swipe directions to access and gives your the options to customize settings for play, as well as hints and tips for learning inside and outside the app.
Accessibility Notes
The Tiggly apps aren't accessible with VoiceOver due to the need for the multitouch functionality of the Tiggly interactive toys. However, many apps are still usable with VoiceOver ON and verbal clues from a sighted user. The best part is that since the apps are free, parents and teachers can download them to trial before buying the Tiggly interactive toys to get a feel for how your child could use them. Overall, the apps and toys are loved because of the combination of using tactile objects with the apps, teaching kids cause and effect, simple iPad gestures, spatial reasoning, motor skills, all while learning math skills, shapes, and creativity! Learn more about Tiggly on Tiggly.com.
Related Posts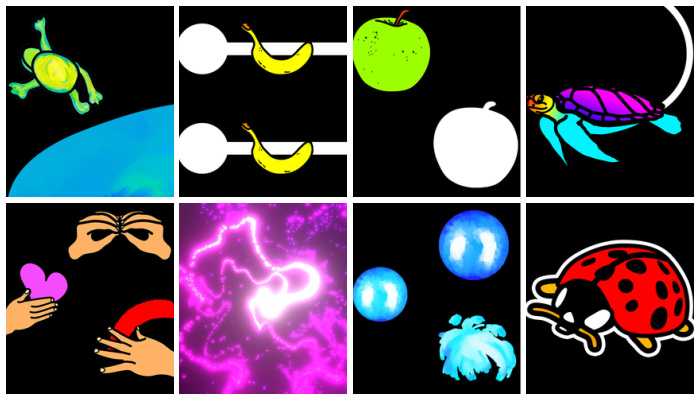 iPad Apps and Accessibility, Visual Impairment
This free digital visual training tool for computer or mobile devices is designed to help toddlers with CVI practice their visual skills.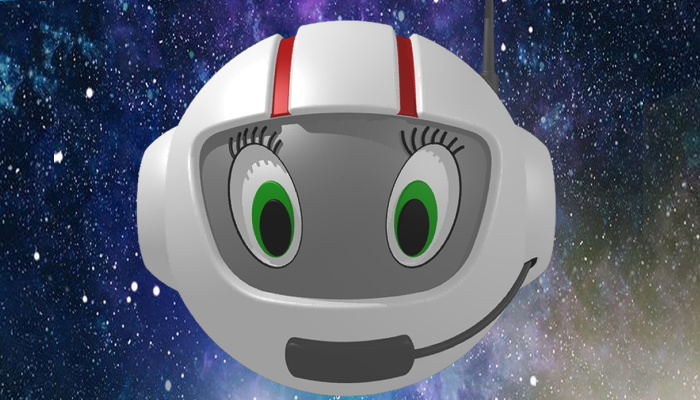 iPad Apps and Accessibility, Math and Science, Visual Impairment
These iPad apps from Sonokids feature the astronaut character CosmoBally who teaches blind children about space and sonification.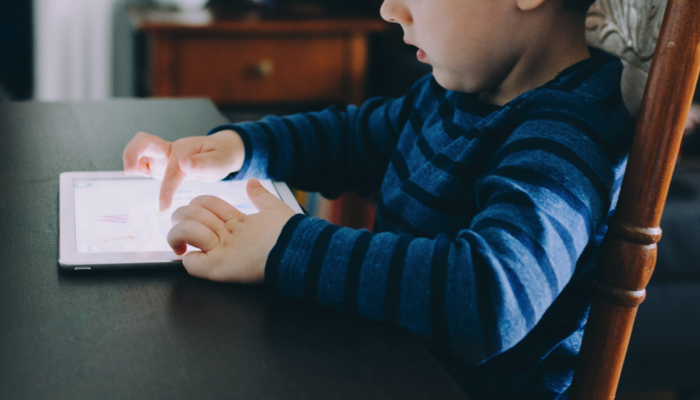 Eye Conditions and Syndromes, iPad Apps and Accessibility
A collection of successful iPad apps for kids diagnosed with CVI as recommended by a TVI and CVI specialist.