What Color Light Is Best for Baby Sleep?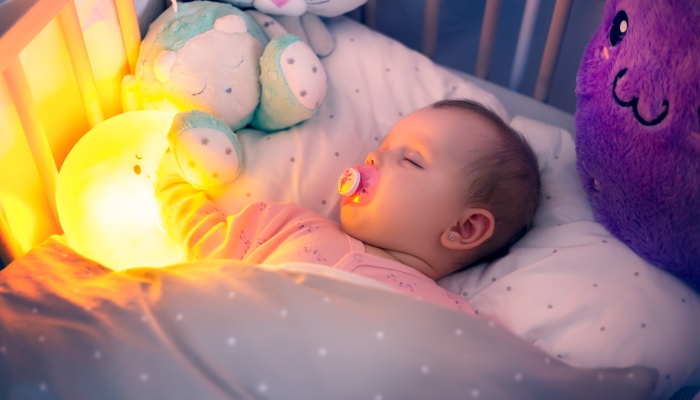 Amber and red light is best for baby sleep. Their longer wavelengths are less likely to disturb your baby's sleep cycle.
Blue light, such as the light given off by smartphone screens, can make it harder for your baby to fall asleep at night.
The right color night light won't prevent your baby from falling asleep or impact how your baby sleeps, and won't disrupt your baby's circadian rhythm or negatively impact melatonin production.
Sleep is a hot topic when you're a new parent. Though you can't magically turn your baby into a good sleeper, there are things you can do to encourage sleep. Having a bedtime routine, a sound machine, and the right light are all good for inducing sleep.
Ideally, you'll create an environment that's both functional and conducive to a good night's sleep for you and your baby. For example, while your baby will fall asleep just fine in a dark room, you may prefer to use a night light to light the room gently so you can see what you're doing during night feeds and middle-of-the-night wake-ups.
Children's night lights provide a low light so you can see your surroundings without relying on a bright light that might disturb your sleeping baby. With a night light, you'll be able to move around the room more easily while your baby is sleeping, reducing the risk of your tripping or making unwanted noise. The fewer disruptions your baby encounters during the night, the more likely they are to enjoy better sleep quality.
What Color Light Is Best for Baby Sleep?
Amber and red night lights are ideal for nurseries because the soothing colors won't interfere with your baby's sleep. The orange and red glow mimics the sunset, so it won't disrupt your baby's sleep pattern. In addition, red and amber light has longer wavelengths11. Tähkämö L, Partonen T, Pesonen AK. Systematic review of light exposure impact on human circadian rhythm. Chronobiol Int.. 2019;36(2):151-170. https://doi.org/10.1080/07420528.2018.1527773, which makes them less likely to disrupt your baby's sleep cycle.
An amber or red color light is best for your baby's room, though it's important to choose one that won't be too bright. A smaller night light is preferable to a large one that may give off too much light. Remember, the night light is there to light your way; it's not for your baby. It doesn't need to be positioned in your baby's eye line or right by your baby's crib; instead, it can be across the room.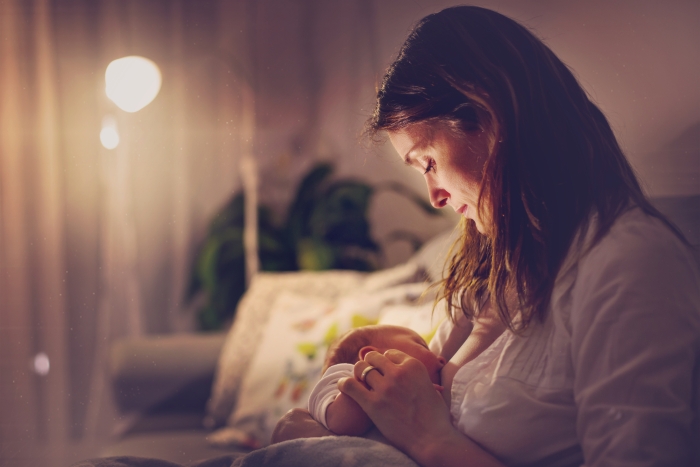 There's a lot we don't know about babies' sleep, such as whether babies have nightmares, but luckily research has been done on the impact of lights and sleep. For example, a 2019 study into the effects of red light on sleep inertia22. Figueiro MG, Sahin L, Roohan C, Kalsher M, Plitnick B, Rea MS. Effects of red light on sleep inertia. Nat Sci Sleep.. 2019;11:45-57. Published 2019 May 3. https://doi.org/10.2147/NSS.S195563 found that red light first thing in the morning reduced grogginess and feelings of sleepiness upon waking. This means a red night light could also help your baby wake up better.
What Color Light Is Not Good For Baby Sleep?
You'll want to avoid night lights that could have a detrimental effect on your baby's sleep. For example, blue and white lights could be too bright and affect your baby's sleep.
Blue light disrupts sleep by suppressing the production of the hormone melatonin, which is vital for healthy sleep. Melatonin production causes sleepiness and helps to regulate your baby's circadian rhythm (internal clock), so it's essential to avoid melatonin suppression at night time.
In addition, exposure to good daytime light "influences the development of [a healthy] circadian system" according to a clinical trial in the Journal of Sleep Research33. Harrison Y. (2004). The relationship between daytime exposure to light and night-time sleep in 6-12-week-old infants. Journal of sleep research,. 13(4), 345–352. https://doi.org/10.1111/j.1365-2869.2004.00435.x . So focus on getting good light during the day and avoiding bad lights at night. When the body is in a good circadian rhythm, melatonin production naturally starts on its own in the evenings, causing a natural sleepiness and winding down into sleep.
According to multiple studies44. Figueiro, M. G., Appleman, K., Bullough, J. D., & Rea, M. S.. A discussion of recommended standards for lighting in the newborn intensive care unit. Journal of Perinatology. 2006;26(S3). https://doi.org/10.1038/sj.jp.7211586 , exposure to blue light at night can disrupt your baby's sleep cycle since it "increase[s] brain activities and reduce[s] sleepiness at night"; even a dim blue light could prevent your baby from falling asleep quickly. Smartphones and televisions give off blue light, which is why experts recommend avoiding the use of electronics for an hour before bed for people of all ages.
Monique K. LeBourgeois, PhD, et al, note in their look at Digital Media and Sleep in Childhood and Adolescence55. LeBourgeois, M. K., Hale, L., Chang, A. M., Akacem, L. D., Montgomery-Downs, H. E., & Buxton, O. M.. Digital Media and Sleep in Childhood and Adolescence. Pediatrics. 2017;73(2), 251–253. https://doi.org/10.1542/peds.2016-1758J that "the vast majority of studies find an adverse association between screen-based media consumption and sleep health." In addition, it's also been reported66. Bennett, S., Alpert, M., Kubulins, V., & Hansler, R. L.. Use of modified spectacles and light bulbs to block blue light at night may prevent postpartum depression. Medical hypotheses. 2009;73(2), 251–253. https://doi.org/10.1016/j.mehy.2009.01.049 that lessening exposure to blue light can help prevent postpartum depression in new moms. Some smartphones now feature a filter to reduce the amount of blue light your phone gives off at night.
Melatonin suppression could lead to your baby fighting sleep, making bedtimes challenging. So it's worth paying attention to your child's exposure to blue light at the end of the day.
Should Babies Sleep With a Night Light?
Babies don't need a night light to sleep, but that doesn't mean you don't need one. A night light may not be necessary for your baby, but it could make your life easier. A gentle light will allow you to see without disturbing your baby's restful sleep. Newborn babies aren't afraid of the dark, but they may still benefit from using a night light.
If your baby wakes in the night, you may sometimes find it difficult to stay awake during night feeds if you're exhausted. Though the bright overhead light may help you stay awake, it's also likely to fully wake your baby, too, which is something that is wise to avoid. A night light is a better option for providing some light without using the main light bulb in the middle of the night.
Benefits of a Night Light For Babies' Sleep
Though the night light may not be scientifically proven to improve your baby's sleep, you may disturb them less if you're better able to see the room. For example, how often have you tried to sneak out of the room only to kick a toy or stub your foot on the way out and wake your baby with the commotion? A night light will reduce the likelihood of these things, so you can perfect your silent sneaking skills and ensure your baby is left to sleep.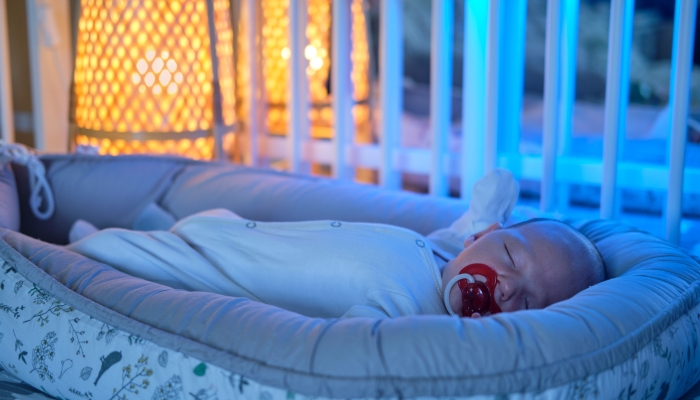 Things to Remember When Using a Night Light
It's essential to get the most out of your night light. For example, if you want to read by the light it gives out, you must place it strategically so the light reaches you as you put your baby to bed. Likewise, if you're relying on it to light your path from the nursery, you'll need to ensure the light reaches everywhere you need it.
It's worth considering any other light in the nursery and how this may impact your baby's sleep. For example, if you have a landing light on throughout the night, you may want to dim it low so the bright light doesn't disturb your baby.
If your baby has electronic items in the nursery, such as a baby monitor or air conditioner, pay attention to the light these give off. Choose nursery items that use a red or amber light rather than those relying on white or blue lighting. Bright blue lights on electronics can often be covered with a small piece of duct tape, too.
How long should I leave the light on in my baby's room before turning it off?
There's no reason why you need to turn the night light off at all. The whole point of night lights is that they stay on all night, providing much-needed light during night wakings. A night light will gently light the room, which could comfort your little one if they wake up during the night. It will also make night wakings easier to handle; late-night diaper changes are much easier (and less disruptive) under the gentle glow of a night light.
References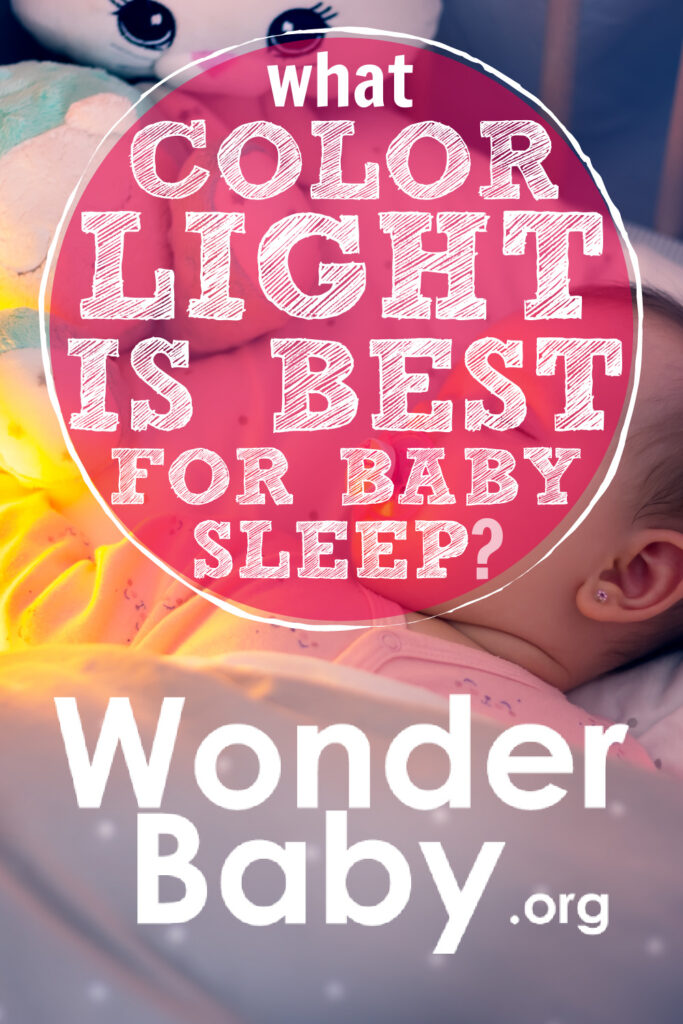 The information WonderBaby provides is not intended to be, and does not constitute, medical or other health advice or diagnosis and should not be used as such. Always consult with a qualified medical professional about your specific circumstances.
Related Posts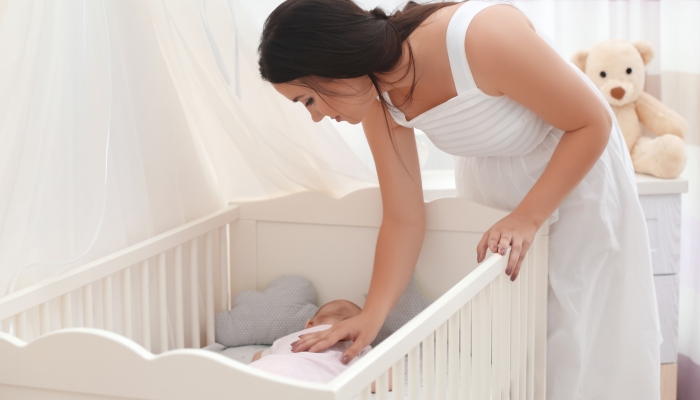 Sleep
The SITBACK method offers a gradual approach to sleep training, where you gently reassure your baby as they fall asleep. Here's everything you need to know.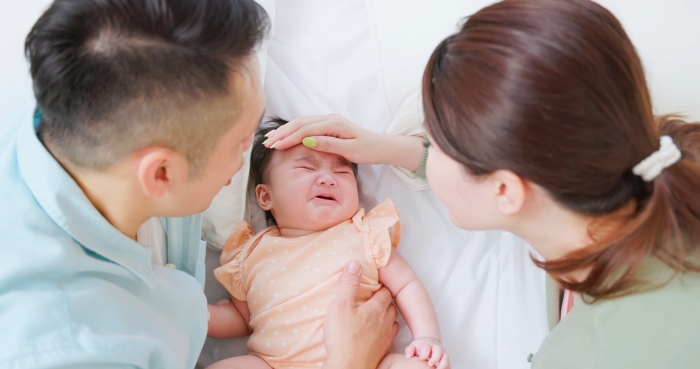 Sleep
Does your baby seem to go through a period of fussiness and crying in the evenings? It may be the baby witching hour. Learn how to survive it here!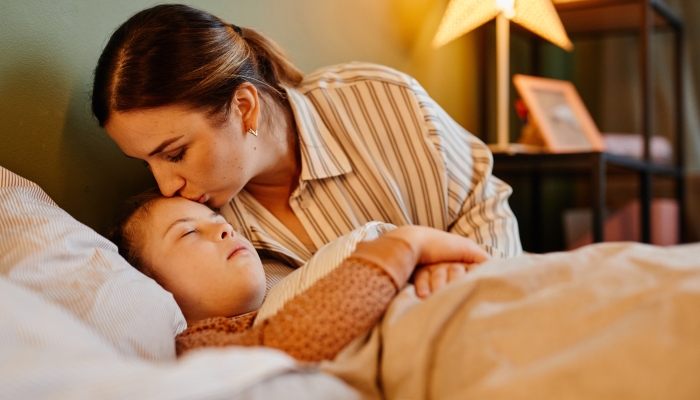 Autism, Sleep
When sleep training a child with autism, it's helpful to eliminate background noises and unnecessary noises, along with establishing a solid bedtime routine.