How and Where to Mount Your Baby Monitor
This post may contain affiliate links; please see our terms of use for details.
You can use a baby monitor wall mount to permanently install a camera unit in your baby's room. Other parents prefer a portable baby monitor camera that can be moved around and clipped onto many surfaces.
Never place a baby monitor less than six feet from your child, and ensure that the baby monitor cord is covered and out of your baby's reach.
Never clip a baby monitor or camera directly to your baby's crib; it presents numerous safety risks.
Experts recommend that you sleep with your baby in your room for the first six months, regardless of the use of a baby video monitor.
If you choose not to do a wall mounting system, there are plenty of non-permanent options, such as a shelf, a tall dresser, or a baby monitor clip or stand.
Using a video baby monitor is an excellent way to supervise your baby sleeping without disrupting them. Personally, I used my baby monitor from the first day my baby was born and well into their toddler years and beyond.
They come in handy to check in on sick kids (of any age) or to monitor pets and your home while you're away. There are baby monitors specifically designed to suit the needs of deaf parents and for seizure monitoring, as well.
However, there are safety precautions, costs, and an installation process to consider when deciding on how and where to mount your baby monitor. This may also determine which style of video baby monitor will work best for your family.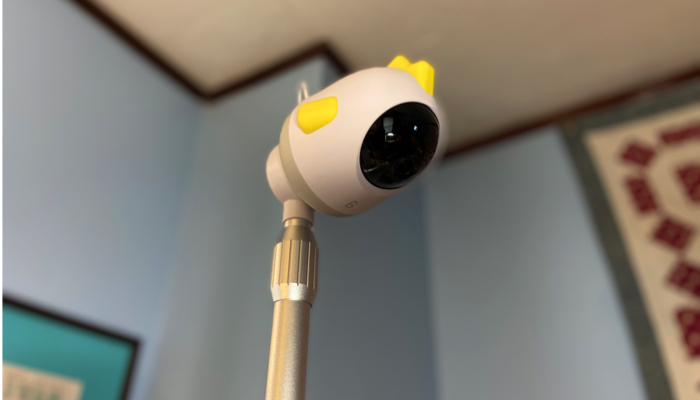 When to Set Up a Baby Monitor
The quick answer is that there is no perfect time to set up your first baby monitor. Discuss using safety baby monitors with a partner and other caregivers to see if it will be useful.
Many parents experience peace of mind and enjoy having a way to peek in on their baby's room without disruptions.
Once you've decided to start shopping for baby monitors, consider the following:
How Old Should Your Baby Be To Use a Monitor?
The American Academy of Pediatrics recommends in their safe sleep guidelines that your infant sleeps in your room for the first six months of life.
Specific sleeping practices are recommended to help prevent SIDs, and these should be followed exactly, with or without the use of a monitor.
A baby monitor is not a replacement for any recommended safe sleeping practices; it's simply another tool in your belt to help you and your baby sleep better.
To find the best baby monitor for your family, consider the following:
Do you need to move your camera from one location to another?
Do you need to view or control the camera remotely, such as from your phone or smart device?
How much do you want to spend?
Are there specific features you need? Some include better night vision, do not disturb options, a microphone and speaker to communicate with your baby, sleep analytics, and even live breathing monitoring!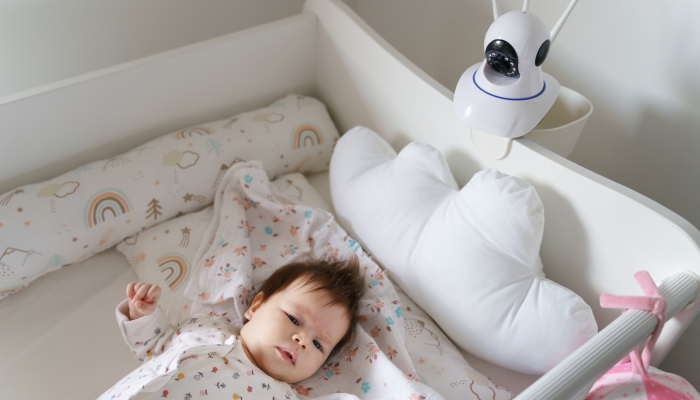 Where to Mount Your Baby Monitor
First, let's discuss baby monitor placement for your child's health and safety and then for best viewing.
The hard reality is that any item in your baby's bedroom, especially those used around your sleeping child, presents risks.
Baby monitor cords are an electrocution and strangulation hazard. This is why it's essential to read and understand the safety recommendations when installing a baby monitor camera in your home.
How Far Away Should the Baby Monitor Be From the Crib?
Your baby monitor camera should be at least six feet from your baby's crib.
After you've ensured that there's enough space and the chord of your baby unit is out of reach, you'll want to ensure it's close enough to see your child clearly (and hear if your monitor has a microphone).
Do Baby Monitors Emit Radiation?
Another reason for the minimum distance requirement is to limit exposure to electromagnetic radiation.
Researchers Alasdair and Jean Philips have found that digital cordless baby monitors placed around 3 feet away from a baby's crib emits about the same amount of radiation as a cell phone tower within 500 feet.
This is generally considered a low exposure, but make sure that you keep at least six feet between your child and any digital cordless monitors.
Other Safety Considerations
Ensure your monitor is mounted in a good viewing location and reach the power outlet without an extension cord. Extension cords are not recommended in children's rooms. They are tempting for toddlers to play with and present electrocution and strangulation risks.
Another note about safety—the distance and location of your monitor will change as your baby grows. As an infant, you will need a closer view, but as your child grows, the monitor will need to be placed farther away and out of reach.
Finally, never mount a baby monitor directly over your child's head.
Best Places to Mount a Baby Monitor
Where you mount your baby monitor is important. You have two options: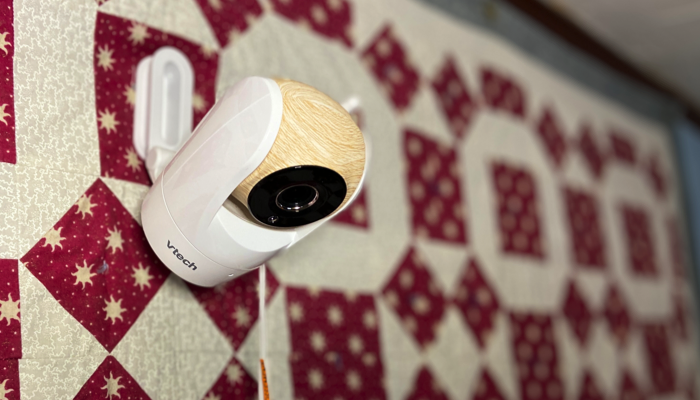 1. Wall Mount
Preferably in a corner near the ceiling, giving wide coverage of the entire room and high enough to be safe and out of reach as your child grows.
If your video monitor comes with a remote pan, tilt, zoom, and tracking features, generally, these are recommended to mount directly to the wall. Many of these monitors use wifi, allowing you to access the camera via a remote or an app on your phone.
2. Shelf
High on a shelf or tall dresser is a safe non-permanent option if you don't want to mount it to the wall. This works for portable cameras.
If you have twins or multiple children to keep an eye on, this will greatly impact the type of monitor you purchase and where you install it.
Can You Mount a Baby Monitor to a Crib?
A baby monitor attached to a child's crib is a hard NO.
Unfortunately, infant strangulation is a serious risk around cords and cables of any kind, and keeping a monitor attached to a crib isn't worth the risk.
Even wireless video monitors clipped to your child's crib can present risks, such as sharp edges and choking hazards.
It's best to avoid these dangers and use a shelf or wall-mounting method.
Monitor Placement for Newborns
If your monitor allows you to zoom and track, you may be able to mount your monitor in a high corner and make adjustments to the camera angle from a remote or app. However, others will require you to move the monitor from up close and vertical for newborns to broader as your child grows.
For a newborn, a vertical position in the camera gives you a good view of your baby sleeping. Once your baby can sit and stand in their crib, you'll want to place baby monitors further away.
Monitor Placement for Toddlers
Even parents who begin using a baby monitor when their children are toddlers can benefit from using them. For example, sleep training and self-soothing during bedtimes and allowing your child to develop autonomy and play independently.
A lower angle is useful to see when your toddler wakes up or is moving around. It's also useful if your toddler likes to play alone in their room, allowing you to supervise unobtrusively.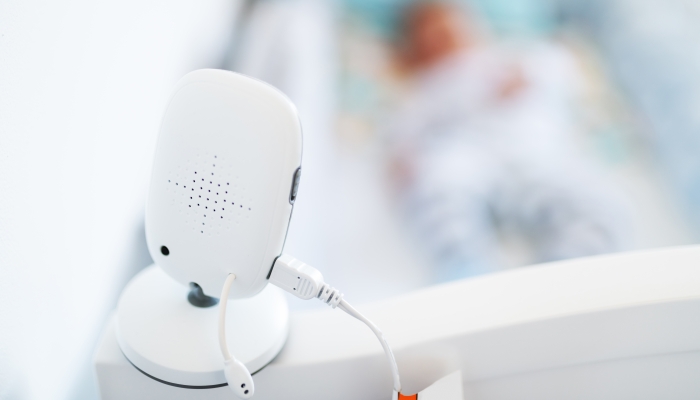 How to Safely Mount Your Baby Monitor
Many of the highest-rated baby monitors already come with the mounting elements included. Check the specifications if you intend to wall mount your monitor just to be sure.
How to Wall-Mount Your Baby Monitor
You'll likely want a view of play areas, the door, and windows for active toddlers, so scope out a high, broad angle of your baby's room. Many parents go for security camera placement of their video monitors—high in a corner at the top of the wall, with an expansive view of the space. This can be a convenient location.
How to Find The Best Baby Monitor Angle
This tip will save you the hassle of drilling too many holes in your walls! Check the viewing angle from your monitor by holding your camera in several locations around the room and viewing it through the device first.
Using a Mounting Kit
If your monitor doesn't come with a mount, you can easily and inexpensively purchase a mounting kit online. A basic mounting system often works like a mini shelf and can attach to a wall, ceiling, or even the side of a bookshelf.
Covering Cords
To safely secure the power cord, it's recommended to use a cord cover. This plastic tubing secures chords to the wall or floor with the wire safely inside.
The ideal places to run cords are behind furniture or a long curtain.
If you're carpentry savvy or for an extra layer of safety, you can opt to have your monitor's power cords installed in the drywall itself, similar to a TV mount.
How to Install a Baby Monitor Without a Wall Mount
If you prefer not to permanently mount the baby monitor on the wall, there are many alternative options:
This is the simplest option, allowing you to place your camera on a flat surface like a shelf or on top of a dresser.
Flexible holders are fantastic because you can attach them to many surfaces. They have adjustable grippy legs that wrap around things. These camera holders are helpful if your child often falls asleep in various locations like the car, stroller, swing, and crib.
Tip: When visiting family, grandparents, or friends, these flexible holders attach very well to a curtain rod.
These work for any model of baby monitor. Many have a clip and flexible arms system to attach to furniture and shelves.
FAQs
How long can you use a baby monitor?
There is no set rule for how long you should use a baby monitor. On average, most parents use a monitor regularly until their child is around one year old.
Many experts recommend turning off the monitor at night if you or your baby struggle with sleep issues.
Research by Melissa M. Burnham, Beth L. Goodlin-Jones, Erika E. Gaylor, and Thomas F. Anders published in the Journal of Child Psychology and Psychiatry suggests that turning off the monitor can help both develop more solid sleep habits.
It's worth noting that many monitors come with a do not disturb mode that will stay dark unless it detects movement from your child.
Do I need a baby monitor while co-sleeping?
Co-sleeping could impact your decision to purchase a baby monitor, at least for the first six months when it's recommended to sleep with your baby in the same room.
However, many parents appreciate their baby monitors from the first day of use. They are helpful during car naps and give your child uninterrupted play and reduced sleep interruptions.
A bit of research on how to begin or when to stop using a baby monitor will help set your mind at ease.
Is it okay to have the baby monitor on 24/7?
It's perfectly safe to leave the baby monitor on all night. Still, once your child is around six months old, many parents find that turning the monitor off during the middle of the night helps both parties sleep better.
Do baby monitors use a lot of electricity?
New models are getting more energy efficient. On average, a baby monitor uses around 15 watts of energy while in use and 3 watts while on standby.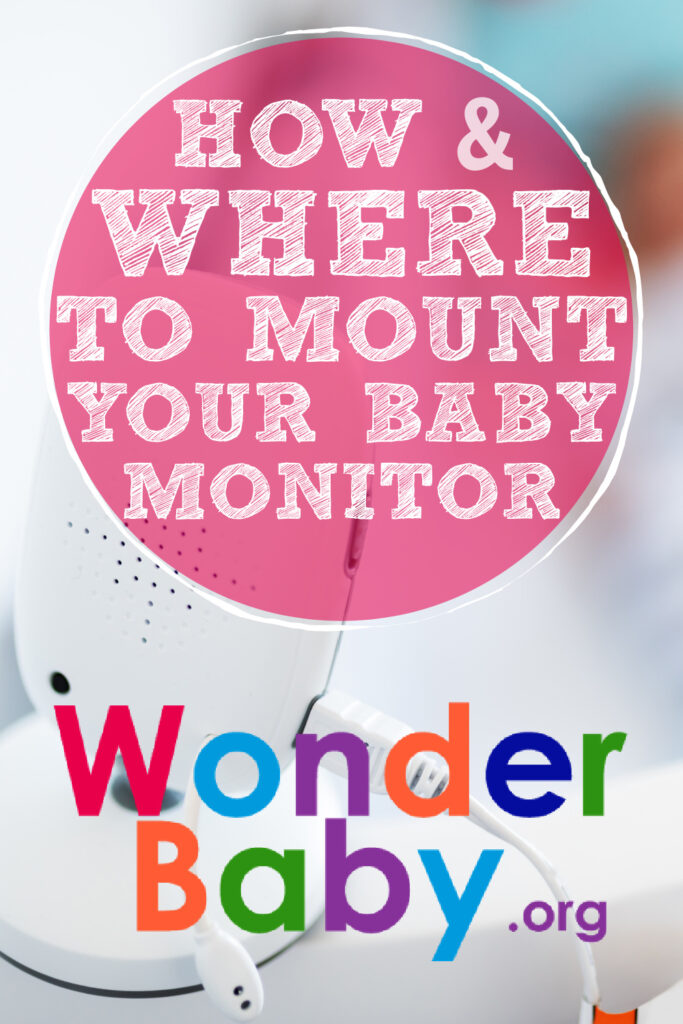 Related Posts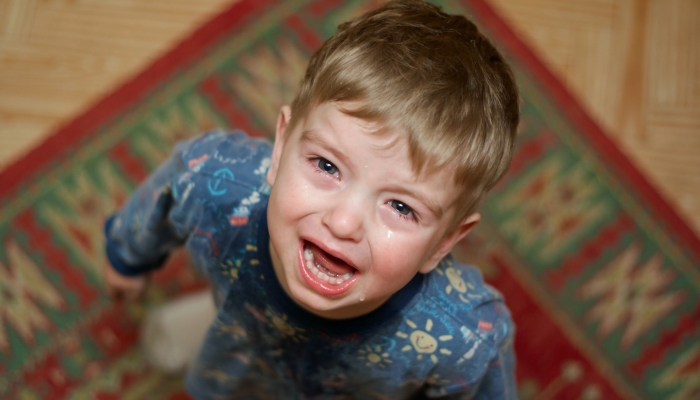 Parenting
Wondering if your child is having a tantrum or a meltdown? Read this article to know the difference between these emotional outbursts!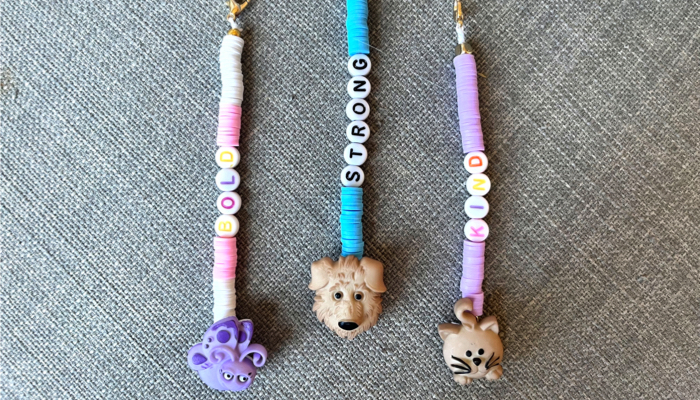 Parenting, Play, Tactile Art
These affirmation backpack buddy keychains are adorable and easy to make. Give your child a little encouragement with this simple craft as they head to school.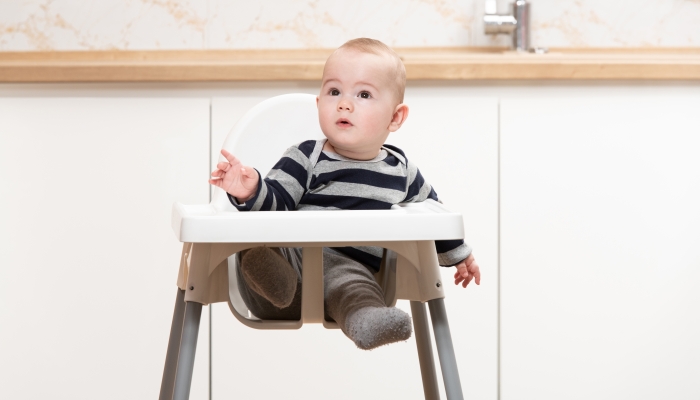 Parenting
Many children are ready to stop using a high chair between 2–3 years old and can begin transitioning to a normal chair or booster seat at that time.