ATIA 2014 Orlando: News from the assistive tech conference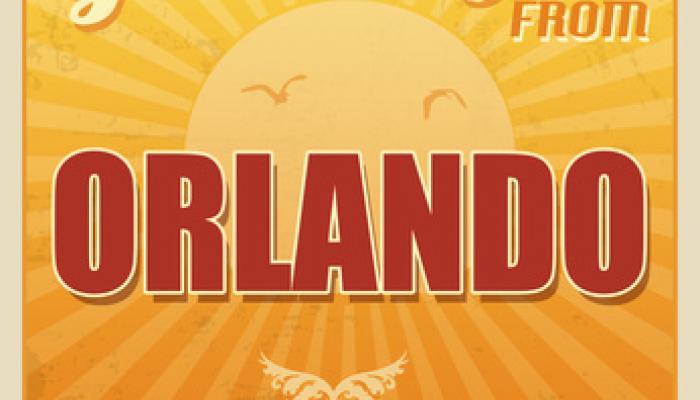 Hello from not-so-sunny Orlando Florida at the ATIA conference, but who's complaining when it's "merely" 50 degrees? It's warmer here than where most of the 2,300 conference attendees have traveled from!
This year's ATIA conference is running from January 29 to February 1, 2014. For those of you unable to attend in person, you can join the fun reviewing all the presentations online or follow the sessions and conversations on Twitter with the hashtag #ATIA14 or follow @atiaorlando.
Below I will give you a rundown of the sessions I've attended and what I've learned, but first…
What's ATIA?
The Assistive Technology Industry Association (ATIA) is a nonprofit membership organization of manufacturers, sellers and providers of assistive devices and services for people with disabilities.
ATIA holds an annual conference to provide a forum for assistive technology education and communication to educators and practitioners serving those with disabilities. Conference days are full of presentations, exhibitor visits and meeting new colleagues dedicated in their work with children and adults.
And now for the fun stuff! Here is what I learned at ATIA 2014!
Session One: Turn on the Lights!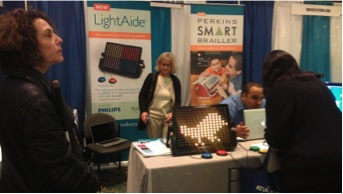 During the first session on Thursday morning, Judy Vesel, Joe Martini and I talked about "Using Interactive LED Lights to Engage, Do and Learn." I gave a brief overview of how LightAide started and the intended use and completed the session with a demo! Audience members actually had the opportunity to be students – it was lovely!
Judy Vesel, from TERC, provided details of the testing of LightAide and her upcoming research study open to new participants for using LightAide in their classrooms.
Joe Martini, from Perkins Products, discussed the plans for market launch and providing information to teachers. Our slides can be downloaded here, along with the instructions on how to volunteer for future LightAide testing with TERC.
Session Two: AAC & Communication
The next presentation from Patti King-Debaun focused on "Teaching AAC: Success for Beginning Communicators". She is a knowledgeable Speech-Language Pathologist who works with children with severe disabilities. I was very mesmerized by her video examples and how she really reiterates the need to acknowledge natural gestures children are exhibiting. She also highlighted that communication is a "combination of behaviors that are not necessarily 'standard' that the listener interprets the communication intent based on behavior."
She emphasizes the importance of making communication interactions positive and to pay close attention to the children and their behaviors.
You can learn more at Patti's website, Adapted Stories or her blog Teaching AAC.
Session Three: Age-Appropriate Assistive Tech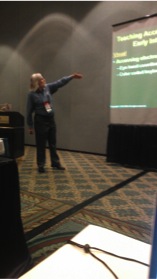 Ike Presley, National Project Manager for American Foundation for the Blind, tried to answer the age-old question, "When do I start teaching technology and in what order should I teach it?"
His slides, linked here, are packed full of detailed information. He covered 64 slides in 60 minutes, we were all swimming with content and information, but he made two very key points:
Teach usefulness with fun: Introduce new technology based on the motivations of the child (reading comic books, searching the web for favorite sports team scores, writing a phone number down)
Make it Fun!
Ike described how important it is to engage parents in the process, especially for children in Early Intervention. The foundation skills start during those crucial years that lead to future success.
I've taken some of his content and reproduced it into tables by targeted school years:
Session Four: Protecting Your iPad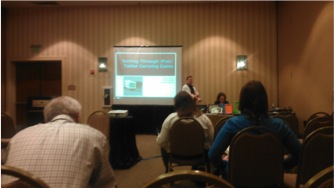 Kelly Fonner, Scott Marfilius and Erin Sheldon provided an energetic and informative review to a nearly packed room on iPad cases. When you're spending serious money, you want a serious defense against the unexpected.
We started the session airing our saddest iPad injury stories: the pool, the toilet, stepping on the screen, throwing across the room and falling out of a case.
As Kelly, Scott and Erin took turns explaining the feature-match list for iPads, including…
Case type/material/durability
Ease of access to iPad
Protecting screen
Handle style
Access to controls/ports
Auditory options
Mounting
Accessories/keyboards
Customization/skins
Training/videos
they each reiterated the major feature of case purchasing – to protect the iPad. You can check out their handout here.
Session Five: Accessing Assistive Technology Funding
Michael Morris (National Disability Institute), John Nelson (Wall Street without Walls) and Joey Wallace (RESNA Catalyst Project) presented on the fascinating topic of "Funding Innovations: Creating New Financial Markets and Products for Assistive Technology Lending."
Now if you check out the slides, you might feel like you're reading parts of the Financial Times or the Wall Street Journal. But the premise of their presentation was, how do we get more funding to users who need assistive technology – including vehicle modification and transportation, hearing aids, computers and related devices, environmental modifications, seating and mobility, daily living, speech communication and cognitive learning aids.
There are 32 state loan programs that have not received additional federal funds but needs continue to grow. Between these three great gentlemen is probably 100 years of experience in assistive technology, financing, non-profit leadership and they are joining together with leaders to explore new approaches to funding assistive technology.
They are looking for interested folks to participate in working groups (marketing and outreach, technology, access to capital), help define the current market, or offer financial innovation ideas. For more information, check out their session slides.
Session Six: Adapting the Extracurriculars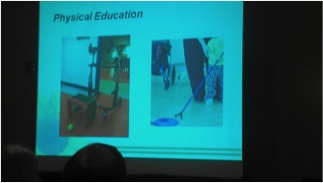 While the title is very accurate for the session, they also highlighted many methods to adapt while being mindful of expense. They had fabulous slides with self-explanatory instructions for the modifications, unfortunately they haven't been published (yet).
Lindsey Veety and Amy Baxter work at The Center for Discovery in New York. Their thesis is that participation in extracurriculars can improve time management, team work, problem solving skills, following rules and can be a positive way to build skills and confidence.
Some examples are:
Milk crate zip-tied to the front of a walker to encourage a student to participate in sports
Adapted music instruments and tool holders
A switch-activated battery operated super-soaker converted to be a paint gun for art class or outside for making tie dye shirts!
How creative is that to repurpose a reasonably priced object to be an assistive device for a child!
Session Seven: Making AT Available for all Students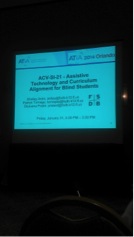 Shelley Ardis, DaJuana Prater and Patrick Turnage from Florida School for the Deaf and Blind presented their initiative to update a campus-wide Assistive Technology Implementation Plan. This plan allows their PK-12 students to develop, from an early age, a solid foundation of the necessary assistive technology skills as they relate to the Common Core Standards and Expanded Core Curriculum Standards.
The Assistive Technology Implementation Plan established a PK-12 scope and sequence for their blind and low vision students by grade-level. In addition, the team developed a professional development plan for teachers and paraprofessionals. The inter-departmental collaboration was necessary to leverage knowledge and skills as well as funding and staffing resources. It was particularly useful to hear how they combined their expertise to share across different programs and across students of various ages. You can read more here.
Last but certainly not least…
Just because no AT conference could be complete without it, here's a photo of a seeing eye pony!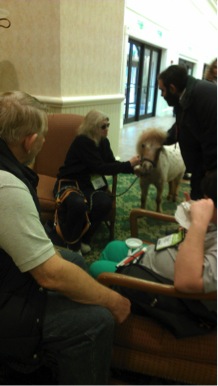 Related Posts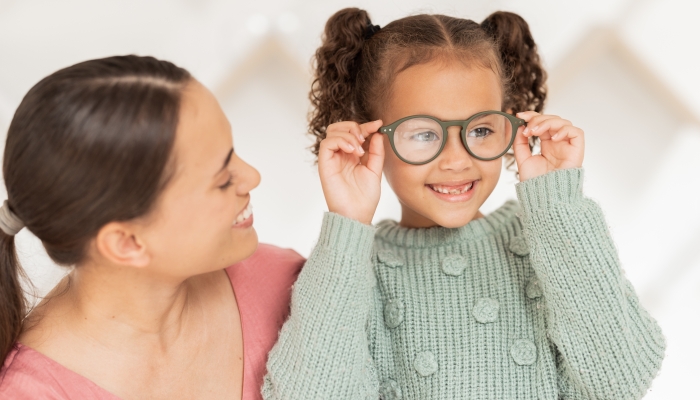 Eye Conditions and Syndromes, Visual Impairment
If you have a child with retinitis pigmentosa (RP), family members, therapists, and eye specialists can help you manage the stress that comes with vision loss.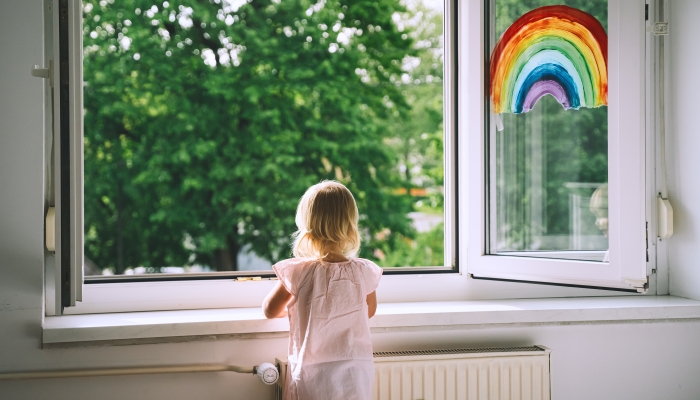 Autism
A sensory-friendly home promotes a safe environment, reduces anxiety and stress, improves focus, and establishes better sleep patterns.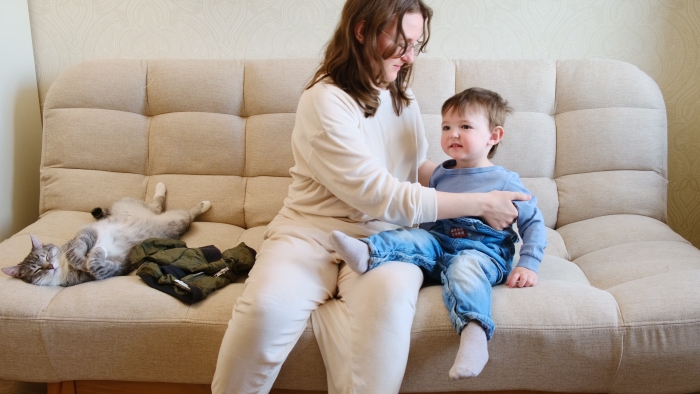 Autism, Special Needs
Sensory-friendly clothes are ideal for children with sensory sensitivities, help with overall comfort, and can help reduce anxiety.