The 7 Best Baby Books for Boys of 2023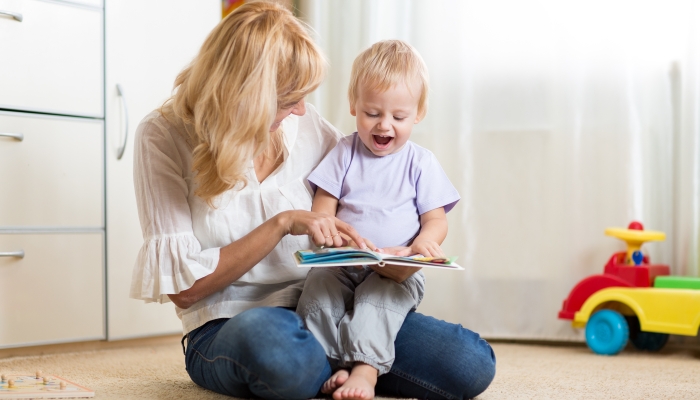 This post may contain affiliate links; please see our terms of use for details.
Select books for your little guy based on their current interests.
Consider texture, color, and pictures when making your selections.
Start reading to your little guy around 6 months old.
Books are arguably one of the best early learning resources available. Teaching kids everything from words and shapes to memory and listening skills, they're an invaluable tool that's accessible to new parents on any budget. While any classic baby book stands to promote development, there's value in buying books just for your baby boy.
Picking subjects that naturally interest them, like cars, dinosaurs, or whatever it is they like, will create positive associations with reading. Ultimately, this simple story time packed with picture books on topics they love makes for a smoother learning process.
If you're looking for baby books for boys to add to or even start a little library, you're in the right place! Check out the 7 best baby books for boys of 2023 to help fill those bookshelves with children's books your baby won't be able to resist!
Best Overall
Best in Sports
Best in Science
Noisy Dinosaurs by Jonathan Litton
Let's Play Baseball by Ginger Swift
8 Little Planets by Chris Ferrie
Best Overall
Noisy Dinosaurs by Jonathan Litton
Best in Sports
Let's Play Baseball by Ginger Swift
Best in Science
8 Little Planets by Chris Ferrie
Our Choice: Noisy Dinosaurs by Jonathan Litton
Sale
There are plenty of great books for baby boys, but Noisy Dinosaurs is truly a cut above the rest. Not only is it a touch-and-feel book, but it also makes different sounds! The photo-real illustrations are incredibly engaging and make the touch-and-feel experience much more exciting.
Without even knowing it, their hand-eye coordination will develop as they touch and press the touch-and-feel slots. This also offers opportunities for parent-child bonding as parents help them explore the book's features. A sturdy board book with an on-and-off switch for extended battery life, you can count on getting your money's worth from this one!
Number of Pages: 12 pages | Reading Age: 1-3 years | Publication Date: September 22, 2020
View on Amazon | View on Walmart.com | View on eBay.com
Goodnight, Goodnight Construction Site by Sherri Rinker
Sale
A #1 New York Times bestselling children's book, Goodnight, Goodnight Construction Site will have your little guy glued to the pages, with images of every construction truck doing its special work. Cranes are lifting, and excavators are digging; the whole construction site unfolds before their eyes.
Every page shows a new type of truck on the construction site, finishing up their last task of the day in order to get ready for bed. They need a full night of rest so they can wake up ready for another day of construction fun; helping each truck prepare for bed provides the perfect segway into your baby boy's own bedtime too!
Number of Pages: 30 pages | Reading Age: 2-3 years | Publication Date: February 14, 2017
View on Amazon | View on Walmart.com | View on eBay.com
What Little Boys Are Made Of by Susanna Leonard Hill
While the content of this book is a bit beyond the baby age, What Little Boys Are Made Of is worth the investment, even at a young age. Written in the standard nursery rhyme style, the theme centers on celebrating little boys and the activities they love to do.
From asking questions about everything they see, to chasing after bubbles until they pop, to helping shovel snow since it's the right thing to do, this book covers tons of hobbies and sets good examples too. With a bonus list of affirmations you can teach your little man, this book is an excellent resource for instilling confidence and self-esteem in young readers.
Number of Pages: 40 pages | Reading Age: 4-7 years | Publication Date: December 6, 2022
View on Amazon | View on Walmart.com | View on eBay.com
Let's Play Baseball by Ginger Swift
For the sports-loving family, Let's Play Baseball is the perfect introduction to baseball for your little boy. This board book includes flaps to lift, which give each newly turned page a hidden detail your baby will love to discover.
The book goes over many aspects of the game, including the bases, equipment, and uniforms. It offers several different opportunities for learning as well, like counting the four bases. Teaching your little one all the basic baseball lingo with chances to learn essential concepts along the way, this book is a sports fan's dream!
Number of Pages: 12 pages | Reading Age: Baby-2 years | Publication Date: December 6, 2018
View on Amazon | View on Walmart.com | View on eBay.com
Little Blue Truck by Alice Schertle
Sale
The Little Blue Truck is easily one of the most popular baby books right now, and it's for a good reason. Descriptions of the truck, farm animals, animal sounds, and their journey ahead ultimately combine for an amusing and rhythmic story for the whole family.
The little blue truck travels along a dirt road where it passes loads of animal friends. On its journey, it eventually gets stuck trying to help another truck out of the mud. Luckily, all the animals the little blue truck met along the way came alongside to help. It's a great story of friendship, teaching the value of lending a helping hand.
Number of Pages: 30 pages | Reading Age: 1-3 years | Publication Date: July 14, 2020
View on Amazon | View on Walmart.com | View on eBay.com
8 Little Planets by Chris Ferrie
Sale
Written by an actual physicist, 8 Little Planets is part of a science series rated number one for kids! Each illustration is packed full of vibrant, entertaining pictures of how and where each planet moves, with a lively writing style that makes for an easy read.
As your baby is introduced to the eight planets in the solar system, little tidbits of information are given to each of them. For instance, "Silly old Saturn looks far too busy. All those moonlets should make a planet dizzy. But the 6th little planet loves all those things. They help give the planet such beautiful rings!"
Number of Pages: 18 pages | Reading Age: 1-3 years | Publication Date: October 2, 2018
View on Amazon | View on Walmart.com | View on eBay.com
Cars and Trucks from A to Z by Richard Scarry
A book that's sure to take you back to your own childhood, Cars and Trucks from A to Z immerses you in the classic busy world of Rich Scarry. Colorful designs abound, with impressive details that depict animals, places, and everyday items.
The story begins with the letter A and the character Lowly Worm in his apple-mobile. With each page, you're met with every kind of car and truck imaginable. Some of them are real, some imaginary fun, but they still follow the alphabetic rhythm. For example, for the letter T, you'll see a taxi and a toothpaste car. Its silly depictions keep things interesting!
Number of Pages: 22 pages | Reading Age: 1-3 years | Publication Date: October 3, 1990
View on Amazon | View on BarnesandNoble.com | View on eBay.com
What Types of Baby Books Are Best for Boys?
Let's start by noting that there's no fine science when it comes to the type of books that are best for boys. Your baby boy will likely be interested in any book you put in front of them as it exposes them to new colors, textures, and ideas. That said, there's still value in picking books for your baby that might pique their interests more than others.
For example, my little boy has always been super interested in trains and cars. When given the option, he gravitates toward books on our shelf that involve vehicles far more than he does with books on other topics. When you go to buy books, definitely try picking ones that incorporate your baby boy's unique interests.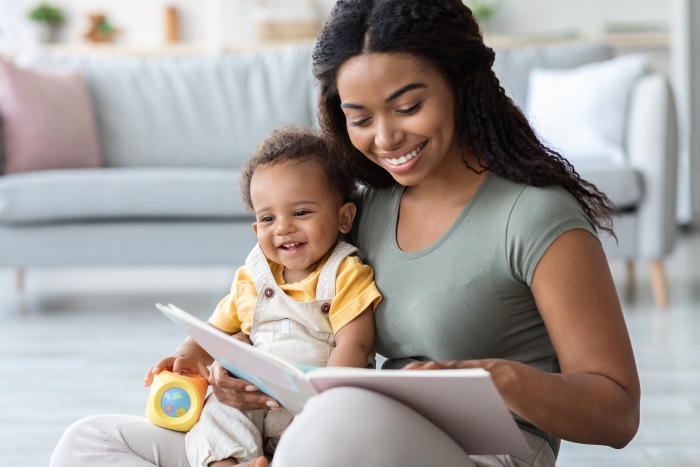 How to Choose the Best Baby Book for Your Little Boy
If you're looking to bulk up your baby's library beyond the books above but you're not sure what exactly to look for, no worries! Keep the elements below in mind while you're shopping. They'll help guide you to the best baby books for your little boy.
Textures: While they're not a must, books that include textures help babies correlate items with how they feel, which is definitely of value.
Colors: For infants, black and white illustrations are easier to identify and interpret. Older babies, on the other hand, enjoy eye-catching and bright colors.
Pictures: For babies, it's best to go with simple pictures while they learn to identify basic objects and actions.
Special interests: Pick a subject they seem interested in. If they love the book's content, it's more likely to keep their attention longer.
Age appropriate: Always check the book's age guide to be sure it's age appropriate. There's a vast difference in books meant for ages one to three versus ages three to six.
FAQs
When should parents start reading to their baby?
Parents should start reading to their babies around six months old. At this point, they'll likely be able to sit up and engage with the book and all its vibrant colors and illustrations. You can certainly begin reading to them before six months if you'd like to. It's a great way to continue fortifying your bond and reinforce language development.
If you find that they're not yet interested in board books, try something more simple for them to handle, like a cloth book. They'll enjoy exploring the new texture, while still being exposed to new pictures and colors.
When do babies start to recognize pictures from books?
Babies will start to recognize the pictures in their books around the nine month mark. Usually, it's in the form of real-life items like those you'd find in a baby's first words book. Again, this isn't to say showing them the pictures prior is a waste. You can start by showing them black-and-white images to begin their development in infancy.
Do baby boys learn faster than baby girls?
There are definitely some differences when it comes to the development of boys and girls. For instance, you may notice girls speak more words than boys to start, presenting about a month ahead of boys. You'll also find that boys learn gross motor skills faster, like running and kicking. Their differences are noticeable but perfectly normal!
When is the best time of day to read books to my baby?
That'll really vary from baby to baby, usually depending on their schedules. Some babies won't be as attentive to even the best picture book if they're sleepy or ready for their next feed. That said, try to pick times when they're most satisfied and alert. After they've woken up from a nap or right after a good feed are good places to start.
Alternatively, if your babies are anything like mine, before naptime and bedtime work well. They're so active they rarely want to slow down enough to sit and read a book. Catching them when they're worn out and tired works for me!
How often should I expose my baby to books?
As often as you can! Books are a rich source of learning for babies. Even infants can gain something from the black-and-white illustrations we may deem too basic. Reading to them daily only stands to develop and refine endless vital skills, so why not expose them as much as you can?
Related Posts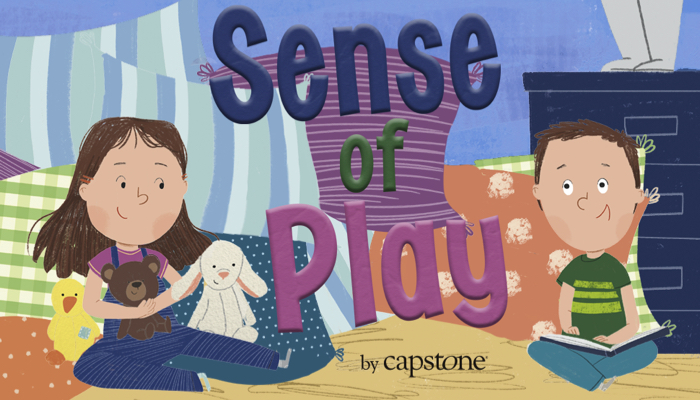 Braille and Literacy, Product Reviews, Visual Impairment
Dana Meachen Rau's book, Sense of Play, follows the adventures of Chip and Joy as they play. Chip is blind, but this doesn't get in the way of their play!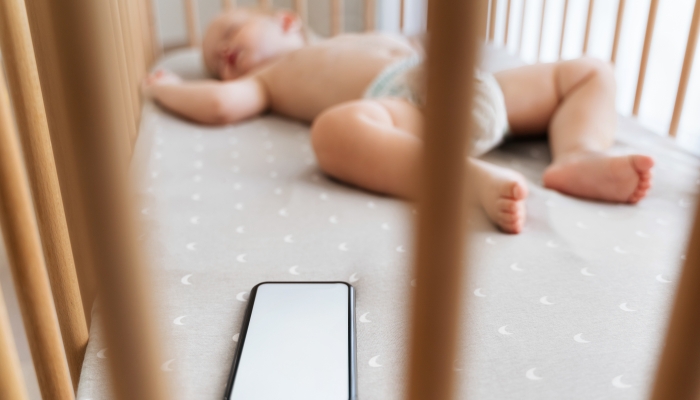 Product Reviews
Wondering whether white noise will help your little one sleep better? Here's our guide to the best baby sound machines to help your baby fall asleep soundly.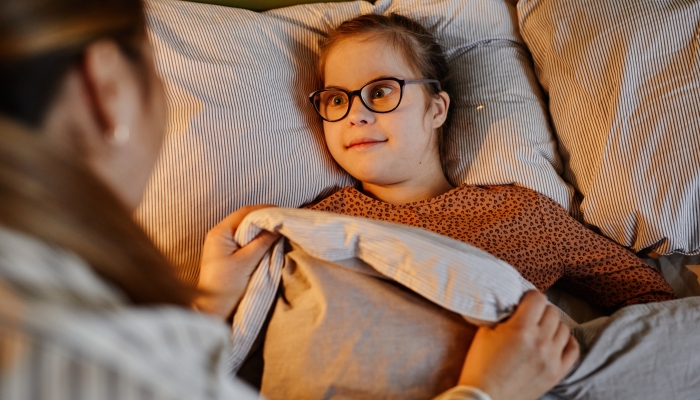 Product Reviews
Heard a lot about weighted blankets and lap pads and wondering how to choose one? Here's our guide to the ins and outs of finding the right weighted blanket.