Baby Swing Weight Limits and Age Ranges: A Safety Guide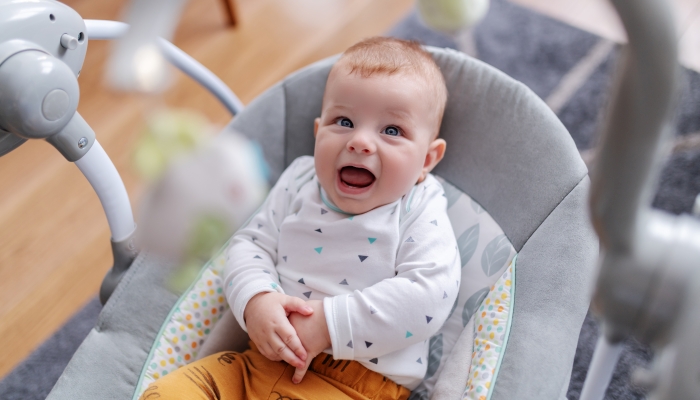 This post may contain affiliate links; please see our terms of use for details.
When used correctly and according to the age and weight limit, a baby swing is safe for infants for short periods while awake.
Always adhere to the manufacturer's guidelines for a baby swing's maximum weight limit to avoid accidents.
While it may soothe and calm a young infant, do not allow your baby to sleep in a baby swing to reduce the risk of SIDS.
Do you really need to buy a baby swing for your newborn? They might seem like just another baby item that takes up space and that you'll use for only a short time. However, many parents soon discover that a baby swing might be one of the only things that soothes their fussy baby.
Young infants love swings because they find the gentle rocking motion comforting. Parents love swings because they allow them to take a break and put their baby down in a safe place. Moreover, babies find swings entertaining and soothing which can help with fussiness and discomfort, especially in newborns and very young babies.
However, parents need to use baby swings safely. Baby swings can be dangerous if not used correctly.
Check out this safety guide on baby swing weight limits and age ranges to help you use your baby swing safely.
Weight and Age Limits for Baby Swings
Most swings are safe to use from the time your baby is a newborn. However, you should always read the manufacturer's instructions for the weight and age limit for the infant swing you choose.
Most swings can accommodate babies from 6 to 20 or 30 pounds. Many brands don't give an age maximum because babies develop so differently. If you have a big baby, they may reach the upper weight limit much sooner than others. Still, the average baby will reach the maximum weight limit by the time they are 9 to 10 months old.
To get an idea of the average weight capacity for baby swings, let's take a look at some popular baby swings and compare them:
If your baby exceeds the max weight limit or doesn't meet the minimum, it's unsafe to put them in the swing. If your baby is premature, consult with your doctor about whether it's safe for them to use a baby swing.
Babies may outgrow a baby swing pretty quickly. However, many parents find that the side to side or continuous rocking motion of a great baby swing keeps their young baby relaxed. This can be especially helpful in the early months when a baby's fussiness seems only to be soothed by being in your arms.
Not every baby prefers the motion of a swing, though. If you're concerned about the expense and space of adding a baby swing to your growing pile of baby gear, you may want to wait and observe your baby's temperament. A baby swing is not an essential piece of baby equipment, but it can help some babies.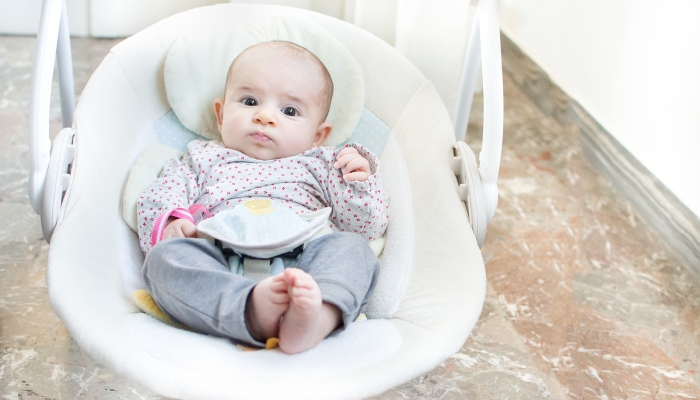 What Should I Look for in a Baby Swing?
As with any baby product, it's essential to research and figure out which features of a baby swing make the most sense for you and your baby.
The American Academy of Pediatrics (AAP) recommends that a baby swing has:
A five-point safety harness.
A reclinable seat that can adjust to be fairly flat.
Sturdy frame that will not collapse easily.
In addition to the above essentials, many baby swings come with tons of extra features. Therefore, it can be hard to determine which bells and whistles are the most important when buying a baby swing.
The following checklist should help you decide which baby swing is right for you:
Baby Swing Feature
What to Look For
Five-point harness

A safety harness is an essential feature.
It keeps your baby securely fastened when the swing is in motion.
A five-point harness is one that has shoulder straps.

Adjustable reclining seat

If you're using the swing with a newborn baby up to 4 months of age, the seat must be fairly flat and reclinable to be safe.

Portability

A swing should not tip over easily.
A swing should not fold up easily.
If a swing is advertised as portable or foldable, make sure that it can be locked in position and won't collapse while in use.

Toy bar and mobile

These are entertaining for your baby, but not essential.
They should be securely attached and should not be pulled off easily.

Variable swing speeds

Some swings advertise up to ten swing speeds.
The swinging motion is enough for most babies, so think about how many speeds are really necessary.

Machine washable seat

A machine washable seat cover is a great feature for easy clean up.

Lullabies, music, and nature sounds

These are nice features to entertain your baby, but not essential.
Too much sound can be overstimulating for some babies.
How To Use a Baby Swing Safely
Although some babies love their infant swing, it's important to pay attention to how and when you use it.
The American Academy of Pediatrics has stated that while it is safe to use baby swings, parents should be mindful of the following:
Use baby swings only for short periods during the day while your baby is awake.
Do not use baby swings for sleeping or daytime naps.
If your baby falls asleep in the swing, move them to a firm, flat sleeping surface.
Make sure your baby is getting tummy time every day.
Babies 4 months old and younger should swing in the most reclined position.
Make sure the frame will not collapse or fold easily.
Follow the baby swing weight limit guidelines.
Use a five-point safety harness in the swing.
The swing seat surface must be fairly flat, without curved sides that keep the baby in a slumped position. The youngest babies must be able to lay in the most reclined, flattest position. This is important so that your infant doesn't get stuck in a position where they slump over or could suffocate.
Can My Baby Sleep in a Swing?
It's not safe to let your baby fall asleep in a swing. Babies should not be left to sleep in baby swings to reduce the risk of sudden infant death syndrome (SIDS).
Instead, if they fall asleep in the swing, move your baby to a safe, firm and flat sleeping space.
Although your baby may enjoy their swing, do not leave them in it or in any car seat, jumper, bouncer, or carrier for long periods of time. This ensures that the back of their head doesn't flatten from being in the same position for too long.
Never leave a baby unattended or unsupervised in a swing.
When Should You Stop Using a Baby Swing?
Your baby often lets you know pretty clearly when they've outgrown something. Swings are no different. However, there are also signs to look for that will let you know it's time to stop using the baby swing.
Your baby exceeds the weight limit.
Even if your baby is still enjoying their swing, you should not put them in it once they have reached the maximum age or weight limit. Using a swing that doesn't have the capacity for your baby's weight is not safe.
You also shouldn't use a baby swing with a baby that does not reach the minimum weight limit. You should check with your doctor about using a swing with your premature or special needs baby.
Your baby can sit up unsupported.
Infant swings provide head and neck support. Once your baby has developed good head and neck control and can sit up independently and unsupported, it is time to move on from a baby swing.
Your baby is trying to get out.
If your baby has not met the baby swing weight limit but they're wrestling with the harness and trying to get out, it's time to stop using the swing.
Once your baby is mobile and strong enough to try to get out of the swing, it's no longer safe for them to use it. There is a risk that they could tip the swing and fall out of it.
Although your baby will be wearing a harness to keep them safe while in the swing, if they are straining against the shoulder straps, rocking on their own, or trying to roll or crawl out of the swing, then it's time to stop using it.
Even if your baby is under the maximum weight limit, you should stop using the swing once your baby shows that they are strong enough to get out of it.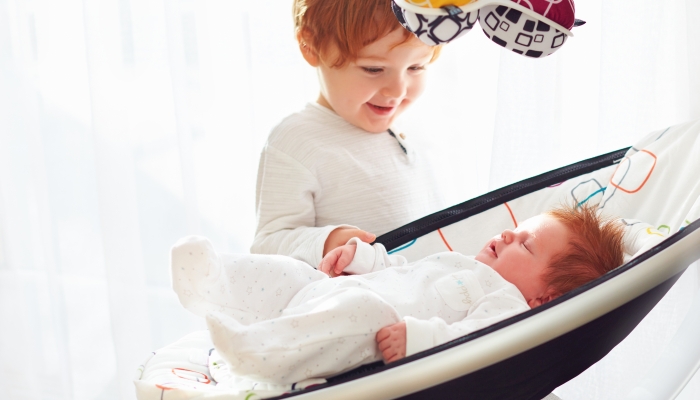 FAQs
Are swings beneficial for babies?
Young babies feel soothed and comforted by the side to side and rocking motion of swinging. It reminds them of their time in the womb when they were gently rocked in their mom's belly whenever she moved.
As babies and children get older, they continue to love swinging. Swinging provides a full body sensation which provides vestibular input that helps your child develop spatial perception and gross and fine motor skills.
Kids and babies enjoy activities that stimulate their developing nervous system. In addition, swinging stimulates your child's developing coordination, balance, and bodily control, which are all part of their proprioception, or sense of where their bodies are in space.
Are swings safe for babies with special needs?
If your baby is premature or has special needs, you should consult your doctor about using an infant swing safely.
Many children with special needs find swinging entertaining, stimulating and soothing. As children get older, there are toddler swings and sensory swings, which provide kids with opportunities to work on core strength, balance, and gross motor skills through an activity that's fun and good for their development.
How many minutes a day can my baby stay in a swing?
If your baby is comfortable and happy in the swing and then fussy and upset as soon as you take them out, it can be tempting to let them stay in it.
However, experts give several reasons that babies should not spend more than 30 minutes a day in swings, bouncers, car seats or carriers.
First, babies should not lay in these items for prolonged periods because their heads are still soft, and there is a risk of developing flatness at the back of their skull. If this happens, consult your pediatrician.
Second, babies need opportunities throughout the day to develop their gross motor skills and work their growing muscles. Laying stationary for too long in swings and bouncers does not give them that chance. Tummy time every day is critical.
Finally, babies should not be left to sleep in baby swings, even if they find the swing comforting and soothing. There is a risk of SIDS for babies who fall asleep in swings. Therefore, you should move your baby to a safe, firm and flat sleeping space if they fall asleep in the swing.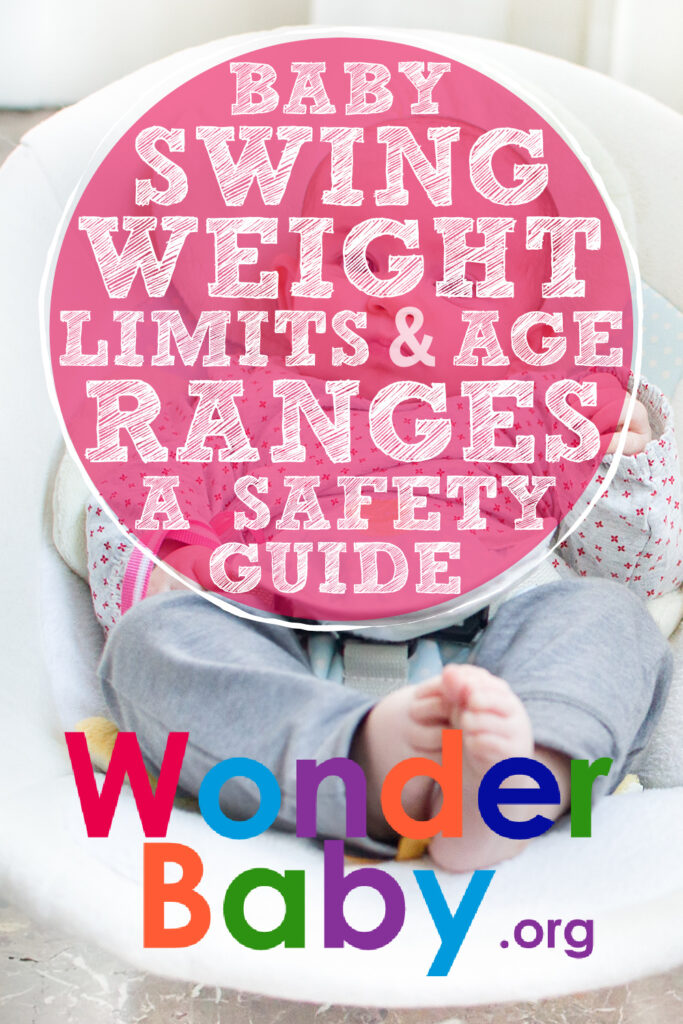 The information WonderBaby provides is not intended to be, and does not constitute, medical or other health advice or diagnosis and should not be used as such. Always consult with a qualified medical professional about your specific circumstances.
Related Posts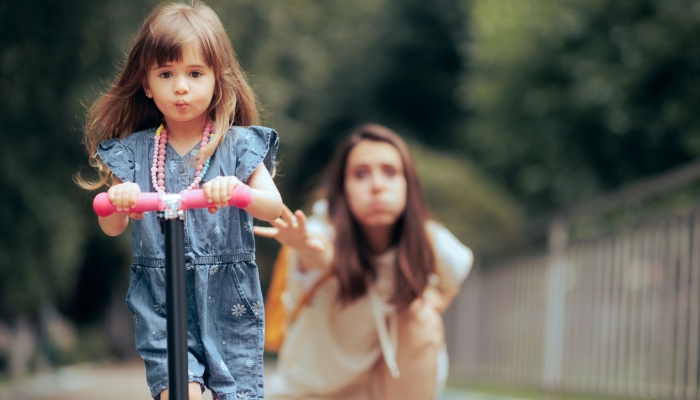 Development, Parenting
Understanding the history, differences, and strengths of proximal and distal parenting will help you decide what parenting approaches work best for your family.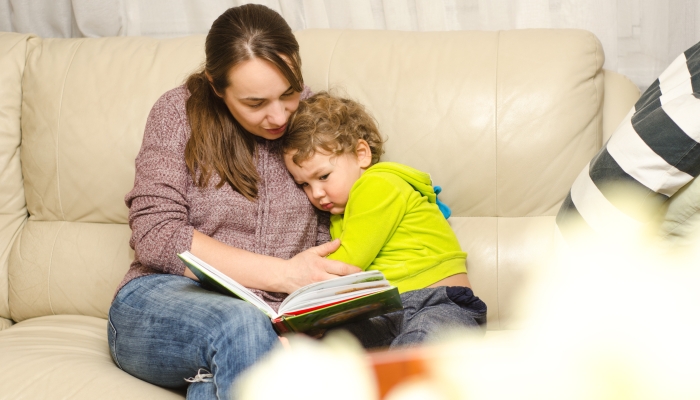 Parenting
Children's books can help you and your kids get through sad and difficult times. We've found some of the most healing books about grief for kids.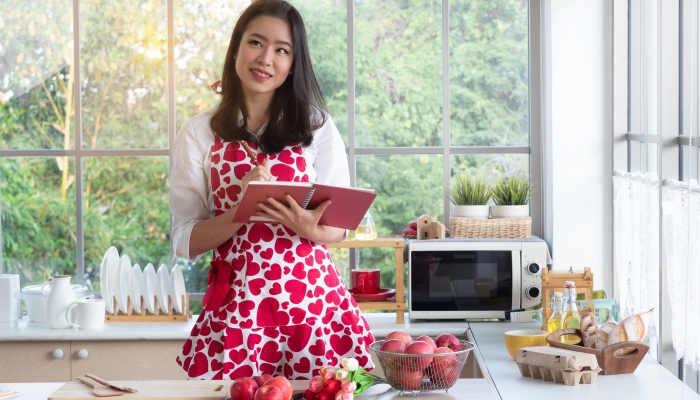 Parenting
Staying motivated as a stay-at-home mom isn't easy when you're responsible for so much. But these motivation boosters are sure to keep you going!