Delta BabyGap Whisper Bedside Bassinet Review [2023]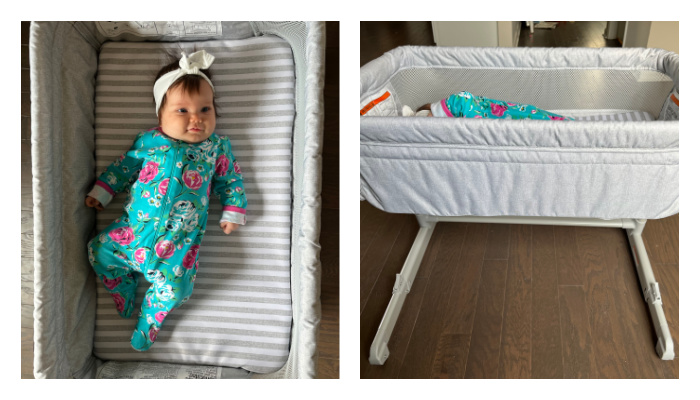 This post may contain affiliate links; please see our terms of use for details.
This bassinet can adjust from 19 to 25.5 inches high, and the levers are easy to unlock and move.
The designs and color choices are all trendy and great for blending in with your home decor.
All the fabric, except the fitted sheet, is made from recycled water bottles.
I will admit that I have high standards for a bassinet. For our busy household of 7, I need a bassinet that will make life with a newborn a little easier. This means I need a bassinet that will allow me to sleep better so that I have energy for our full house.
This is why I chose the Delta BabyGap Whisper Bedside Bassinet. This bassinet promised to keep the baby nearby and safe as I slept through the night. It also promised to be comfortable enough to keep her happy.
Curious about how it performed? I tested it out and have all the details you need to decide for yourself. Here's how the Delta BabyGap Whisper Bedside Bassinet did in our house!
Sale
Delta BabyGap Whisper Bedside Bassinet
2-IN-1 DESIGN: Use as standalone bassinet or as bedside sleeper | Easily convert to bedside sleeper by unzipping and unrolling side wall | Securely attach the bassinet to your adult size bed using the included safety straps
SUSTAINABLE MATERIALS: All the fabric (except the fitted sheet) is made from recycled water bottles | Plastic drinking bottles are sorted, cleaned and shredded into flakes that become the yarn the seat fabric is made from
UNIQUELY GAP BABY: Baby Gap logo creates an elevated look | Large storage pocket keeps essentials like diapers, wipes and more within reach | Breathable mesh allows for airflow and clear view of baby | Bassinet is JPMA certified
LIGHTWEIGHT + PORTABLE: Wheels for easy mobility | Weighs 22.5 lbs. | Size: 26.5"W x 30"D x 36"H; Bedside opening: 27"W | Includes waterproof mattress pad, fitted sheet and beside strap | Fitted sheet and bassinet cover are machine washable
What We Love About the Delta BabyGap Whisper Bedside Bassinet
Despite the relatively simple design, this bedside bassinet did not disappoint. Here's what I loved about the bedside bassinet:
Adjustable Height
We have a very low bed for the safety of our kids. They have all had a habit of sneaking into our bed in the middle of the night as toddlers. This always caused an issue with bassinet heights.
I was shocked to see that this co-sleeper bassinet lowered down enough to line up with our bed. The bassinet can adjust from 19 to 25.5 inches high. The levers were easy enough for me to unlock and move by myself.
Trendy Design
The designs and color choices are all trendy and great for blending with most home decor. I appreciate this as bright, primary-colored baby gear can be an eye sore. You can choose from light stripes or dark camo.
Recycled Materials
This wouldn't necessarily be a "must-have" on my list, but I appreciate it. All the fabric, except the fitted sheet, is made from recycled water bottles. Delta Children even makes the thread from recycled plastic.
Mesh Sides
With SIDS being a major concern among parents today, I love that this bassinet has breathable sides. The mesh material will allow your baby to breathe even if their face ends up turned towards the side.
Wheels
If you don't have the bassinet strapped to your mattress, you can use it as a stand-alone bassinet with the side zipped up. The wheels make it easy to move around the room, much like a portable bassinet. Even on our plush carpet, I felt like it was easy to roll around the room.
Storage Pockets
For middle-of-the-night diaper changes, Delta Children has you covered. The side storage pockets allow you to store diapers and wipes. I was able to easily grab them in the middle of the night without even leaving the bed.
What Delta Children Could Do Better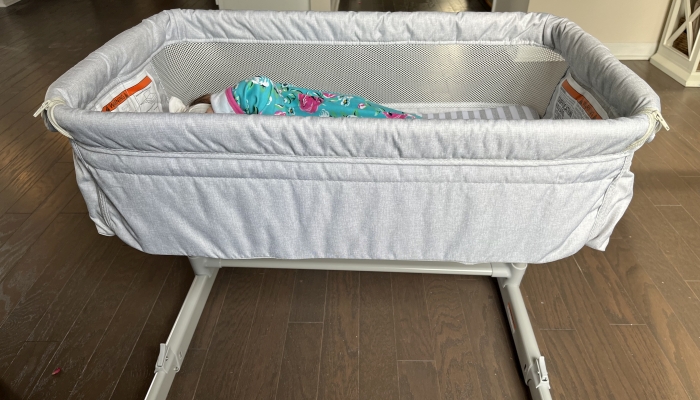 Though I love the Delta BabyGap Whisper Bedside Bassinet, I do have a couple of suggestions I think would improve the bassinet:
Vibration and Music
When my little one is fussy and trying to settle back down, it would be nice for this to also function as a vibrating bassinet. Music or soothing sounds would be another nice touch to help her fall asleep. This would remove the need for a sound machine.
Extra Sheet
My only complaint is that this doesn't come with an additional fitted sheet. It would be nice to have a backup for bed changes due to diaper blowouts or leaks.
How the Delta BabyGap Whisper Bedside Bassinet Compares to Other Bassinets
Let's take a look at how Delta Children compares to its competing brands:
Price
The price is similar to other bedside bassinets on the market. It's right in the mid-range for bassinet prices. Since it doesn't include many extra features, you won't have to spend a fortune on this bassinet.
Ratings
HALO BassiNest
🥇 #1 BASSINET – Rated "Best Bassinet" by Forbes
💤 EXTRA CLOSE SAFE SLEEP – The only bassinet that swivels over your bed for the closest, safe sleep. Mesh walls for air flow and visibility
😴 BUILT-IN SOOTHING – 2 levels of vibration and 4 calming sounds to help your baby fall asleep (and stay asleep)
✨ EASY LOWERING WALL – Scoop your baby up for cuddles and feeds in bed
The ratings are all positive for the Delta BabyGap Whisper Bedside Bassinet. Parents love the design, variations in use, and easy assembly. This makes them a strong competitor for bassinet brands like Halo and Dream on Me.
Dream On Me Skylar Bassinet
KEEP BABY CLOSE BY: As a bedside sleeper, the Skylar's legs fold inward and outwards getting it close to the mattress. Wheels on the front legs allow easy adjustability. The mesh sides allow easy viewing of your baby and ensure full breathability
DUAL USE: Unzip and roll down the mesh sides to convert the bassinet into a bedside sleeper. Lean in for breastfeeding or comforting your child. Five adjustable heights (Adjusts from 26.5 > 27.5 > 28.5 > 29.5 > 30.5") Able to be used with a queen mattress leaving no gaps and is also easy on your back
SAFETY FIRST: The Skylar is designed with your child's safety in mind and meets all ASTM standards. It comes with the regulatory 1-inch mattress pad (34.5L x 20.5W x 1H inches). Recommended for babies up to 25 lbs or 6 months of age
CONVENIENT FEATURES: Enjoy a quick tool-free assembly. The sturdy strap system allows you to easily secure the bassinet to your bed frame. Lightweight and mobile, enough to move from room to room for convenience
Delta BabyGap Whisper Bedside Bassinet: The Bottom Line
This is one of the best bassinets that I've tried.
With height adjustments for low to high beds, you'll be able to find the right fit for you. The straps do a great job of keeping the bassinet secure against the bed. You'll be able to sleep peacefully knowing your baby is safe and close.
The color choices are perfect for parents who want to avoid obnoxious, bright colors and patterns. All of the color and pattern choices are trendy and subtle. The grey stripes blend perfectly with our home decor and keep the bassinet from sticking out.
The mattress is just soft enough to keep my baby comfortable. I've tried bassinets in the past that my babies hated and were hard as a rock. This one keeps her content and comfortable through the night.
There aren't any special features other than the drop side and storage pockets. However, this is a great choice for parents looking for a sturdy yet simple bassinet that will keep their baby close and safe.
Recommended Accessories
For a great night's sleep for your baby, try these accessories along with the Delta BabyGap Whisper Bedside Bassinet: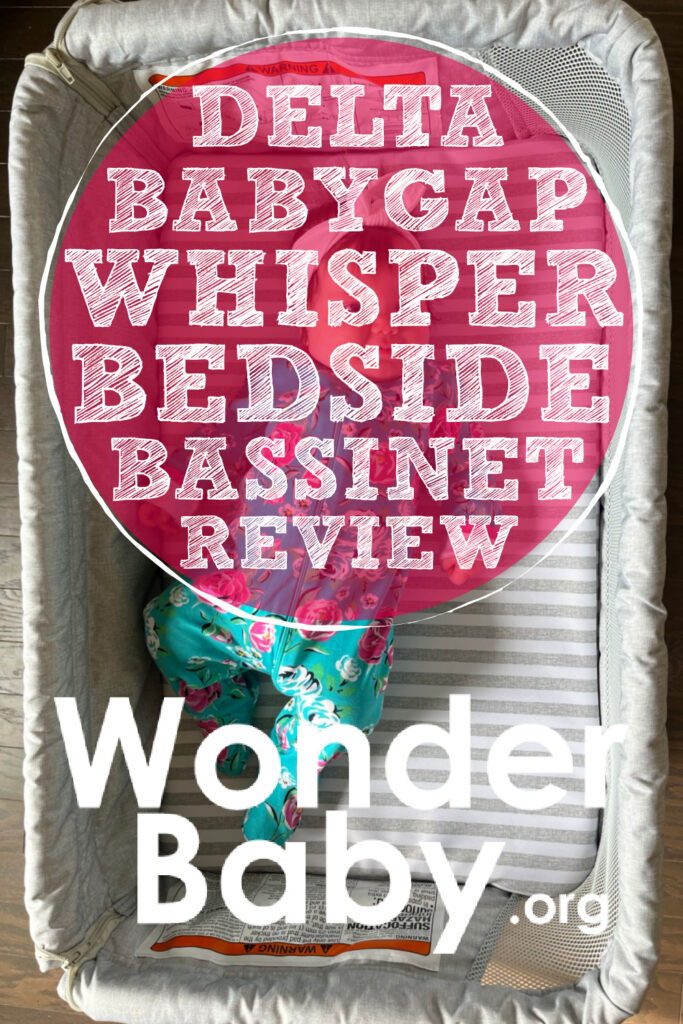 Related Posts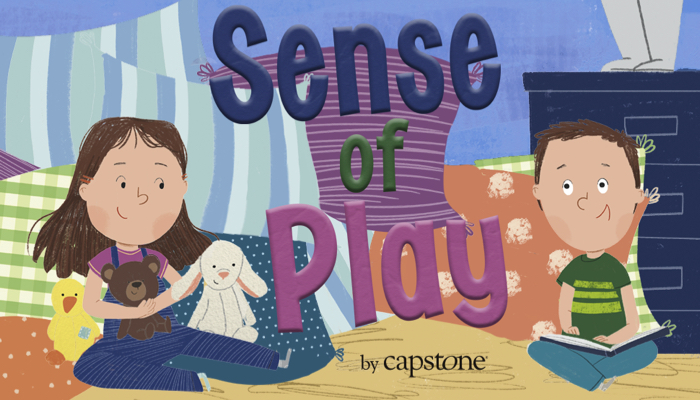 Braille and Literacy, Product Reviews, Visual Impairment
Dana Meachen Rau's book, Sense of Play, follows the adventures of Chip and Joy as they play. Chip is blind, but this doesn't get in the way of their play!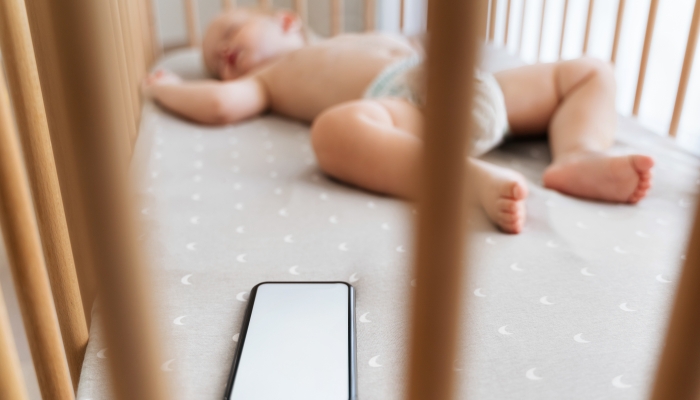 Product Reviews
Wondering whether white noise will help your little one sleep better? Here's our guide to the best baby sound machines to help your baby fall asleep soundly.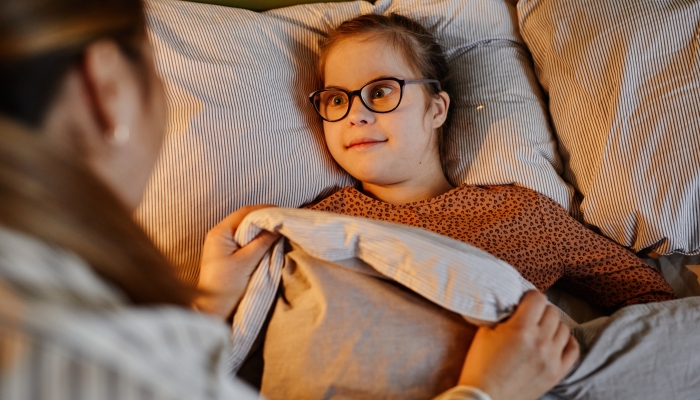 Product Reviews
Heard a lot about weighted blankets and lap pads and wondering how to choose one? Here's our guide to the ins and outs of finding the right weighted blanket.