Delta Children SmartSleep Auto Glide Bassinet Review [2023]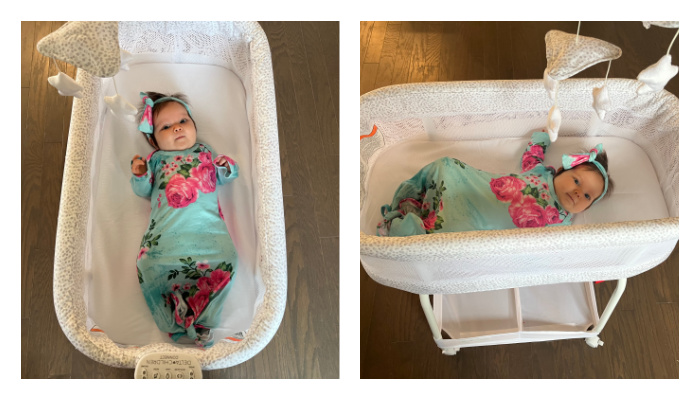 This post may contain affiliate links; please see our terms of use for details.
This bassinet features a fairly large storage basket.
The wheels move freely and allow you to easily push the bassinet where you need it.
The app makes it convenient to start and stop the features without waking the baby.
As a mom of 5, I hate that I don't have as much time as I used to with my babies. With my first, I would spend an hour rocking her to sleep at night. I treasure those memories I have with her.
Nowadays, I still spend a few minutes cuddling and singing with my babies, but I don't have hours to spend putting everyone to bed. This is why I wanted a bassinet to do the rocking for me. The Delta Children SmartSleep Auto Glide is a bassinet designed to soothe babies to sleep so parents can have a minute to themselves.
Delta Children SmartSleep Auto Glide
SMART BABY ESSENTIALS: With Delta Children Connect app downloadable from Apple App Store or Google Play, this bassinet bedside sleeper can be remotely activated anywhere from within the house for a range of features, such as auto glide motion that can be customizable for length and speed to soothe baby; 5 choices each in calming music and nature sounds; and convenient nightlight. This means that BOTH you and your little one can enjoy a full night's sleep!
EASY PORTABILITY: Delta bassinets have 4 wheels for easy mobility around the house, with a lockable feature that's additional safety for your baby, and peace of mind for you when he/she is inside the sleeper basket.
MESH SIDES FOR VENTILATION AND VISIBILITY: The infant bassinet comes with translucent mesh sides that ensure enhanced ventilation and comfort for your baby baby while offering you a clear view of him/her at all times.
BABY AND PARENT-FRIENDLY DESIGN: Delta's thoughtfully-designed crib is designed with your baby's safety and comfort, as well as your ease of use in mind. Its two-tiered toy arm with plush stars will delight your little one while the swivel arm makes putting baby in and out of the cot easy. A large storage basket at the bottom keeps baby essentials within easy reach too.
On top of all the amazing features this bassinet has, it also connects to your phone via Bluetooth. Talk about convenience! A smart bassinet that rocks and soothes your baby—is it too good to be true?
I put the Delta Children SmartSleep Auto Glide Bassinet to the test. Testing it out on my 2-month-old allowed me to get an accurate picture of how it performs. Save yourself time and check out my findings to see if this bassinet is right for you.
What We Love About the Delta Children SmartSleep Auto Glide Bassinet
With so many features, there was a lot to love about the Delta Children SmartSleep Auto Glide Bassinet. Here's what I enjoyed:
Storage Basket
Under the bassinet is a fairly large storage basket. This was large enough for me to store diapers, wipes, diaper rash cream, swaddle blankets, and burp cloths. These are often the items I need in the middle of the night.
Mobile
This bassinet includes a cute mobile with hanging stars. When the bassinet is in glide mode, it gently sways back and forth. This is helpful for entertainment when my baby is awake.
App to Control Features
The app makes it very convenient to turn on and off the features of the bassinet without waking the baby. I love that I can stand in the doorway of the room and turn off the glide mode or music.
Mesh Sides
SIDS is a huge concern among many parents today. They want to make sure their babies are safe while they sleep. This bassinet has mesh sides that will allow your baby to breathe even if they end up near the sides.
Wheels
This portable bassinet glides like a dream. The wheels move freely and allow you to easily push the bassinet where you need it. Even on our carpeted floors, it didn't drag or delay when I pushed it.
Sounds and Nightlight
My kids and I loved playing around with the sound and music feature. There are several melodies and nature sounds to choose from. The nightlight faces the outside and provides just enough light to change a diaper or make a bottle.
What Delta Children Could Do Better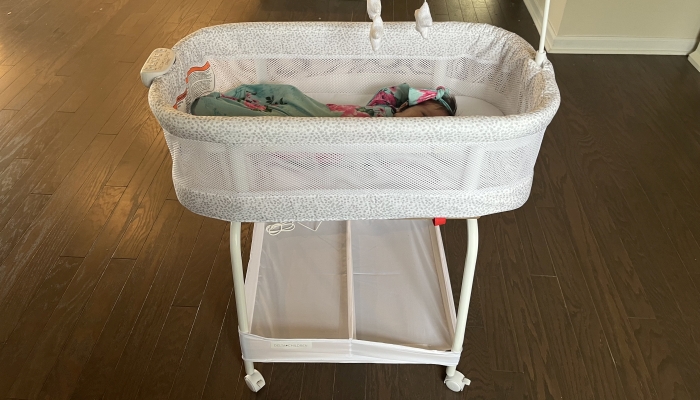 I love the Delta Children SmartSleep Auto Glide Bassinet, but a couple of changes would make it even better:
Extra Sheet
In my opinion, all bassinets should include an extra fitted sheet for the bassinet mattress. Having to purchase additional sheets adds to the cost. I would love to see Delta Children include one extra fitted sheet with the bassinet.
Sturdy Bottom
The height of the bassinet along with the lightweight frame concerns me. Since we have other children in the home, I want to make sure no one can tip it over. I would feel more confident walking away from the bassinet if the base was heavier.
How the Delta Children SmartSleep Auto Glide Bassinet Compares to Other Bassinets
Let's take a look at how this Delta Children bassinet compares to its competing brands:
Price
This bassinet is similar to the mid-range category of smart bassinets. There are others that are far more expensive but have other advanced features. If Delta changed the base to a sturdier design, it could compete with some of the higher-end models.
Ratings
The ratings hover around 4 out of 5 stars for the Delta Children SmartSleep Auto Glide Bassinet. This is slightly lower than other bassinets in the same category. However, the reviews are still high enough to keep this bassinet in your consideration.
Delta Children SmartSleep Auto Glide Bassinet: The Bottom Line
The Delta Children SmartSleep Auto Glide Bassinet is a solid choice for parents looking for a smart bassinet at a decent price.
The app makes controlling the features convenient and simple. With just the touch of a button, you can control the music, nightlight, and gliding motion. This might not be a necessity, but some parents will find the Bluetooth capabilities worth the cost.
I love the storage basket underneath that gives parents plenty of room to store diaper-changing necessities. With the nightlight, I can easily change my baby on a mat next to the bassinet. If you find that the light is brighter than you'd like, you can place a thin blanket over it.
The auto-glide is a nice feature but isn't as smooth as other models. Depending on your baby's preferences, it may be too jerky for them to fall asleep with. You could always use it for awake time instead.
Overall, the Delta Children SmartSleep Auto Glide Bassinet is a decent smart bassinet with some cool features. It's not the sturdiest bassinet on the market but would be okay as long as you closely monitor other children and pets around the bassinet.
Recommended Accessories
For restful sleep for everyone in the room, I recommend these accessories for your Delta Children SmartSleep Auto Glide Bassinet: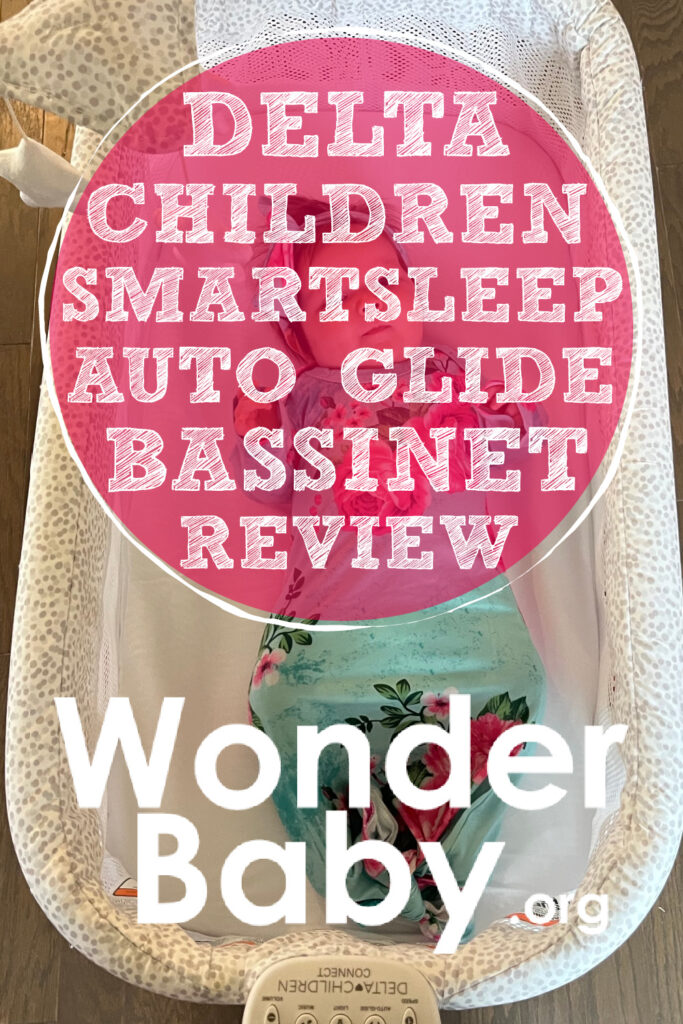 Related Posts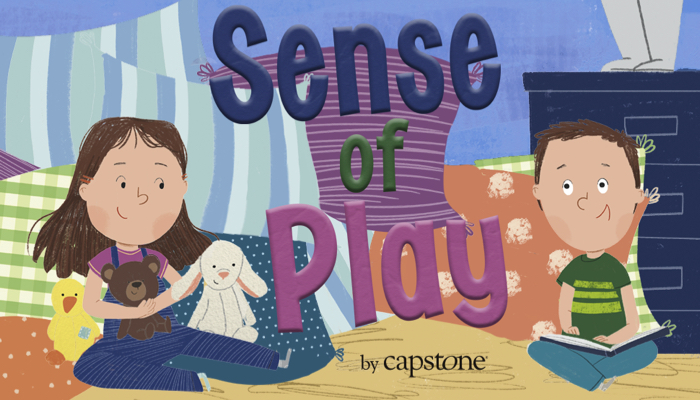 Braille and Literacy, Product Reviews, Visual Impairment
Dana Meachen Rau's book, Sense of Play, follows the adventures of Chip and Joy as they play. Chip is blind, but this doesn't get in the way of their play!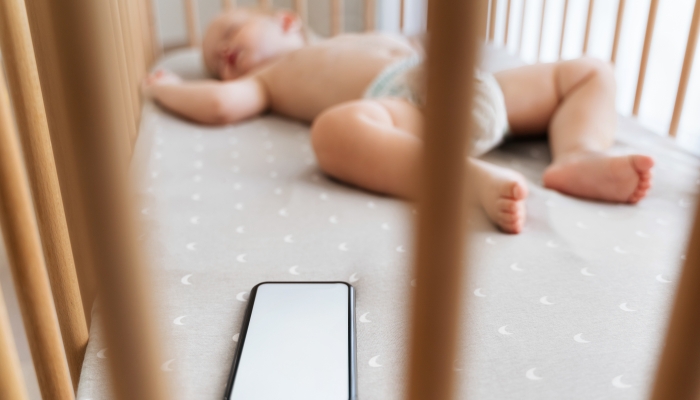 Product Reviews
Wondering whether white noise will help your little one sleep better? Here's our guide to the best baby sound machines to help your baby fall asleep soundly.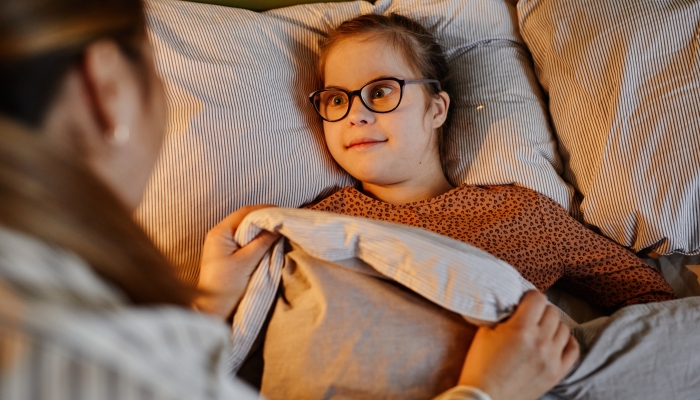 Product Reviews
Heard a lot about weighted blankets and lap pads and wondering how to choose one? Here's our guide to the ins and outs of finding the right weighted blanket.