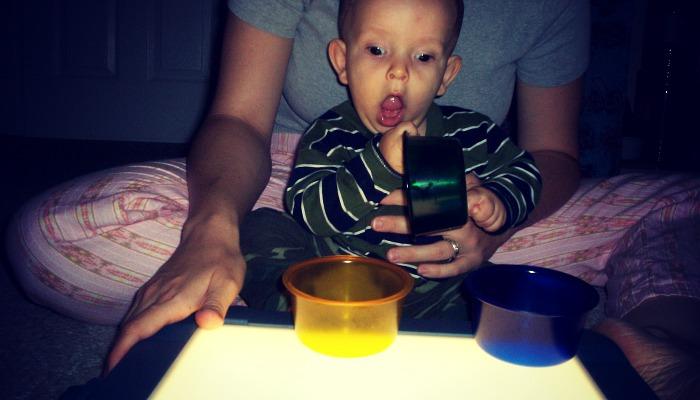 This post may contain affiliate links; please see our terms of use for details.
When Ivan was a baby our TVI brought us the Mini-Lite Box from APH and told us to go ahead and play with it. She didn't give us much in the way of instructions or directives and we weren't really sure where to start, but we were willing to give it a try!
She also left us some translucent colored plastic cups and shapes from the Level 1 Material Pack.
Ivan immediately took to the cups because they are so easy to find and pick up, but we still weren't sure what to do with the Light Box. We had two problems:
We had no idea how much vision he had, if any.
Ivan's low tone made it very hard for him to sit up on his own.
So here's where we started, and this actually worked really well for him!
We made sure he had lots of support by sitting him in mom's lap. We didn't want Ivan to have to worry about falling over or spend too much energy on his sitting when we wanted him to focus on the Light Box. Using a supportive seat like the Bumbo would work well too.
Then we took those cups he loved so much and placed them on the Light Box. We wanted Ivan to have a toy that he was familiar with and already enjoyed playing with, but that also let the lights on the Light Box shine through. The cups on the Light Box are striking! The colors are bright and very high contrast. If you don't have the Level 1 Material Pack from APH, you could also use something like the First Years Take & Toss Snack Cups. And Munchkin Snack Catchers have the added bonus of handles for even easier grabbing!
Ivan really did respond to the cups on the Light Box and making our first play with the box simple was a good move. Not too much pressure and not too much work!