9 Kiddie Pool Games to Keep You Cool This Summer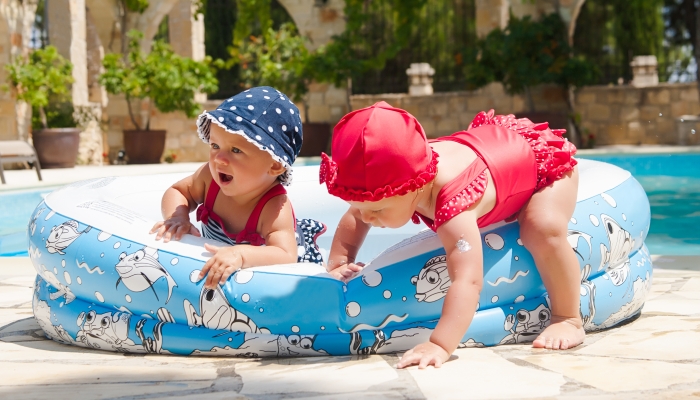 Kiddie pools make great small sensory spaces.
They can be used for relay races, sensory play, water games, sand play, and other outdoor activities.
The Centers for Disease Control recommends that plastic and inflatable pools be cleaned daily.
It was the summer of 2014. I was 8 months pregnant in the middle of summer in Florida. My first child was 3 years old and desperately wanted to play outside.
What was a pregnant mom to do? With my three-year-old in tow, I made a trip to the store for a kiddie pool. That small plastic pool ended up being a lifesaver!
Kiddie pools are the perfect option for an easy way to stay cool in the heat. Though many parents think of these small pools for small children, they're perfect for any age. All you need is a few kiddie pool game options to keep your kids entertained.
You'll be surprised to learn all the ways you can use a kiddie pool—no more boring summers with kids complaining about the heat. Take a peek at these great ideas and try some kiddie pool games for yourself!
Reasons Why Kiddie Pools Are Best for Children
In the cooler state we now live in, residential in-ground pools are rare. This is one of the many advantages of kiddie pools. They're a great alternative to an expensive in-ground pool.
We've found them to be an invaluable addition to summertime fun. Here are a few other reasons why we love kiddie pools for our kids:
Inexpensive
Portable
Versatile
Easy to fill
Safer than a deep pool for non-swimmers
A great way to get children used to water
Can be used all year long with different fillers
How to Make Pool Time More Enjoyable for the Kids
Kiddie pools might not be fancy, but they provide more fun than you might think. Here are a couple of things to consider in order to add more fun to kiddie pool time.
What type of kiddie pool is best?
We've tested summer pool games with both an inflatable kiddie pool and a plastic kiddie pool. I personally prefer a plastic kiddie pool because they're more durable. An inflatable pool will work just fine for these activities, but you'll need to place a liner underneath it and treat it gently to prevent an air leak.
What can you put in a kiddie pool?
We often think of kiddie pools as water play areas. However, there are plenty of other "fillers" you can use in a dry kiddie pool. These include:
Sand
Beans
Rice
Pom-poms
Mud
Bubbles
Water Beads
The possibilities are endless! These pools make great small sensory spaces. If you think outside the box for kiddie pool time, you can use it all year long.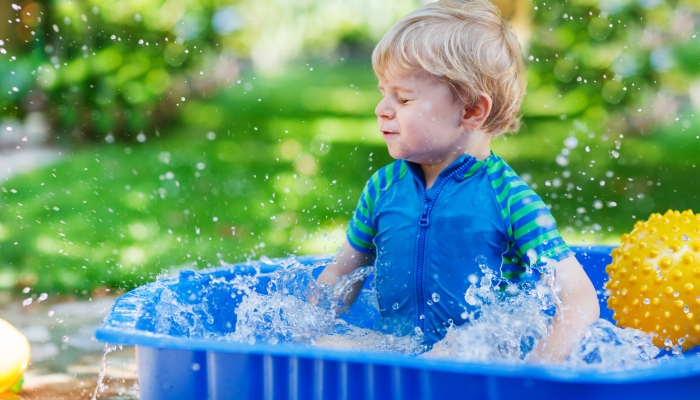 What Type of Activities Can be Done in a Kiddie Pool?
We've found that a variety of activities can take place in a kiddie pool. We've used ours for relay races, sensory play, water games, sand play, and other outdoor activities. You'll quickly learn that water activities are just one of many possibilities.
9 Fun Kiddie Pool Games to Try Out This Summer
When kiddie pool weather hits, parents are often scrambling to find ways to keep kids entertained outdoors. These kiddie pool activities are sure to keep your little ones happy all summer long.
Water Bead Play
This sensory play activity is a favorite of ours and keeps my kids busy for hours. Fill up a plastic or inflatable pool with water and add in water beads. My kids love to use scoops, cups, and spoons to play with the beads.
Tea Time
We have a plastic tea set that we'll often bring to the pool for an easy activity. Sometimes we'll mix in food coloring just for added fun. I love that they can pour and play for hours and there's no mess to clean afterward.
Floating Blocks
For this activity, cut up pool noodles into small round sections. Let your child use the noodle pieces to build structures that float on the water. For a fun game, challenge your child to see how high they can stack the blocks before they topple over.
Relay Race
For older children, use the kiddie pool as the water station in a relay race. Have children fill a cup with water from the pool and race back and forth to pour the water into a bucket. The first person or team to fill their bucket wins.
Ball Toss
This fun activity only requires an inflatable ring and plastic balls. Children can stand a distance away from the pool and try to throw the balls into the ring. Ping-pong balls will work well for older children.
Toy Bubble Bath
Why not use your kiddie pool to create a washing station for bath toys, bikes, dump trucks, beach toys, or other outdoor items? Add a few squirts of dish soap to the pool as you add the water. This bubbly water game will also get your kiddie pool squeaky clean.
Water Balloon Station
Water balloons are a staple summertime activity for kids. Use a kiddie pool to hold water balloons for a backyard water war.
Deep Sea Diving
This activity is so much fun for kids with large imaginations. Give your child a pair of goggles and let them bob their head underwater to find treasures at the bottom. You can add sand at the bottom of the pool for an extra challenge.
Water Gun Wars
A kiddie pool makes a great fill station for super soakers. Let each child fill their own squirt gun at the pool and try and soak their opponent. This is the perfect way for your kids to get wet in the summer heat.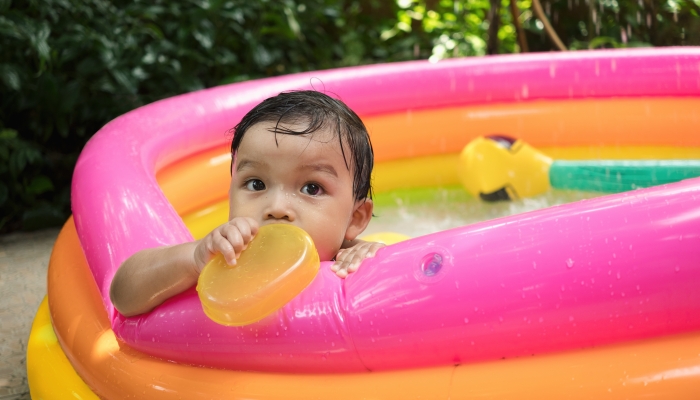 How to Make Sure That the Kids Are Safe While Enjoying Summer
Even with a small amount of water, your child could end up in danger. Follow these suggestions to keep your child safe this summer.
How can I prevent accidental drowning?
To prevent accidental drowning, the American Academy of Pediatrics recommends 3 layers of protection for every home with a pool. These include:
Fencing around the pool
Swim lessons early on
Close supervision of young children near or in the water
How often should I clean a kiddie pool?
The Centers for Disease Control recommends that plastic and inflatable pools be cleaned daily. Since it isn't safe to add disinfectant to the water of a kiddie pool, bacteria and germs can spread quickly. The CDC recommends that parents empty the pool, rinse out the debris, and allow the empty pool to dry each day.
What ages can use a kiddie pool?
There is no maximum age for kiddie pools. They can be enjoyed by all ages. In fact, I've even used our kiddie pool as a place to cool my feet while my kids played in the yard.
For babies, you'll want to be sure they can sit up unassisted before placing them in a kiddie pool. Stay within arm's reach of the pool at all times to prevent drowning.
FAQs
Where is the best place to set up a kiddie pool?
Set up your kiddie pool away from concrete, rocks, or other hard or sharp objects. This will prevent any potential slips and injuries while by the pool. If your pool is inflatable, you'll also want to watch for sticks or other objects that might puncture the pool.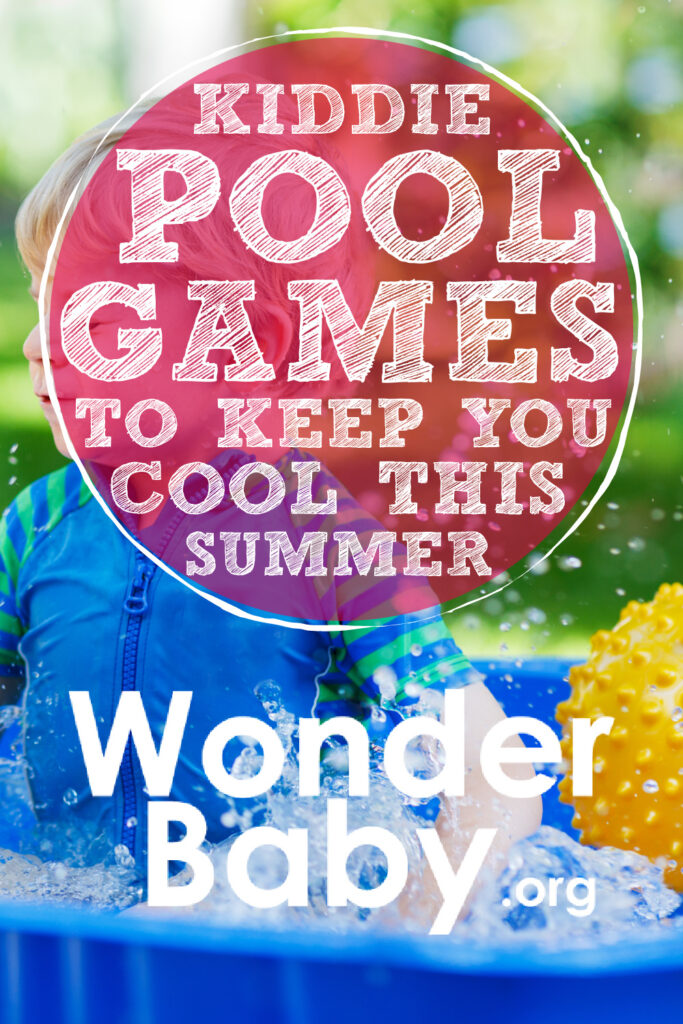 Related Posts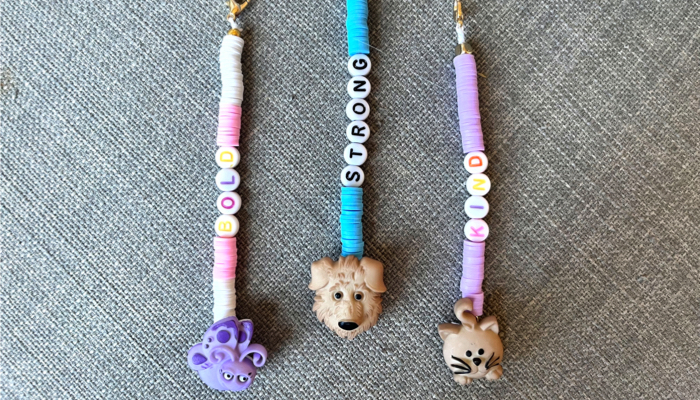 Parenting, Play, Tactile Art
These affirmation backpack buddy keychains are adorable and easy to make. Give your child a little encouragement with this simple craft as they head to school.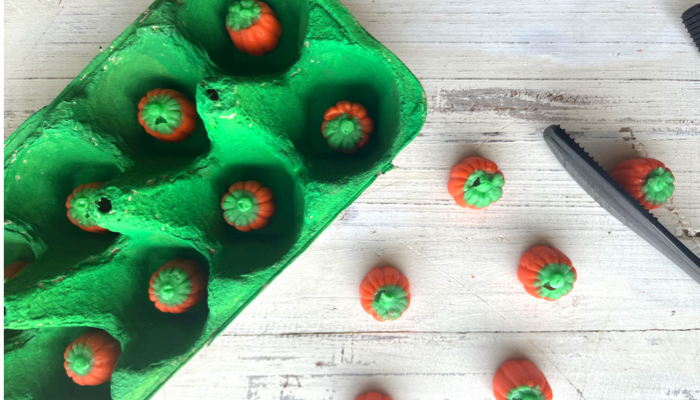 Fine and Gross Motor, Play
This adorable pumpkin picking fine motor activity is a breeze to make! A perfect fall activity for preschoolers and toddlers alike.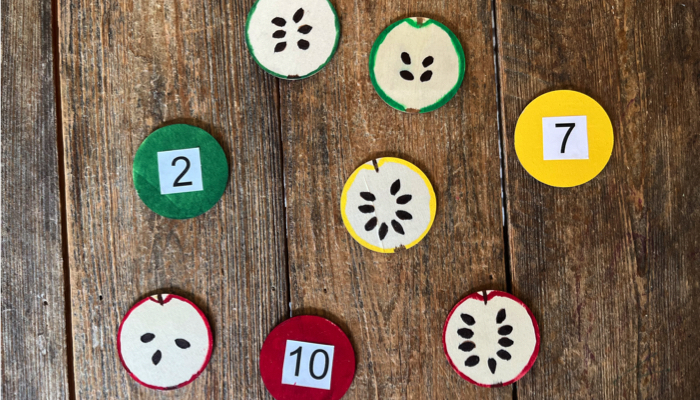 Math and Science, Play
This apple seed counting game is easy to create and fun to play! With just an oatmeal container and a few supplies, you can surprise your child with this delightful...