11 Organic Snacks Kids (and Parents) Will Love!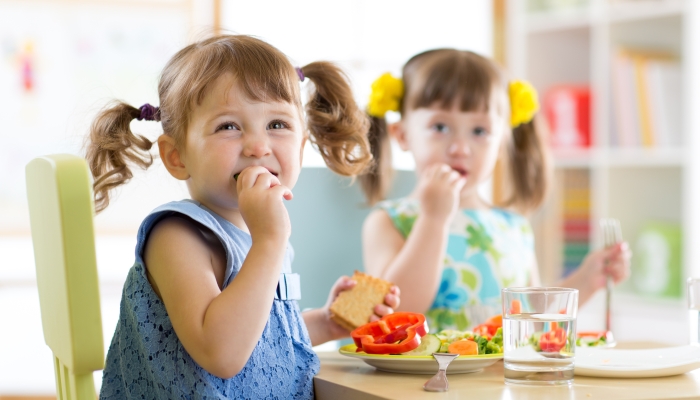 This post may contain affiliate links; please see our terms of use for details.
Organic snacks usually offer more nutrients.
Always check the labels even when shopping organic.
There are plenty of organic snacks comparable to your everyday snacks.
As parents, we're always getting up to grab something—that is, if we get to sit at all. The toys from the floor, the laundry from the dryer, and of course, the snacks. So many snacks! If your kids are anything like mine, they're always asking for a snack. I don't know about you, but I want to be sure my kids are consuming the best of the best!
That's where organic snacks come into play. Without all the unneeded fillers and chemicals, you can rest assured these snacks are full of the natural nutrition their bodies need. Whether you're new to organic snacks or looking for more ideas, this list has everything you need!
Best of all? Every one of them has been tried and approved by yours truly and my kids, of course! Let's jump right into this diverse selection of organic snacks!
Top Choice
Most Classic
Most Fun
GoGo SqueeZ Organic Applesauce Pouches
Annie's Organic Fruit Peel-A-Parts
Top Choice
Most Classic
GoGo SqueeZ Organic Applesauce Pouches
Most Fun
Annie's Organic Fruit Peel-A-Parts
Our Choice: Clif Kid Organic Z Bars
Clif Kid Organic Z Bars
DELICIOUS TASTE: A delicious and nutritious blend of organic whole grain oats with a touch of cinnamon and vanilla.
SOFT-BAKED & WHOLE GRAIN: Zbar is an organic, soft & chewy snack bar made with 10-12g whole grains; it is also a good source of fiber
ORGANIC & NON-GMO: CLIF Kid cares about the planet just as much as your kids! That is why Zbar is certified USDA Organic and Non-GMO
A GO-TO FOR PARENTS: Zbar is lunchbox ready, free from ingredients that parents are looking to avoid, such as high fructose corn syrup, artificial flavors, and synthetic preservatives
With so many great options, it was tough to pick just one for the top spot, but the Clif Kid Organic Z Bars check every necessary box and more. They come in a variety of flavors, iced oatmeal cookie and chocolate brownie being our family's favorites. With 12 grams of whole grains and substantial fiber, it's a solid source of nutrition.
These bars have the best level of chewiness, too, firm enough for me to enjoy and soft enough for my littles to eat safely on their own. Also, you can tell just by looking at them they're made with wholesome ingredients, but you don't get that grainy, weird texture you do with some bars that promote health.
Main Ingredient: Organic Rolled Oats | Diet Type: USDA Organic, Gluten Free
View on Amazon | View on Walmart.com | View on Target.com
Lesser Evil Organic Interstellar Cheddar Space Balls
Who doesn't like a classic cheese puff, am I right? The Lesser Evil Space Balls fulfill the craving for these puffs minus all the typical additives that aren't good for anyone's system. These puffs have non-dairy seasoning, made with whole grain yellow corn and without inflammatory oils, so much easier on the stomach.
A gluten-free option with minimal processing, Lesser Evil has definitely covered all the bases to create a nutritious snack. They're also lighter than regular puffs, but they don't lack taste. They've still got that cheesy taste everyone loves!
Main Ingredient: Organic Whole Grain Yellow Corn | Diet Type: USDA Organic, Gluten Free, Vegan
View on Amazon.com | View on LesserEvil.com | View on eBay.com
Made Good Organic Chocolate Chip Granola Minis
Made Good Organic Chocolate Chip Granola Minis
Amazon Exclusive – 28 bags of granola minis! Sweet, salty, chewy, and – most importantly – healthy, our individually wrapped, high cocoa and organic berry granola recipes make delicious snacks.
Low Sugar and loaded with crunch means more goodness in every chunk and grain. Made Good Granola Minis make an awesome pick-me-up before work or exercise. Safe for school – peanut and tree nut free!
MadeGood granola is lower calorie and higher protein than other granola snacks, with cleaner ingredients – Non-GMO Project Certified. Made in a dedicated bakery, these snacks are free of the top allergens including nuts, gluten, and dairy.
A full serving of vegetables sneaks into every yummy individual package (yes, even the chocolate ones!). Six hidden veggie extracts harmonize with gluten-free oats and berry/chocolate pieces.
An easy-to-handle take on the classic bar, the Made Good Granola Minis are poppable pieces perfect for on-the-go. With flavors like chocolate banana, chocolate chip, strawberry, cookies and cream, and mixed berries, there's a flavor to please even the pickiest kids.
A school-safe snack, it's peanut-free, low in sugar, and nutrients from vegetables; it's no doubt a delicious, healthy choice. These granola balls are the perfect mixture of crunch and flavor, and I'd be lying if I said I don't sneak some from time to time.
Main Ingredient: Gluten Free Oats | Diet Type: USDA Organic, Gluten Free, Vegan
View on Amazon | View on Walmart.com | View on Target.com
Annie's Organic Fruit Peel-A-Parts
Annie's Organic Fruit Peel-A-Parts
FRUIT SNACKS: Enjoy delicious peel-a-part fruit snacks, a great snack the entire family will enjoy. A great addition to your pantry
ORGANIC: A delicious, organic fruit snack made with real fruit juice and packed with vitamin C
GLUTEN FREE: Annie's organic fruit snacks are vegan, gelatin free, and naturally gluten free.
NON-GMO: We work with trusted suppliers to source only non-GMO ingredients. No artificial flavors or synthetic colors
A fun snack that rivals any fruit snack on the market, Annie's Peel-A-Parts aren't just tasty, but they're fun to eat too! Your kids will love peeling off the delicious pieces one by one, unknowingly consuming tons of nutrients. Made with real fruit and containing high levels of vitamin C, they pack a punch in more than one way.
These peel-a-parts are my go-to snack when we're going out to eat or on long car rides because they really do keep the kids entertained while simultaneously eating their snack. Definitely throw some of these in your bag; you won't regret it!
Main Ingredient: Organic Fruit Puree | Diet Type: USDA Organic, Vegan
View on Amazon | View on Walmart.com | View on Target.com
Snow Days Pizza Bites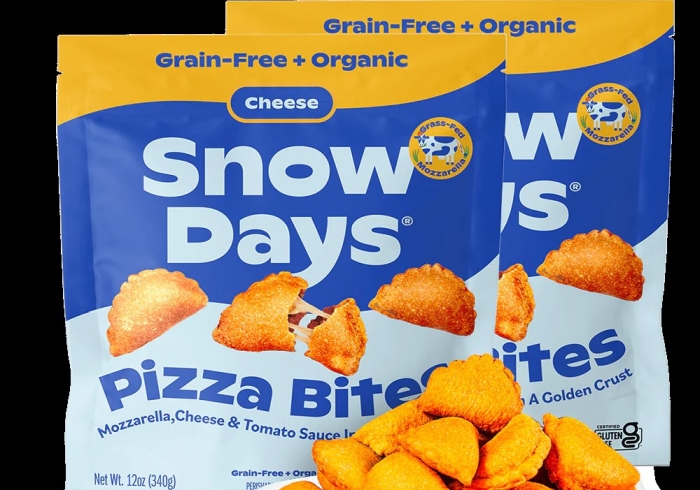 For a snack on the heavier side, Snow Days Pizza Bites are just the ticket. They're similar to pizza rolls, minus the unnecessary ingredients. They come stuffed with just plain cheese, veggies, sausage, or even buffalo chicken! As if the all-certified organic ingredients weren't enough, they're also made with grass-fed cheese and grain-free crust.
A guilt-free spin on pizza everyone will enjoy, they're the perfect size for snacking—not too big, not too small. They've got a nice crunch to the outside of them, and you can really taste how fresh and whole the ingredients are.
Main Ingredient: Organic Vegetables, Mozzarella, Olive Oil
View on SnowDays.com | View on Target.com
GoGo SqueeZ Organic Applesauce Pouches
GoGo SqueeZ Organic Applesauce Pouches
GoGo squeeZ Fruit on the Go fruit snacks for kids are made from fruit with no high fructose corn syrup, no added colors or flavors and no sugar added*
Stock your pantry or fridge with this pack of 18, 3.2 ounce kid-approved snack pouches; GoGo squeeZ Fruit on the Go squeeze pouches are kitchen pantry safe (no refrigeration required)
These fruit snack pouches are Non-GMO Project Verified, Kosher certified, gluten free, nut free and dairy free; Our kids snacks are free from all 9 major allergens and BPA-free
Pack these plant based snacks in a lunch box, backpack, beach bag or travel bag to make kids smile at lunch, after games or play time, during a car ride, trip to the airport, family road trip or on any adventure; Great after school snacks for kids
Applesauce is a classic snack, and the GoGo SqueeZ Applesauce Pouches take the ease of serving it to the next level. Made of 100% fruit, your child won't be eating all the added sugars typically found in apple sauces nowadays. They're also nut, dairy, and gluten-free, so they're compatible with many diet restrictions.
I've tasted many of the GoGo SqueeZ flavors, and they're tasty! Apple cinnamon is a household favorite, for sure! The texture is just right, the sweetness is on point, and they're just too convenient not to have on hand.
Main Ingredient: Pureed Apples | Diet Type: Vegetarian
View on Amazon | View on Walmart.com | View on Target.com
Earth's Best Organic Sunny Days Snack Bars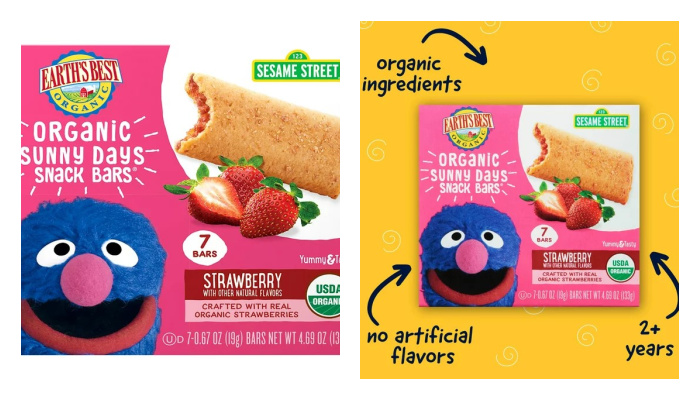 A snack-sized bar with a sweet filling, the Sunny Days Snack Bars are a good size for curbing your kid's hunger without ruining their appetite. These bars have a great balance of sweetness, and their soft texture is a welcomed change to some of the competitor's products that land more on the chewy side.
With these bars, you can really taste the organic fruit flavors come through. They don't have even the slightest taste of artificial flavoring, which makes sense as they're made without artificial sweeteners and flavors. If you're searching for organic toddler snack ideas specifically, these bars are the perfect snack option to get your stash started.
Main Ingredient: Organic Strawberries | Diet Type: USDA Organic, Kosher
View on Amazon | View on Walmart.com | View on Target.com
Perdue Simply Smart Organics Chicken Nuggets
I think chicken nuggets are a staple in just about every family home, but they're not all created equal! With the Perdue Organics Chicken Nuggets, you don't have to worry about the fillers, hormones, and steroids those other nuggets usually have. These are made with whole grains, non-GMO ingredients, and the chickens are even fed a 100% veggie diet.
I will say, at first, I was skeptical of these. Since the breading is whole grain and thinner, I wasn't sure my kids would like them. I tossed them in the air fryer, though, and they crisp up just like normal nuggets—a nice crispy outside with a juicy inside, primed for dipping.
Main Ingredient: Organic Chicken Meat | Diet Type: USDA Organic
View on Amazon | View on Walmart.com | View on Target.com
GoodPop Organic Junior Pops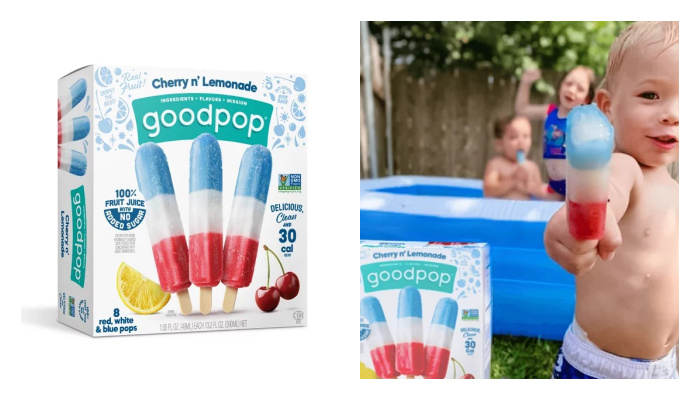 When it comes to sweets, it's hard to find something remotely healthy that's equally as tasty, but the GoodPop Junior Pops make it happen. They're made with 100% fruit juice and have zero added sugar. That's right, zero! Even with their fun colors, you don't have to worry about harmful artificial colors like red dye 40 or corn syrups.
My daughter eats these up without complaint, and she likes the variety of flavors. From cherry lemonade to classic offerings like orange, cherry, and grape, your kids will get all the fun flavors without the chemicals.
Main Ingredient: Fruit Juice | Diet Type: USDA Organic, Kosher
View on Walmart.com | View on GoodPop.com
Cascadian Farm Organic Cinnamon Crunch Cereal
Cascadian Farm Organic Cinnamon Crunch Cereal
CINNAMON CRUNCH CEREAL: Delicious graham squares made with wheat, rice, oats and a sprinkle of sweet cinnamon
NON-GMO: USDA certified organic cereal made without GMOs
CROWD-PLEASING CRUNCH: Snackers of all ages will love the sweet and satisfying crunch of this exceptional cereal
WHOLE GRAIN CEREAL: Made with 17 grams of whole grain*; Eat cereal with milk or by the handful as an on-the-go snack
A bowl of cereal is a quick and easy snack, and Cascadian Farms Cinnamon Crunch is a crowd-pleaser, no matter your age! Reminiscent of Cinnamon Toast Crunch, the Cascadian Farms version is made of 15 grams of whole grains and 3 grams of fiber per serving, offering spoonful after spoonful of nutrition.
While the taste of the cereal squares isn't exactly like Cinnamon Toast Crunch, it's a close second and certainly not a difference your littles would notice; it's dusted with way more of the cinnamon goodness than its competitor too!
Main Ingredient: Whole Grain | Diet Type: USDA Organic
View on Amazon | View on Walmart.com | View on Target.com
Late July Nacho Cheese Tortilla Chips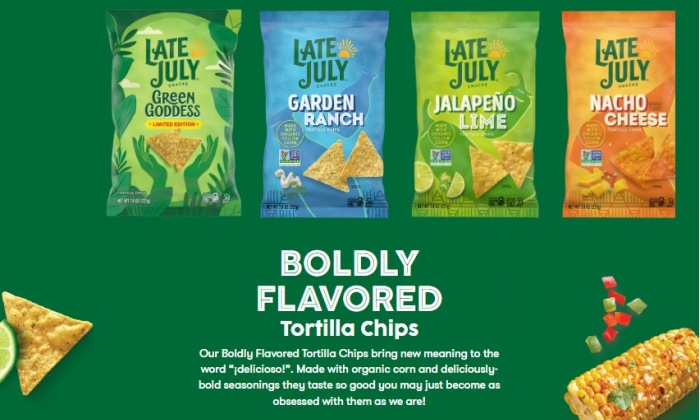 While they're not exactly healthy food, Late July Nacho Cheese Chips are a terrific alternative to Doritos for those moments you and your kids want to indulge! Made of organic whole-ground corn coupled with simple ingredients, they're a safe choice. If nacho cheese isn't your thing, no worries. They have jalapeno lime, garden ranch, and others too!
The seasoning on these is truly top-notch. Rarely, if ever, will I say a product is better than the regular option. Usually, it's not a matter of better, just different; but these chips are truly better than the Doritos they go after. The boldness of the taste and pureness of the chip put them miles ahead of the rest.
Main Ingredient: Organic Whole-ground Corn | Diet Type: Gluten Free, Kosher, Vegetarian
View on LateJuly.com | View on Walmart.com | View on eBay.com
Where Can You Buy Organic Snacks?
Some parents are under the impression they have to go out of their way to the health food stores to get these snacks. While sometimes that's the case, it isn't so with most of these products. Many healthy organic snacks can be found at local big box stores like Walmart, Target, and local grocery stores. In fact, that's where I purchase most of mine.
If you're hoping to explore more organic options, though, a spin through the health food store will provide exposure to more brands and selections than the local big box stores. Plus, it's fun to browse and discover new options!
Why Should You Opt for Organic Snacks?
It may seem like a moot point when you're at the grocery store and you pick regular snacks over organic ones. What's the big deal, right? I used to have the same perspective before I did a deep dive into what those "regular" snacks actually contained.
Turns out, most of them are chock full of artificial ingredients, not to mention chemicals. Organic snacks, on the other hand, offer a natural alternative with ingredients far richer in nutrients. On average, you'll find that organic snacks will try to incorporate more whole grains, fiber, and fruit and vegetable components.
Many of these organic snacks look for ways to include more protein, too, as protein snacks for kids especially are an essential part of keeping their little bodies full and properly developing.
What to Look for When Buying Organic Snacks for Your Family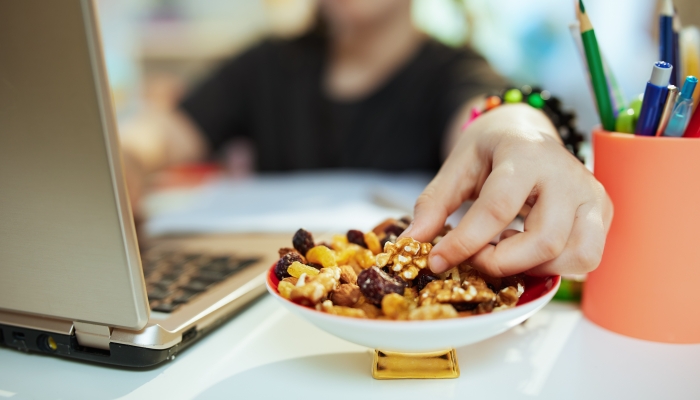 While there are legitimate reasons to choose organic over regular options, you need to know what to look for when making your selections. The truth is, just because it's labeled organic doesn't mean it's healthy, and that's for two reasons. The first is that some companies still slide in unhealthy ingredients under the guise of being organic.
For example, just because the packaging says the item is made with organic cane sugar, not high fructose corn syrup, doesn't lend itself to healthiness as the snack is still inundated with sugar which is known to have an effect on health when overeaten. That said, always check the label and closely examine the ingredients.
The second thing to look for involves the nutrition of the item itself. It's easy to fall into the trap of thinking that the organic version of Doritos is far superior nutritionally to the Doritos brand itself. The simple fact is junk food is still junk food no matter the organic label. Keep that in mind when you're strolling the aisles!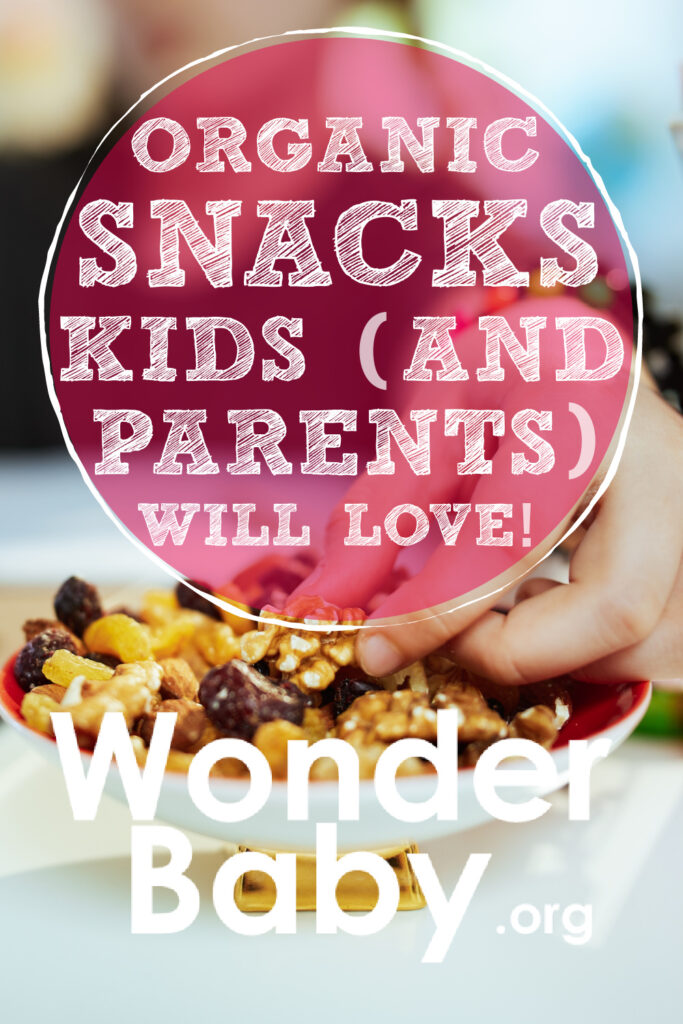 Related Posts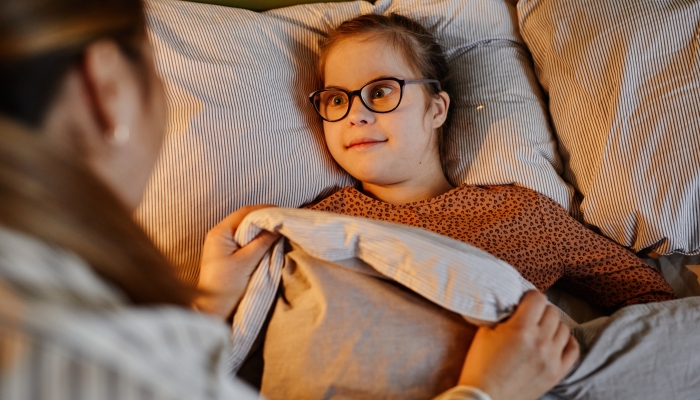 Product Reviews
Heard a lot about weighted blankets and lap pads and wondering how to choose one? Here's our guide to the ins and outs of finding the right weighted blanket.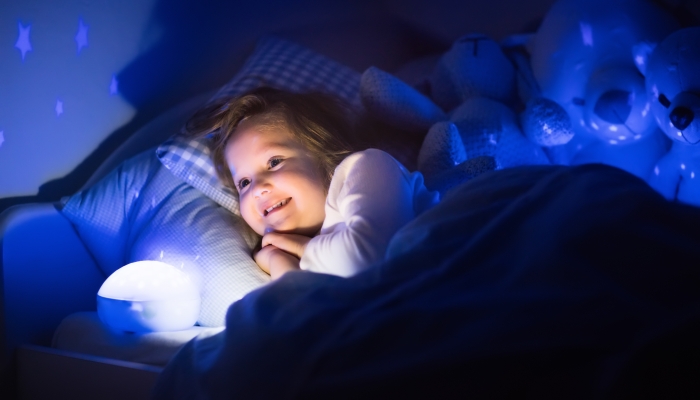 Product Reviews
Looking for the right night light to help your little one ease into bedtime? Check out our guide for everything you need to know about toddler night lights.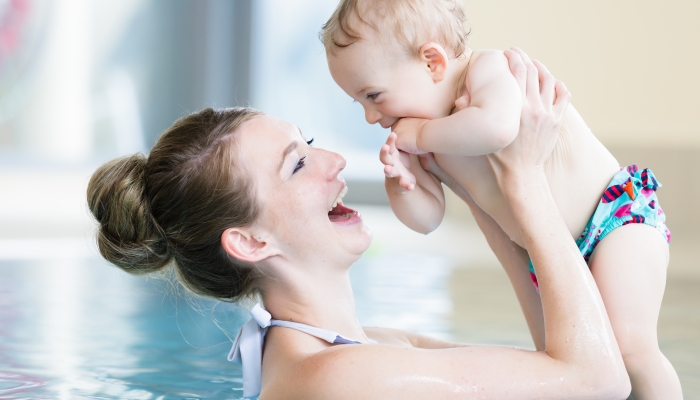 Potty Training, Product Reviews
The best swim diapers are comfortable and help prevent your baby from having an accident in the pool or ocean. Find our favorites in this round-up!