Our Favorite Tactile Books for Blind Kids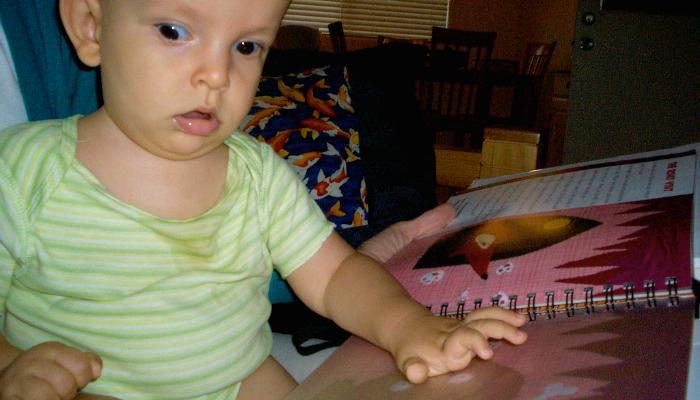 This post may contain affiliate links; please see our terms of use for details.
It can be a challenge to get a small child interested in books, especially if they can't see the fun, bright illustrations.
Tactile children's books are a great way to introduce your child to the concept of "reading with their fingers," but have you ever noticed that many tactile books are just so boring?
Some books just repeat the same texture over and over but with new names, like soft, fuzzy, furry, and fluffy. They sound different, but when you touch them they all feel the same!
We've collected here our favorite tactile books that provide interesting and varied textures. They're a great way to introduce a blind or visually impaired child to literacy!
This board book is about mealtime and all the pieces involved including bibs, chairs, and more. It is durable and has large tactile areas for little hands to feel.
Another great and unique aspect of the book is that is written in three languages- English, Spanish and French! The author has a partner book as well titled, I Love to Sleep that is just as wonderful. Expose your child to multiple languages while reading about familiar concepts for young children with both books!
This is one of our favorites! The text is very simple and easy to follow for even the most squirmy child.
The rhymes are fun and the textured graphics are very interesting, from feathers to creases, sticky to bumpy.
This is one that gets read over, and over, and over. You should also check out David A. Carter's How Many Bugs in a Box? and Bedtime Bugs.
This book is so silly and fun, with lines like "That's not my dragon, it's ears are too fluffy."
As you can imagine, the idea here is that each page has a dragon with a different tactile feature that makes it "not my dragon." At the end of the book, we find our dragon!
Animal Kisses is a very sweet book about all the different types of kisses, like velvety cow kisses and sticky dog kisses.
The illustrations are very bright with plain high-contrast backgrounds so they are great for kids with low vision, and the textures are fun and varied.
Barney Saltzberg has written other kisses books that are also great. Our other favorite is Peekaboo Kisses.
This book is another favorite. It is part of a DK Series with large photographs, textures, and print Kids will learn the name of the animal and the letter each starts with while you read through each page.
The book is a great first book for learning about farm animals- a common theme among children's stories.
The other great books in the DK Touch and Feel Series include Touch and Feel: Dinosaur, Touch and Feel: Jungle Animals, and Touch and Feel: Pets, among others you can find on Amazon.
This board book is a classic with its sweet story perfect for babies and toddlers.
The text is simple and the book contains varied textures on each page. It is a good choice to give as a gift to parents of a newborn child or even as an Easter gift. It's sure to keep baby's attention as you read along and encourage her to feel each page.
Take a leap away from regular books with this cute little froggy! The book teaches about the days of the week full of pages with textures and bright colors.
It's also a puppet! Just slip it onto a hand, and he becomes a puppet with a mouth that opens wide. Each page reveals clues to what's next on Monday's froggy menu with items like a glow-in-the-dark snack. It's sure to be a hit for little hands and parents, too!
Written by the famous children's book author Sandra Boynton, this book is a delightful little board book full of animals.
Each page features a tactile component and some fun words. For instance, the cow's nose is made of a soft pink material and a dog with a rough paw, along with a pig, a turkey, and a duck. It ends with two chicks who disagree about whether to begin again. Trust us, you'll want to read it again!
This tactile miniature book is a great way to bring the beloved "Monkeys" song to your little ones hands.
The board book counts down as the eight little monkeys (represented by 3D monkey heads on each page) fall off the bed one by one until there's only one little monkey left to have the bed all to himself. Kids will benefit from feeling the monkeys while learning to count!
This little book is perfect for little ones who can see colors or to teach kids who are blind about colors as well.
Each page's size is graduated so it helps little fingers learn to turn pages one by one. It features bright and bold colorful illustrations on every page. The book is made up of animals created by fun photographs of everyday things and big, bold fingerprints, which have raised embossing!
As it says on the back of this book, it's got "fur, flaps, feathers, slide tabs, mylar, and cardboard rings."
It also has terrifically crazy rhymes to enchant children the way Dr. Seuss always does. You just can't go wrong with Dr. Seuss!
All of these books can be purchased through Amazon and most have very simple text that you could easily braille yourself (or ask your TVI to braille for you). Many of these books are also available through Seedlings or National Braille Press with the braille already included.
If you are feeling crafty, you can also check out our article on how to make your own touch book!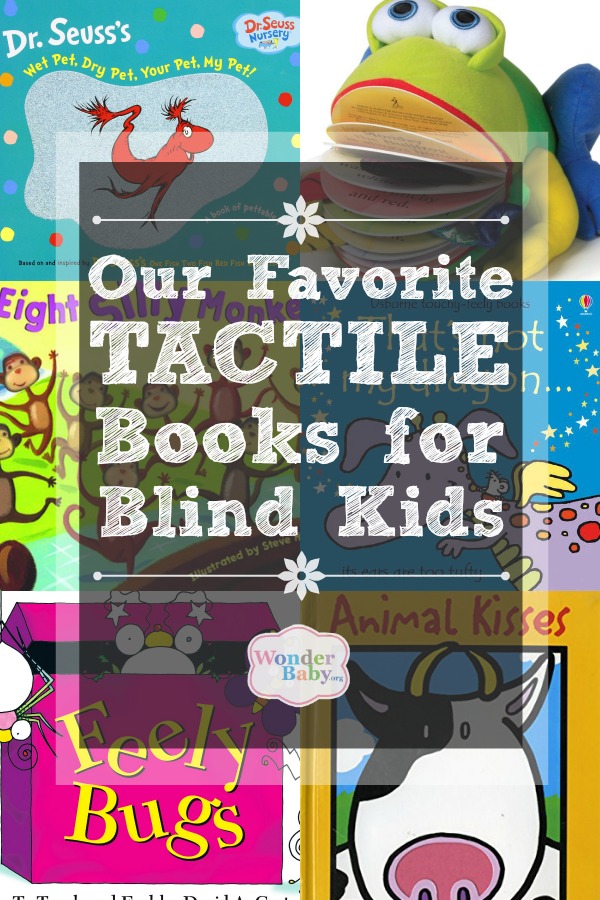 Related Posts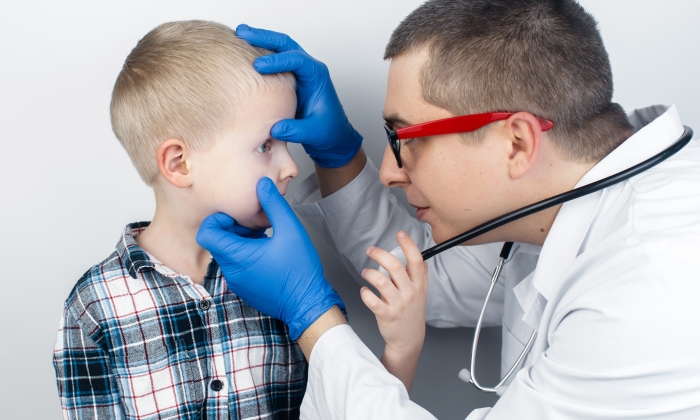 Eye Conditions and Syndromes, Visual Impairment
Congenital glaucoma is a disease where the pressure inside your baby's eye is too high. This can damage the optic nerve and can even make your child go blind.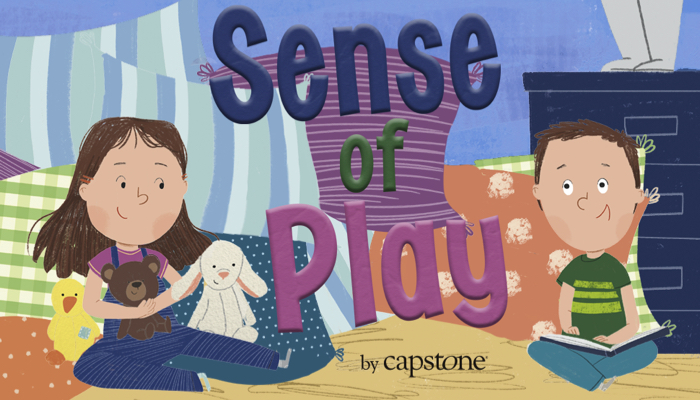 Braille and Literacy, Product Reviews, Visual Impairment
Dana Meachen Rau's book, Sense of Play, follows the adventures of Chip and Joy as they play. Chip is blind, but this doesn't get in the way of their play!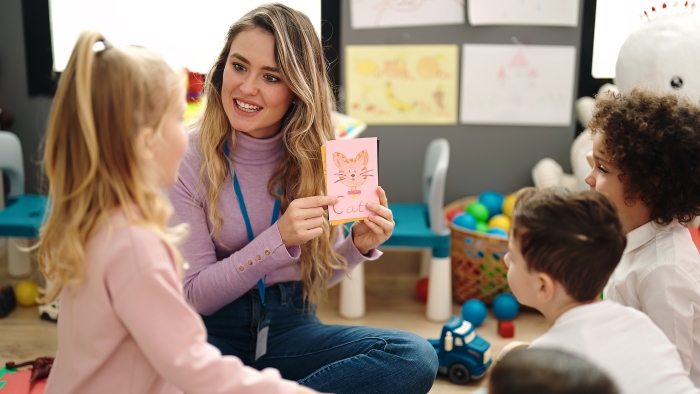 Braille and Literacy
Work on vocabulary early! Enhance early language development and literacy skills through vocabulary games and interactive play for preschoolers.