Make Your Own Rainbow Wheelchair Costume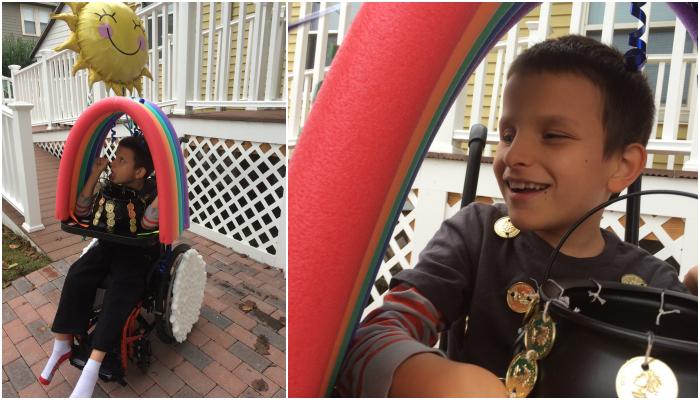 This post may contain affiliate links; please see our terms of use for details.
I know we're not the only ones with this problem: My son loves Halloween, but hates to wear hats, masks or complicated clothing. So what do we do for a costume?
For the past few years we've had to be really creative to come up with costume ideas that Ivan can sit in and that incorporate his wheelchair while also making sure that he is wearing mostly regular clothing. He loves the attention of a big over-the-top costume, but he wants to be able to move normally and not be too restricted.
Challenge accepted!
This year Ivan will be the Pot of Gold at the end of the Rainbow! The basic idea here is that the rainbow curves above him and he holds on to a pot of gold. I also decided to step things up a notch and sewed gold coins to his t-shirt. I wasn't sure what he'd think of that, but he loved it! Kids who are happier in costumes could do the same thing with their wheelchair while wearing a leprechaun costume, but I know there's no way Ivan would ever wear a green hat and what kind of leprechaun is missing a hat?
What You'll Need:
2 pieces of white foam board
Cotton balls (I used about 2 and a half bags)
Blue wrapping ribbon
Bamboo skewers
String
Tape or glue
How to Make the Rainbow Costume
There are really three elements to this costume: (1) the rainbow; (2) the clouds; (3) the pot of gold.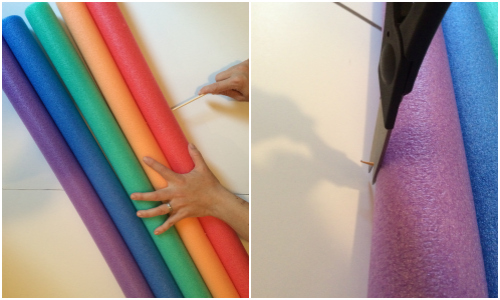 Making the Rainbow
Lay all the pool noodles out in the color sequence you want and use the bamboo skewers to pin them together. This will help the rainbow keep it's shape when it's bent. I chose three points (both ends and in the middle) for the skewers. Once the skewers are in place (you may want to use a thimble to protect your fingers while getting them in), be sure to cut the pointy end off so no one gets poked!
Use the string to tie the pool noodles together in the middle and again on the ends (I actually threaded the string through a long upholstery needle and then "sewed" the noodles together).
Attach the velcro to the ends of the rainbow (2 on each side) by wrapping one end around the skewer. This is how you will connect your rainbow to your child's wheelchair. Ivan's wheelchair tray already has velcro on it for toys, so we just used that for our rainbow too. Easy! You can also wrap the velcro ties around the arm rests.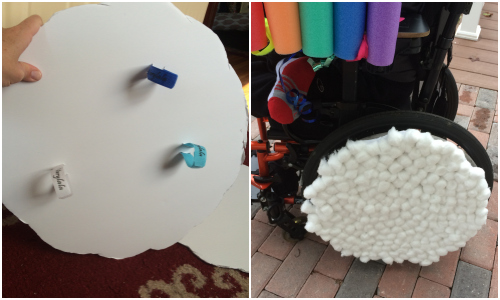 Making the Clouds
To make the clouds, start by cutting out two cloud shapes out of foam board and make sure it's the same size as the wheels on the wheelchair.
Next, use a knife to poke small holes into the board in three spots and push velcro ties through the holes (this is how you'll attach the clouds to the wheels)
Now it's time for glue and cotton balls! This is the fun part of making the clouds and also a good place to get your child involved in the costume-making process.
When your clouds are finished, just use those velcro ties to connect them to the wheel spokes like you would a spoke cover.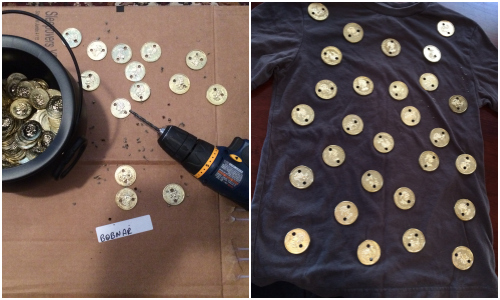 Making the Pot of Gold
Begin by poking or drilling holes in the plastic gold coins. I'm lucky enough to have a father who likes to give me tools for my birthday, so this was really easy to do with an electric drill. If you don't have a drill, you could use a nail and hammer.
Also, drill or poke holes in the top of the black cauldron.
Use the string to tie a bunch of coins together then attach to the cauldron through the holes you made in the last step. Now it looks like coins are just spilling out of your pot! You can also throw any extra coins into your pot.
Next, if you think your child will be okay with it, you can sew more of the coins to a black or grey shirt. Ivan actually loves the feel of the coins on the t-shirt and this way he is able to participate a little bit more in the costume. As I said above, you could also dress your child as a leprechaun, but don't forget that green hat!
That's about it! Just top the whole thing off with your smiling sun balloon and some blue ribbons for "rain" and you've got yourself a nifty rainbow costume that will be the envy of the neighborhood!
Looking for more wheelchair costume ideas? Check out these ideas for a cowboy on his horse, honeybee in his hive or a hot air balloon!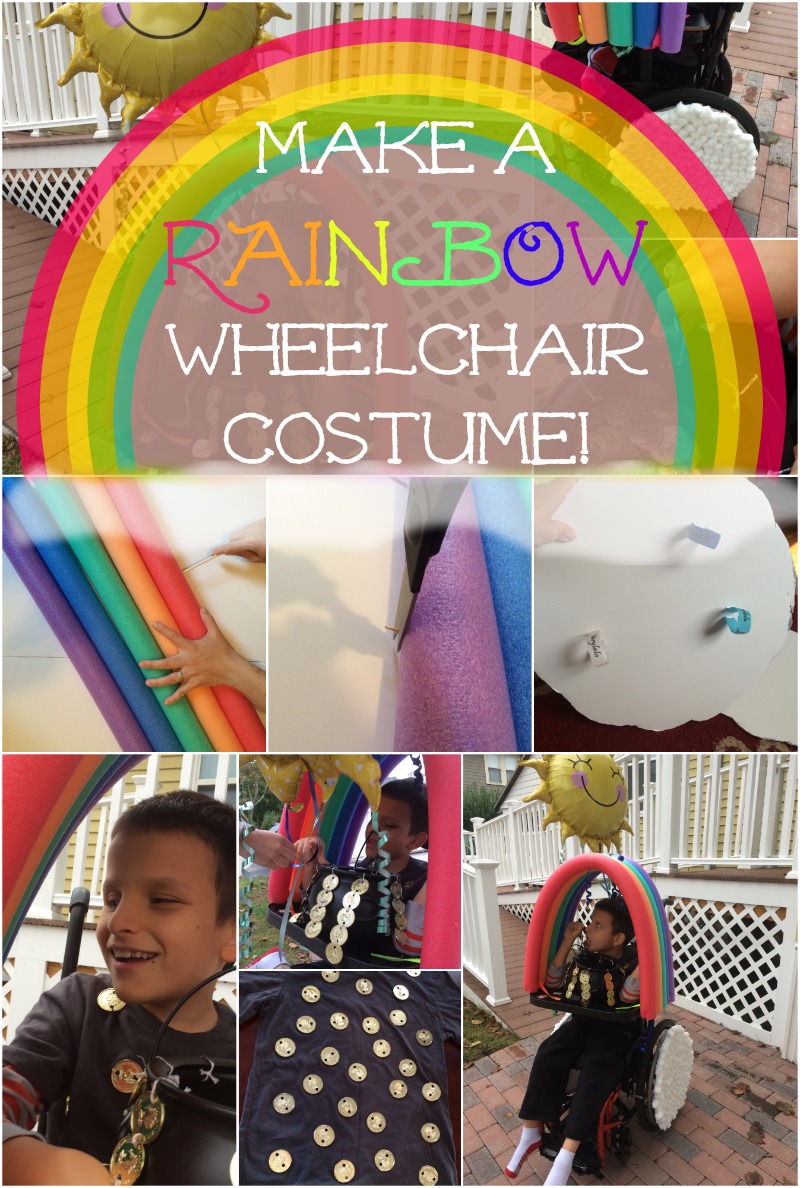 Related Posts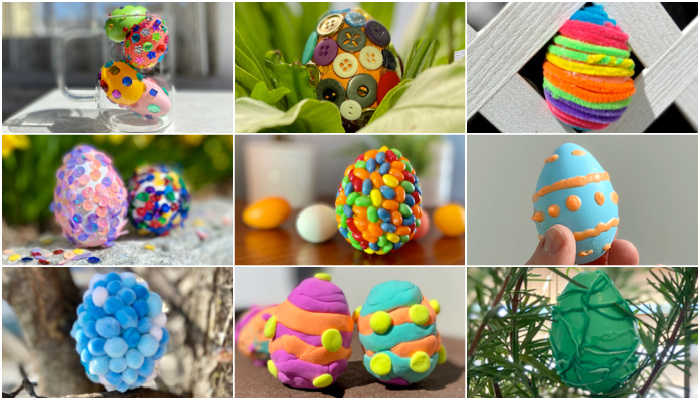 Holiday Crafts and Ideas, Visual Impairment
We'll show you how to make tactile Easter eggs for kids who are blind by adding textures or other tactile elements to your dyed eggs.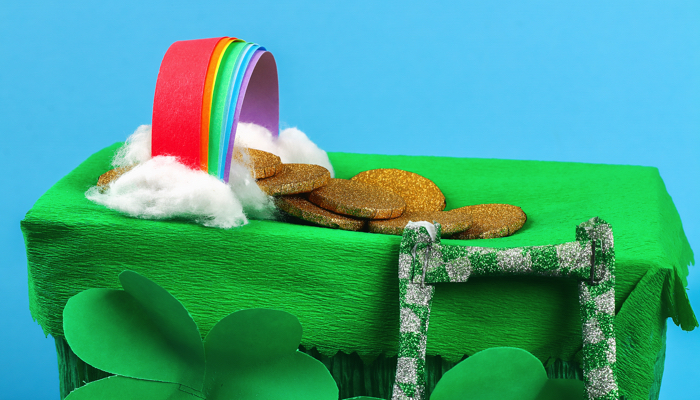 Holiday Crafts and Ideas, Special Needs
Leprechaun traps are a traditional March school project and they can be effective special needs curriculum additions as well!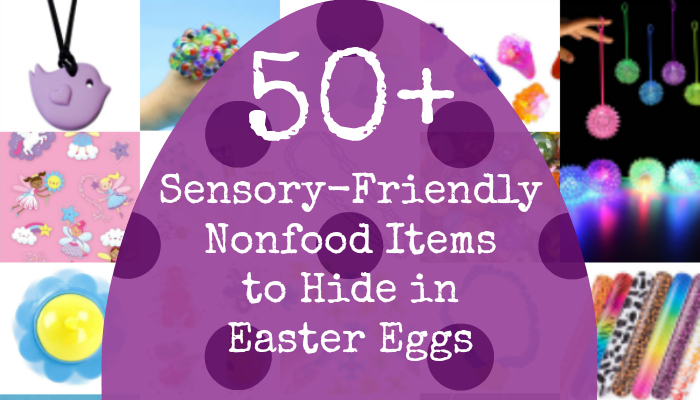 Holiday Crafts and Ideas
Our list of sensory-friendly nonfood toys to hide in Easter eggs for all those kids who can't or don't eat candy, including kids who are blind, deafblind, autistic or have...