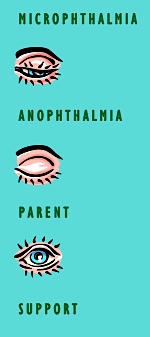 MAPS stands for Microphthalmia/Anophthalmia Parent Support.
The MAPS family is an extremely diverse group, including people from many different countries, nationalities, faiths and religions. Many of our family stories, telling of the challenges and JOYS of raising our children, are written by our diverse members.
We welcome any and all to join us and share your family's personal experience with microphthalmia/anophthalmia. You can also join us on Facebook.
Please feel free to print and share copies of any of our articles with anyone you think might be interested in learning more about MAPS.
Connections. Community. Understanding. Experience. Encouragement. Resources.
That is what MAPS is all about.
MAPS Mission Statement
MAPS will provide parent to parent support to others raising children with microphthalmia and/or anophthalmia. By sharing a wide variety of information, MAPS strives to empower parents and reduce the overwhelming feeling of isolation that is all too common when a diagnosis of microphthalmia or anophthalmia is confirmed.
MAPS Family Stories
MAPS Interviews
MAPS Information & Resource Articles
Anophthalmia/Microphthlmia Resources
Personal Blogs and Websites