Unleashing Fun with the 7 Best Board Games for Toddlers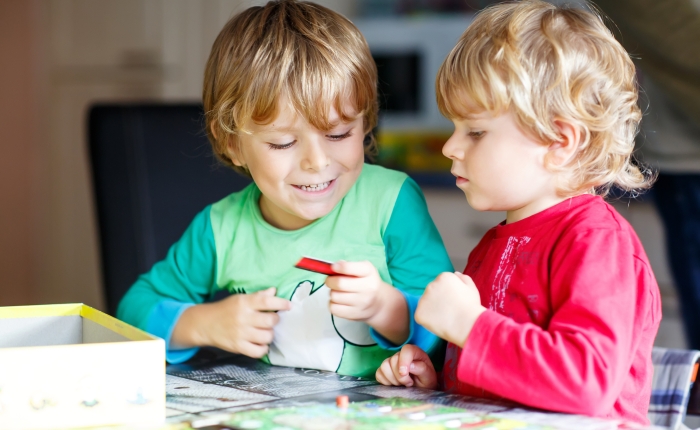 This post may contain affiliate links; please see our terms of use for details.
Board games develop more skills than you may think!
There are several tips that make toddler gameplay a smooth process.
Consider age requirements, theme, number of players, and reviews when making your selection.
Support your toddler in gameplay by offering plenty of encouragement.
Don't give up on playing board games with your child if they become frustrated or lose interest.
Toys like dolls, blocks, balls, and the like are great, but those will only get you so far once your little one starts showing interest in more interactive play. That's where unleashing the fun of board games can be a literal game-changer. Even so, not all board games are able to meet the needs of toddlers.
No worries, though—we've taken the time to narrow down and even test out some of the best board games for toddlers to enjoy. If you're searching for the perfect game or wondering why board games should even be added to your activity rotation, you're in the right place! Don't miss out on these 7 tried and true selections.
Top Choice
Most Fun
Most Classic
Chutes and Ladders: Peppa Pig Edition
Top Choice
Most Fun
Most Classic
Chutes and Ladders: Peppa Pig Edition
Our Choice: First Orchard (Ages 2+)
First Orchard
These classic toddler games have been enjoyed by families for over 30 years. The perfect first board game for 1-4 players ages 2 years and up.
Develop social skills such as taking turns and following directions while reinforcing color recognition, quantities and counting by ones with these best-selling preschool games.
These cooperative board games allow players to work together as a team to roll the dice and pick the matching fruit from the orchard before the raven makes it down the path to steal it all.
If the players harvest all the fruit before the raven reaches the orchard, they win together! If the raven gets there first, they lose together. Repetitive play helps teach winning and losing and nurtures little gamers.
Hands down, one of the best beginner board games for toddlers, First Orchard was created with little ones in mind, right down to the large size of the pieces, made easy to grasp by little hands. In this game, players will roll the dice and pick the corresponding fruit from the orchard. The goal is to pick all the fruit before the raven steals it all!
This game presents a great opportunity to establish your child's first understanding of rules, but in a fun way that offers a level of free play necessary for such a young age. Strengthening their skills in social interactions, color recognition, and hand-eye coordination, it's ideal for fortifying those early educational milestones.
Manufacturer Recommended Age: 2-3 years | Number of Players: 1-4 players | Dimensions: 8.94 x 8.86 x 2.8 inches
View on Amazon | View on Walmart.com | View on Target.com
Chutes and Ladders: Peppa Pig Edition (Ages 3+)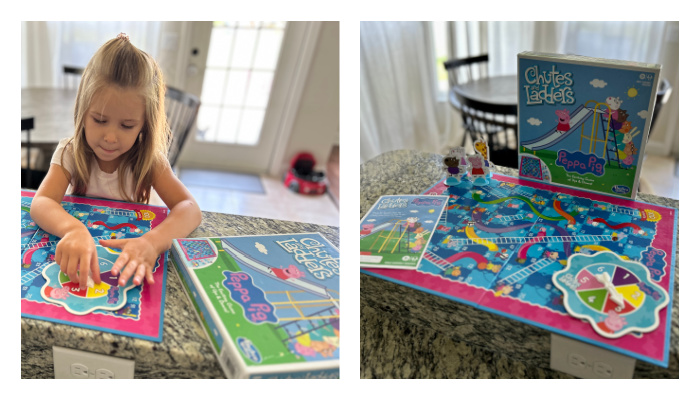 Chutes and Ladders: Peppa Pig Edition
PEPPA PIG-THEMED CHUTES AND LADDERS GAME: Join Peppa Pig and friends! This edition of the Chutes and Ladders board game for kids features a Peppa Pig theme
INCLUDES 4 PEPPA PIG CHARACTER MOVERS: It's a climbing and sliding adventure at the playground, as players move around the gameboard as Peppa Pig, Gerald Giraffe, Suzy Sheep, or Danny Dog
COLORFUL GAMEBOARD: The delightful artwork on the gameboard features Peppa Pig and her friends, including Rebecca Rabbit, Freddy Fox, and more
NO READING REQUIRED GAME: This fun kids game can be a good choice for kids who haven't learned how to read yet. The numerals on the gameboard give preschoolers a chance to practice their numbers
A classic game with a modern twist, Chutes and Ladders: Peppa Pig Edition takes you on an adventure around the playground with your favorite Peppa Pig Characters, Gerald Giraffe, Susy Sheep, Danny Dog, and of course, Peppa Pig. You'll slide and climb all around, hopefully avoiding the chutes that'll send you back from where you came.
The spinner is a fun game accessory that my kids find amusing and makes them excited for their next turn. The spinner also uses simple numbers from one to six, so even if your little one doesn't yet read, it's a great introduction to reinforcing these new skills.
Manufacturer Recommended Age: 3 years and up | Number of Players: 2-4 players | Dimensions: 1.61 x 10.51 x 10.51 inches
View on Amazon | View on Walmart.com | View on eBay.com
Count Your Chickens (Ages 3+)
Sale
Count Your Chickens
FARM FUN: The baby chicks have flown the coop and Mama Hen needs help to bring them back. Spin and count numbers to travel and collect chicks while working together. Gather all the chicks and everyone wins!
COOPERATIVE COUNTING: Remove competitive stress, empower young learners and teach kids that playing together can be fun! A counting game to help kids learn at a young age how easy it is to cooperate!
EDUCATIONAL GAME: Cooperative games cultivate emotional development, shared decision making, positive self esteem, creative problem solving and develop a sense of community in a non-stressful play environment.
WHO CAN PLAY: Count your Chickens was designed for 2-4 players ages 3 and older. This game includes 1 game board, 1 mother hen with stand, 40 baby chick markers, 1 spinner and instructions. Game play is approximately 15 minutes.
In Count Your Chickens, your toddler gets to help the mother hen herd all of her little chicks that have gone astray. They'll spin on the board to find out how many spaces they can move along with collecting that same number of chicks to bring back to the coop! A cooperative game, the goal is to help the mother hen take the stress of competition off the table.
The spinner has depictions of all the animals and objects toddlers will encounter throughout the farm, which means they don't have to have reading skills down pat to play the game. Aiding in problem-solving and cooperative play, toddlers will grow in their ability to count, take turns, recognize objects, and play harmoniously with others.
Manufacturer Recommended Age: 3 years and up | Number of Players: 2-4 players | Dimensions: 9.09 x 1.61 x 12.6 inches
View on Amazon | View on Walmart.com | View on Target.com
Monkey Around: The Wiggle & Giggle Game (Ages 2+)
Monkey Around: The Wiggle & Giggle Game
GET READY TO MOVE: A wonderful first board game for kids that was created specifically for you and your two year old. Kids love getting to move about while playing a game!
LETS MOVE TOGETHER: From hugs to high fives to simple skills like balancing, hopping, and marching, the cards in the game will prompt you and your toddler to get on the move! The included beanbag banana adds to the fun!
LEARNING AND GROWING: Monkey Around improves gross motor skill development, coordination, understanding spatial concepts, recognizing matching body parts, listening, and building vocabulary.
PLAY WITH YOUR BABY IN MIND: Every child develops at their own pace. If they aren't ready to catch a tossed banana, help them by shaping their hands into a bowl. Littles love to imitate, they catch on fast!
Perfect for the wiggle worm in your life, Monkey Around gets toddlers up on their feet, acting out super silly movements that'll have them laughing non-stop. Your child will simply draw a card from the pile, then do the action it states, and place the card on the monkey tree—easy-to-follow steps that make for a great starter board game!
Card examples include holding hands and spinning in a circle, shaking hands, or doing different actions with the included banana; the 40 cards are packed with fun! Developing gross motor skills, vocabulary, spatial concepts, and so much more, you can count on this game to offer more than just entertainment.
Manufacturer Recommended Age: 2 years and up | Number of Players: 2 players | Dimensions: 7.99 x 2.99 x 8.11 inches
View on Amazon | View on Walmart.com | View on Target.com
Candy Land (Ages 3+)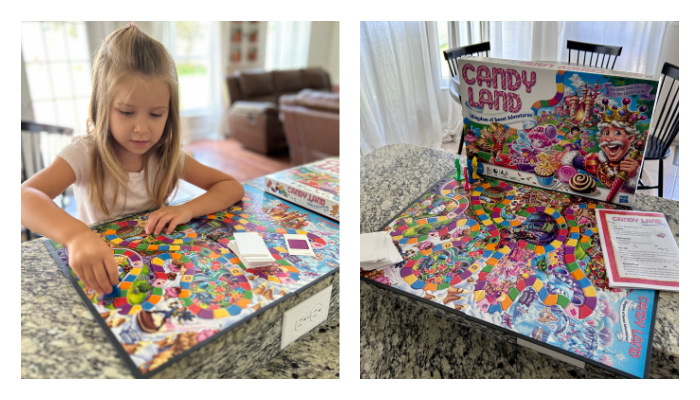 Candy Land
A FAVORITE PRESCHOOL GAME: Remember playing the Candy Land game as a kid? Introduce a new generation to the fun children's game with this Candy Land board game for 2-4 players
RACE TO THE CASTLE: Players encounter all kinds of "delicious" surprises, as they move their cute gingerbread character pawn around the path in a race to King Kandy's castle. Whoever reaches it first wins
EASY TO PLAY GAME FOR KIDS: Easy to learn and easy to play, the Candy Land family game for preschoolers includes colored cards, sweet destinations, and fun illustrations that children love
NO READING REQUIRED TO PLAY: This Candy Land game features simple, color-matching gameplay, so it can be a great board game for kids who haven't learned how to read yet
A fun game that's likely to take parents back to their own childhood, Candy Land is a classic, and for a good reason. Moving their own little gingerbread man along the candy path, they'll come across all sorts of yummy places like Cookie Commons, Ice Cream Slopes, Gummy Hills, and more!
My daughter loves this game in particular since it's more of a matching game, comparing the color and count of the card drawn to the color squares on the board. It's certainly an easy game to explain, and the concepts of the gameplay seemed to be right on point for my three-year-old.
Manufacturer Recommended Age: 3 months – 6 years | Number of Players: 2-4 players | Dimensions: 1.18 x 15.75 x 10.63 inches
View on Amazon | View on Walmart.com | View on eBay.com
Eye Found It: Richard Scarry's Busytown (Ages 3+)
Sale
Eye Found It: Richard Scarry's Busytown
What you get – The game includes 1 game board, 4 movers, 4 mover bases, 1 spinner, 1 ferry tile, 10 magnifying glass tokens, 6 food tiles, 30 goldbug cards, 1 sand timer, and instructions
Fun play experience – Eye Found It is a ton of fun for 2-4 players and makes a great gift for kids and families. It's a cooperative game for preschoolers where you race across Busytown along a game board that's more than 6 feet long
Clear instructions – The game is easy to learn with clear instructions, so you can start playing right away!
Great replay value – You can race across Busytown over and over, and have a new and fun experience each time!
An old-school character with a new spin on board game play, Eye Found It takes toddlers into Richard Scarry's Busytown, where they'll try to reach the picnic at the end of the board before the pigs eat all the food. With a special emphasis on teamwork, this game aims to have all players reach the picnic together.
The game board itself is six feet long, with hidden objects your youngster will have to find along the way in order to move forward on the board faster. The game even comes with little magnifying tokens to help in the search. Honing in on matching skills and object identification, this game is sure to reinforce some important skills.
Manufacturer Recommended Age: 3 years and up | Number of Players: 5 players | Dimensions: 15.81 x 2.69 x 10.56 inches
View on Amazon | View on Walmart.com | View on eBay.com
The Ladybug Game (Ages 3+)
The Ladybug Game
A NEW ADVENTURE EVERY TIME KIDS PLAY: Feed the ants, escape the praying mantis, and deliver Ladybug safely home in this colorful board game invented by a first grader. It's fun for the whole family!
BOARD GAMES FOR EVERYONE: Our games for kids are designed to be inclusive and fun for all ages so the entire family can play together. This is a great first game for toddlers ages 3 and up.
LEARNING MATH & READING DURING PLAY: The Zobmondo!! Ladybug Game introduces your child to basic math concepts as they learn addition and subtraction. They will even learn some cool stuff about bugs!
BOARD GAMES FOR KIDS MAKE A GREAT GIFT: Our cheerful family games make a great hostess gift or housewarming present. Whatever the holiday or occasion, make any get-together more fun with a game for everyone.
A fun adventure with plenty of twists and turns, in The Ladybug Game, your toddler will help four ladybugs that are lost in the yard find their way back home. Cards give you opportunities to move forward on the board, but you have to watch out for the praying mantises, and you'll likely have to give up some of your chips to feed the ants, not to get sent backward.
The game was definitely created with little ones in mind using symbols, numbers, and colors to show players how to move in the game. No reading is required! Using basic math with addition and subtraction, it has a strong educational element that makes it more than just a game.
Manufacturer Recommended Age: 3 years and up | Number of Players: 2-4 players | Dimensions: 10.5 x 10.5 x 10.5 inches
View on Amazon | View on Walmart.com | View on eBay.com
Why Are Board Games Good for Toddlers?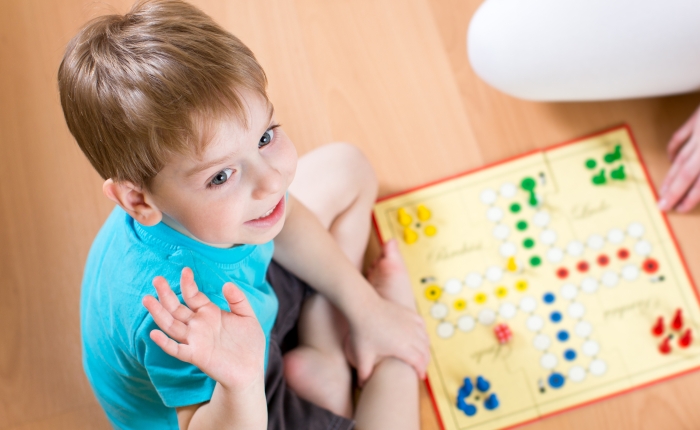 On the surface, board games can seem like just another way to pass time for your little one, but as it turns out, they stand to develop some seriously vital skills, including:
Language Development: The repetition of new board game jargon and the use of simple words is an easy way to develop your toddler's language skills. Using gestures and pointing to the board can also help with this.
Communication: If you're hoping to encourage your child to speak up more, toddler board games are a natural way to facilitate that. Conversations between players or even just self-talk help them to express themselves more.
Problem-Solving: No matter the game they choose, your little one will face obstacles that'll require critical thinking to move forward. As they work through those challenges, they'll continue developing the skill to problem solve.
Focus: Getting toddlers to sit still without constantly moving from one thing to another can be tough. Board games are a great way to teach them the skill of focusing on one task for a prolonged period of time.
Sportsmanship: Losing is no fun for anyone, but how we react to it starts at a young age and with small stakes, like board games. You can use these games to teach them how to be humble winners and dignified losers.
Dexterity: Most board games will require moving pieces, drawing cards, rolling dice, or some combination of movement. When repeated, these simple acts can help improve your toddler's gross and fine motor skills.
Letter & Number Recognition: Board games expose toddlers to plenty of letters and numbers, whether it's through jumping spaces or reading cards. The gameplay allows them to learn new letters, numbers, patterns, and words too!
How to Introduce Your Toddler to Board Games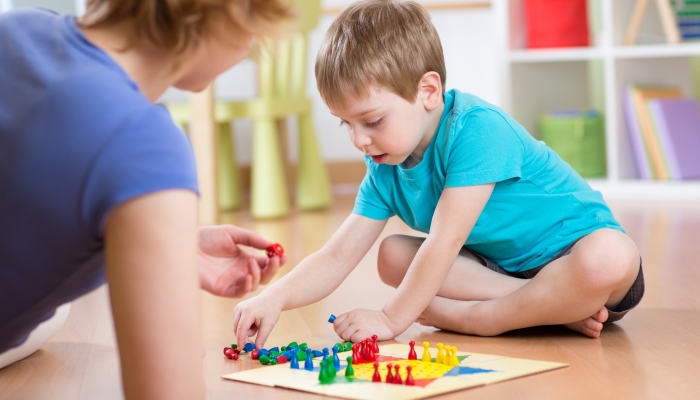 There are definitely some pointers you can keep in mind as you introduce your toddler to board games. First, you can plan to introduce them as soon as they are two years old; just be sure the game you choose is labeled age appropriately.
Likewise, go in with the right expectations with regard to time, as attention spans for toddlers aren't long. For a two-year-old, it's usually no more than six minutes at a time; a 3-year-old's attention span is not much more.
That said, it's likely you'll have to work up to a longer session where the game is actually completed. At first introduction, be aware that there will be frequent interruptions, and it may take some extra effort to keep their interest.
Now, when it comes to teaching them about the board game and how to play, there are several things you can do to help the process go smoothly. Start by learning the game yourself and setting it up beforehand, so your toddler isn't left waiting with time to get bored. Once you've brought them over to the pre-set game, let them explore.
Since it's something completely new, they'll want to touch all the pieces and look at all the colors and pictures involved. Give them a minute to take it all in! Once they've had a few minutes to settle in, explain the rules to them, physically showing them how to pick cards, move pieces, whatever it is that the game entails.
At this point, you can start the game. As you play, give them frequent directions and reminders on how the game is played. It also helps to acknowledge when they've made the correct moves on their own. It'll give them confidence in playing and reinforce positive connections with board gameplay.
What to Keep in Mind When Choosing Board Games for Your Toddler
It's important to remember a few factors when you're choosing board games for your toddler. As with any game, you'll want to begin by checking the box for age requirements. These act as a guide to ensure that the game is age-appropriate in terms of its complexity and gameplay.
Also, if it's labeled for toddlers, it's likely a safe choice, but just to be sure, I'd take a look at what pieces come with the game. With many toddlers still putting things in their mouths, it's better to be sure there's nothing that can come loose and turn into a choking hazard.
When making your selection, it can be helpful to pick something with a theme they enjoy. Whether they're into dinosaurs, dolls, or a certain cartoon character, their interest will be piqued when they recognize something they already know and love. Picking a game with enough play space for siblings to join in is great for bonding as well.
Last, it never hurts to check out some reviews on the board games prior to purchasing. That'll give you an idea of some of the pitfalls that may not mesh with your toddler's needs or personality, also highlighting parts of the game that reading the instructions simply won't.
FAQs
How do I create a positive and supportive environment during board game play with my toddler?
Your toddler will feed off your energy, so one of the best things you can do is radiate positivity while playing the game with them. You also don't want to neglect any opportunity for encouragement. Whether they move the pieces correctly, patiently wait their turn, or whatever it may be, recognize their effort in a way that makes them feel seen.
How do I handle situations where my toddler becomes frustrated or loses interest during a board game session?
When you play board games and notice your toddler becoming frustrated or uninterested, there are a couple of things to try. If they're frustrated, make an effort to try and pinpoint where the source of frustration is coming from. It's likely something you can walk them through or further explain to make them feel more confident while playing.
If they lose interest, that's okay. As mentioned before, you may have to work up to longer sessions, and that might be easier to do once they feel they fully understand the game. It may take reintroducing the concepts over and over for that to happen. Remember, you can always leave the pieces and pick up where you left off later.
Related Posts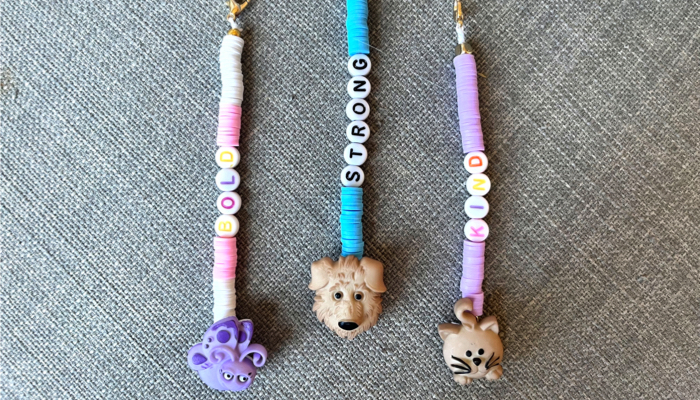 Parenting, Play, Tactile Art
These affirmation backpack buddy keychains are adorable and easy to make. Give your child a little encouragement with this simple craft as they head to school.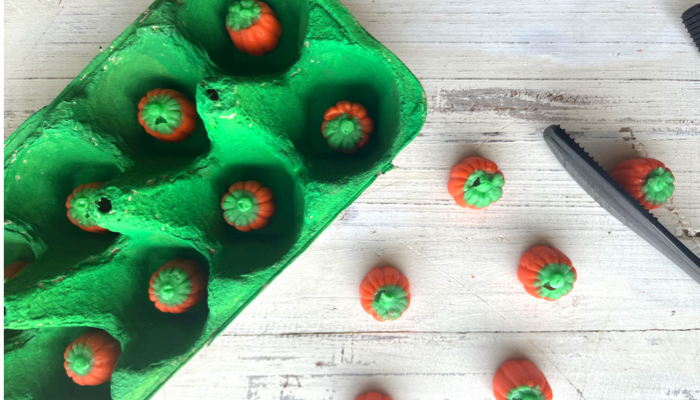 Fine and Gross Motor, Play
This adorable pumpkin picking fine motor activity is a breeze to make! A perfect fall activity for preschoolers and toddlers alike.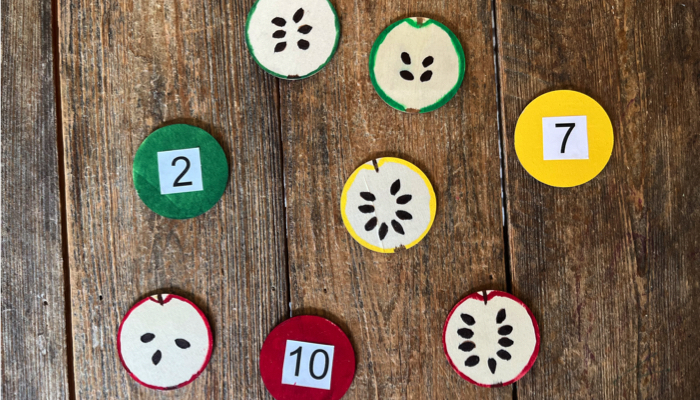 Math and Science, Play
This apple seed counting game is easy to create and fun to play! With just an oatmeal container and a few supplies, you can surprise your child with this delightful...