Tips for Successful Sensory-Friendly Haircuts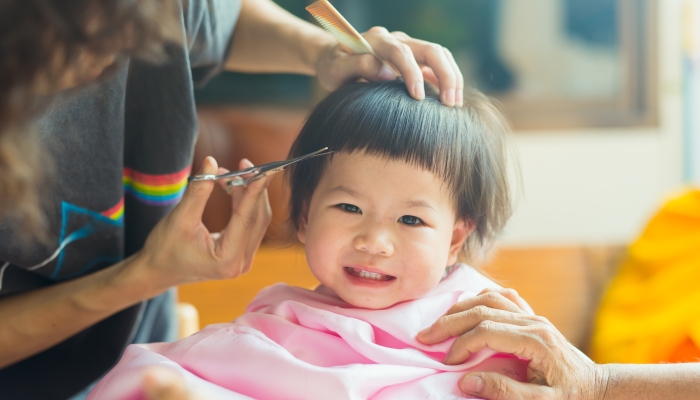 This post may contain affiliate links; please see our terms of use for details.
If your child hates getting a haircut and finds daily hair care stressful, you're not alone.
As many as 1 in 7 kids are thought to have sensory processing disorders while many more have some form of sensory sensitivity.
Too much or too little sensory stimulation can trigger anxiety, fear, and meltdowns.
A sensory-friendly haircut is a hairstyle or approach to haircuts that considers individual sensory needs, helping to reduce sensory overwhelm for a more comfortable and fun time.
If your child is sensitive to sound or touch, screams at the sight of a hairbrush, or has trouble sitting still, hair care can quickly turn into a battleground.
Many kids find personal care boring and annoying, but if your child has sensory sensitivities or a sensory processing disorder (SPD), simple daily tasks like hair brushing can be physically painful and emotionally overwhelming.
No wonder you dread your little one getting a haircut, especially if you're worried they'll lash out or have a meltdown. A sensory-friendly haircut can help reduce stress and fear, so you can both relax and enjoy the experience.
What Is a Sensory-Friendly Haircut?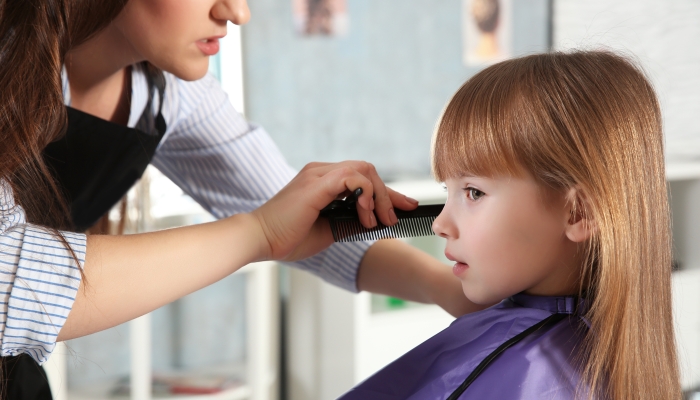 A sensory-friendly haircut can be one of two things (or both):
An actual haircut or hairstyle that's comfortable and easy to maintain, and/or
An approach to cutting hair adapted to suit an individual's sensory needs.
When it comes to sensory cuts, there's no one-size-fits-all.
Shorter styles with bangs are easily washed and brushed, although they need trimming at regular intervals to keep them neat.
Longer styles need fewer haircuts and can be tied back to keep stray hairs off the face but need more brushing. Soft brushes, wide-toothed combs, and detangling knots with your fingers can make that easier.
Soft, padded headbands and relaxed styles, like messy buns, are gentle on the scalp, yet may need adjusting throughout the day.
Why Do Some Children Hate Getting Haircuts?
In 2020, Adrian Galiana-Simal et al published evidence in the Codent Medical Journal that as many as 15%11. Galiana-Simal, A., Vela-Romero, M., Romero-Vela, V. M., Oliver-Tercero, N., García-Olmo, V., Benito-Castellanos, P. J., Muñoz-Martinez, V., & Beato-Fernandez, L.. Sensory processing disorder: Key points of a frequent alteration in neurodevelopmental disorders. Cogent Medicine. 2020;7(1). https://doi.org/10.1080/2331205x.2020.1736829 of young people may have sensory disorders, with many more experiencing sensory sensitivity. That's nearly one in every seven kids.
Sensory disorders take many forms. Some children are hypersensitive to sensory input and react strongly to sensations others barely notice. Too much sensory stimulation can quickly lead to overwhelm and a sensory meltdown.
Others are hyposensitive, with less sensitivity and a high tolerance for pain and noise. This can lead to sensory-seeking behavior, where children find it hard to sit still, respect personal space, or resist touching objects around them.
Many young people have a mix of sensitivities.
Haircuts can be uncomfortable and trigger sensitivities through:
Close physical contact.
Unpredictable touch close to eyes and ears, often from behind.
Long periods of sitting, often on wobbly or swivel chairs.
Background noise.
Tipping their head in uncomfortable positions.
Strong smelling hair products.
Bright lights, shiny surfaces, and lots of mirrors.
Unfamiliar sensations, like a wrinkly cloth cover or cape, wet hair falling and causing itching, or hot styling equipment.
Uncertainty around how long they'll have to sit and what they'll look like after.
Benefits of Sensory-Friendly Haircuts for Children With Sensory Sensitivities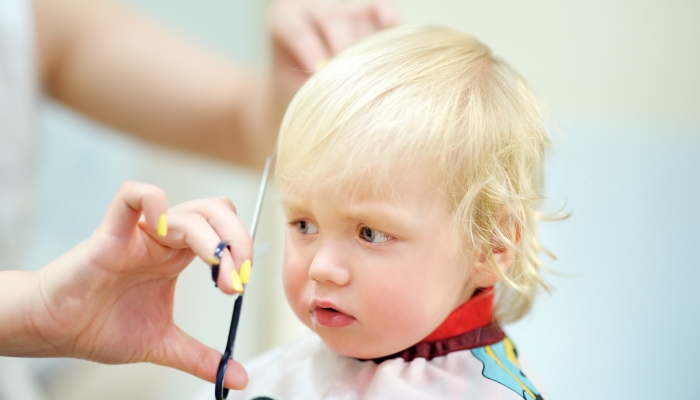 Sensory sensitivity is our body's early warning system, sending important messages to our brains so we can quickly seek safety. Heightened sensitivity can trigger the brain's stress response, even when no danger's present.
Practically, sensory cuts help your child stay calm, avoid sensations that stress their system, and get the job done.
Emotionally, your child gets to feel supported and safe, helping build trust and respect, and strengthening relationships and resilience.
Not only can sensory cuts reduce stress in the moment, but they can help your child learn how to deal with sensory overload and transfer these new skills to other areas of their life.
Globally, the more welcoming, inclusive, accessible, and sensory-friendly spaces we create the more compassion spreads.
How to Prevent Your Child From Feeling Overwhelmed During a Haircut
Good preparation can help your child feel safe and supported. Read stories and watch videos about haircuts. Role-play with your child, and let them join you at your next haircut.
For some kids, though, too much talking increases anxiety. Don't make too much of a big deal about it. Your child may get the message that you're worried and they should be too.
Talk to your child's hairdresser about their needs and involve your child as much as possible. Drop optional elements your child finds difficult, like washing or drying, and linger longer on parts they love, scalp massages, hair brushing, or drying.
Another option is to request a longer appointment for your kid's haircut. Choose a quiet time, ideally when your child is well-rested and fed.
Stay calm and relaxed, encouraging and supportive. Even if they can't hear your words, kids pick up on the tone and speed of your voice, your breathing, and your facial expressions.
It may also be helpful to share relaxation techniques and use them together. Help your child process strong emotions without endangering themselves or others. Hold them while they cry, offer cushions or pillows to punch and paper to scrunch.
Finally, be honest with your child about what's happening and respect their capacity to cope. Distractions may help but can sometimes cause irritation and overwhelm.
21 Tips to Make Haircuts a Positive Experience for Children With Sensory Sensitivities
Preparing ahead of time will help make getting a haircut more enjoyable for your child. Try some of these tips to help your child with sensory sensitivities have a positive haircut experience:
1. Let your child touch and listen to any equipment that's used.
2. Lower lighting for a softer atmosphere.
3. Play soothing music, read stories, or listen to an audiobook.
4. Prepare a written schedule or use pictures to remind your child what's going to happen during the haircut so they can check off sections as they go.
5. Help your child find a comfortable chair, or try bean bags, inflatable cushions, or your lap.
6. If your child can't reach the floor, grab a step stool to rest their feet on.
7. Bring a favorite stuffed animal or comfort blanket.
8. Lay a weighted lap pad or blanket across your child's knees.
9. Use a timer or countdown from 10 to let them know when you'll stop cutting.
10. Take regular movement breaks—mini trampolines or a quick dance party can discharge lots of energy in short bursts.
11. Cut your child's hair in the bath so you can wash stray hairs off right away.
12. If a bath's not practical, a foot bath with child-safe salts or essential oils can be relaxing.
13. Light candles or use relaxing aromatherapy.
14. Have yoga bands on hand so your child can stretch or use them as footrests.
15. Offer your child a stress ball or squeezy toy to fiddle with.
16. Sit near a water feature or fish tank, or bring along a bubble tube.
17. Bring ear plugs and headphones help block out noise.
18. Wearing swimming goggles or a shampoo visor can protect eyes from hair and water.
19. Find a soft cape, choose a special shirt for haircuts, or bring along a change of clothes to reduce the feel of itchy hair on the skin and keep your child comfortable.
20. Use quiet clippers or scissors to minimize noise.
21. Plan special time after the haircut, so you both have something to look forward to and time to relax and recover.
FAQs
How can I maintain sensory-friendly hair care routines at home?
Allow plenty of time and follow your child's lead. Shop around for different scents, fragrance-free options, and styling equipment that works for your child.
Be respectful of your child's sensitivities and honor their wishes where you can. Even young babies make their needs known, so building strong, connected relationships with your child can help you learn cues and communicate in the best way for them.
How can I customize haircuts to meet the needs of my kid with sensory processing disorders?
Pick and choose the advice that makes sense for your child. Get recommendations for styles and stylists from other parents. If you cut your child's hair at home, take lots of breaks, be patient and gentle, and get creative trying out different locations and timings.
Remember hair grows and kids change. A good experience that helps your child face future challenges is more important than the perfect haircut.
What are some ways to communicate with a stylist or barber about my child's sensory needs?
Visit the salon and meet stylists before booking an appointment. This allows you to talk in person about your child's sensitivities and gauge their understanding of your kids needs.
Offer to provide written or visual information and share additional resources if this might help.
What are some resources for parents of children with sensory processing disorders seeking sensory-friendly haircuts?
Look for salons that offer dedicated sessions or specialize in sensory cuts. If you're cutting your child's hair at home, colorful capes and calming clippers can reduce stress.
Search for books, videos, and social stories to help your child prepare for a haircut. Use apps for breathing and relaxation exercises and check out this list of calming or stimulating sensory activities.
References
Galiana-Simal, A., Vela-Romero, M., Romero-Vela, V. M., Oliver-Tercero, N., García-Olmo, V., Benito-Castellanos, P. J., Muñoz-Martinez, V., & Beato-Fernandez, L. (2020). Sensory processing disorder: Key points of a frequent alteration in neurodevelopmental disorders. Cogent Medicine, 7(1). https://doi.org/10.1080/2331205x.2020.1736829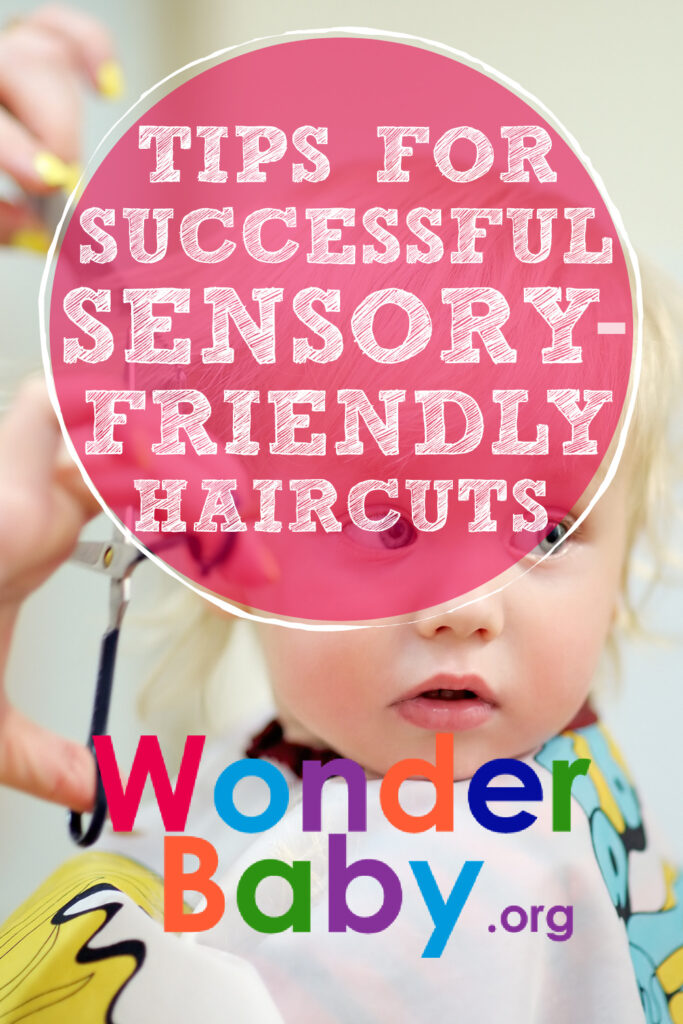 Related Posts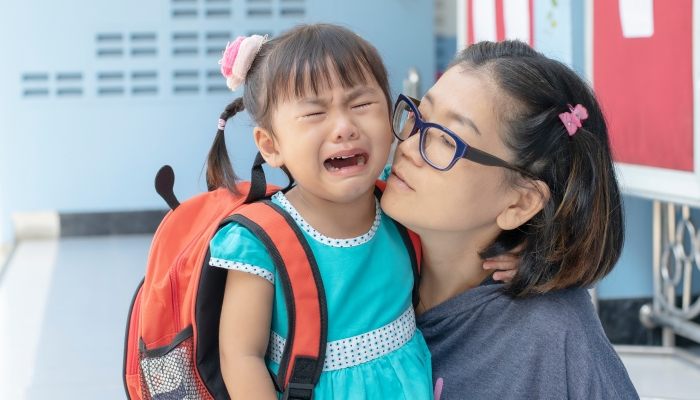 Behavior
Helping your child cope with separation anxiety at school can feel like an uphill battle without the right tools. Learn how to set them up for success here!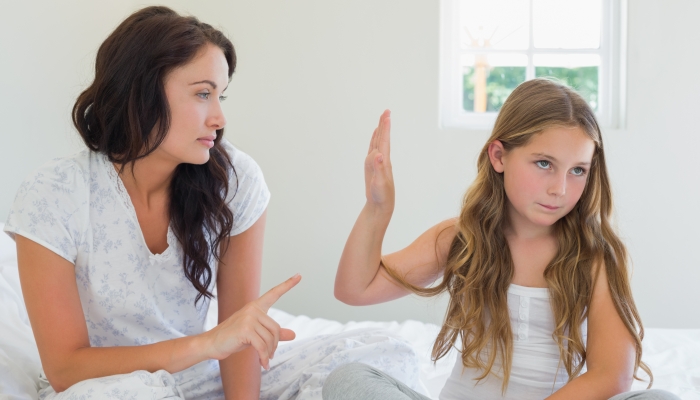 Behavior
Find out how to recognize the signs and symptoms of oppositional defiant disorder, the conditions associated with it, and the treatments that can help.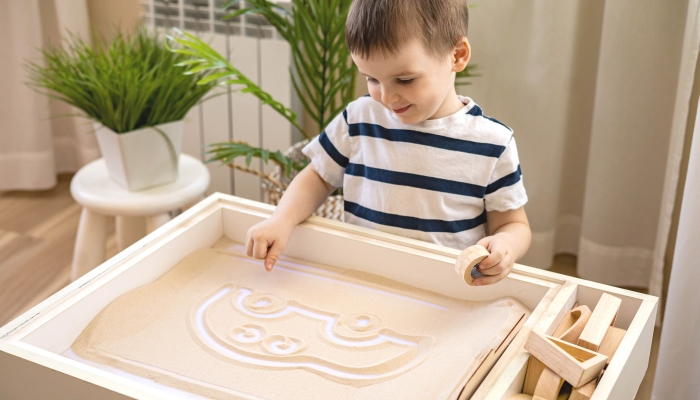 Behavior
For kids that struggle with overstimulation or understimulation, a sensory diet can be a helpful to help them feel more calm and in control of their bodies.