The Ultimate Survival Guide for Traveling With a Baby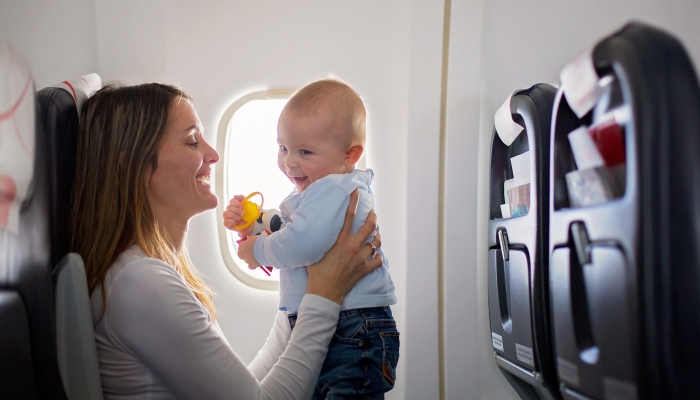 This post may contain affiliate links; please see our terms of use for details.
You can still enjoy a wonderful vacation with your little one in tow, so long as you consider a couple of things beforehand.
Some international flights have seats that are reserved with bassinet access.
Music can be used to calm down babies and distract them from the ride.
Our family loves to travel. Whether it's a quick trip to the beach or a flight to the northeast, we enjoy it all. Through the years, I've gained plenty of experience traveling with little ones.
One thing I've learned traveling with my 5 children is that preparation is key. Anytime I travel with a baby, I pack my bags well in advance to be sure I don't forget anything. No parent wants to board an airplane with a baby and realize they forgot something crucial like the pacifier.
To travel stress-free with a baby, you'll need to know a few things ahead of time. Parents preparing for a flight will need to know what airplane activities for toddlers and babies they should bring. Parents planning a road trip will benefit from learning tips for entertaining a baby in the car.
If you've got a trip on the calendar and a baby in tow, you're in the right place. I'm about to give you the ultimate guide for traveling with a baby. These tips are sure to make your trip go smoothly for the entire family.
When Can You Travel With a Baby?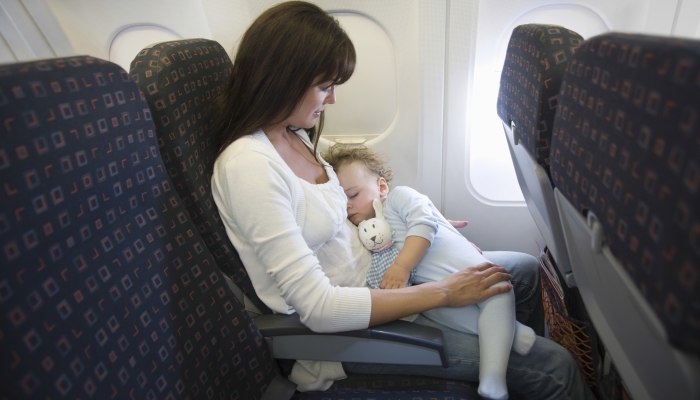 The type of trip you're planning will determine the age your baby is safe to join you. Each type of travel has its own guidelines.
Here are some general rules for traveling by plane, car, or boat:
Airplanes
We know you might be eager to fly with your infant to visit grandma's house and other relatives after they're born. However, you'll want to remember that their immune systems are still developing. The cabin pressure might also be too much for your little one's body to handle.
Talk to your child's pediatrician about when it is safe to fly with your infant. Some might advise against flying in the first week. The CDC11. Weinberg, M., Weinberg, N., & Maloney, S.. Traveling safely with Infants & Children. Centers for Disease Control and Prevention. 2023. https://wwwnc.cdc.gov/travel/yellowbook/2024/family/infants-and-children states that children who have lung or heart conditions are at risk for hypoxia during a flight and should consult their pediatrician before flying.
Cruises
If you're looking to book that cruise to the Bahamas, you'll want to be sure your baby is at least 6 months old. Most cruise lines use this as the minimum age for babies to cruise. This may seem strict, but there is a good reason for this age restriction.
Babies under 6 months old are at a greater risk for developing serious illnesses. Cruise lines don't want to jeopardize their health. Should a medical emergency arise, they may not have the necessary medical staff on board.
Car Rides
Car rides are generally safer for traveling with babies. However, you'll still want to check with your child's pediatrician. Infants will need frequent breaks if traveling long distances.
My husband and I recently took a 10-hour drive with our 2-month-old and other children. We took breaks every two hours so I could nurse the infant, and I sat in the backseat so I could keep an eye on her. If you're able to stop frequently and keep an eye on your infant, you should be safe to travel by car.
Where to Go When Traveling With a Baby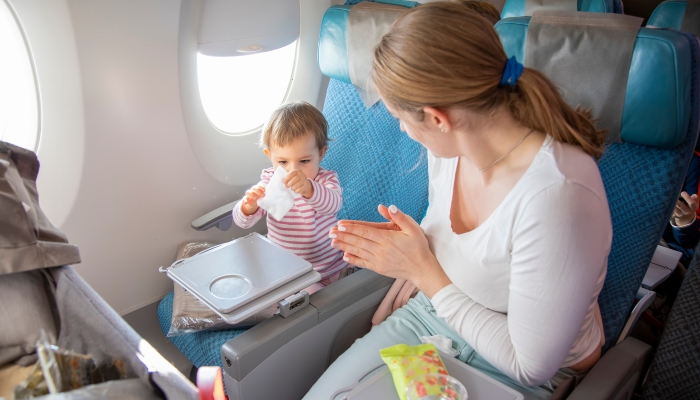 Before you have a baby, traveling is much easier and carefree. You can go to the jungles of Africa or the beaches of Mexico and figure out your plan as you go. Babies will require more caution and planning.
You can still enjoy a wonderful vacation with your little one in tow, so long as you consider a couple of questions beforehand.
What will the weather be like?
If you're traveling someplace hot, keep in mind that your baby will likely get fussy after a while. Babies aren't always keen on the water right away. This might leave them baking in the sun without a way to cool down.
Beaches, summertime hikes, or other warm environments are okay to visit with babies, but you'll need additional planning. Think about how you will get your baby out of the sun or help them cool down.
The same is true with cold-weather destinations. You'll need to plan ahead to ensure your baby isn't outside in the cold for too long or dressed improperly.
Will there be quiet places and times for the baby to rest?
Traveling with a baby is a lot of work. Be sure to choose a destination and itinerary that allow for rest during the day. It's easy for both mom and baby to become overtired with a hectic schedule.
What to Bring When Traveling With a Baby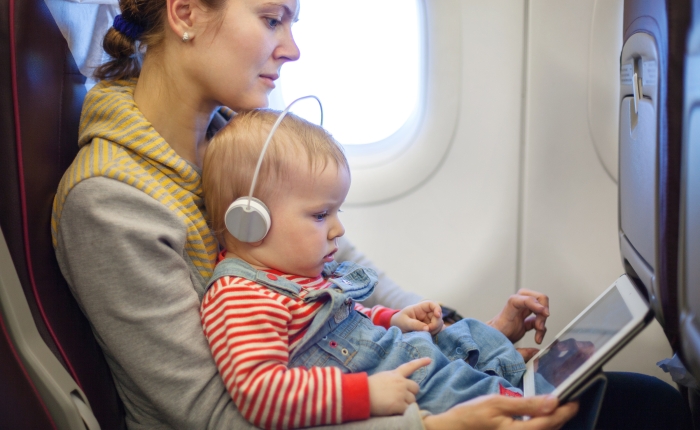 Bringing a few baby essentials can make all the difference on a trip. During our recent 10-hour car trip, I was so thankful to have packed my favorite diaper bag essentials, including a sound machine. This allowed the baby to sleep longer and kept us from having to spend 10 straight hours singing fun kid songs.
Here are my must-have items for traveling with a baby:
What can I bring when flying with a baby?
If you're flying with a baby, airlines will allow you to bring the necessities for your little one. This includes baby food, formula, water, and food. Take advantage of this, as airplane snacks for toddlers and babies can be a huge help.
Check your airline's website for more details on bringing baby gear items like strollers and car seats. Most airlines will allow you to check these at the gate.
Many airlines will require some form of identification for the baby, such as the baby's birth certificate, to prove the baby's age. Be sure to keep this handy in your carry-on bag.
How Can You Ensure Safety When Traveling With a Baby?
Your baby's safety should be at the forefront of your mind when traveling. Never compromise your child's safety in order to make traveling easier. Here are a few safety tips to keep in mind.
Helpful Tips for Traveling With a Baby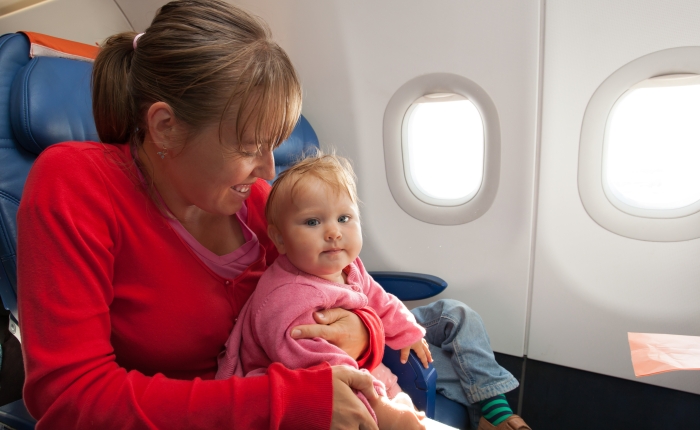 No one wants to travel for hours with a crying baby. Use these helpful tips to make your trip more enjoyable:
Tips for Air Travel with Babies
Ask about seats with bassinet access: Some international flights have seats that are reserved with bassinet access. This will allow you to lay your baby down to sleep on long flights. Book early to be sure you snag one of these seats.
Keep all your documents in an easy-access pocket: When flying with a baby, you'll have your hands full. Do yourself a favor and keep all necessary documents in a Ziploc bag to prevent anything from falling out. Then place it in a spot that's easy to reach, like the front pocket of your diaper bag or a hidden pouch on your stroller.
Get a window seat near the bathrooms: If your little one is old enough to look out the window, they'll love having a window seat. Parents will want to sit near the bathrooms so they can access the changing tables quickly in case of a diaper blowout.
Pack extra clothes: Speaking of diaper blowouts, be sure to pack extra clothes, baby wipes, and diapers. You'll also want to bring layers for your baby in case the plane is cold.
Board early: Most flights have a special boarding time for families with children. This allows you to get on the plane before others so you can get settled. This might be helpful for flights without assigned seats.
Consider purchasing a ticket for your baby: Flight tickets aren't cheap, but some parents might consider purchasing an extra ticket for more space so their baby has their own seat. On long domestic flights or international travel, it may be challenging to keep a baby entertained in your lap. If you have an extra airplane seat, your little one will have room to stretch and play.
Nurse or feed your baby during take-off and landing: The air pressure change can cause your baby's ears to pop. Nursing moms can breastfeed their babies to help alleviate the pressure. Parents can also offer a snack or bottle for the same relief.
Bring engaging toys and books: Engaging airplane toys for toddlers and babies, like light-up sensory toys or musical books, are great options to pack in your carry-on for air travel entertainment. Just be sure to bring toys with lower volume settings so you don't disturb other passengers.
Tips for Car Travel with Babies
Plan stops along the way: I'm talking to you, road warriors. We know you like to get to your destination in record time with limited stops, but a baby changes everything. Allow yourself extra time and plan plenty of breaks to let your baby stretch or be held.
Bring an activity bag: One of my favorite tricks for traveling with a baby is bringing an activity bag. I fill it with car activities for toddlers and babies and bring out a new surprise each hour or half hour. This bag can include simple toys, books, and stuffed animals as well.
Create a fun car song playlist: Music can be used to calm babies and distract them from the ride. Create a playlist of fingerplay songs, lullabies, or others of your baby's favorites. Also, be sure to include one of my favorites, The Happy Song by Imogene Heap, which was created specifically to stop babies from crying.
Sit next to your baby: Being able to see the face of a family member might help your baby stay calm during the car ride. If possible, have someone sit next to your baby so they have someone to talk to and smile at.
Bring toys for them to kick: A baby keyboard or other light-up toy with buttons will give them something to press with their feet. My baby loves to kick and play on car rides. We bring a few options on trips and rotate them.
Pack new or fun snacks: If your baby is able to eat solid foods, pack fun snacks like puffs and yogurt melts. A few fun snacks might keep your baby busy for quite a while in the car.
Use a sound machine for deep sleep: If your baby doesn't sleep well in the car, try a sound machine. The motion of the car paired with white noise will help them sleep more soundly.
FAQs
How can I handle potential travel disruptions or delays with a baby?
No one likes a flight delay or layover, but this is even more undesirable when you have a baby. However, a little preparation will keep you from stressing over travel interruptions. Here are a few items to bring in case of delays:
What are some strategies for maintaining a sense of routine and familiarity for my baby during travel?
Your baby's schedule will likely be disrupted during travel. However, you can provide a sense of familiarity and comfort by including pieces of their routine during your trip. Bring along all of your child's bedtime essentials, like a couple of loveys, their special bath soap, or a few treasured books.
Also, don't be afraid to excuse yourself from events on your itinerary for your baby's naptime. An overtired baby will make travel very difficult.
References
Weinberg, M., Weinberg, N., & Maloney, S. (2023, May 1). Traveling safely with Infants & Children. Centers for Disease Control and Prevention. https://wwwnc.cdc.gov/travel/yellowbook/2024/family/infants-and-children
McCarthy, C. (2019, November 21). Flying with Baby: Parent FAQs. HealthyChildren.org. https://www.healthychildren.org/English/safety-prevention/on-the-go/Pages/Flying-with-Baby.aspx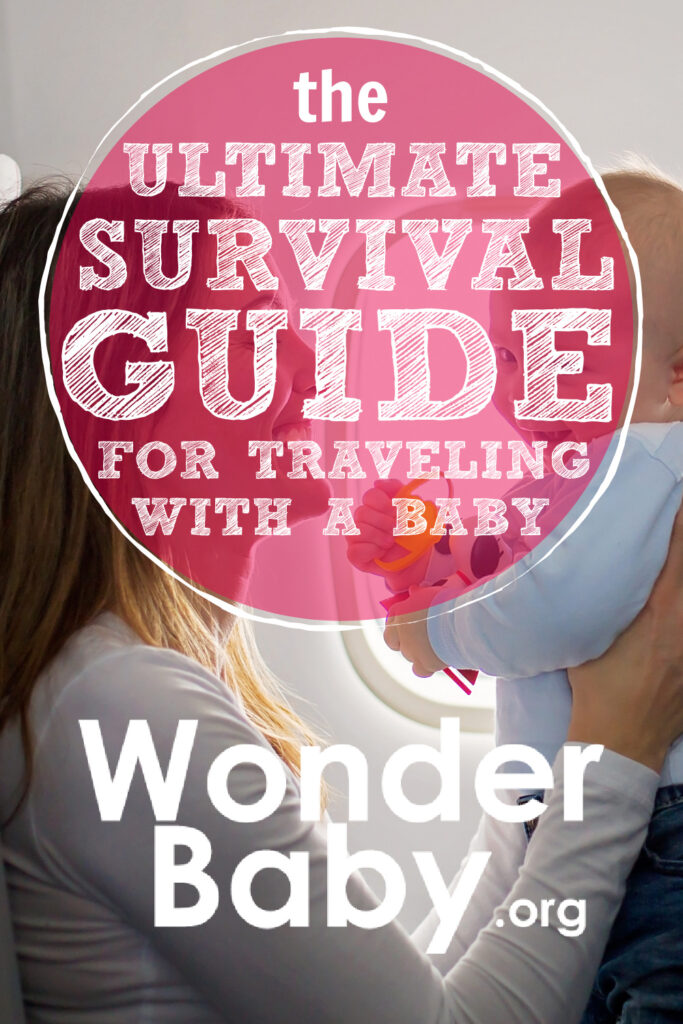 Related Posts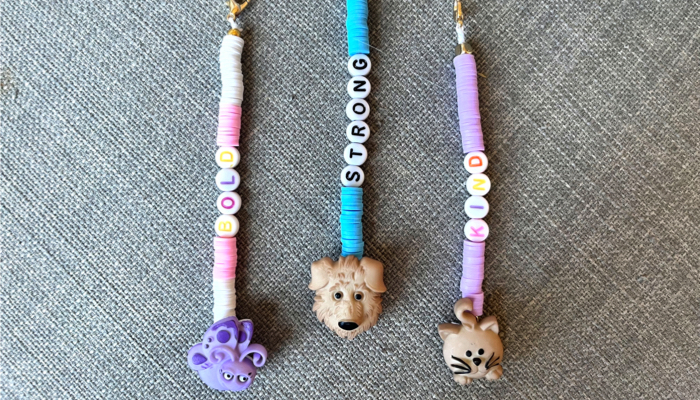 Parenting, Play, Tactile Art
These affirmation backpack buddy keychains are adorable and easy to make. Give your child a little encouragement with this simple craft as they head to school.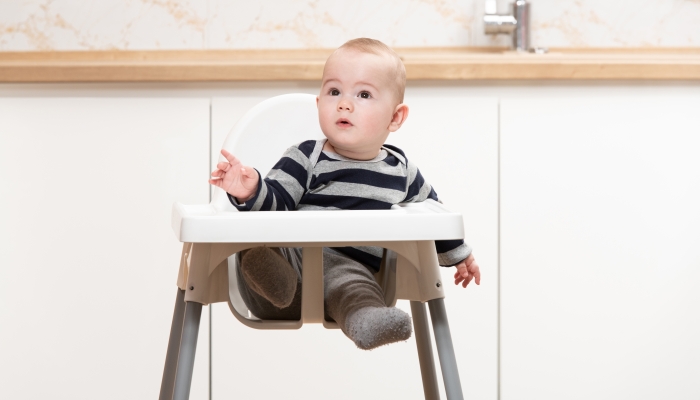 Parenting
Many children are ready to stop using a high chair between 2–3 years old and can begin transitioning to a normal chair or booster seat at that time.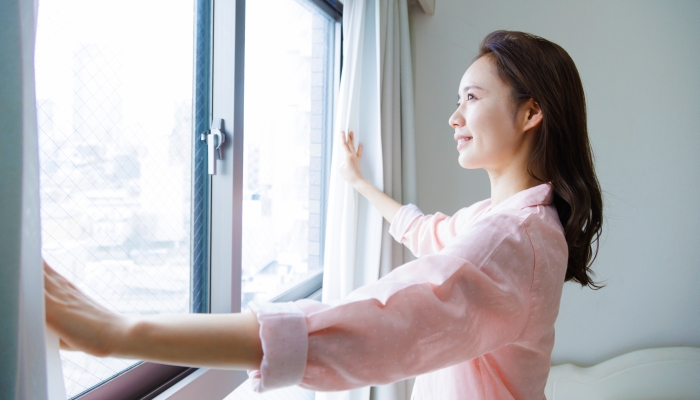 Parenting
Finding purpose as a stay-at-home mom allows you to take time for yourself, set personal goals, build a supportive network, and foster your hobbies and interests.