The 11 Best Airplane Toys for Toddlers of 2023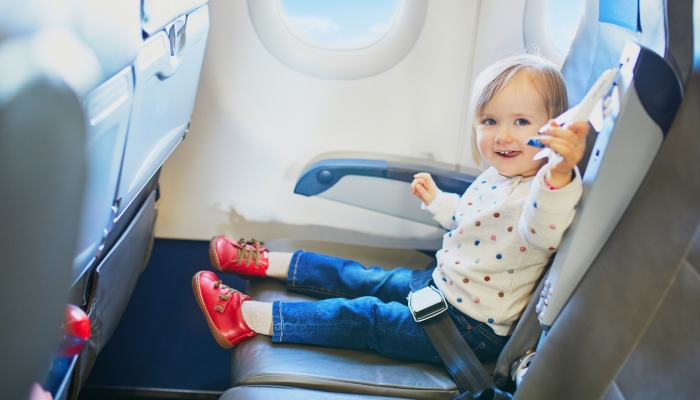 This post may contain affiliate links; please see our terms of use for details.
Prioritize lightweight, multi-purpose, engaging travel toys, and limit them to only one or two, depending on the size.
It's best to limit the number of devices or toys that need batteries or require charging because they can be difficult and tend to take up a lot of carry-on space.
In addition to toys, toddlers love creative play activities like coloring and finger puppets.
Sensory toys are especially engaging and can keep toddlers occupied for hours.
Your toddler will love the autonomy of having a small carry-on with some of their belongings inside.
Many parents get a little nervous when flying with a small child because they don't want to be that parent with a screaming toddler for most of the flight.
Rest assured that most babies and toddlers do very well flying! Still, you can make the trip more pleasant when you pack accordingly.
The best airplane toys for toddlers are engaging, quiet, lightweight, and multi-purpose to keep your little one busy in a small seat for hours! Also, having the right balance of toys makes each one you bring quite important.
We'll cover what to bring for travel, plus our favorite airplane toys for toddlers. Based on our first-hand experience and reviews from thousands of helpful moms and caregivers, this list features the best 11 airplane travel toys for toddlers in 2023.
Our Choice: Busy Board – Toddler Backpack with Buckles and Learning Activity Toys
The Busy Board Toddler Backpack is a unique buckle toy and backpack in one! The main asset is that you don't have to worry about forgetting travel toys on last-minute trips; even errands with parents can be more fun and keep little hands occupied.
The best part: Teaches real-life functional skills that strengthen your child's fine motor skills and cognitive development.
Babies learn to buckle, zip, button, and tie a shoe with the adorable hands-on activities attached to the outside of the backpack. The inside of the backpack is the perfect size for toddlers. It's big enough for them to bring quite a few things like a fun toy, book, stuffed animal, or small blanket.
Need to know: Reviewers love this little backpack, but it isn't heavy-duty. It's not large enough to hold all your child's things (and it would be too heavy). Plan on leaving space in your bag for a few more of your toddler's things.
View on Amazon | View on Sears.com | View on eBay.com
Best Entertaining Toy: Oiuros Animal Finger Puppets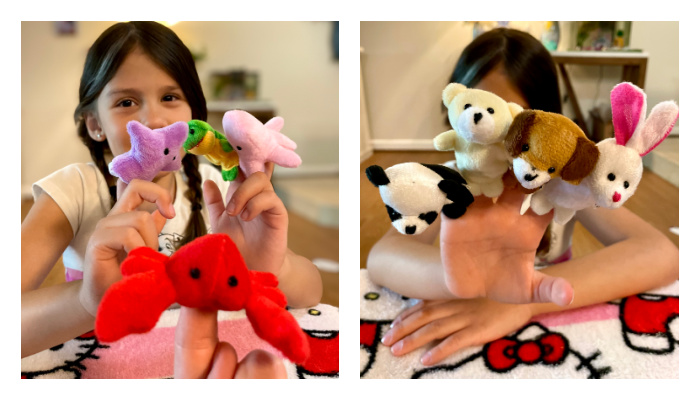 We tested these adorable Oiuros Animal Finger Puppets out, and they're at the top of our list—they're entertaining for kids of all ages, small, lightweight, and much more than a travel toy.
Toddlers learn animal recognition and sounds, colors, and shapes while bigger kids create characters and stories—these little critters are an excellent developmental travel toy for toddlers that can be engaging well into your child's grade school years.
The best part: This set is adorable, well-made, and durable. My family especially likes that this set features ocean life and land animals. With so many creatures, you can make them into mini playsets. This allowed me to swap them out for variety or to pack them in separate activity bags.
Need to know: Finger puppets are fun for toddlers but are not intended for teething babies in the phase of putting everything in their mouths. Make sure to supervise little ones while they play with these and all toys.
View on Amazon | View on Sears.com | View on eBay.com
Best Quiet Book: deMoca Quiet Book
A quiet book is considered a must-have by many traveling toddler parents, and the deMoca Quiet Book is a great choice.
The best part: This Montessori sensory toy builds real-life hand-eye-coordination skills like zip, tie, buckles, buttons, and snaps, plus cognitive learning like time, shapes, colors, and textures—with no loose parts and noise-free!
Need to know: Toddler books like this are excellent educational tools, but they will only be age-appropriate for a couple of years (around 3–5 years old).
View on Amazon | View on Sears.com | View on eBay.com
Best Sensory Toy: JCREN Wooden Lacing Apple Threading Toys
This adorable Apple Threading Sensory Toy by JCREN is so cute and whimsical that even adults want to play!
The best part: This toy keeps toddlers busy for hours in cognitive problem-solving play as they figure out how to navigate the adorable wooden worm through the apple maze. This toy is ultra-durable, and even though it's made from wood, it's light enough for travel.
Need to know: A great toy for home or travel, don't load up your carry-on with more than one sensory toy (unless your child is especially sensory seeking). It's a small travel toy but throwing too many fidget toys into your bag can get bulky.
View on Amazon | View on Walmart.com | View on Sears.com
Best Sticker Book: Melissa & Doug Puffy Sticker Activity Books
We enjoy a puffy sticker book like this one by Melissa & Doug because it's small and lightweight while providing so much engaging activity for little ones.
The best part: There are many book themes to choose from based on your toddler's favorites: dress-up, princess, mermaid, dinosaur, farm, or safari! The puffy toddlers stickers are re-adhesive and can be used over and over without drying!
Need to know: A lot of little parts to keep track of. While they all stick neatly inside for safe keeping, if your kid likes to bulldoze through toys or make messes, you might find an option with fewer pieces.
View on Amazon | View on Walmart.com | View on Target.com
Best Buckle Toys: Buster Square Learning Activity Toy
The Buster Square is a best-selling, highly-rated plushy stuffed square with six toddler-friendly buckles around the outside.
The best part: This adorable, light toy is a great hybrid toy; it's a sensory, educational toy and a stuffed plushie to comfort little ones during a long flight.
Need to know: This toy is suited for babies and toddlers under three years old. If your little one is getting older (the pre-K stage), then you might opt for a different toy.
View on Amazon | View on Walmart.com
Best Fidget: Fat Brain Toys Baby Dimpl Fidget
Fidget toys are a must-have for toddlers, and the hot-selling pop-its by Fat Brain Toys, like this Baby Dimpl Toy, are among the best, designed especially for little fingers.
The best part: Simple yet brilliant, these pop-it toys of varying sizes of colorful silicone bubbles offer multi-sensory engagement and hours of play. Easily washable, non-toxic materials, small and light for travel!
Need to know: This baby pop-it design is for ages 10 months–3 years. However, you can find different-sized pop-it toys in endless styles for bigger kids who like more of a challenge.
View on Amazon | View on Walmart.com | View on Target.com
Best Stacking Cups: The First Years Stack N Count Cups
Another toddler basic that doubles as an excellent quiet travel toy is a set of stacking cups like these by The First Years.
The best part: Small and compact, quiet, and one of the few teething-friendly toddler travel toys on the list, stacking cups are excellent for developing fine motor skills and problem-solving.
Need to know: Stacking cups are for babies to toddlers around three. Also, to keep track of eight little cups, take it from me and keep them in a resealable zip-lock bag!
View on Amazon | View on Walmart.com | View on eBay.com
Best Mess-Free Coloring: Melissa & Doug Water Wow!
The Water Wow! Water-Reveal Activity Pads by Melissa & Doug make the best toys for creative, mess-free play!
The best part: Choose by your child's interest—animals, numbers, colors, shapes, and storytelling! Use regular tap water to fill the special pen, write and reveal, let it dry, and do it again! Great for bigger kids, too.
Need to know: Keep the cap screwed on tight or dump excess water when you're done. Also, make sure you'll have time and space to let this pad dry when your toddler is finished playing.
View on Amazon | View on Walmart.com | View on Target.com
Best Educational: HarVow Felt Montessori Busy Board Book
If you're looking for something with endless educational value, look no further than the HarVow Felt Montessori Busy Books. Including 74 pieces that teach everything from numbers and the alphabet to the DIY Busy Board that encourages open-ended, free play.
The best part: Many reviewers commented on how surprisingly long their toddlers remained entertained by these busy board books. They offer many opportunities to make new ways to play with the materials to learn about the world around them.
Need to know: Some parents have found that the felt doesn't stick to the velcro well and advise that parents encourage toddlers to pull and stick gently.
View on Amazon | View on Walmart.com | View on eBay.com
Best For Busy Hands: Aaron's Enchanting Thinking Putty
Little ones always love an excuse to get their hands dirty and play with squishy things, and with Aaron's Enchanting Thinking Putty, you can do that with this mess-free travel toy.
The best part: this putty is an endlessly enjoyable sensory experience complete with rainbow glitter and cool scents, available in a variety of colors—it glows in the dark, too!
This is a great hand-strengthening fidget toy for bigger toddlers, especially those who tend to experience travel jitters.
Need to know: Putty is intended for supervised play of toddlers past the stage of putting things in their mouths.
View on Amazon | View on Walmart.com | View on Target.com
Recommended Accessories
Traveling easily with children doesn't end with toddler toys. These are also recommended accessories that can help you have a smoother flight:
TIP! Check out some airplane activities for toddlers before the flight and plan the fun travel toys and activities that interest your child most, and you know you'll be well prepared!
What Toys Can You Take on a Plane?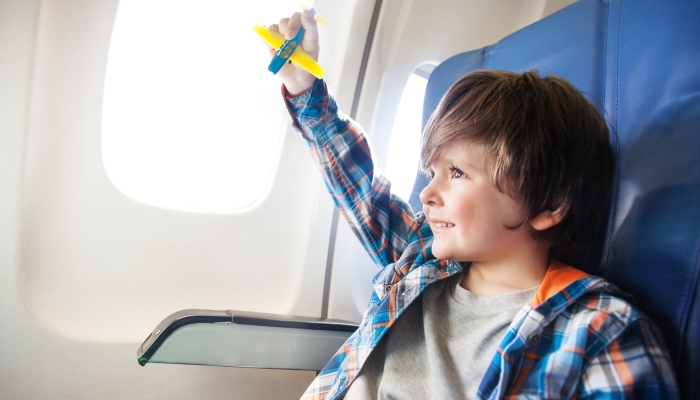 Most baby and toddler toys are fine to take on an airplane, with the exception of items that resemble realistic weapons, like knives or firearms. Leave the toy swords and Nerf guns at home when traveling.
Squirt guns (water guns) are okay to bring in checked baggage; empty the water thoroughly before you pack it.
How to Choose the Best Airplane Toys for Toddlers
Choosing the best travel toys for toddlers is mainly based on your little one's interests. Some toddlers can be engaged for hours with toy trucks, while others might not. Here are some tips for choosing the best toddler travel toys:
Keeps your toddler entertained
No messy materials or lots of small parts
It doesn't require batteries or charging
It's compact and lightweight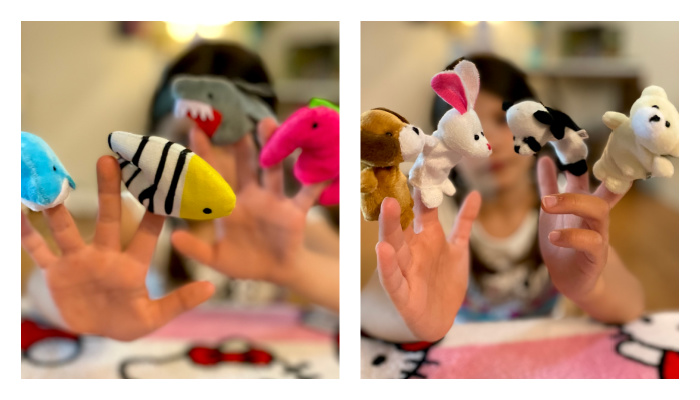 FAQs
If you haven't flown with toddlers before, there can be a lot of nerves—and questions. Here are a few of the most often-asked questions about plane toys and traveling with toddlers.
How can I keep my toddler engaged with their toys on a flight?
The best toddler toys are the ones your child loves most. A tablet with toddler-friendly games and movies is a lifesaving backup, but plan several mini activities for your child, like stickers, coloring, snacks, puzzles, and reading.
Repeat any activity they're enjoying until they lose interest and be prepared to change activities if your child isn't into it.
Can airplane toys be used for imaginative play and learning?
Of course! Kids that love imaginative play and learning will have a blast with Water Wow; Wiki Sticks, art supplies, finger puppets, and putty or slime are great options when packing travel toys for toddlers.
Can airplane toys be used to help my toddler overcome a fear of flying?
If your toddler has pre-flight jitters, try preparing them with a show or books, like My First Airplane Ride, so they know what to expect.
Things like hand puppets are not only wonderful for fine motor skills, but they are great for distracting little ones with stories and play.
It can also be a great way to address the situation head-on. For example, saying Panda is feeling scared, what can we say to her to help her feel better? Playing the role of caregiver does amazing things for a child's confidence.
What materials are airplane toys typically made of, and are there any materials I should avoid?
Avoid travel toys for toddlers made from thin plastic that can break easily, are big and bulky, or require batteries and charging. Also, just like with all toys for toddlers, you need to watch for choking hazards or anything that could be sharp or unsafe for small hands.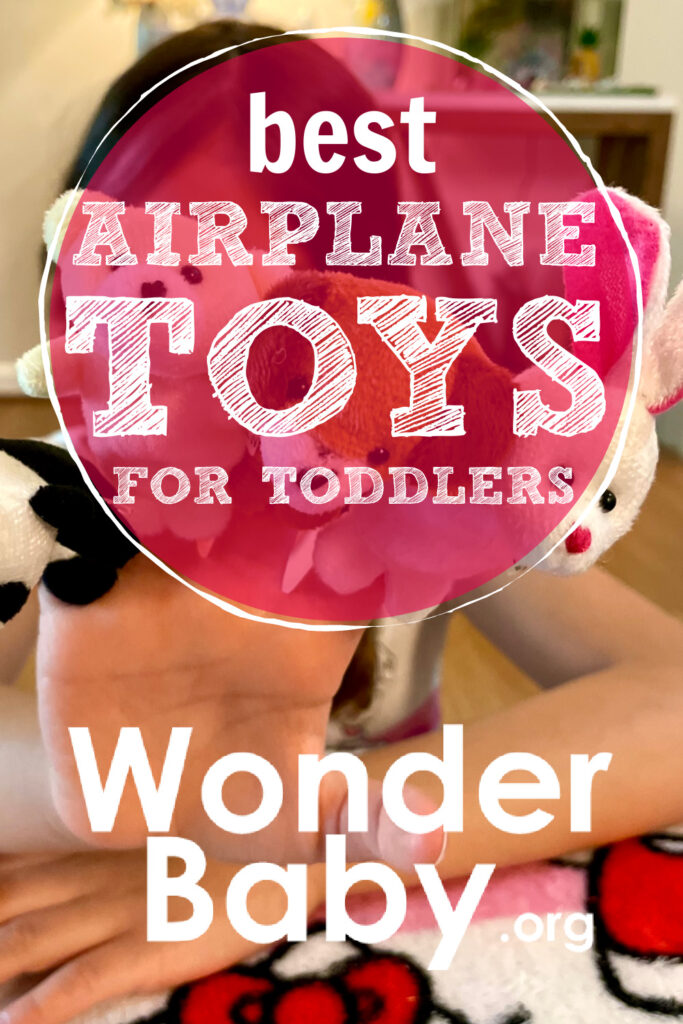 Related Posts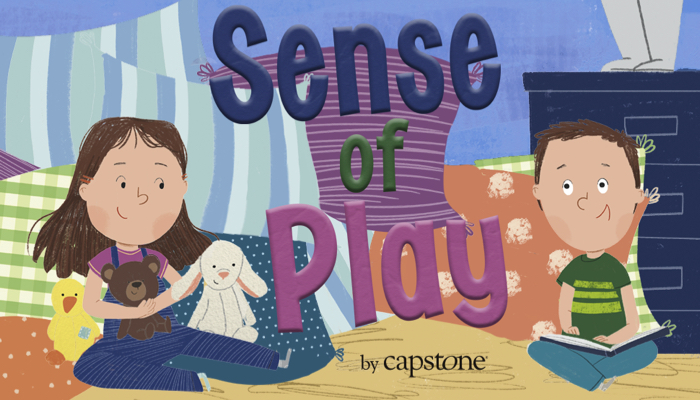 Braille and Literacy, Product Reviews, Visual Impairment
Dana Meachen Rau's book, Sense of Play, follows the adventures of Chip and Joy as they play. Chip is blind, but this doesn't get in the way of their play!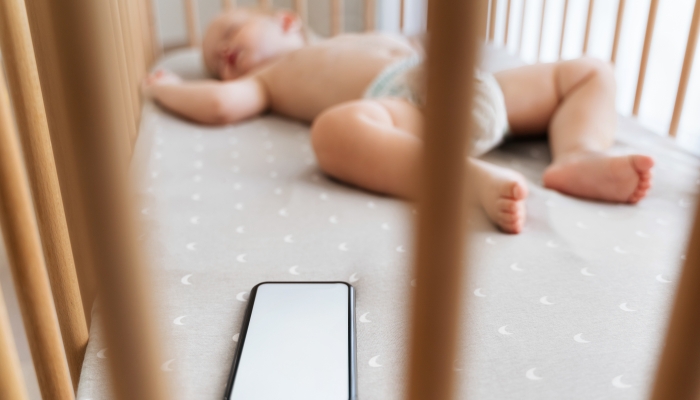 Product Reviews
Wondering whether white noise will help your little one sleep better? Here's our guide to the best baby sound machines to help your baby fall asleep soundly.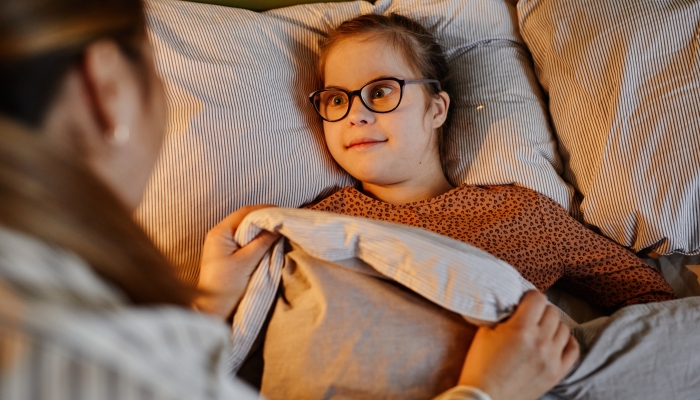 Product Reviews
Heard a lot about weighted blankets and lap pads and wondering how to choose one? Here's our guide to the ins and outs of finding the right weighted blanket.