7 Awesome & Affordable Toddler Stocking Stuffers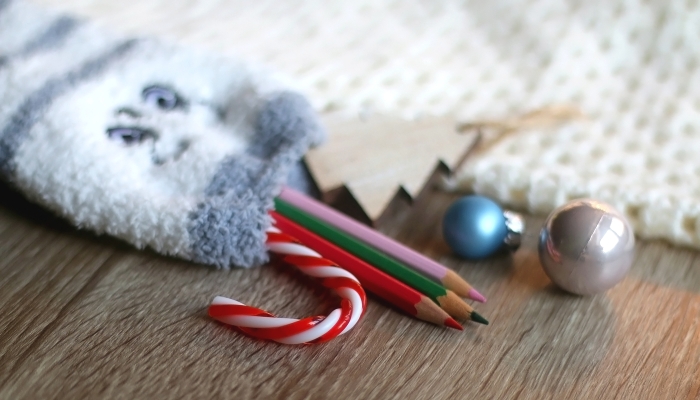 This post may contain affiliate links; please see our terms of use for details.
There are many useful items that make great stocking stuffers, such as toothbrushes, flashlights, or a pack of fun bandaids.
Parents can also include items like small packs of fruit snacks, animal crackers, or cookies.
Consider including items like finger crayons, stamps, stickers, or coloring books.
My kids love Christmas. All of the decorations, Christmas treats, and presents fill their hearts with joy. But there's one Christmas tradition they especially love.
On Christmas morning, before we eat breakfast, each child gets to open a stocking filled with small items. I think they might even love these gifts more than their actual presents.
I have a blast shopping for stocking stuffers for each of my children. This is especially true when it comes to shopping for my toddler's stocking stuffers. There's something magical about that age at Christmas.
Over the years, I've found the best small treats and toys that invoke smiles on Christmas morning.
If you're looking for toddler stocking stuffer ideas this holiday season, you are in the right place! I've made a list of the best toddler stocking stuffers that are sure to delight your little one.
Best Choice
Best Fit
Best Features
Melissa & Doug On the Go Water Wow Books
Thomas & Friends Motorized Toy Train 
B. toys by Battat – Light Me To The Moon
Best Choice
Melissa & Doug On the Go Water Wow Books
Best Fit
Thomas & Friends Motorized Toy Train 
Best Features
B. toys by Battat – Light Me To The Moon
Our Choice: Melissa & Doug On the Go Water Wow Books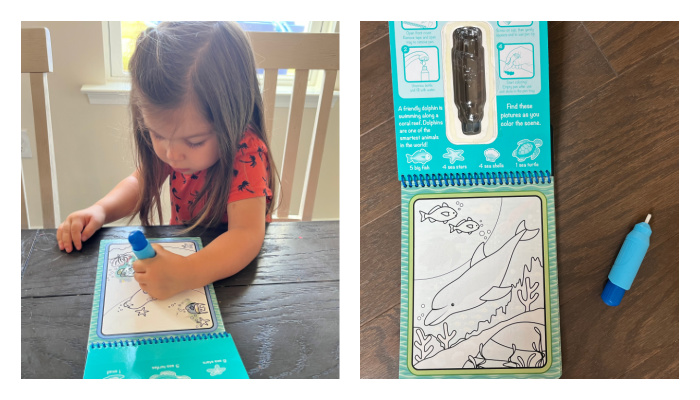 Melissa & Doug On the Go Water Wow Books
SAFARI-THEMED ACTIVITY BOOK: The Melissa & Doug On the Go Water Wow! Safari Reusable Water-Reveal Activity Pad features reusable pages that come to life when wet.
4 REUSABLE WHITE PAGES: Our safari coloring book with water pen for kids feature 4 reusable white pages that include simple line drawings when they are dry, then are filled with color when wet.
CHUNKY-SIZED PEN: This Melissa & Doug safari activity book comes with a chunky-sized water pen that allows easy filling and is designed for smaller hands to easily grasp. The compact, spiral-bound format is great for travel.
GREAT GIFT FOR AGES 3 TO 7: This activity pad is a delightful and educational gift for kids ages 3 to 7 years. Add a Melissa & Doug Reusable Sticker Pad to round out the hands-on and screen-free play experience.
Pros

Cons

Seven themes to choose from
Easy to fill
Mess-free
Kids love painting, but it can be very messy for parents to clean. The Melissa & Doug On the Go Water Wow Books are the perfect solution for parents who don't want paint all over their table.
I picked up the "Under the Sea" version of these books for my two-year-old. She loves to paint and I thought this would be great for in the car. I'm so glad I decided to try it out.
My little one thinks the illustrations are so much fun. Each book includes four black and white illustrations that can be "painted" again and again. You'll have several themes to choose from including safari, dinosaurs, jungle, and more.
To allow your child to paint with the water brush, you simply unscrew the water reservoir and fill it with water. As your child paints, the water drips down into the bristles and is applied to the page. Each page has bright colors that appear when water is added and disappears when the page is dry.
The only drawback is that there are only four scenes in each book. I'd love to see a few more pages added for more options.
View on Amazon | View on Walmart.com | View on Target.com
Band-Aid Brand Adhesive Bandages Featuring Pinkfong Baby Shark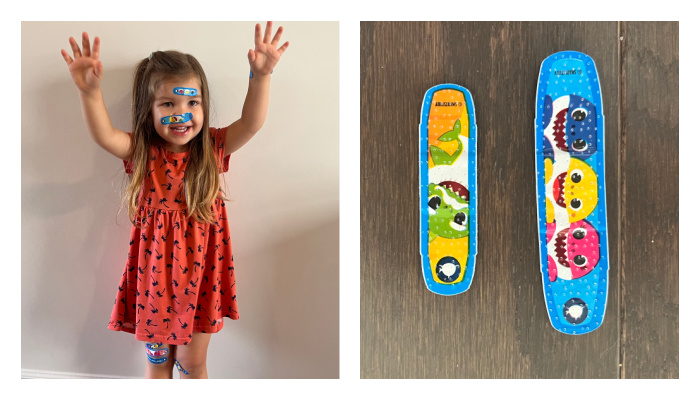 Sale
Band-Aid Brand Adhesive Bandages Featuring Pinkfong Baby Shark
20-count box of decorative Pinkfong Baby Shark Band-Aid Brand Adhesive Bandages for kids and toddlers to cover and protect minor cuts and scrapes to deliver daily wound care protection
Character bandages designed with fun Pinkfong Baby Shark graphics including animated characters from the Nickelodeon show
These children's adhesive bandages are designed to cover and protect minor cuts and scrapes with a non stick pad that does not stick to the wound
Band-Aid Brand Adhesive Bandages come in a box with an assortment of sizes and fun character designs great for minor wounds and suitable for young kids
Pros

Cons

Multiple designs in the package
Not too sticky
Cute characters

Only 20 bandaids in the box
We have to hide Band-Aids in our home, as my toddler will happily cover her entire body in them. So when it comes to filling her stocking, Band-Aids are always a hit. The Band-Aid Brand Adhesive Bandages Featuring Pinkfong Baby Shark make a perfect gift for your little Band-Aid bandits.
The Band-Aid brand makes some of the best bandages for kids. They're not too sticky and come in fun characters. The pack I chose featured Pinkfong Baby Shark, but Band-Aid sells several others.
There are multiple bandage designs in the box and two different sizes. The larger one was perfect for my toddler's arms and legs. The smaller one ended up the perfect size for her dolls and stuffed animals while she played doctor.
The only thing I wish this pack of bandages had is more Band-Aids. There are only 20 in the box, which my toddler can go through very quickly. However, for the cute characters, it's still worth the purchase.
View on Amazon | View on Walmart.com | View on eBay.com
Thomas & Friends Motorized Toy Train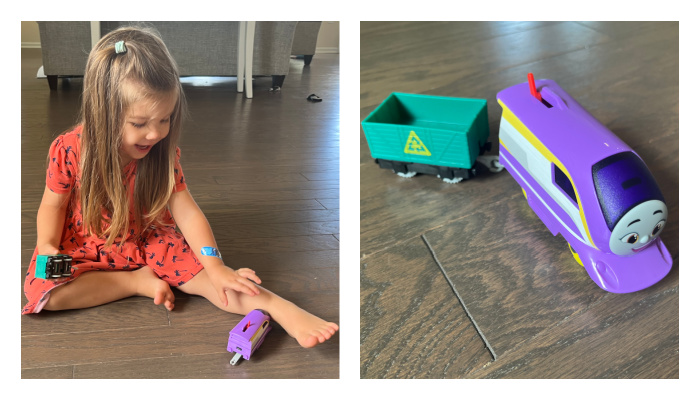 Thomas & Friends Motorized Toy Train
Create exciting adventures with this battery-powered toy train styled like Kana from the Thomas & Friends: All Engines Go series
Young conductors can flip the switch on top of the engine to send Kana and her cargo car racing around
This motorized toy train is compatible with all Thomas & Friends tracks, except wood (Track sets sold separately.)
Engine comes with plastic connectors to attach other push-along or motorized engines, vehicles, cargo cars or tenders (Each sold separately and subject to availability.)
Pros

Cons

Cute characters
Works with Thomas & Friends tracks
Attaches to other Thomas & Friends trains

May go through batteries quickly
My little one has a fascination for trains. I wanted to find a small train that would fit in a stocking and the Thomas & Friends Motorized Toy Train was the perfect choice.
We chose the Kana train, but there were several others to choose from. We took it out of the box and loaded it with 2 AAA batteries and set it free. We don't have any of the tracks yet, but my toddler didn't mind watching it race through the house.
If you have Thomas & Friends train tracks already, these trains are compatible with them. The only tracks they won't work with are wooden ones. You can also connect these to other Thomas & Friends trains.
One downside of this adorable train is the need for batteries. With frequent use, you'll go through a lot of batteries. You'll also need to watch the wheels so they don't pick up long hairs on the floor and get stuck.
View on Amazon | View on Walmart.com | View on Sears.com
BUNMO Pop Tubes Large 4pk
Sale
BUNMO Pop Tubes Large 4pk
[Imaginative Creative Play] Pop, Crinkle, Pull, Stretch! Stimulate your child's imagination and explore endless creative ways to play with our Pop Tubes! Create shapes, letters, and make up games for hours of entertainment. Our Pop Tubes stretch over 2 feet and can connect for even more fun. Marble races, hoola hoops, jump ropes – the list of ways to play has no end!
[Endless Fun for the Whole Family] We understand that nothing is more important than family, so we wanted to create a sensory toy that is designed for toddlers but loved by the whole family. Parents and kids can play along together for hours of fun! Our Pop Tubes are guaranteed to be a favorite toy in your home.
[Sensory & Learning] Pop Tubes make learning fun – the way it should be! These sensory toys provide tactile and auditory stimulation, as well as encourage the development of fine motor skills, bilateral coordination, and cause and effect STEM learning. The vibrant colors, smooth ridges, and satisfying crinkly noise stimulate your senses for super sensory fun!
[Why You'll Love Them] These wildly fun, addictive, durable, versatile, colorful, third-party tested Pop Tubes are the perfect fidget toys for kids! These super sensory toys provide hours of endless entertainment – no wonder kids love them!
Pros

Cons

Bright colors
Extra-long design
Fun sounds
If your toddler hasn't discovered sensory tubes, they're in for a treat. The BUNMO Pop Tubes Large 4pk is a great stocking stuffer for little hands.
My toddler loves sensory tubes because they make an interesting sound when you open and close them. They are just challenging enough to work fine motor skills, but not too hard for a young toddler to play with by themselves.
This pack comes with four tubes, which you can put in one stocking or divide among the stockings of both big kids and young toddlers. The colors are bright and fun and the plastic is durable. Each tube stretches over two feet.
What I love about these tubes is that they can also be used for forming shapes and letters. The extra-long design allows you to use them for more than just a fun sound.
Parents will want to know that this is not the best toy for the car. This stocking stuffer can be very loud and best used at home or outside.
View on Amazon | View on Walmart.com | View on eBay.com
Munchkin Wind Up Swimming Penguin Baby and Toddler Bath Toy
Pros

Cons

Cute animal
Bright colors
Swims in the water

Will need a parent to help wind up
One of our favorite bath toys is the Munchkin® Wind Up Swimming Penguin Baby and Toddler Bath Toy. It just so happens to be the perfect size for a stocking stuffer too.
My toddler loves to watch this little penguin swim around in the bathtub. This cute character comes in your choice of pink or blue. The colors are bright and the plastic is durable.
When your toddler is done in the tub, be sure to drain the water out so it doesn't rust. It's fairly easy to do and has kept ours from molding as well.
To make the penguin move you'll need to wind it up for your child. I found that the wind-up is a little too hard for young toddlers to do by themselves. However, it's a stocking stuffer that brings parents and toddlers together for bathtime fun.
View on Amazon | View on Walmart.com | View on eBay.com
B. toys by Battat – Light Me To The Moon
B. toys by Battat – Light Me To The Moon
Slide a reel in and discover the happy visitors from another galaxy
Slide another reel and discover the cool planets from our solar system
Easy-to-grip handle with a storage space that holds the reels
A user-friendly flashlight that makes everything cosmic and bright
Pros

Cons

Projector and flashlight
Two space-themed disks
Buttons are easy to press

Toddlers may need help adjusting the focus
In our home, flashlights are a hot commodity. All of my children love playing with flashlights, especially my toddler. That's why I picked the B. toys by Battat – Light Me To The Moon flashlight as a top pick for a toddler stocking stuffer.
This perfect stocking stuffer is not only a flashlight but a projector as well. Included in this set are two slides that your child can insert into the flashlight. The light passes through the slides and projects them on the walls or ceiling.
The first slide features planets and their names. The second set features happy outer space creatures. Both sets are colorful and bright.
The buttons that change the slide and eject the disk are easy enough for a young toddler to press. Parents will need to know that there's a dial at the top that allows you to adjust the focus. Toddlers may need help with this feature so the images aren't blurry.
View on Amazon | View on Walmart.com | View on Target.com
Super Z Outlet Liquid Motion Bubbler
Sale
Super Z Outlet Liquid Motion Bubbler
The descending bubbles have a soothing and mesmerizing effect that will keep kids entertained for hours. Gravity will guide the colored droplets travel down at slow motion pace. These sensory toys can help improve visual tracking skills.
Its slow and rhythmic drops have a very appeasing effect and actually help kids with sensory or hyperactivity issues. Makes perfect autism sensory toys to sooth and remain focused.
Endless hours of calming entertainment. Great as therapy toys and even stress relief toys. Never runs out of energy. Just flip over and start again.
This liquid timer makes the perfect fidget toys, office desk toys and even as classroom rewards. Like a stress ball used for hands, these are perfect as adhd toys for gentle visual stimulation. This adhd timer adipose stress toy has two bright colored drops that rain down slowly when flipped, almost like a lava lamp or hourglass sand timer, making them fun children activities kids toys.
Pros

Cons

Two colors inside the bottle
Durable plastic
Calming activity

Could be better if it lit up
Do you remember lava lamps from your childhood? The Super Z Outlet Liquid Motion Bubbler is like a toddler-safe lava lamp.
These sensory stocking stuffers will help your child relax and stimulate their visual senses. Each liquid motion bubbler contains two colors that cascade down the bottle without mixing. Even my big kids are quite amazed by this feature and can't figure out how the colors don't mix.
My toddler loves watching the color drops float down and bounce on the bottom level. She can easily flip the bottle and start it again, so this is a toy that gets used for quite a while. I let her use it at bedtime when she's restless or while the older kids are doing schoolwork.
These liquid motion bubblers are made with durable plastic. Parents won't have to worry about them breaking and making a mess.
Though this stocking stuffer is very simple, it remains a favorite in our house. The only way these could be better is if they included lights to make them more exciting in the dark.
View on Amazon | View on Walmart.com | View on eBay.com
Recommended Accessories
A Christmas stocking brings so much joy to the holiday season. Here are a few other Christmas accessories we treasure in our home:
What Can You Put in a Toddler's Stocking?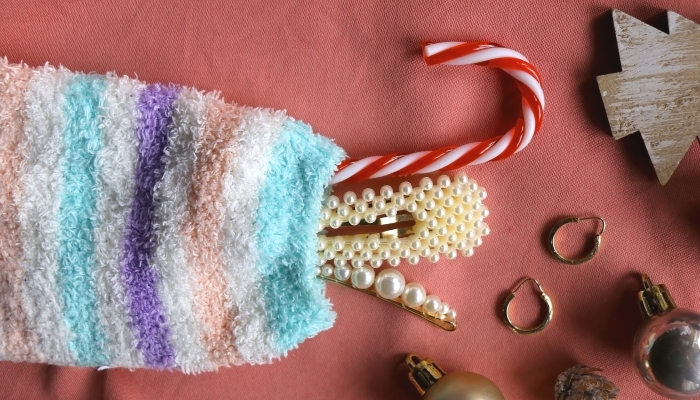 Toddlers are delighted by the small things. There's no need to go overboard when it comes to toddler stocking stuffers. Tiny treats and everyday household items are often perfect stocking stuffers.
Here are some categories of toddler stocking stuffer ideas to get you thinking:
Useful Items
There are so many useful items that make great stocking stuffers. Think about things like a new toothbrush, flashlight, or a pack of bandaids. When toddlers get their very own of something mom or dad has, they're thrilled!
Treats
There are plenty of great ideas for tasty stocking stuffers for toddlers. You can include items like small packs of fruit snacks, animal crackers, or cookies. I've even put tiny juice boxes in my toddler's stocking before and she loved them.
Arts and Crafts
Toddlers love to create. Consider including items like finger crayons, stamps, stickers, or coloring books. These also make great car activities for toddlers in case you'll be traveling to other houses on Christmas day.
Sensory Toys
Sensory toys for toddlers have become quite popular recently. Items like spinners, fidget tubes, play-doh, or calm-down bottles are the perfect size for stockings. You can also add light-up sensory toys for more fun.
Educational Toys
Who says stockings can't include learning tools? Mini educational toddler stocking stuffers like cause and effect toys, flashcards, alphabet magnets, and mini Christmas books for toddlers are easy to fit into your child's stockings. These are all fun activities that help prepare your child for preschool.
Items to Wear
Do you have a toddler that loves to dress up? Items like hair accessories, fun socks, or animal masks are perfect choices. You can also add in a pack of character underwear if your toddler is nearing potty training age.
Bath Toys
What toddler doesn't love having fun in the tub? Bath toys that wind up and swim are always a hit. My toddlers have always loved bath paint and alphabet letters for the tub walls as well.
How to Choose the Best Stocking Stuffer for Your Toddler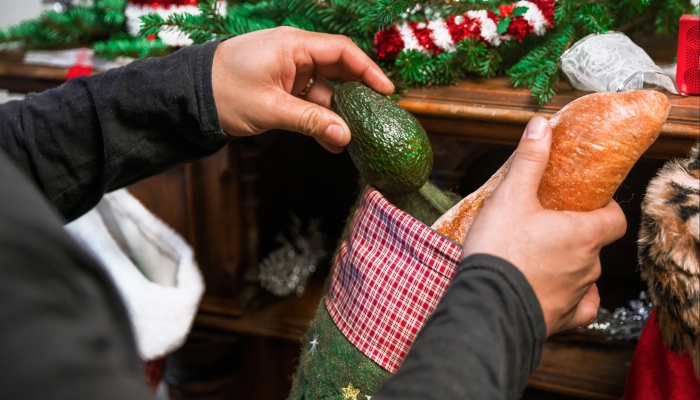 Over the years, I've filled stockings dozens of times. There were years when I bought way too many things. There were other years when our budget was tight and I found simple, small items that were a big hit.
Through those experiences, I've come up with a formula that works every time. Following this formula keeps me from overspending or buying things that don't get used. Here's how to choose the best stocking stuffers for your toddler:
Determine Your Budget
Start by determining your budget. This doesn't need to be large. I've had years where I went to the dollar store and filled my kids' stockings completely from there for $10 apiece. Whatever your budget is, stick to it so you don't overdo it.
Identify Your Toddler's Needs
This is my favorite way to fill my kids' stockings. I identify each child's needs and look for those items in fun designs to add to the stockings. This might include a new pack of underwear, a character toothbrush, or bright-colored hair ties.
Select Some Fun Items
Here's where you can easily spend a fortune. I recommend finding just a few affordable toys to add to the stocking. Items like matchbox cars, plastic animals, or any of the items listed in my favorite picks are good options.
Add Consumables
The final item I add are consumable items which include anything that will get used and thrown away. Treats, food items, bandaids, etc. would all fall under this category. This helps keep the clutter of little toys down in my house.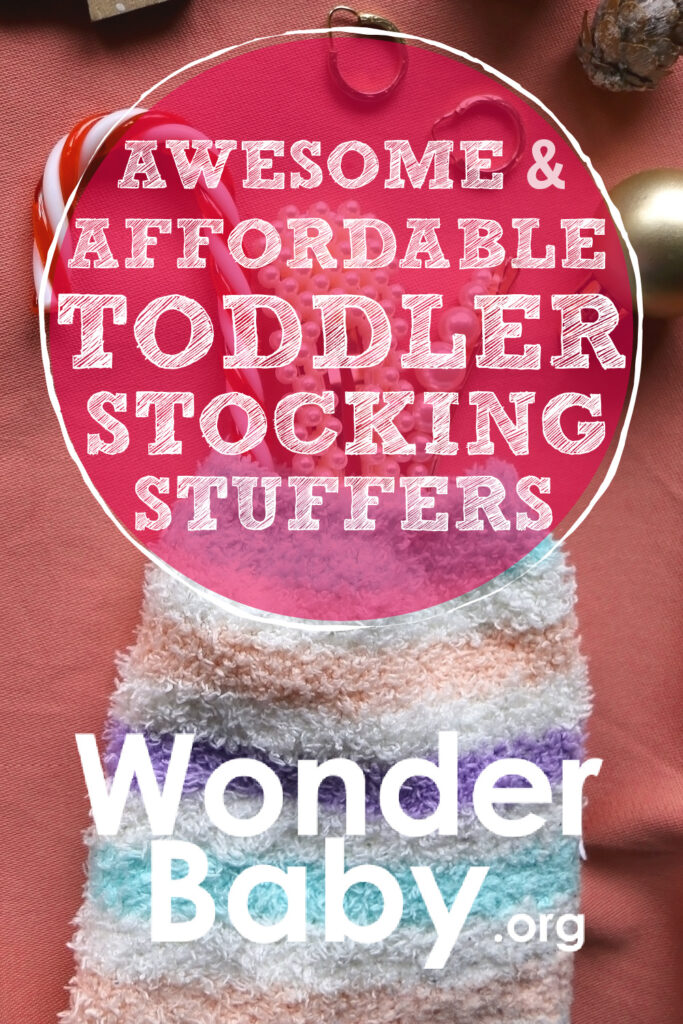 Related Posts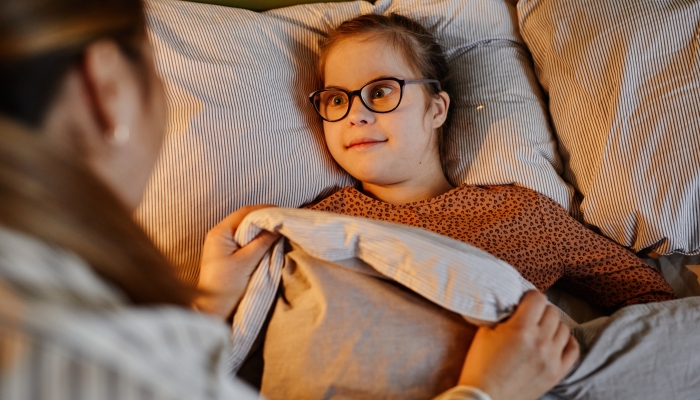 Product Reviews
Heard a lot about weighted blankets and lap pads and wondering how to choose one? Here's our guide to the ins and outs of finding the right weighted blanket.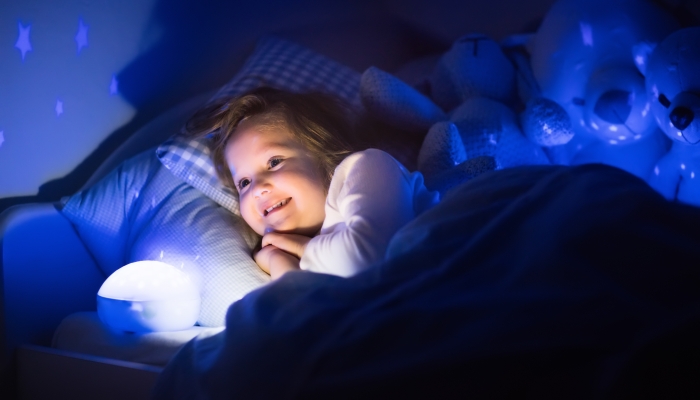 Product Reviews
Looking for the right night light to help your little one ease into bedtime? Check out our guide for everything you need to know about toddler night lights.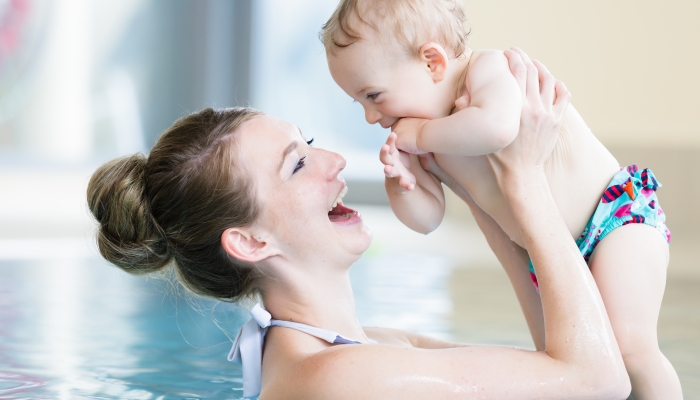 Potty Training, Product Reviews
The best swim diapers are comfortable and help prevent your baby from having an accident in the pool or ocean. Find our favorites in this round-up!