7 Best Toddler Toys for Teaching Cause & Effect of 2023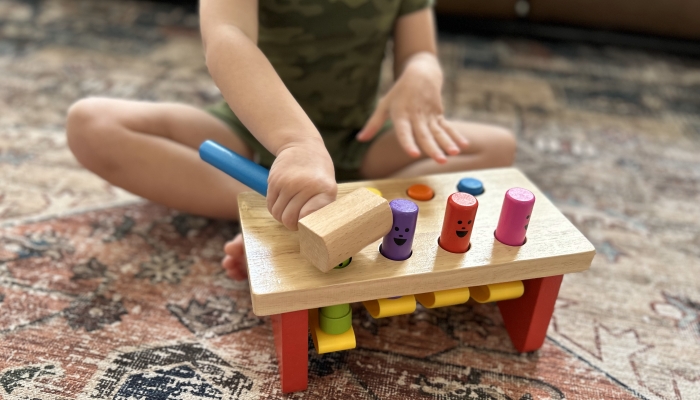 This post may contain affiliate links; please see our terms of use for details.
Cause and effect toys show kids that their actions have reactions.
There are several positive cognitive impacts these toys can provide.
Babies can recognize cause and effect way earlier than most think.
Keeping too many toys on hand can be overstimulating for kids.
Their ice cream melts in the sun. A ball they pushed rolls down the driveway. The light turns on when they flip the switch.
Toddlers learn cause and effect throughout their day, but that's not the only way to learn it. Toys can be a great learning tool for this concept in particular, and a fun one at that!
We've found toys that are the best for teaching cause and effect and explore the benefits of these toys beyond simple "cognitive development." Look no further for the 7 best cause-and-effect toys for toddlers in 2023.
Best Choice
Best Tactile Toy
Best Montessori Toy
Fisher-Price Laugh & Learn Smart Piggy Bank
Fat Brain Spin Again Stacking To
Melissa & Doug Deluxe Pounding Bench
Best Choice
Fisher-Price Laugh & Learn Smart Piggy Bank
Best Tactile Toy
Fat Brain Spin Again Stacking To
Best Montessori Toy
Melissa & Doug Deluxe Pounding Bench
Our Choice: Fisher-Price Laugh & Learn Smart Piggy Bank
Fisher-Price Laugh & Learn Smart Piggy Bank
Interactive toy piggy bank with 40+ songs, sounds and learning phrases
2 Smart Stages levels teach numbers and counting, colors, and Spanish words
Drop the coins into piggy's back or press the nose for fun songs, sounds and phrases
Includes 10 colorful coins with numbers or animals on each side for put-and-take play
Pros

Cons

Good for 6- to 36-month-olds
2 smart stages
40+ songs and sounds
Teaches numbers and counting
Utilizes Spanish words
Strengthens fine motor skills

Older kids may get bored
Songs aren't as described
The Fisher-Price Laugh & Learn Smart Piggy Bank is the culmination of everything a cause and effect toy needs. With two learning stages, it plays age-appropriate songs and sounds as they click buttons. Dropping the "coins" into the top allows your child to see the cause and effect as they fall into the piggy bank and out the side.
While it's a solid toy to demonstrate the concept, some parents may feel it won't work well for older babies despite its claim to be suitable for children 6 to 36 months old. The songs are also repetitive, and the piggy bank doesn't offer much variety in sounds.
View on Amazon | View on Walmart.com | View on Sears.com
Best Montessori Toy: Melissa & Doug Deluxe Pounding Bench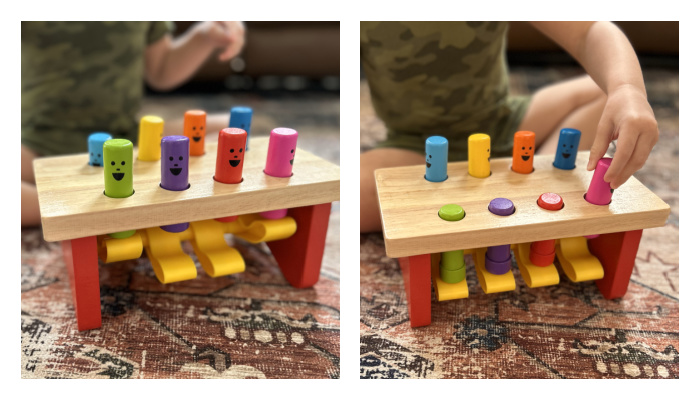 Sale
Melissa & Doug Deluxe Pounding Bench
CLASSIC POUNDING TOY: The Deluxe Pounding Bench Wooden Toy with Mallet is a classic pounding toy with a design twist. As the colorful, non-removable pegs on the bench go up and down, they play peekaboo, taking turns showing their friendly smiles.
HELPS DEVELOP FINE MOTOR SKILLS: Our pounding bench is an exceptional learning toy that helps children practice fine motor skills. The action of the pegs helps children name the colors and provides an effective, hands-on, screen-free play option.
DURABLE WOODEN CONSTRUCTION: This wooden toy set with mallet is made from high-quality materials. The built-in pegs are non-removable, and each component is made from solid wood – for superior strength and longevity.
GREAT GIFT FOR 2 TO 4 YEARS: The Melissa & Doug Deluxe Pounding Bench Wooden Toy makes a great gift for kids ages 2 to 4 years. Add the Melissa & Doug Wooden Latches Board to round out the developmental play and learning experience.
Pros

Cons

Good for ages 2 to 4 years
Non-removable pegs
Solid wood construction
Pop-up, peek-a-boo play
Develops hand-eye coordination

Paint chips off the pegs
Not the most durable
A solid wood construction, that of Montessori baby toys, the Melissa & Doug Deluxe Pounding Bench is one of those pop-up toys that never gets old! Personally, I love the non-removable pegs; I only have to keep track of the bench and hammer, not a ton of pieces! It's great for developing hand-eye coordination, too; I can see my son really concentrating on hitting it.
Still, it has a few downfalls. Some parents have reported the paint chipping off the pegs, also stating it's not the most durable toy. While I haven't had those experiences, I'd take them with a grain of salt. After all, it's a toy your child is literally hammering. I expect it to see some chipping and overall wear and tear.
View on Amazon | View on Walmart.com | View on Sears.com
Best Pop-Up Toy: Battat Pop-Up Pals Baby Toy
Sale
Battat Pop-Up Pals Baby Toy
Pop-Up Toy: Watch a friendly animal pop up when you press a button!
Fun Buttons: Each of the buttons are different—turn, press, flip, and slide them to see which animal pops out!
Educational Benefits: Learn about the concept of cause-and-effect, discover different animals, and explore colors and shapes!
Easily Transportable: This colorful toy comes with a convenient handle, so you can take the fun with you anywhere!
Pros

Cons

For kids 18+ months
Animal and shape recognition
Practice twisting, pushing, sliding
Easy to carry handle
Designed for tiny hands

Animals can get jammed
Pop up can be loud
An engaging toy designed for those tiny hands, the Battat Pop-Up Pals Baby Toy is without doubt a fan favorite. Allowing your little one to practice twisting, pushing, and sliding, they'll master new movements. With fun animal pop-ups and numerous colors and shapes, they'll be learning so much more than cause and effect.
Unfortunately, its functionality isn't flawless. Many parents complain that the animals tend to get jammed on a regular basis, only being opened by way of prying. You may also find that it's really loud when the animals do pop up (though a piece of tape over the speaker can help reduce the noise level).
View on Amazon | View on Walmart.com | View on Sears.com
Best Visual Tracking Toy: Top Bright Car Ramp
Top Bright Car Ramp
UNIQUE DESIGN: Our car ramp toy for 1 2 year old boy and girl is specially designed with parking lots, 3 car garages, a gas station and a repair shop, simulating real-life traffic situation. Toy cars can set off from parking lots at the same time and then slides down the rainbow race track for toddlers smoothly, improving toddlers' visuals tracking ability
CHILD SAFE: The race track for toddlers 1-3 is made of high quality material, BPA Free and stained with bright non-toxic water-based paint. Fully tested to the highest U.S. ASTM F 963 toy safety standards, the vehicles have passed tensile test and small parts test. Our car ramp toy is a great choice as 1 2 year old boy gifts
PRESCHOOL LEARNING TOY: The toddler car toys for 2 year old boys help encourage the development of hand-eye coordination and attention span. What's more, the montessori toys for 2 year old also encourages toddlers to cooperate and take turns to play their own race cars on the race track, developing communication skills
GIFTS FOR TODDLERS 1-3: The wooden car ramp toy is compact, which can be easily stored on shelving or in small room. Suitable for toddler playing at home indoor or outdoor activity. Packed in a very sturdy colorful box, the cute toddler car ramp toy is a perfect choice as birthday gift for 1 2 year old boy, Christmas gift or visit gift for toddlers!
Pros

Cons

Made for ages 1 to 3 years old
Simulates real-life traffic
Made with non-toxic materials
Develops attention span
Compact and easily stored

Cars stick to track
Cars too small for young kids
Simulating real-life traffic, the Top Bright Car Ramp is one of the best cause and effect toys for developing attention span. Toddlers can watch cars race down the tiered tracks and put cars in and out of the garages and gas station. All great examples of cause and effect! The fact that it's made of non-toxic materials is just the cherry on top!
Even so, you may find that the cars often stick to the track or get stuck on different parts of the ramp. You should also be careful about the size of the cars. Small enough for the tracks, they may be a bit too small for younger babies who still like putting everything in their mouths.
View on Amazon | View on Walmart.com | View on eBay.com
Best Multifaceted Toy: VTech Learn and Spin Aquarium
VTech Learn and Spin Aquarium
Aquarium spins, lights up and plays music when water spout is pushed
Adorable ocean friends playfully swim and spin in the aquarium while the lights flash
A playful phrase, a fun sound or a short tune is played each time the plunger is pressed
Three colorful buttons introduce animals, colors, numbers and play music
Pros

Cons

For babies 9+ months
Teaches fine motor skills
Spins and lights up
Plays music and sounds
Introduces animals, colors, numbers

Repetitive songs
Smaller than expected
Some of the best baby toys are ones that combine sound, movement, and colors. The VTech Learn and Spin Aquarium does all that and more! Teaching fine motor skills along with animals, colors, and numbers it's sure to keep your little one's attention. Action equals sound toys like this are perfect for teaching cause and effect.
Despite its versatility, the songs are way too repetitive, which naturally can be frustrating for parents. The toy is also rather small and may be more suited to older children.
View on Amazon | View on Walmart.com | View on Sears.com
Best Tactile Toy: Fat Brain Spin Again Stacking Toy
Fat Brain Spin Again Stacking Toy
Set of 6 vibrant, graduated discs that spin down a corkscrew pole and stack up any way you want; discs alternate between flower and star-burst shapes, feature 2 colors each
Pull the pole from the base to watch all the discs tumble to the ground; keep on spinning and stacking again and again; flip the base to choose either wobbly or sturdy; practice sorting discs by color, shape, and size
Great for ages 1+; made of strong, coated ABS plastic; FULLY safety tested, BPA-free
Encourages hand-eye coordination, cause-and-effect learning, motor dexterity; vivid textures inspire tactile exploration, vibrant colors reinforce visual-recognition skills; practice counting the discs while stacking and spinning
Pros

Cons

For ages 1+ years old
Made of strong ABS plastic
Encourages tactile exploration
Safety tested, BPA free
Aids in counting and color recognition

Center stick detaches
Pieces large for tiny hands
A classic toy with a fun twist (literally), the Fat Brain Spin Again Stacking Toy encourages tactile exploration with its unique corkscrew design. As your child places one of the threaded discs on top they'll be able to watch it twist down the stick creating endless visual stimulation. It's all safety tested and BPA free too!
There are a couple of improvements to be made, though. Some of the pieces can be too large to handle for such tiny hands. The main complaint, though, is that the center stick detaches. This makes it useless without its base. That center stick can also quickly become a weapon for over-eager kids looking to wack things.
View on Amazon | View on Walmart.com | View on FatBrainToys.com
Best Movement Toy: ALASOU Animal Cars
Sale
ALASOU Animal Cars
【Safe Toddlers Toy Cars】:Made of sturdy Non-toxic ABS Material. Perfect size for baby's hands, smooth edge prevents from hurting hands.
【Colorful Cartoon Toy Cars】: 4 Cute animals: calf, dog, squirrel, cat. Bright colors and amazing design.
【Great Early Education Toy Set】:The toy cars set has 4 bright colors and cute cartoon characters, which will attract kids and help stimulate kid's imagination, improve color recognition and practical ability.
【Press and Go Cars】:No batterie srequired. Just press the knob and let it run!The tail wagging while the car's running, easy to play, great forkids ages 2 and up.
Pros

Cons

For ages 2+ years old
Includes 4 different cars
No batteries required
Release and go movement
Animal and color recognition

Smaller than the picture represented
Eyes come loose
A fun toy for babies and toddlers alike, the ALASOU Animal Cars make learning cause and effect easy. By simply pushing down on the top of the car, it's set into motion by its release-and-go method! This 4 pack doesn't require batteries, and it furthers education via animal and color recognition, each car with a different design.
While they're reported to be tons of fun, do be careful about the size of the toys. The cars are fairly small, and the animal eyes can come loose and fall off, creating a potential swallow hazard.
View on Amazon | View on Walmart.com | View on eBay.com
What Are Cause and Effect Toys?
As with the concept of cause and effect in the real world, the same goes for toys. Cause-and-effect toys demonstrate to kids that each of their actions causes a reaction. For example, when a child strikes a xylophone with a mallet, they'll see that their action of hitting it is what created the sound.
Maybe colorful balls pop when they push a button, or a car rolls down the ramp when they release it. If you're questioning whether or not a toy you're considering is a cause-and-effect toy, keep these examples in mind. If their action produces a sound or puts an object into motion, those are some tell-tale signs it's a cause-and-effect toy.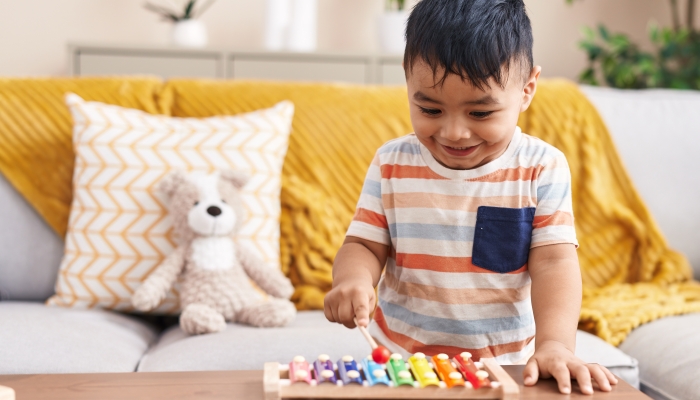 Benefits of Cause-and-Effect Toys for Toddlers
Teaching that actions cause a reaction in their surroundings is just a surface-level explanation of these toys. They actually have a much deeper impact on a child's cognitive development, which can be seen through the benefits below.
Teaches hand-eye coordination: Toys can help your toddler connect seeing something, processing it, and then turning it into movement.
Builds social skills: These kinds of toys build important social skills like sharing with friends and playing and experiencing activities together.
Aids in language development: As kids explore new toys, their vocabulary will flourish trying to articulate what they're seeing and feeling.
Promotes independence: When your toddler sees the cause and effect they'll start to realize they can do more on their own than they thought!
Fosters curiosity: Toys prompt toddlers to investigate and experience new things; This creates an exciting level of curiosity that only continues to grow.
FAQs
When is the best time to introduce cause-and-effect toys to a child?
Many parents are surprised to learn that their babies can start learning the idea of cause and effect as early as 3 months old. Even so, your baby probably won't be ready for cause-and-effect toys until they're at least a year old. Though these toys are fun and educational, they can be taxing on their little brains as they work to figure them out.
Can a toddler be overstimulated with too many toys?
While it's nice to give and receive new toys for your toddler, too many can definitely be overstimulating. It has the tendency to stifle their creativity and problem-solving, often leaving them bored. You may also find if your child has too many toys, they don't take care of them as well, and they also have trouble sharing them.
At what age should you get rid of toys?
It's not really a matter of what age to get rid of toys, so much as being sure you have age-appropriate toys. If they've grown out of their current toys, go ahead and recycle or donate them. Replace them with toys that pique their interest and challenge them. Kids usually play with toys into their early double digits, so be prepared to switch them out.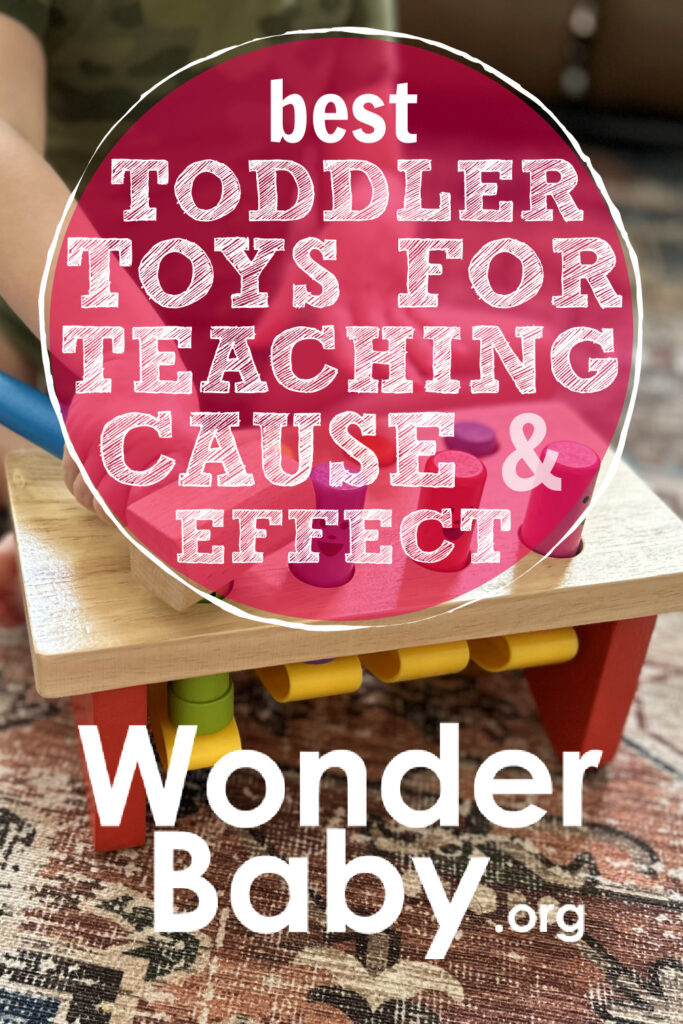 Related Posts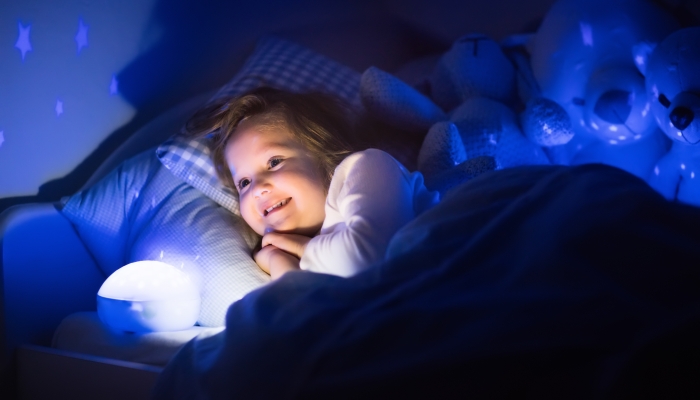 Product Reviews
Looking for the right night light to help your little one ease into bedtime? Check out our guide for everything you need to know about toddler night lights.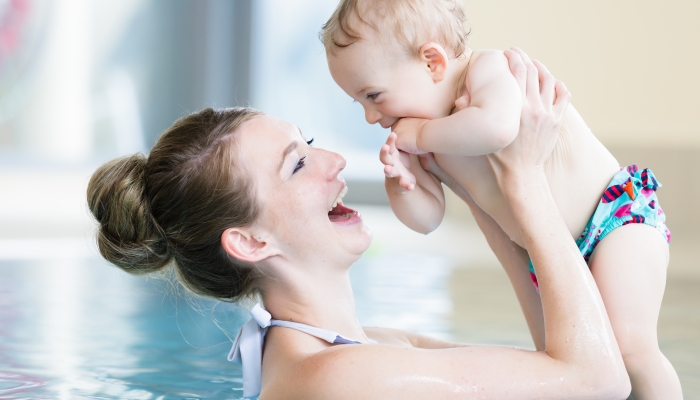 Potty Training, Product Reviews
The best swim diapers are comfortable and help prevent your baby from having an accident in the pool or ocean. Find our favorites in this round-up!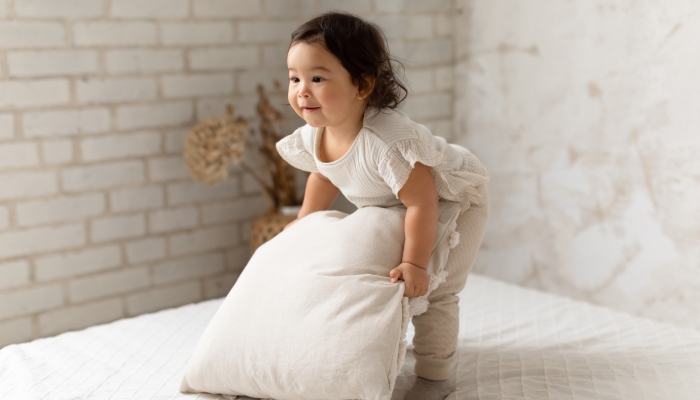 Product Reviews
If your toddler is ready to sleep safely with a pillow, you'll want to find the best baby pillow available to ensure a comfortable night's sleep.