Our 5 Favorite Pirate Toys of 2023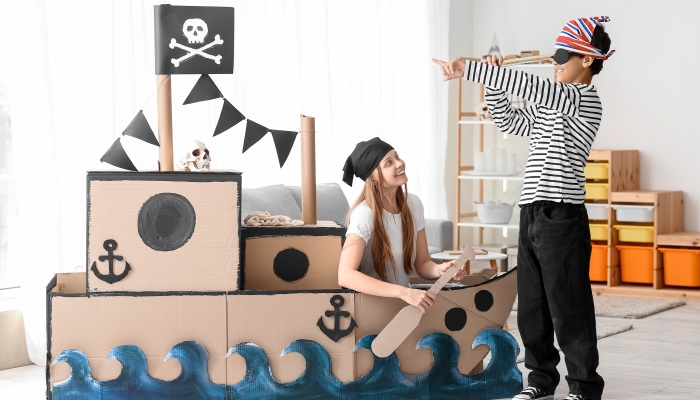 This post may contain affiliate links; please see our terms of use for details.
Pirate toys help encourage imaginative play and develop fine and gross motor skills.
Playing games with pirate toys allows kids to build a story and create a fun scene.
Boys and girls can enjoy playing games with pirate toys, regardless of their age.
My kids have always loved playing pirates and consider our backyard playset their pirate ship. I love to see their imaginations come alive as they save each other from the "bad pirates." (Aka: our dog.)
Any toy that can encourage a child's imagination or dream is exceptional, and if that means being a pirate, I'm here for it. Kids can seriously have the time of their lives acting like a pirate.
Pirate toys are great for boys and girls of all ages, allowing them to express their creativity through play. I hope this list helps you find the perfect pirate toy for your child.
Best Choice
Best for Toddlers
Best for Preschoolers
Learning Resources Pirate Treasure
Best Choice
Best for Toddlers
Best for Preschoolers
Learning Resources Pirate Treasure
Our Top Choice: Pirate Treasure Dig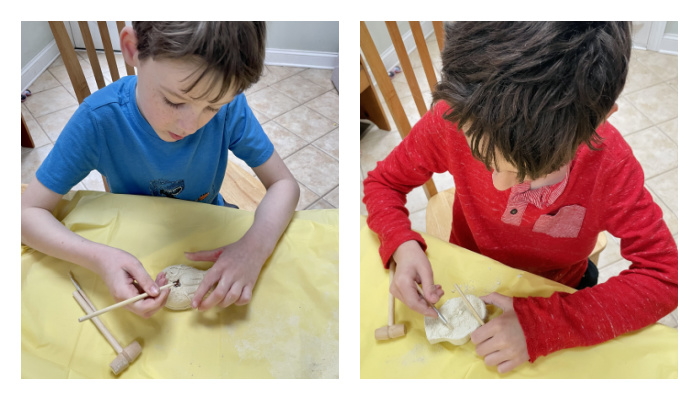 The Pirate Treasure Dig is a favorite toy in my house, and I'm thankful it comes with multiple rocks since I have three kids and fighting is bound to happen if not everyone gets to choose one. Each rock is individually wrapped, and we used one of the enclosed tools to remove it carefully.
Whenever my kids get one of these dig kits, I always lay everything on top of a shower curtain or tablecloth from the dollar store, so I can easily trash it after. You may also choose to do this dig outside, and if you do it at night, you won't even see the mess, making it the perfect toy.
This is a messy dig set because the pieces are made of clay, and things got dusty. However, my kids really enjoyed the process even though they needed a bath afterward and thought the excess dust was excellent. My 7-year-old commented that his favorite part was how messy it was, which I'm sure is what a real pirate would say!
The pirate "treasures" inside weren't huge, but my kids were more interested in the digging part anyway. My 8-year-old also built a "sculpture" out of the broken pieces of clay, which was easy to pick apart, although I didn't want to save the leftovers.
Unlike other pirate toys, the dig set will provide an extended period of entertainment. Frequently, you get a pirate toy that loses its appeal, but this one came with longevity, which was perfect for a rainy day.
You want to watch your kids, so they don't accidentally hit their hand with the tools. While I consider them safe, it will hurt if they press hard enough.
I feel the Treasure Dig set is suitable for ages 6 and up; however, with help from a grownup, toddlers would have fun with the toy, but they may not love it as much as others on the list. Just be prepared to enjoy cleaning up the remnants unless you are a person who is not a fan of a mess.
View on Amazon | View on edumantoys.com | View on HIcart.com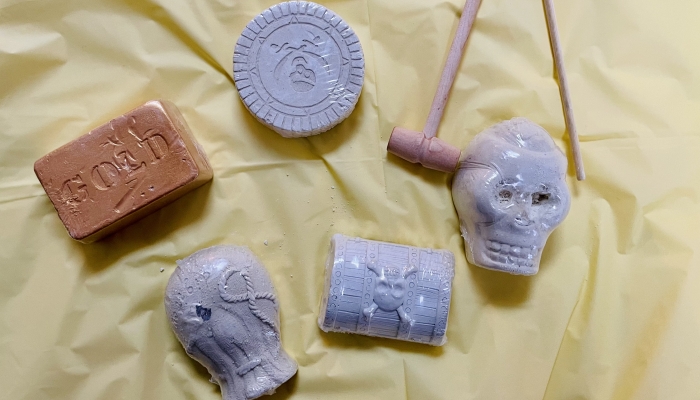 Best for Older Kids: Wooden Pirate Ship
Wooden Pirate Ship
【Fantastic Pirate Ship Model Storage Box】All spare parts could be stored inside the boat as the stern of the boat could be opened.
【Easy to Build】No screws and glue to assemble this wooden pirate boat model, and with patented tool, children could install and assemble easily and efficiently.
【Encourage Creative Play】This wooden playset toy includes 2 cute figures which help your children grow by encouraging role play and understanding pirates in history, or just allow them to have fun with this pirate playset.
【High Quality】This wooden pirate ship playset is made of good quality water painted polished wood, providing a durable set of fun accessories for the children to play with.
Pros

Cons

Works on fine motor skills
No glue or screws required
Perfect for a wide range of ages

Directions can be hard to follow
The Wooden Pirate Ship is excellent for children who love putting things together and taking them apart. The pirate ship comes with over 30 pieces for assembly, but no glue or screws are required, which relieves little hands and the person helping them.
Some parents may not appreciate the lack of directions that come with the pirate ship, with the instructions not providing much guidance for the build. You might have to help your child figure out how to assemble it solely on the pictures provided.
However, once your child puts together the pirate ship, they can let their imaginations set sail and have a fun afternoon of adventure. The pirate ship also has two little pirates and a mini cannon, with space inside the ship to hide extra pieces.
View on Amazon | View on Walmart.com
Best for Toddlers: Mickey Mouse Spyglass
Sale
Mickey Mouse Spyglass
Whether you're shopping for a kids toy as a gift, birthday present, or just because, the Disney Junior Mickey Mouse Funhouse Adventure Spyglass makes a wonderful surprise.
Includes: toy spyglass.
Pirate Adventure Pretend Play: Search for buried pirate treasure with the Disney Junior Mickey Mouse Funhouse Adventure Spyglass.
Treasure, Ahoy: This spyglass for kids is inspired by the Disney Junior Mickey Mouse Funhouse series. Kids can imagine joining Captain Mickey Mouse and his Disney pals as they sail around the Adventure Sea Islands.
Pros

Cons

No small parts
Sounds
Extendable scope
Perfect for little hands
Safe for young children
Flip-up map

Cannot look around and see through scope
Older kids may get bored
The Mickey Mouse Spyglass is a cute toy for the youngest of pirate fans because it doesn't have any small pieces and requires no assembly. The spyglass plays sounds and has a hidden flip-up map to help little pirates find the treasure, and, who knows, you might join in on the fun!
Toddlers can twist the eyepiece to reveal various images and hear phrases from Mickey Mouse. The extendable scope makes it easy for little or big hands to hold the spyglass.
While the spyglass can spark imagination in little kids, it should be noted you can't see through the scope and, instead, there is a picture of a treasure chest. It would also be nice to have a few lights in addition to the sounds, but your young pirate might not notice the difference.
View on Amazon | View on Walmart.com | View on Sears.com
Best for Preschoolers: Learning Resources Pirate Treasure
Sale
Learning Resources Pirate Treasure
UNLOCK the colorful toy surprises hidden inside each pirate treasure chest!
DISCOVER new color and shape identification skills with every turn of the keys!
BUILD sorting and matching skills with 15 pirate treasure coins!
STORE your pirate treasure inside the chests when playtime's done!
Pros

Cons

Educational
Works on fine motor skills
Helps with colors and numbers

Small pieces
Chests can break
The Learning Resources Pirate Treasure is an excellent way for preschoolers to work on fine-motor skills and also work on sorting and matching skills. If your child loves pirates but you're leaning toward something educational, the Pirate Treasure is a great find.
Not only does the game teach preschoolers their colors and numbers, but it also works on matching items by their color. In addition, their fine motor skills come into play when they need to put the coins through the slot and unlock the treasure chest to retrieve them.
Each key has a respective color and shape, so they can't open any chest, which aids in learning. There also are various "treasures" for kids to put inside that match the color.
While many ages could play with the Pirate Treasure, I think kids ages 3-5 would have the most fun. Preschoolers and toddlers, who don't put things in their mouths, will have a lot of fun with the pirate treasure.
Finally, some parents reference how the chests can break easily, so ensure your little one isn't too rough and isn't pushing down too hard.
View on Amazon | View on Walmart.com | View on eBay.com
Best for Outdoor Play: Little Tikes Pirate Ship Water Table
Little Tikes Pirate Ship Water Table
Fun pirate ship themed outdoor, water play table loaded with spinning features
Water moves with pump or by pouring water into the crows nest
Aim and squirt water from the water cannon
Anchor raises and lowers by cranking the handle
Pros

Cons

Lots of accessories included
Multiple kids can play at one time

Drain plug can be hard to use
Assembly required
The Little Tikes Pirate Ship Water Table has several spinning features, a squirting water cannon, a crankable anchor, and many more features to entice your young pirate. Water tables are great for the summer, especially if you don't have access to a pool and your child loves water play.
According to the National Association for the Education of Young Children, water play helps children with sensory exploration, scientific concepts, math, social skills, and language development.
As with any water table, it can be difficult to fully clean if you leave water in it for several days. While it's understandable some parents don't want to empty it every day, it's best to put fresh water in it at least every few days to avoid it getting dirty or attracting mosquitoes.
Some parents voiced that the drain plug is difficult to use, but it does hold in the water, which is vital. You also want to ensure your child doesn't try to climb into it because it can tip over.
View on Amazon | View on Walmart.com | View on eBay.com
Pirate Toys: Why Kids Love Playing Pirate
Pirate toys help kids explore their imagination through creative play. Imagination games are fantastic because they require little supplies and get your child thinking outside the box. 
Here's a look at why kids love playing pirate.
The Best Pirate Toys Encourage Imaginative Play
It's fascinating to watch the stages of play when it comes to kids and the way they grow. When kids play with their favorite pirate ship or pretend they are pirates, they experience free play, which is in their control.
From toddlers to big kids, imaginative play is a large part of their growing process, and it's exciting and fun for parents to watch. (It also makes for really cute photos.)
Pirate Toys are Kid-Friendly
You might think of pirates as something scary, but kids have a way of making them fun. Most pirate toys involve a pirate ship, a cannon, and, of course, a pirate.
Most children don't even need all the toy accessories to have a good time while playing pirates.
Pirates are Cool
Kids are fascinated by pirates and the adventures they experience sailing on their pirate ship on the high seas. Also, who doesn't love the idea of finding hidden treasures or having to save the good guys?
While there is some sense of violence associated with pirates, kids generally are attracted to the excitement behind them or something they read in a book.
What to Look for in a Pirate Toy
Age Appropriate
As with many toys, not every pirate toy is appropriate for every age. It's best to look at the recommended age-range and understand whether something would be appropriate for your kids.
In addition, some pirate toys may be too young for older kids, and they likely will get bored fast.
Size of Pieces
Many pirate toys have small pieces, which are not ideal for babies who still like putting everything in their mouths.
Typically you can glance at a toy and know whether it is appropriate for your kids, but it never hurts to look at the description to ensure there are no small accessories or parts.
Educational Value
While not every pirate toy will bring educational value, it doesn't hurt to find something that teaches your children as they play.
You can also turn almost any game into a learning experience when you offer a toy that teaches social skills, fine and gross motor skills, problem-solving, and imaginative play.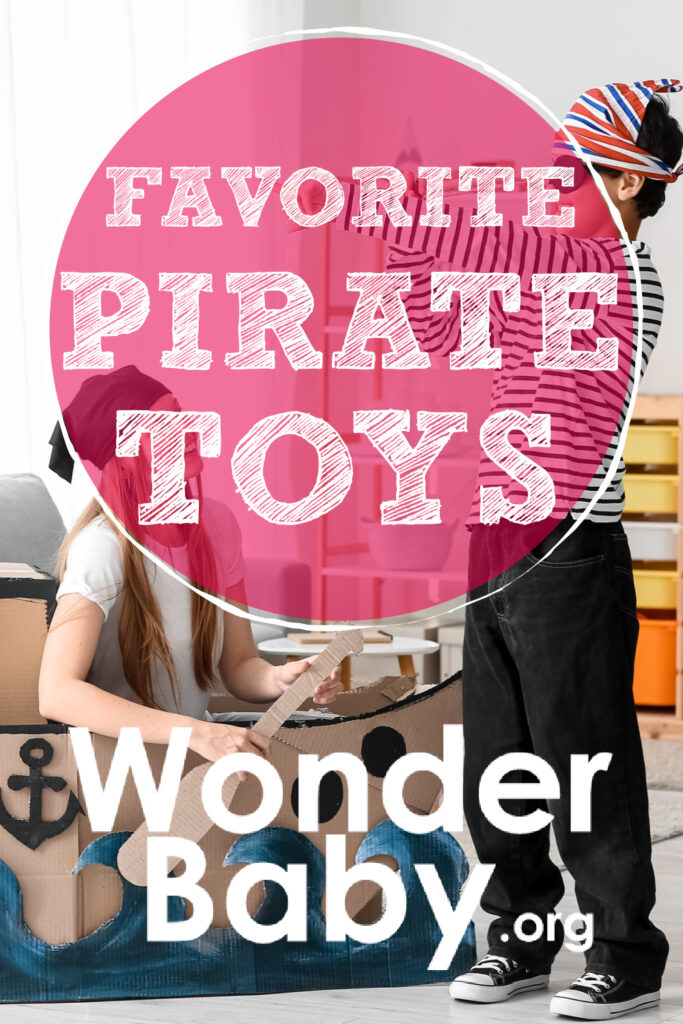 Related Posts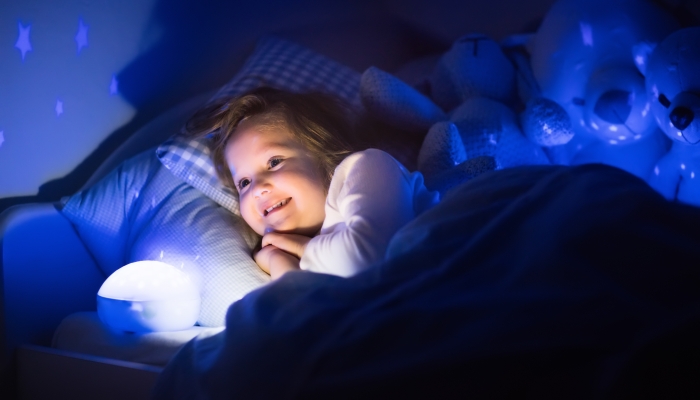 Product Reviews
Looking for the right night light to help your little one ease into bedtime? Check out our guide for everything you need to know about toddler night lights.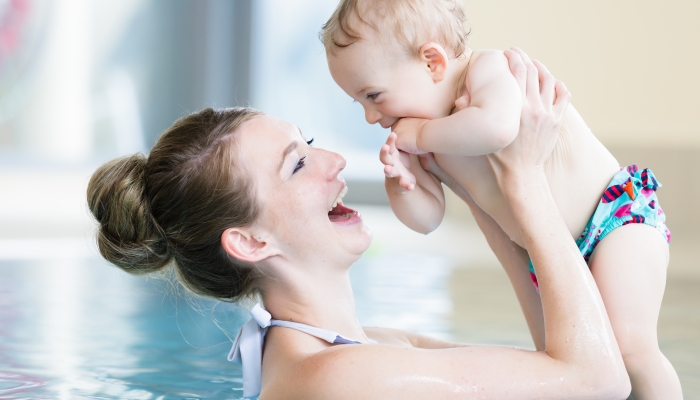 Potty Training, Product Reviews
The best swim diapers are comfortable and help prevent your baby from having an accident in the pool or ocean. Find our favorites in this round-up!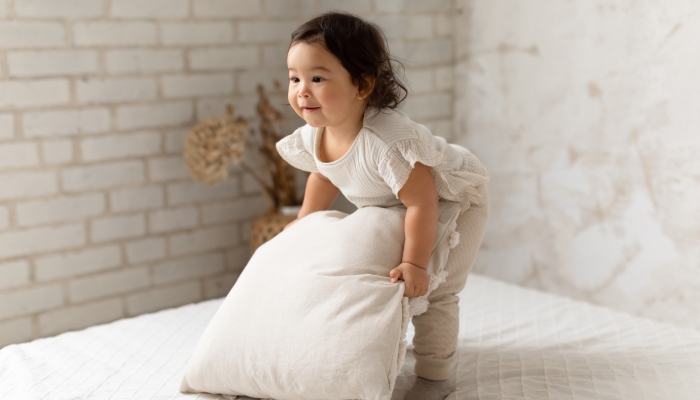 Product Reviews
If your toddler is ready to sleep safely with a pillow, you'll want to find the best baby pillow available to ensure a comfortable night's sleep.