The 7 Best C-Section Underwear Picks of 2023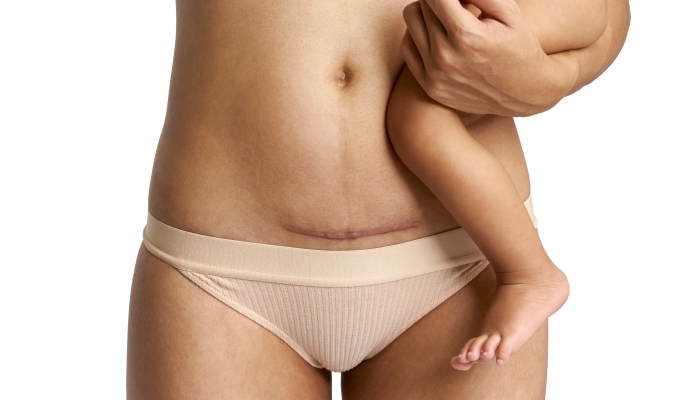 This post may contain affiliate links; please see our terms of use for details.
Recovering from a cesarean delivery takes around six to eight weeks, although your body won't fully return to normal for a year or so. During this time, you deserve a panty that's both stylish and supportive.
The best postpartum underwear is soft, comfy, and breathable.
Natural fibers, like cotton, work well for c-section underwear. Breathable fabrics help keep your incision area clean and dry, reducing the risk of infection.
High-waisted underwear is a popular choice. Offering support and security while you recover from major surgery, this extra protection allows you to enjoy this special time with your new baby.
When my youngest daughter was hours old, her big brother greeted me at the hospital with a couple of blunt observations. First, he disapproved of my choice of outfit for his newborn sister. Second, he was convinced there was still a baby left in my tummy.
If your child has similarly charmed you, let me reassure you, your body will soon start getting back to normal. While you're waiting though, please be kind to yourself.
You can't rush a c-section recovery. It takes nine months to grow a baby, and here you are; not only have you given birth to a whole new human, but you've had major surgery too.
Time is the ultimate healer. Yet, you can give it a helping hand by choosing the best postpartum underwear for your needs. You deserve c-section underwear that's soothing, supportive, and secure, leaving you free to get to know your new baby.
So let's take a look at the seven best postpartum underwear styles we've found, perfect for c-section recovery.
Best Choice
Best Value
Best Organic Disposable
Kindred Bravely High Waist Postpartum & C-Section Recovery Panties
Fruit of the Loom Eversoft Cotton Brief Underwear
Rael Disposable Underwear for Women
Best Choice
Kindred Bravely High Waist Postpartum & C-Section Recovery Panties
Best Value
Fruit of the Loom Eversoft Cotton Brief Underwear
Best Organic Disposable
Rael Disposable Underwear for Women
Best of the Best: Kindred Bravely High Waist Postpartum & C-Section Recovery Panties 5 Pack
Sale
Kindred Bravely High Waist Postpartum & C-Section Recovery Panties 5 Pack
DESIGNED FOR ULTIMATE COMFORT – Smoothing design sits above your c-section line and covers your post baby belly without digging into your skin!
PERFECT FOR C-SECTION RECOVERY – The perfect postpartum / C-section maternity underwear for post c-section comfort and recovery. Can be worn up to 12 months after delivery.
A TOUCH OF STYLE FOR POSTPARTUM RECOVERY – Designed to hold post surgery dressings or postpartum maternity pads – the perfect alternative to the hospital mesh granny panty or ugly Walmart / Target panties.
COMFORTABLE FABRIC WITH BEAUTIFUL LACE BAND – Full coverage slimming wide lace band won't bind or pinch! Ultra-soft, non-itchy, no muffin top, no bags or sags, stretchy fabric, with no bulky bands or velcro.
The top spot in our list goes to the maternity and motherhood specialists, Kindred Bravely.
Not only is this high-waist luxury panty designed especially for c-section moms, but it looks beautiful too. With a soft and wide lace waistband, these panties look more like lingerie than you might expect.
Not simply a case of style over substance though, many mothers confirm they've worn these through pregnancy as well as their postpartum recovery. Some even reported using them as period panties, once their recovery was complete.
Kindred Bravely panties can be a little pricier than other postpartum underwear styles. Yet, there are more expensive choices on this list.
Machine washable for easy care and made of soft, stretchy fabric, these have plenty of room for pads.
Fabric Type: Rayon, Spandex | Rise: High waist
View on Amazon | View on Walmart.com | View on KindredBravely.com
Best Value: Fruit of the Loom Eversoft Cotton Brief Underwear
Sale
Fruit of the Loom is one of the best underwear brands. These briefs aren't specially designed for postpartum use, but they're perfect for the job and for your wallet.
Durable, breathable, and comfortable, these full-coverage panties are 100% cotton. Expertly woven with fine yarn, they're super soft to the touch. With no tags or raised lettering, you can also be sure your sizing details and washing instructions won't disappear.
This company has a reputation for social and environmental responsibility. They're committed to harvesting sustainable cotton through transparent supply chains. Fruit of the Loom has sent zero waste to landfill since 2018 and is working to include more recycled materials in its production process.
Fabric Type: Cotton | Rise: High waist
View on Amazon | View on Walmart.com | View on Target.com
Best Choice of Colors: Wirarpa Women's High Waisted Cotton Underwear
Sale
Wirarpa Women's High Waisted Cotton Underwear
STRETCHY COVERED WAISTBAND: Soft stretchy DOUBLE-LAYER fabric covered waistband sits right at the waist. No rolling or bunching, with no compression but perfectly snuggish. The high rise underwear offers moderate tummy support and reduces the appearance of muffin top.
SOFT EASY ON EASY OFF UNDIES: Comfy full coverage brief panties, suitable for postpartum c-section and abdominal surgery recovery. Perfect for women's/female cotton panties because they're SUPER high rise with tiny bit of pressure on the tummy during that time which offers a nice soothing feeling.
DOUBLE-LAYER CROTCH: Women's underpants with wide breathable crotch for added protection, sweat wicking, breathable and healthy.Multiple color options brings lots of joy to your daily life. Suitable for home, bedtime and everyday use.
STAY IN PLACE UNDERPANTS: No ride up and stretchy enough to make you feel secure. Easy on and easy off undies, not too tight or loose but just comfortable. Nice alternative to "granny panty" type briefs. Wash well with less shrink.
Wirarpa Women's high waisted panties are perfect for postpartum and c-section recovery. Soft, stretchy, and comfortable, they come in a dizzying array of striking, vivid colors. Available in multipacks of four.
The cotton-spandex mix gives a snug feeling and helps keep skin dry. Wide crotch and leg openings make these ideal to wear with maternity pads and easy to get on and off.
Most colors are machine washable, although it's worth checking individual packs for washing instructions, as some colors are suitable for hand washing only.
Fabric Type: Cotton, Spandex | Rise: High waist
View on Amazon | View on Walmart.com | View on eBay.com
Best Seller: UMMISS Cotton High Waist Underwear for Full Coverage
UMMISS Cotton High Waist Underwear for Full Coverage
WOMENS UNDERWEAR SIZE: Small(waist:26"-27", hip:36"-37.5"); Medium(waist:29"-30", hip:39"-40.5"); Large(waist:31.5"-33", hip:41"-42.5"); X-Large(waist:34.5"-36", hip:43-44.5"); XX-Large(waist:37"-38.5", hip:45"-46.5");3X-Large(waist:38.5"-41",hip:47"-50.5");4X-Large(waist:41"-43.5",hip:50"-52.5");5X-Large(waist:43.5"-46", hip:52"-56"). No matter what your body shape, these ladies underwear are bound to provide the perfect fit.
❀ WIDE WAISTBAND❀- Soft stretchy DOUBLE-LAYER fabric covered waistband sits right at the waist. No rolling or bunching, with no compression but perfectly snuggish. The high rise underwear offers moderate tummy support and reduces the appearance of muffin top.
❀GREAT DESIGN & PERFECT FIT❀- Brief women's underwear provides a flattering look with comfortable coverage under any outfit. Our underwear are very functional and you can wear them with your skirts, as well as your flared dresses,high-waist jeans.
❀ WIDE DOUBLE-LAYER CROTCH❀- Cotton & spandex offer a smooth, soft comfortable feel with plenty of stretch.No ride up underpants with wide crotch which is easy for pads and offers added protection, breathability and health.
Hugely popular, UMMISS Cotton high waist underwear comes in a variety of colors. Choose larger packs for the best value. With a double-layer fabric waistband sitting at the waist, these offer moderate tummy support with no compression.
Postpartum moms are pleased with how well these stay up, describing them as supportive without being too tight or restrictive.
Fabric Type: 95% Cotton, 5% Spandex | Rise: High waist
View on Amazon | View on Walmart.com | View on eBay.com
Best Mom-made: Upspring C-Panty C-Section Recovery Underwear
Sale
Upspring C-Panty C-Section Recovery Underwear
MADE FOR C-SECTION MOMS: The Upspring C-Panty is the only patented c-section underwear that provides everything needed to support postpartum recovery. Designed especially for women's c-section recovery by a c-section mom and a medical team.
BUILT-IN SILICONE PANEL: C-Panty has a medical-grade silicone panel to minimize scarring and itchiness while reducing the chance of infection around the delicate incision area. The silicone is durable and washable, eliminating the need for messy scar gel or scar gel sheets.
COMFORTABLE COMPRESSION: Upspring C-Panty for c-section recovery provides targeted compression to support weakened abdominal muscles, with a high waist design for full abdominal coverage.
NO UNCOMFORTABLE BINDING: C-Panty helps reduce swelling, supports weakened muscles, and banishes that c-section bulge. No hooks, straps, or Velcro, so nothing will irritate your incision area.
The C-Panty has a high waist for full coverage and provides targeted compression to support recovering tummy muscles. A unique design, the C-Panty was developed by a three-times cesarean mom, backed by a medical team.
Featuring a patented medical-grade silicon panel that helps reduce scarring and prevent itchiness, the C-Panty can help cut the risk of infection.
You can wear the C-Panty following surgery as soon as your incision is fully closed and healed. Most moms are positive about the C-Panty, while a small number do report being unhappy with the breathability of the fabric, saying it left them feeling a little sweaty.
Fabric Type: 92% Nylon, 8% Spandex | Rise: High waist
View on Amazon | View on Walmart.com | View on Target.com
Best Budget Disposable: Amazon Basics Incontinence & Postpartum Underwear
Amazon Basics Incontinence & Postpartum Underwear
Includes 48 pairs of maximum absorbency incontinence underwear for women (3 packs of 16)
Same product, new look—This product is identical in manufacturing and formulation as the Solimo brand
Dri-Fit technology helps to control moisture to help your skin stay dry, comfortable and healthy with a Dual Odor control system that effectively helps neutralize and stop odors to keep you feeling fresh throughout the day
Cotton enhanced topsheet helps wick away moisture and feels soft against the skin, free from natural rubber latex
A popular single-use option, Amazon Basics Incontinence & Postpartum protective underwear boasts super absorbency. Ideal for wearing with or without extra pads, leaving you feeling secure even on your heaviest days.
Dri-fit technology and a dual odor control system keep your skin dry and comfortable and effectively neutralize odors.
A cute lavender color, these disposable postpartum panties are suitable for sensitive skin and feel soft against your c-section incision. There is also an overnight variation for use while sleeping after your c-section, although many moms have found these to be more than adequate for night and day use.
Fabric Type: Cotton | Rise: High waist
View on Amazon | View on eBay.com
Best Organic Disposable: Rael Disposable Underwear for Women
Sale
Rael Disposable Underwear for Women
INNOVATIVE PERIOD CARE – Inspired by a rising trend in Korea, this unique hybrid between an overnight pad and period underwear provides the ultimate period protection and comfort.
100% CERTIFIED ORGANIC COTTON TOP SHEET – Made with OCS certified, non-GMO cotton, Grown without the use of toxins, pesticides or synthetic chemicals.
MAXIMUM COVERAGE & ABSORBENCY – Built-in 4-layer core instantly absorbs odor and holds as much as 4 regular pads to keep you leak-free all night for up to 12 hours.
SECURE & COMFORTABLE FIT – Feels like regular underwear but with 360° leak prevention and curve-hugging fit for all-day comfort. Ideal for overnight support, heavy flows, teens and tweens with irregular cycles, and postpartum bleeding.
Single-use products may not be the best environmentally. To offset this, Rael's organic underwear is made with natural, sustainable ingredients. The organic cotton top sheet has been grown without the use of toxins, pesticides, or synthetic chemicals.
Described as feeling surprisingly like regular underwear, these are ideal for sensitive skin and have a 4-layer core to absorb odor and prevent leaks, even at night.
Individually wrapped, these are ideal for your diaper bag. Take these off as usual or rip at the side for easy removal.
Fabric Type: Cotton | Rise: High waist
View on Amazon | View on Walmart.com | View on Target.com
Recommended Accessories
After a cesarean delivery, your body needs time to recover. You can help that process along by taking good care of yourself.
Invest in a large water bottle to keep you hydrated.
Get plenty of rest while also taking some gentle exercise every day. Check with your doctor if you've had any complications or if your postpartum recovery isn't going as well as you'd hoped.
Walking can help boost your mood, speed up the healing process, and keep your circulation and digestion moving.
Stay stylish and comfortable with our pick of maternity pajamas. Get cute and cozy on the move with these maternity joggers, yet another popular postpartum piece from Kindred Bravely.
Avoid lifting anything heavier than your baby. A good nursing pillow can help support you and your baby during those frequent feeding sessions.
A good quality supportive nursing bra with easy openings is essential for breastfeeding, along with a supply of the best nursing pads.
Whether you gave birth by vaginal delivery or c-section, the postpartum period involves a significant amount of blood loss. Your body is returning to normal after giving birth. If you choose postpartum underwear without absorbency, you'll need a good supply of pads. Maternity pads can hold more than regular period pads and tend to be longer and wider to prevent leakage.
What Kind of Underwear Should You Wear After a C-section?
The simple answer to this is whatever makes you feel most comfortable. Let's take a look at this in more detail.
Comfort Is Key
You gave birth by cesarean delivery and now you need to take good care of your incision site. A high-waisted panty is likely to be the most comfortable. Fitting securely over the c-section incision, high waists help protect the skin and support your abdominal muscles.
Choose from:
purpose-made c-section underwear,
high-waisted styles suitable for maternity and postpartum wear, or
your usual underwear, as long as it's comfortable.
If you usually wear bikini-style briefs, these may rub against your incision, causing irritation. This can slow down the healing process.
Let Your Body Breathe
Soft, natural fibers like cotton feel comfortable against your tummy. Allowing your skin to breathe can reduce itching and irritation and help wick sweat away from your incision.
Full-coverage underwear offers gentle support for your weakened muscles. In turn, this can help reduce swelling and give a feeling of security without digging into your skin.
Some moms prefer a feeling of more targeted compression, opting for belly bands or belts. Seek medical approval before trying these options. Always check the manufacturer and your healthcare provider's instructions.
Belly Bandit
POSTPARTUM BELLY WRAP: Slim and support your belly, waist and hips post-delivery, while easing back pain and discomfort, and providing post-surgery support for C-section recovery.
TARGETED COMPRESSION: Our Power Compress Core provides stretchy compression around your belly to encourage muscles back together, making it an ideal diastasis recti belly band.
DOCTOR RECOMMENDED: This postpartum binder is now eligible for reimbursement from a number of US health insurance companies and your FSA (Flexible Spending Account) or HSA (Health Savings Account).
COMFORTABLE FIT: Suitable for use as soon after birth as you're comfortable, your postpartum belly binder should fit snuggly. Our belly belt's Velcro closure offers 9" of easy adjustability.
Choose Fit and Function
The best postpartum underwear fits well and leaves room for pads. Keep in mind that maternity pads can be a little bulkier than period pads. A wide crotch area can offer security and protection, especially during those first few weeks.
Stretchy materials like spandex make it easier to take garments on and off. Extra stretch also increases the sensation of security, supports your incision area, and holds pads securely. Look for gentle, elastic waistbands in soft material. Seamless underwear cuts down the chance of skin irritation.
Absorbent postpartum underwear means fewer or no pads. Some c-section moms love the greater coverage of disposable underwear. Others find it feels like wearing a diaper. The choice you make will depend on your personal preference.
Celebrate With Style
Maternity underwear for c-section moms is no longer restricted to boring colors and granny knickers. There's a larger choice of increasingly ornate styles.
In part, this reflects changes in the perception of c-section scars and the excess skin that can accompany them, sometimes called the c-section shelf. A sociology textbook published in 2019 found a growing trend toward celebrating c-section scars on social media. This has helped reframe them as a sign of beauty and achievement rather than something to hide, leading to even more available postpartum choices.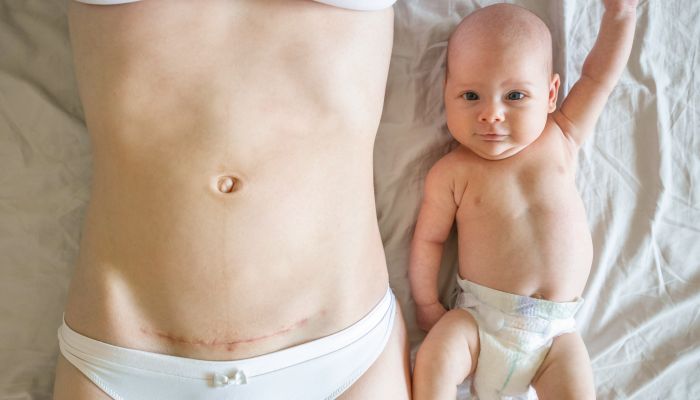 How to Pick the Best C-section Underwear
Whatever type of postpartum underwear you choose, look for pieces that make you feel supported, stylish, and special. Mood-boosting chemicals released when you feel good can help speed along your c-section recovery. Reducing c-section scar pain and preventing depression, it's all good news for you and your baby.
The following questions can help you make the right decision for you.
What is your budget?
A growing family can be expensive. If your budget is limited, it's important to consider your options carefully. Your shape will change over the next few months and some styles may accommodate these changes better than others.
Look for brands that offer multipacks, discount codes, or regular sales. You can also mix and match. Buying one or two expensive items alongside more everyday basics can give you the best of both luxury and plenty.
Are colors and patterns important to you?
If you shop around, you'll find lots of multipacks available containing different colors to match all your outfits. Or you might prefer to stick to classic colors like black and white.
It's worth remembering that the increased blood flow after birth can cause staining. Darker colors may be more practical if you're concerned about removing stains.
Do you prefer to keep it simple or spend more on special features?
Some maternity underwear comes with external pockets or an embedded silicon panel. The pockets fit a soothing ice pack, while the silicon panel helps reduce the appearance of scarring. Or if you prefer, you can always stick to classic designs.
Are reusable or disposable panties best for you?
Many c-section moms choose a mix of both reusable and disposable options, but depending on your particular circumstances, one might work better than the other. Consider:
Your washing and drying facilities
The speed of your postpartum recovery
Additional medical or health needs
Extra caring responsibilities
Another option is washable c-section panties that last for limited washes and then are thrown away. If you have strong views on the environmental impact of the different options, this may sway your decision.
Remember: There is no one 'right' choice; what matters is what works best for you.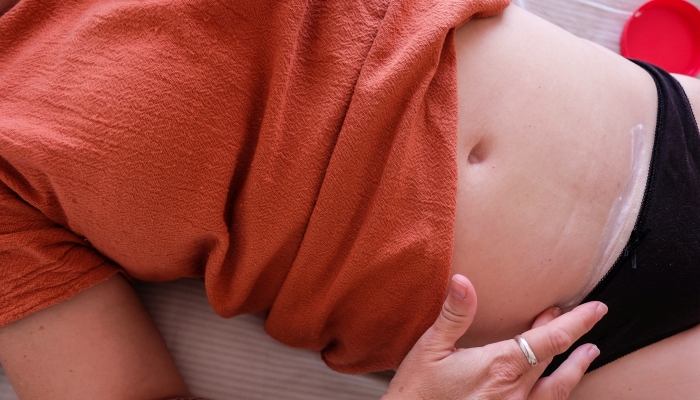 FAQs
When can you wear regular underwear after a C-section?
After a cesarean delivery, your pre-pregnancy clothes may feel too tight and restrictive, even your underwear.
High-waisted underwear tends to feel more comfortable in the first six weeks. If this is your preferred underwear style, you can start using your normal underwear whenever you feel ready.
Whether you wear specially designed postpartum underwear or not, it's important to protect the incision site to reduce swelling and promote c-section healing.
Some maternity underwear has a built-in absorbent layer that can help you feel more secure during the first few weeks with a new baby. Otherwise, you'll need to use maternity pads, as postpartum bleeding can last up to six to eight weeks.
How many pairs of C-section underwear do you need?
This will depend on the type of c-section underwear you choose and the frequency of washing you plan to do. Aim for at least two pairs of reusable pants a day with at least ten to fifteen pairs in total.
You may need to change maternity pads or disposable underwear as often as hourly in the immediate post-birth period. The flow should begin to slow down over the next day or so. Although you'll still need to change pads regularly for a few weeks at least.
Some c-section moms opt for a mix of disposable and reusable underwear.
Disposable postpartum underwear can be useful in the first couple of days, during the night, and for outings. Your choice of style may also be influenced by other factors such as cost, washing facilities, and environmental impact.
Can c-section underwear be worn in place of postpartum belly bands or belts?
Yes. C-section underwear offers gentle support for your muscles and can help reduce swelling. While most have little or no compression, it still provides a feeling of comfort and security, all without placing too much pressure on your body.
Postpartum belly bands and belts provide abdominal and posture support through targeted compression. If worn incorrectly, or for too long, these can do more harm than good.
Little research has been done on the benefits or risks of belly bands and belts, particularly in the postpartum period. If you do choose one of these options, check with your doctor to make sure it's suitable for your situation. Too much compression can cause breathing difficulties, digestive problems, and even organ damage.
How do you wash c-section underwear?
Read the manufacturer's label and follow specific washing instructions for your particular product.
Where blood has leaked through a pad, it's a good idea to rinse your panty in cold water to minimize staining.
Machine washable postpartum underwear should be washed at a low temperature, in a mesh bag to protect from rips and tears.
Avoid fabric softener, bleach, and ironing your underwear, as these can all reduce absorbency. If a panty is suitable for tumble-drying, use the lowest heat setting and air dry when possible.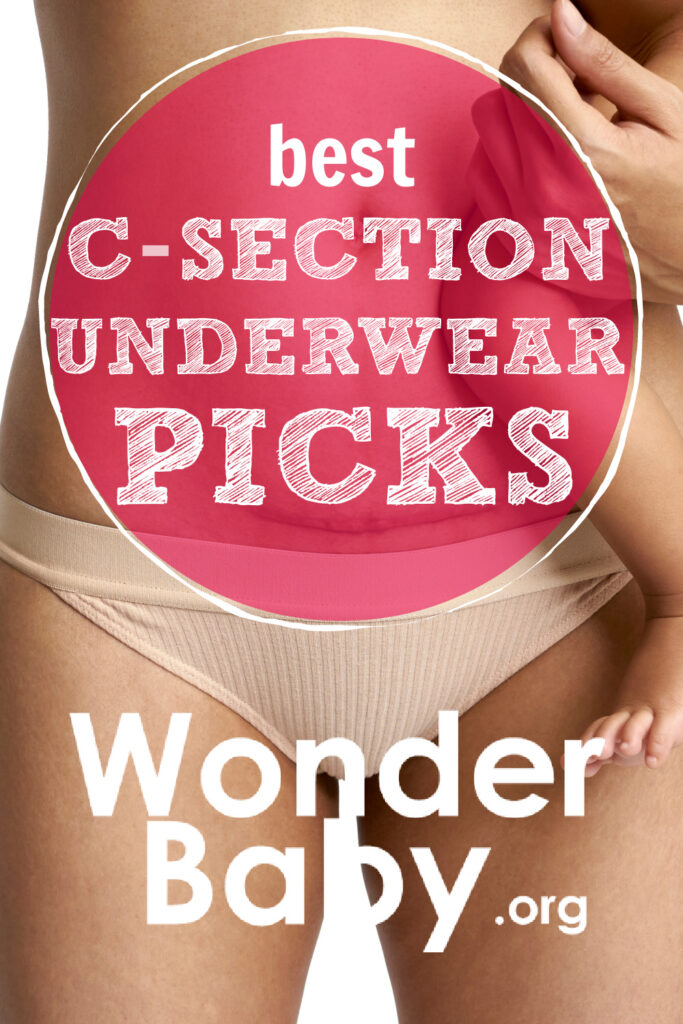 Related Posts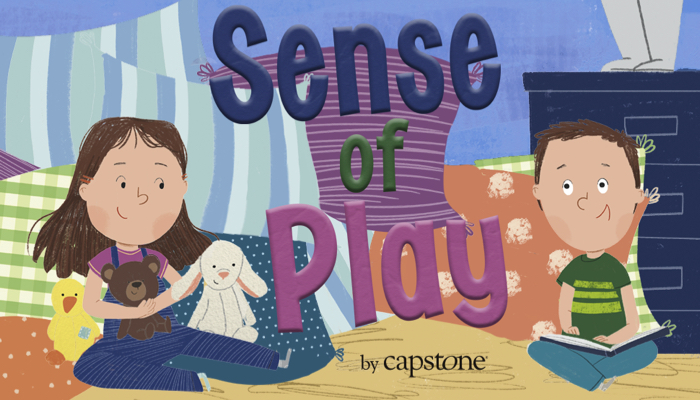 Braille and Literacy, Product Reviews, Visual Impairment
Dana Meachen Rau's book, Sense of Play, follows the adventures of Chip and Joy as they play. Chip is blind, but this doesn't get in the way of their play!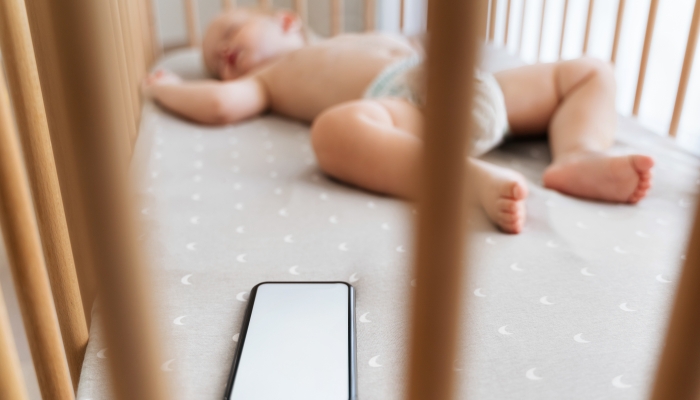 Product Reviews
Wondering whether white noise will help your little one sleep better? Here's our guide to the best baby sound machines to help your baby fall asleep soundly.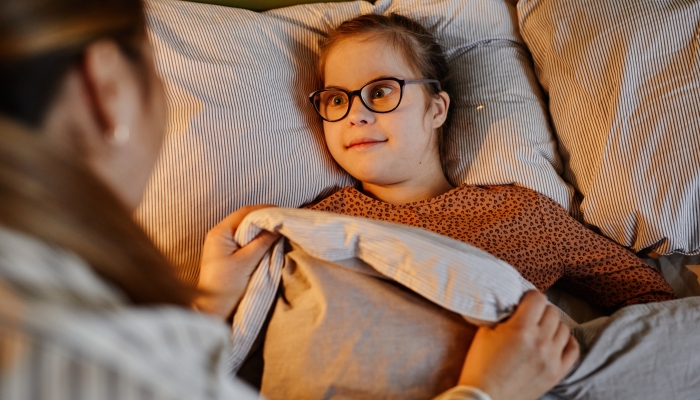 Product Reviews
Heard a lot about weighted blankets and lap pads and wondering how to choose one? Here's our guide to the ins and outs of finding the right weighted blanket.