The 5 Best Stroller Accessories of 2023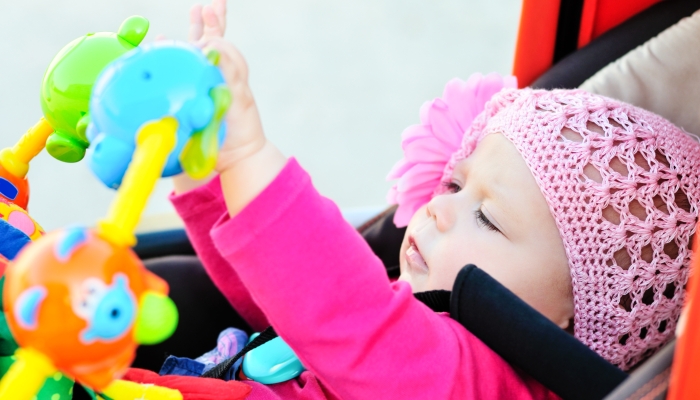 This post may contain affiliate links; please see our terms of use for details.
Stroller accessories are meant to solve problems that many stroller owners have.
A simple addition of a stroller fan, stroller hook, or additional cup holder can upgrade your stroller for little money.
Stroller covers are safe as long as they are made with breathable materials.
When our third child was born, we decided it was time to upgrade our stroller. For years we had pushed around small strollers that left us huffing and puffing as we tried to walk up hills or steer through congested areas. So we splurged and bought a double stroller that pushes like a dream.
The only thing we found lacking in this high-end stroller was accessories. It didn't come with a stroller cup holder for me, a full cover, or a zippered compartment for my personal belongings. Thankfully, I was able to add all these items by purchasing a few stroller accessories.
The best stroller accessories will make your life easier. When your stroller is missing necessities, you might feel like trading it in for a new one. However, a simple addition of a stroller fan, stroller hook, or additional cup holder can upgrade your stroller for little money.
If your stroller has left you wanting more, it's time to do some shopping. Let me help solve your stroller woes. I've gathered my favorite stroller accessories that make parenting a little easier.
The best stroller accessories of 2023 are all here to save you the time and hassle of searching.
Our Favorite
Most Comfortable
Most Entertaining
SnoozeShade Twin Deluxe Double Stroller Sun Shade
AMACOOL Battery Operated Stroller Fan
Tiny Love Meadow Days Sunny Stroll Stroller Arch
Our Favorite
SnoozeShade Twin Deluxe Double Stroller Sun Shade
Most Comfortable
AMACOOL Battery Operated Stroller Fan
Most Entertaining
Tiny Love Meadow Days Sunny Stroll Stroller Arch
Our Choice: SnoozeShade Twin Deluxe Double Stroller Sun Shade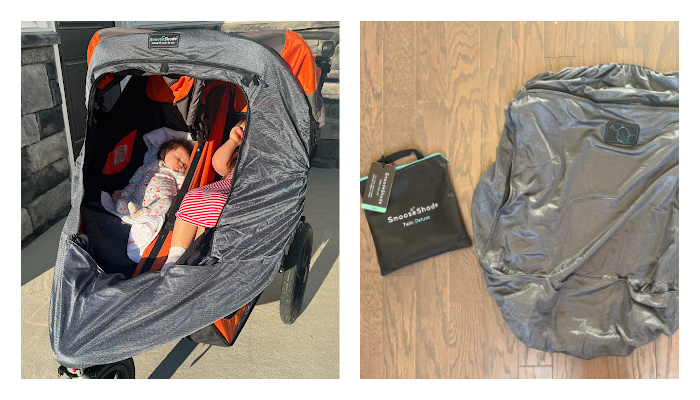 SnoozeShade Twin Deluxe Double Stroller Sun Shade
Keep your little ones shaded and safe: Our soft, stretchy double stroller sun cover is a twin baby essential that blocks 97.5% of harmful UV – one of the highest levels of sun protection on the market. Keeps the sun from getting in little eyes and protects delicate skin
Makes any time sleep time: Recommended by baby sleep consultants worldwide, our air-permeable mesh creates a calm and snooze-friendly environment so babies can nap soundly when you're out and about. Check in on your little ones without disturbing them using the sneak-a-peek zips
One size fits all: Fits all side-by-side double strollers and twin strollers with one or two hoods. Stretchy straps make it easy to fit to all double jogging strollers, double umbrella and side by side strollers. Suitable for newborns to toddlers
Compact and portable: Our double stroller sunshade is easy to put on, take off and carry around when not in use. Folds into a small bag (included) to fit easily in your purse or change bag. Machine washable at 30°
Pros

Cons

Easy to use
Sizes for all strollers
Blocks UV rays

Might get stepped on as children climb in and out
I'm always looking for ways to protect my baby from the sun and provide a cool sleeping place when we're out and about. The SnoozeShade Twin Deluxe Double Stroller Sun Shade is the perfect solution for single and double strollers.
The SnoozeShade completely covers the front of our stroller, and it fits perfectly as if it were made for our stroller. Parents can choose from multiple sizes to find the right fit for their stroller.
I was surprised at how easy it was to attach. I placed the top of the shade over the canopies and pulled it down over the front of the stroller. Then I quickly attached the straps to the bars on my stroller.
I love that I can pull down the front panel and tuck it in the pocket so it doesn't get caught under the stroller wheel. The screen panel underneath allows me to see my baby while she still gets 80% UV protection. When you unzip the screen panel, you'll want to help your older children climb out so the shade doesn't get stepped on.
Well worth the investment, this cover is sturdy and brings peace of mind that my baby is safe from the sun. With all the trips to the shore we take, this is one of the best beach stroller accessories we've added.
Use code WONDER10 at SnoozeShade for an extra 10% off!
View on Amazon | View on SnoozeShade.com
Momcozy Universal Stroller Organizer
Sale
Momcozy Universal Stroller Organizer
[Structured Stroller Organizer] Internal multi-functional partition design, with 2 insulated cup holders, plenty of pockets, easy to organize, say goodbye to messy, placing items more hierarchical.
[Large Capacity] Provides enough space for you to stash all of those must-have essentials, from cup holders, phone slots, wallet pockets, and other secure places for your most essential belongings.
[Versatile Bag] With a detachable wristlet pocket to take your most needed items with you. You can also remove the entire organizer from the stroller and wear it over your shoulder using the included straps.
[Easy to Use and Clean] Set up in minutes, easy to maintain and clean, helps prevent staining, and makes dirt residue easy to remove.
Pros

Cons

Insulated cup holders
Detachable wristlet
Can be worn on the shoulder

Doesn't fit wide strollers
Most of our favorite strollers come with basic items like a storage pouch and standard cup holder, but they aren't always big enough or the right fit for your belongings. The Momcozy Universal Stroller Organizer solves this problem.
This stroller accessory comes with multiple pouches and pockets for storage. There are even insulated cup holders to help maintain your beverage temperature. As a mom of multiple children, I love the fact that there are two insulated cup holders instead of just one.
In between the two cup holders is a small, hidden storage pocket. This would be perfect for storing diapers and wipes, extra clothes, or snacks. There's also a mesh phone holder at the front of the organizer.
Since many parents are also carrying around their wallets, keys, or cards, Momcozy included a detachable wristlet. This zippered compartment will hold your essential items and zips up for security. If you need to leave the stroller, you can unzip the wristlet travel bag and bring it with you.
To attach the organizer to the stroller handle, you can use the velcro straps or the stroller hooks. Either option will keep the organizer in place. You also have the option of carrying the entire organizer on your shoulder with the included adjustable strap.
The only downside is that this is not made to fit wide double strollers.
View on Amazon | View on Walmart.com | View on eBay.com
AMACOOL Battery Operated Stroller Fan
Sale
AMACOOL Battery Operated Stroller Fan
Design for Baby: the mini fan with a flexible tripod/Legs, versatile and easy to clip on most strollers, crib, wheelchair, carriage and etc in any position, it's a lifesaver for car seat, especially those with rear facing, your kid and you can enjoy cool and comfortable ride
360 Degree Angled and 3 Speeds: the stroller fan's head can adjust vertically and horizontally for any direction,to create the perfect cooling breeze; it comes with 3 speeds for different purpose, powerful wind yet whisper working
Rechargeable and Portable: comes with 2600mah battery, lasts 2.5-10 hours depending on winds, support USB charging via power bank laptop and any power source with USB output,a must have for you and your kids trip to Disneyland, zoo and park
Baby-Friendly: fan cover specifically designed to protect little inquisitive fingers; this fan with LED lights of 3 setting, light up the night, keep your baby feeling safe, convenient for Mom and the elder in the darkness
Pros

Cons

Rechargeable battery
3 speeds
Rotates 360 degrees

Legs might wear over time
In the hot summer months, it's important to keep your baby from overheating. The AMACOOL Battery Operated Stroller Fan is the best stroller fan for keeping your baby cool.
To attach the fan, you simply wrap the flexible tripod legs on the stroller. Many parents find it best to attach it to the sidebars or tray table. The head of the fan rotates 360 degrees to reach your baby no matter where you attach it.
This fan runs on a rechargeable battery that lasts anywhere from 2.5 to 10 hours at a time. There are three speeds to choose from. The fan also has LED lights for use at night.
A few parents noted that the legs weren't durable. Thankfully, this company offers a 12-month warranty. Should you have any issues with the fan, you can contact them for a replacement.
View on Amazon | View on Walmart.com | View on eBay.com
PBnJ baby Stroller Hooks for Hanging Diaper Bags
Sale
PBnJ baby Stroller Hooks for Hanging Diaper Bags
PATENTED FULL FOAM HANDLE: This PBnJ Clip n Go accessory is designed to protect your expensive bags and purses when you are out shopping! The patented full foam handle ensures each of your items is attached to the soft foam surface, protecting them from direct contact with the metal.
UNIVERSAL FIT: Whatever your choice of pram or stroller, this bag-carrying hook will work for you. With a large opening, this clip is perfect for strollers of all shapes and sizes, delivering a multi-purpose product that will quickly become a necessity on your trips out.
EASY-TO-USE: Simple to use and attach. This shopping bag hanger for mom and babies is easily opened with one hand and will auto close, ensuring you can attach your bags to the Clip n Go with ease.
MULTIPURPOSE HANGING CLIP: Far from being a simple stroller bag hook and diaper bag accessory, this item is ideal as an organizer for the garage or workshop at home, as well as helping you carry multiple grocery bags or attach other items to your luggage.
Pros

Cons

Durable
Foam cover on hooks
Opens and shuts easily

Might make a stroller tip if parents hang too much weight
One of my favorite accessories for my stroller is what I call my "mommy hook." The PBnJ baby Stroller Hooks for Hanging Diaper Bags are exactly what every mom needs for hauling extra bags.
For strollers with limited to no cargo space, you might wonder where to store your bags. These stroller hooks are the perfect solution. I use mine continually to hang my purse, shopping bags, or diaper bag from the side of the stroller handle.
To attach the hooks, you simply unlatch them and place them around the stroller handle. Then you can place your bags on the hook and relatch the hook. This keeps your bags secure as you roll.
The hooks are made with lightweight aluminum and are made to last. My hooks have been used for years and are still just as sturdy. I love that these also have a foam cover to keep your bags from rubbing on the metal.
Parents should know that using these hooks may cause a stroller to tip if too much weight is added. Always check your stroller before loading children to be sure the weight isn't too much.
View on Amazon | View on Walmart.com | View on eBay.com
Tiny Love Meadow Days Sunny Stroll Stroller Arch
Tiny Love Meadow Days Sunny Stroll Stroller Arch
ENGAGING ACTIVITIES: 8 different activities to promote baby development
TEACH CAUSE AND EFFECT: Baby activated propeller encourages essential cause & effect learning
INTERESTING TEXTURES: Each toy features fun and engaging textures that captivate baby. Rattling ball with crinkly texture. Care & Cleaning: Spot or Wipe Clean
NATURAL DEVELOPMENT: Easy to grasp teether promotes healthy, natural development. Rattle bee. Transparent sun prism
Pros

Cons

Doesn't require batteries
Fine motor practice
Cute animals

May move out of place with active babies
This one stroller accessory is guaranteed to make babies happy. The Tiny Love Meadow Days Sunny Stroll Stroller Arch will keep little ones entertained on long stroller walks.
The arch features toys with different textures that make sounds when touched. This is great for fine motor skill practice. Your baby will also love the cute animal faces on the toys.
Many toys like this require batteries to operate. This does not, making it a perfect toy for the car and stroller. You won't have to worry about bringing the toy inside to replace the batteries frequently.
This stroller toy attaches to most strollers with universal clips. You'll also be able to transfer the toy to the car seat, portable bassinet, and other baby carriers. I love baby accessories that serve multiple purposes.
Some parents noted that the clips weren't sturdy enough for their active baby. Some babies may kick or pull the arch out of place as they grow.
View on Amazon | View on Walmart.com | View on eBay.com
What To Look For When Buying Stroller Accessories
Stroller accessories are meant to solve problems that many stroller owners have. When shopping for baby stroller accessories, you'll want to determine your needs. Ask yourself these questions to help narrow your search:
Does my stroller provide adequate shade from the sun?
Does my stroller have enough stroller cup holders for myself and children?
Do I have enough room to store a diaper bag?
Is there a place for my phone, wallet, and keys?
Do I want toys attached for entertainment?
FAQs
How do I know if a stroller accessory will fit my stroller?
When buying stroller accessories, be sure to check the dimensions. Not all strollers have the same width. Double jogger strollers, for example, are much wider than standard strollers.
Are stroller covers safe for newborns?
Stroller covers are safe as long as they are made with breathable materials. Never cover your baby's stroller with a thick blanket, plastic, or other thick materials that would restrict airflow.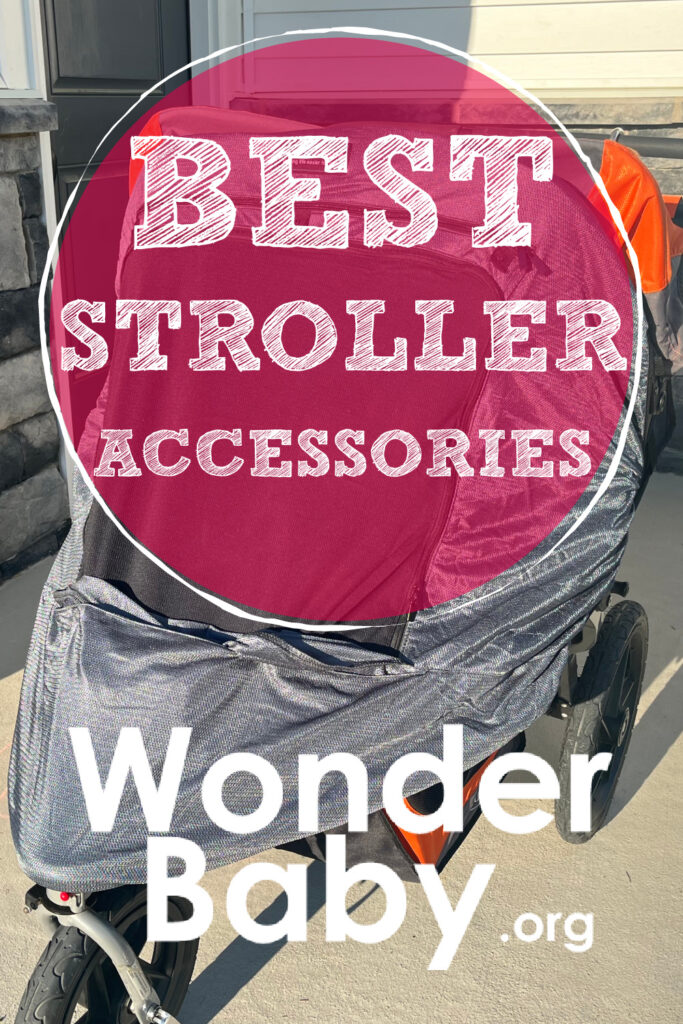 Related Posts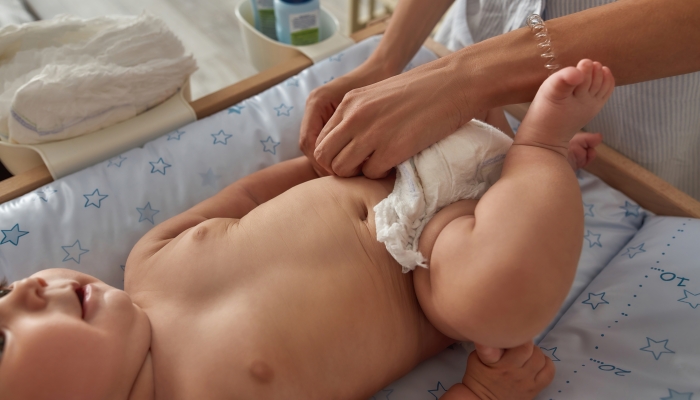 Product Reviews
Pull-ups with velcro sides make potty training easy! We've done the research and found the best ones for your little one.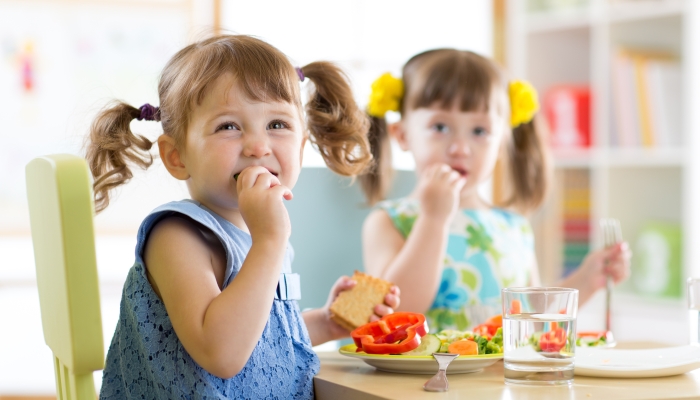 Product Reviews
There are lots of snacks you can feel good about giving your kids. Start with this solid selection of organic snacks for kids (and parents) to get you started!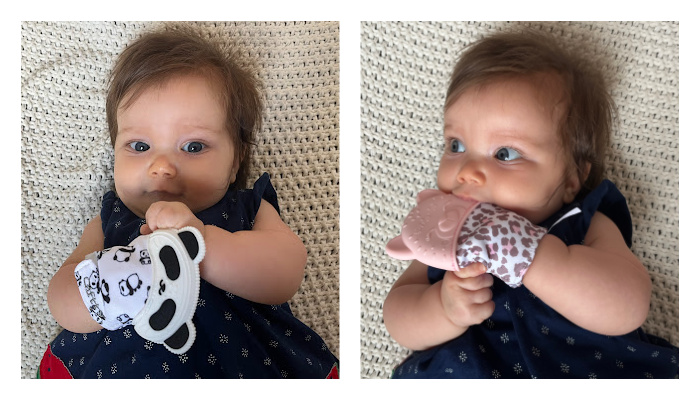 Product Reviews
Looking for the best teething mittens for your baby? Here are our top picks, which are sure to delight your little one and soothe their sore gums!