How to Keep Your Cat Out of Your Baby's Crib & Bassinet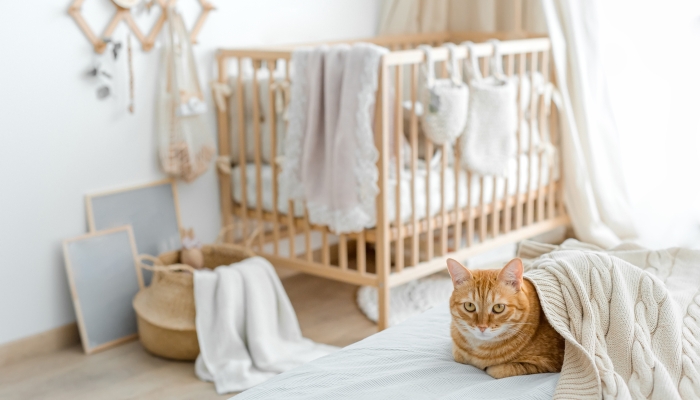 This post may contain affiliate links; please see our terms of use for details.
Depending on the cat's personality, it might respond to your baby as curious and affectionate or frightened and far-removed.
Cats should not be allowed near a sleeping baby because they might curl up near the baby's face to get warm.
The best cat-proof bassinet will come with a breathable cover you can extend over the bed.
We have two cats in our home, along with 4 children. It's a house full of little paws and little hands. With each new baby we have, I'm always a little concerned about how the cats are going to adjust.
Cats can be a bit unpredictable as to how they'll accept change. Sometimes they're extra curious about new additions to the home, and other times they hide in fear. Bringing home new babies often causes a mix of both.
We are expecting our fifth child any day now, and I've already started preparing the cats for the new arrival. The first objective was to teach them that the portable bassinet and crib are not their napping place. I'm pleased to say that we were very successful.
If you have a kitty at home who loves cozy places like your baby's crib or bassinet, have no fear. With a few helpful tips and a cat cover for the bassinet, you can quickly deter your cat from the bed.
Do Cats Pose a Danger to Babies?
Safe sleep is a huge deal. A 2022 policy statement published by the American Academy of Pediatrics, written by Rachel Y. Moon, MD, FAAP, Rebecca F. Carlin, MD, FAAP, and Ivan Hand, MD, FAAP, titled Sleep-Related Infant Deaths: Updated 2022 Recommendations for Reducing Infant Deaths in the Sleep Environment estimates that around 3,500 infants die each year due to sleep-related incidents. This number includes cases of ill-defined deaths and suffocation or strangulation.
No parent wants to take a risk when it comes to their baby's life. For this reason, cats should not be allowed in the baby's crib. The potential for suffocation is high due to the way cats respond to newborn babies and cozy sleeping spaces.
How do cats react to newborn babies?
Depending on the cat's personality, it might either be curious and affectionate or frightened and far-removed. It's the curious cats that cause the most concern. These cats might even bond with the newborn baby and become protective.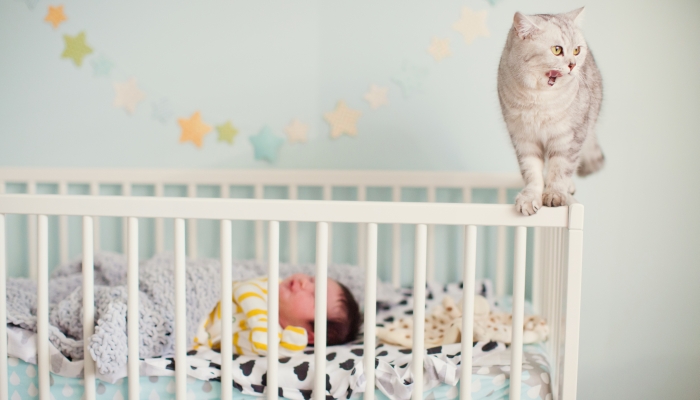 4 Reasons to Keep Cats Away From Your Baby
Cats pose a risk to newborn babies. Though you might want your fur baby to bond with your newborn, you should use caution.
Risk of Suffocation
Let me clear up any myths about cats stealing babies' breaths. Many people believe cats suffocate babies out of malice. This isn't true and is not the reason why cats are a suffocation risk.
Cats should not be allowed near a sleeping baby because they might curl up near the baby's face while trying to get warm. If the cat jumps into the bassinet and settles down for a nap on the baby's face, the baby could suffocate. Any extra item in the baby's bassinet or crib adds a risk for sudden infant death syndrome.
Risk of Licking Baby's Face
A curious cat might lick the baby's face as either a sign of instinctual protection or to get a taste of the milk dribbling from their mouth. Either way, this is unsanitary and might spread bacteria. It will likely cause irritation and wake the baby as well.
Risk of Scratching or Biting
As your baby gets older, they will become curious about the furry creatures in their home. If the cat jumps into the baby crib, your baby might grab their tail or fur. Most cats react by biting or scratching to protect themselves.
Scratches and bites can introduce a lot of bacteria into the wound. These wounds often end up getting infected and can even leave scarring. Keeping the cat away from your baby, unless closely supervised, will eliminate this risk.
Risk of Urinating
This is one risk no cat owner wants to deal with. When cats urinate outside of their litter box, it's usually to make a statement. If your cat is upset about the new baby, it might urinate in the baby's nursery or bassinet.
The ammonia in a cat's urine can cause allergic reactions in babies. This might even result in difficulty breathing. Not to mention, it's also stinky and unsanitary.
How to Prepare Your Cat for the Baby's Arrival
You might be wondering how to get your pets ready before the baby's arrival. After all, you'll have plenty to do when the baby comes. To prepare your cat before your baby arrives, try these tips:
Let them sniff baby items.
Let them explore the nursery.
Get them used to loud noises. (You might try playing videos of a baby crying and turning on baby toys, swings, or other items you'll be using.)
Scale back on attention (especially if your cat is used to high levels of play and interaction—this will help with the adjustment as your time becomes constrained).
Cat Cover for Bassinet: A Must-Have to Protect Your Baby
A cover for a bassinet might seem like a dangerous idea, but it's actually perfectly safe. You just need to make sure you know what you're purchasing and how to use it.
What do you cover a bassinet with?
Bassinets should only be covered with a lightweight, detachable mosquito net cover. This cover should also be designed specifically for bassinets. Covering your baby's bassinet with any other material can cause a risk of suffocation.
Can babies breathe normally in a covered bassinet?
A cat-proof bassinet that's covered with a mosquito net or mesh fabric cover is perfectly safe for your baby. Mosquito netting does not restrict airflow.
Parents should never try and make a cat-proof bassinet with any other materials. Using heavier fabrics as a bassinet cover can cause the baby to overheat or suffocate. Not to mention, these materials can easily fall into the baby's bed.
Should the bassinet be covered while the baby is sleeping?
Yes, you should keep the bassinet cover on while the baby is sleeping. This will ensure that the cat doesn't jump into the bed should it enter the baby's room while they're asleep. If you find that your baby won't sleep in a bassinet, you can also purchase a cover for a mini crib or standard crib.
Can I buy a cat-proof bassinet?
Yes, but they may not be advertised as "cat-proof bassinets". The best cat-proof bassinet will come with a breathable cover you can extend over the bed. These bassinets might instead be advertised as bassinets with mosquito nets to keep away bugs.
A couple of bassinets that have cat-proof covers include:
Sale
Dream on Me Lotus Bassinet
A MUST-HAVE FOR NEW PARENTS – The Lotus Bassinet and Bedside Sleeper provides parents with timely reassurance that comes from having baby close up. Perfect for nursing moms and parents who want to co-share their room during the first few months
ADJUSTABLE HEIGHT – The Lotus comes with 4 adjustable height positions that allow you to move it up or down in line with the height of your bed. Plus, it makes picking up and laying your baby down for a nap easy on your back
PORTABLE – With a sturdy yet, lightweight design, the Lotus is easy to set up and transport. Move it from one room to another or take it along when you are traveling. With its own carry bag, it can be transported with little effort
AMPLE VENTILATION – The Lotus is constructed with mesh panels on both sides that allow for smooth airflow and also provides parents an easy view of the baby. An optional mosquito net canopy comes handy while using the Lotus outdoors
The advantage of buying a cat-proof bassinet for your baby's room is that you won't have to find an after-market cover that fits your model. You'll know right away that your baby will be safe, and the cats will steer clear.
Baby Delight Slumber Deluxe Rocking Bassinet
SLUMBER TIME – Life takes you many different places, so we designed this rocking bassinet fold up and fit into a portable carry bag. We wanted this bassinet to be the perfect option wherever your life takes you. Compactable, portable, and convenient
MAXIMUM SAFETY AND STYLE – JPMA certified and designed with maximum safety. The Slumber's charcoal tweed fabric makes it sleek and modern, fitting into any home. You shouldn't have to sacrifice style for safety. Recommended age is up to 5 months or 20lbs
ROCK IT OR LOCK IT – Our Bassinet can be manually rocked or locked into a stationary position. Along with the baby rocker, it also comes with an optional canopy and netting to protect your baby. The cover and sheet are also removable and machine washable
COMFORTABLE AND COZY – The Slumber was designed with mesh walls to allow increased airflow and breathability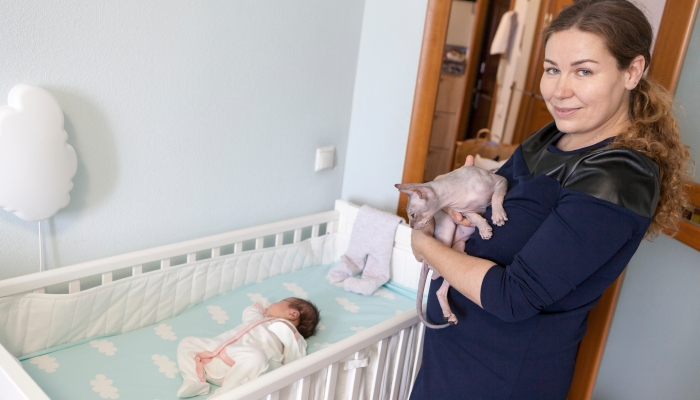 Additional Tips to Keep Cats Away From Babies
If a cat-proof bedside sleeper, bassinet, or crib isn't an option, there are other ways to keep your baby safe. Here are a few ways to keep your cat away without a cover:
Use a Baby Monitor
You'll need to use a video monitor in order to keep an eye out for cats in the baby's bed. Cats might not make any noise as they jump on the bassinet mattress.
We like using a wifi baby monitor to keep an eye on the baby. This makes it convenient to check on the baby anytime. This isn't a great option for nighttime sleep, however, and you won't be able to keep a close eye on the bed.
Keep the Bassinet in Rocking or Vibrating Mode
One method for deterring your cat from the bassinet is to place it in rocking mode before the baby comes. Cats typically avoid surfaces they feel unsteady on. A moving bassinet will keep them from making it a new napping place.
A vibrating bassinet might also deter a cat. Cats love cozy, safe places, and a vibrating bed might not fit those criteria.
Use Aluminum Foil Before Baby Arrives
This is a trick worth trying on stubborn cats. When you've tried other methods, you might want to grab a roll of aluminum foil and give this a shot.
Cover the entire bassinet mattress in aluminum foil. When cats jump onto the mattress, they'll be startled and annoyed by the foil. Leave it on for a few weeks to be sure they get the message.
You can also try double-sided tape to keep your cat out of the bed. Before the baby arrives, apply double-sided tape on the mattress. Your cat won't enjoy the sticky texture on their paws.
Use a Motion Detector Alarm
Motion detectors will immediately alert you and react should your cat jump in the bassinet. Some detectors will spray air out to startle the pet and keep them from returning. Use these before the baby arrives to let them know this is a "no-go zone."
Keep the Door Shut
For your baby's safety, it may be best to just keep the door shut to the nursery. Some cat parents will go as far as installing a screen door to the baby's room so their cat can still peek into the room. However, I personally think shutting the door is a much easier option.
Of course, you'll need to make sure the cat isn't in the room before you shut the door. Our kitties are known for hiding under cribs.
Keep Your Cat Active
We know your time will be limited with a new little one. So this option might not be feasible for everyone. However, if you can keep your cat active during the day, it will likely be too tired to explore in the baby's bed at night.
FAQs
When can a cat sleep with a child?
A cat can sleep with a child when the child is old enough to understand how to treat a cat. Even younger children who aren't at risk for suffocation might still get scratched or bit. My older girls often take a cat to bed with them, but they know not to hold the cat too tight or try and force the cat to stay.
Why do cats tend to sleep on babies' faces?
Cats are drawn to anything warm and cozy. Our cats can often be found lying in the sunshine from the windows or curled up in a basket of blankets. Babies are naturally very warm, and their breath adds to that warmth.
Cats are attracted to babies' faces because they're like round heating pads. It also doesn't hurt that they often smell like milk.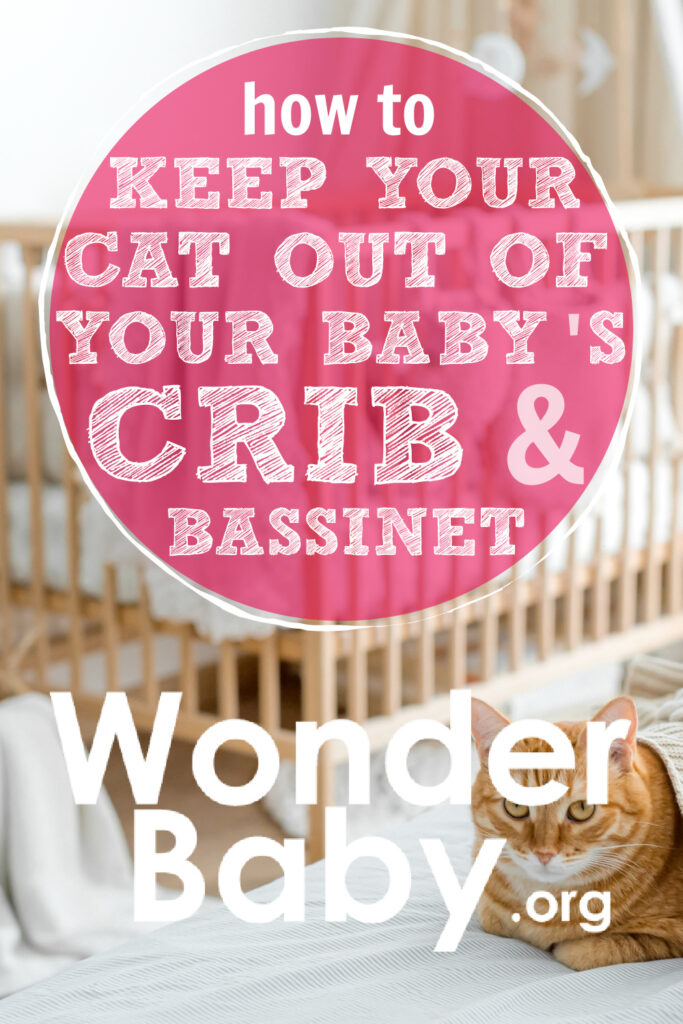 Related Posts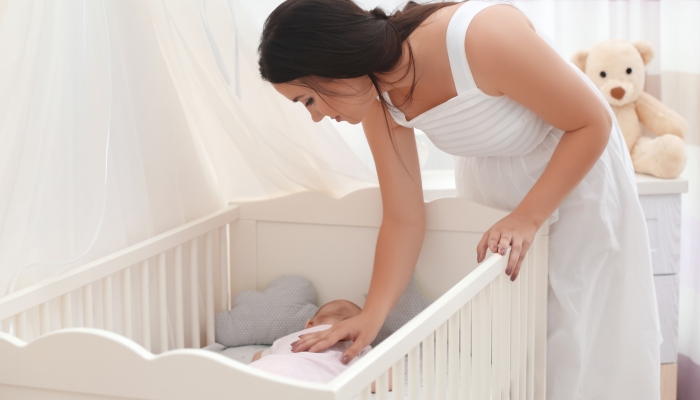 Sleep
The SITBACK method offers a gradual approach to sleep training, where you gently reassure your baby as they fall asleep. Here's everything you need to know.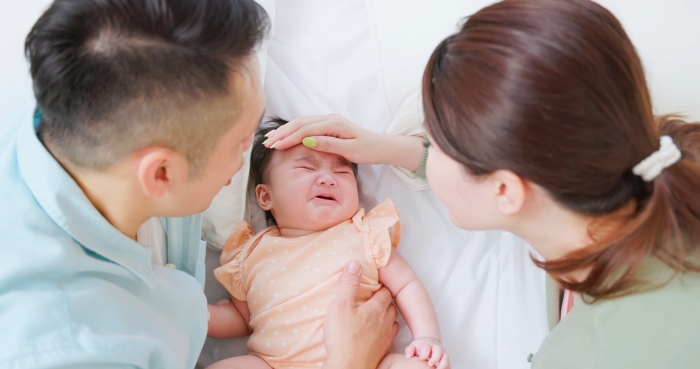 Sleep
Does your baby seem to go through a period of fussiness and crying in the evenings? It may be the baby witching hour. Learn how to survive it here!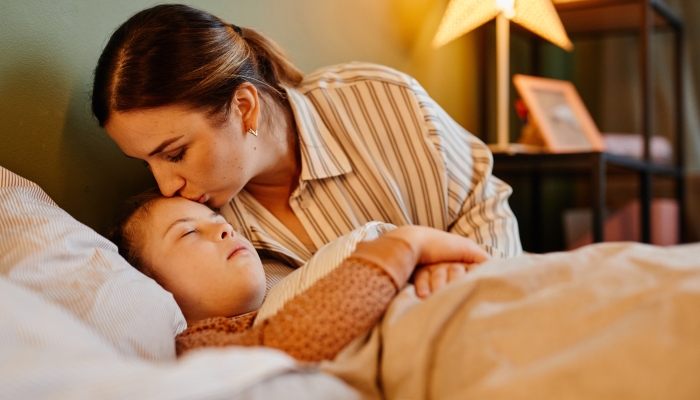 Autism, Sleep
When sleep training a child with autism, it's helpful to eliminate background noises and unnecessary noises, along with establishing a solid bedtime routine.