What Is Heller's Syndrome (Childhood Disintegrative Disorder)?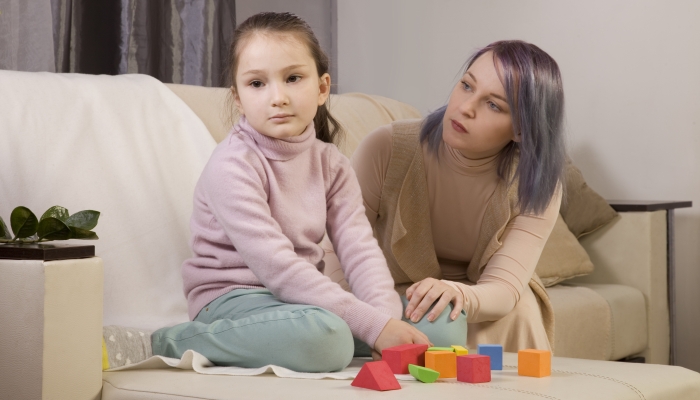 Childhood disintegrative disorder occurs between the ages of 2 and 10.
This rare condition has some symptom overlap with those of autism spectrum disorders.
Supportive therapies are available for children with childhood disintegrative disorder.
There are many complex childhood conditions. Some may be difficult to diagnose and others problematic to treat. Childhood cancer, rare genetic disorders, autism spectrum disorder, or sensory processing disorders all present their own challenges.
Another distressing childhood condition many parents may not be aware of is childhood disintegrative disorder.
Picture your baby happy, healthy, and progressing in apparently normal development over their first 3 to 4 years of life. Now imagine your little one regressing in intellectual and physical abilities acquired previously, while also losing communication skills and experiencing developmental delays.
In a search for answers, your healthcare team may give a diagnosis of a rare type of childhood disintegrative disorder (CDD)—Heller's syndrome.
Read on to learn more about this rare disorder and what it can mean for a child you love.
What Is Heller's Syndrome?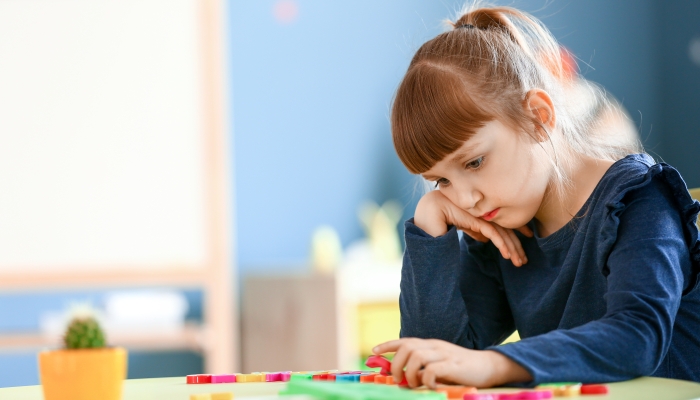 Also known as dementia infantilis, disintegrative psychosis, or childhood disintegrative disorder, Heller's syndrome was identified in 1908 by educator Theodore Heller.
According to Dr. Eric Fombonne in his 2002 study on the Prevalence of Childhood Disintegrative Disorder11. Fombonne, E.. Prevalence of childhood disintegrative disorder. Autism. 2002;6(2), 149–157. https://doi.org/10.1177/1362361302006002002 published in Autism, a CDD diagnosis occurs at a rate of around 1 in 100,000 children, particularly boys, and is an extremely rare developmental disorder marked by a late onset loss of motor skills, expressive language skills, and receptive language skills after 3 to 4 years of normal development, and typically occurs between 2 and 10 years of age.
The American Psychiatric Association classifies Heller's syndrome under the broader category of Autism Spectrum Disorders (ASDs) in the 5th edition of their diagnostic and statistical manual (DSM-5).
While childhood disintegrative disorder (CDD) shares some characteristics of autism spectrum disorder, a 2013 report analyzing the distinction between CDD and autistic disorder and predictors of outcome22. Rosman, N. P., & Bergia, B. M.. Childhood disintegrative disorder. Journal of Child Neurology. 2013;28(12), 1587–1598. https://doi.org/10.1177/0883073812472391 found that CDD tends to begin later in life than ASD and has more profound effects. Researchers emphasize that it "should be viewed as a condition distinct from childhood autism."
What Causes Heller's Syndrome?
At this point, it isn't definitively known what causes childhood disintegrative disorder. According to a study by Sri Hari Charan published in the Journal of Pediatric Neurosciences33. Charan, S.. Childhood disintegrative disorder. Journal of Pediatric Neurosciences. 2012;7(1), 55. https://doi.org/10.4103/1817-1745.97627, "no specific medical or neurological cause was found to account for all occurrences of the disorder."
Because disintegrative psychosis (CDD) and autism spectrum disorder share some similarities in symptoms and are considered similar by the American Psychiatric Association, it's thought that these two rare conditions might share a similar origin.
This theory that CDD and autism share a transmissible mechanism is supported by a case study published in 2000 by Zwaigenbaum and colleagues entitled High Functioning Autism and Childhood Disintegrative Disorder in Half Brothers44. Zwaigenbaum, L., Szatmari, P., Mahoney, W., Bryson, S., Bartolucci, G., & MacLean, J.. Case Report: High Functioning Autism and Childhood Disintegrative Disorder in Half Brothers. Journal of Autism and Developmental Disorders. 2000;30(2), 121–126. https://doi.org/10.1023/a:1005455505211 in the Journal of Autism and Developmental Disorders, which suggests these rare conditions may be related, and that further research is needed to correctly identify a genetic link between autism and pervasive developmental disorder.
Said differently, there is discussion among scientists that CDD and spectrum disorders share points of origin, particularly regarding brain inflammation55. Siniscalco, D., Schultz, S., Brigida, A., & Antonucci, N.. Inflammation and neuro-immune dysregulations in autism spectrum disorders. Pharmaceuticals. 2018;11(2), 56. https://doi.org/10.3390/ph11020056 and nerve transmission66. Zoghbi, H. Y., & Bear, M. F.. Synaptic dysfunction in neurodevelopmental disorders associated with autism and intellectual disabilities. Cold Spring Harbor Perspectives in Biology. 2012;4(3). https://doi.org/10.1101/cshperspect.a009886 difficulties, which are known factors in the development of autism.
Signs and Symptoms of Heller's Syndrome
The pattern of symptoms known as Heller's syndrome is considered clinically significant when the affected child shows a loss of skills where they had previously been established for at least 2 years.
Contact your child's healthcare provider if you notice regression in:
Expressive language skills (the ability to produce speech or communicate a message)
Receptive language skills (listening, comprehending, and interpreting a spoken message)
Social skills
Self-care abilities
Bowel and bladder control
The atypical symptoms also occur in at least two of the following areas:
Social interaction
Communication
If children develop any sort of sustained regression in these developmental areas, promptly report your concerns to your child's healthcare provider.
How Is Heller's Syndrome Diagnosed?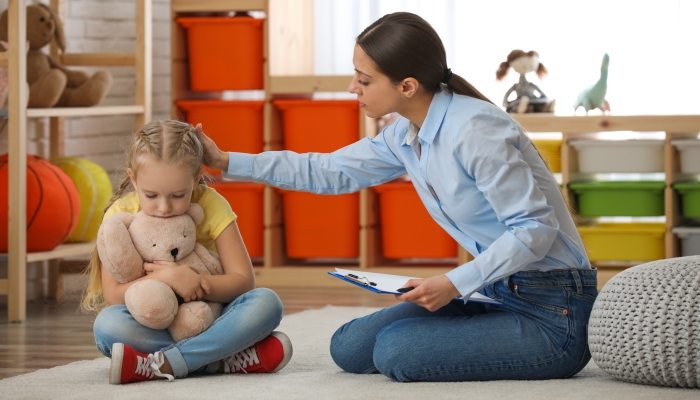 Remember that CDD is a rare condition characterized by a sudden loss of verbal and motor skills that had previously been mastered. Before diagnosing any sort of pervasive developmental disorder, other conditions must be ruled out.
Medical conditions with symptoms that can mimic those of disintegrative psychosis and may provide a differential diagnosis77. Swartz, C. L., Conant, L. L., Leber, S. M., & Giordani, B.. Differential diagnosis of childhood disintegrative disorder and Landau-Kleffner Syndrome: Two case studies. Archives of Clinical Neuropsychology. 1998;13(1), 85–86. https://doi.org/10.1093/arclin/13.1.85a include:
Hypothyroidism
Mercury poisoning
Lead poisoning
HIV infection
Brain tumor
Brain inflammation
Errors in nerve transmission88. Marotta, R., Risoleo, M. C., Messina, G., Parisi, L., Carotenuto, M., Vetri, L., & Roccella, M.. The neurochemistry of autism. Brain Sciences. 2020;10(3), 163. https://doi.org/10.3390/brainsci10030163
Childhood schizophrenia
Atypical seizure disorder
Creutzfeldt-Jacob disease (CJD)
Specialists, such as a neurologist or those at a child study center, may be involved in evaluating a differential diagnosis of your child's presenting symptoms.
Testing for Childhood Disintegrative Disorder
A detailed discussion of your child's symptoms and thorough evaluation by your child's doctor will likely be the beginning of your journey toward a diagnosis.
A wide variety99. How is childhood disintegrative disorder diagnosed? ASD clinic.co.uk | Social, behavioural & communication therapy. https://www.asdclinic.co.uk/conditions/childhood-disintegrative-disorder/how-is-childhood-disintegrative-disorder-diagnosed.php of medical and behavioral tests may be given to help establish a diagnosis of childhood disintegrative disorder. These include:
A full medical history, including attained skills, when developmental milestones were reached, and when regression of skills began
Metabolic, heavy metal, or genetic testing
Imaging studies, such as computerized tomography (CT) scan or magnetic resonance imaging (MRI)
Brain activity studies, such as an electroencephalogram (EEG)
Communication skills and language tests
Behavior analysis, including social function, social skills, peer relations, and play skills
Developmental tests that look for developmental delay by comparing your child's development to those of a similar age
Other tests that examine motor function and skills, communication abilities and patterns, and self-care abilities
Your child's healthcare team needs to rule out other, treatable conditions before proceeding with a dementia infantilis or CDD diagnosis.
What Is the Treatment for Heller's Syndrome?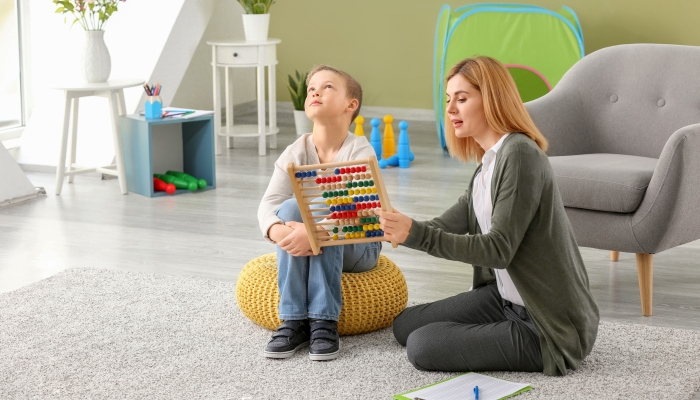 Children diagnosed with CDD may be aware of these abrupt changes, causing intense anxiety and, potentially, other mental disorders surrounding this regression.
Therefore, treatment for affected children focuses on emotional support, meeting current physical and educational needs, and where possible, learning adaptive behaviors.
While there is no cure for this rare form of pervasive developmental disorder, childhood disintegrative disorder treatment may include the following:
Medications
While medications aren't able to cure childhood disintegrative disorder, they can help relieve or manage the intense anxiety or behavioral changes that many children experience with this diagnosis.
Medications commonly used1010. How is childhood disintegrative disorder treated? ASD clinic.co.uk | Social, behavioural & communication therapy. https://www.asdclinic.co.uk/conditions/childhood-disintegrative-disorder/how-is-childhood-disintegrative-disorder-treated.php to help manage CDD include:
Selective serotonin reuptake inhibitors (SSRIs). These are a class of medications used to treat depression and anxiety in individuals of all ages and can be beneficial to affected children.
Anticonvulsants. The incidence of seizures increases as part of childhood disintegrative disorder. Anticonvulsants may also be used to help those who experience epilepsy.
Mood stabilizers and other medications. Medications in this group are aimed at controlling problematic behaviors1111. Canitano, R.. Risperidone in the treatment of behavioral disorders associated with autism in children and adolescents. Neuropsychiatric Disease and Treatment. 2008;723. https://doi.org/10.2147/ndt.s1450, particularly aggression. These are managed by a specific healthcare provider on your child's healthcare team.
Applied Behavior Analysis Therapy
Applied behavior analysis (ABA) therapy is a mainstay of behavioral management in children with autism and other pervasive developmental disorders.
ABA therapy aims1212. Applied Behavior Analysis (ABA). Autism Speaks. https://www.autismspeaks.org/applied-behavior-analysis to "increase behaviors that are helpful and decrease behaviors that are harmful or affect learning." This form of therapy is also useful with nonverbal individuals.
Occupational Therapy
Pediatric occupational therapists1313. Occupational therapy for childhood disintegrative disorder. ASD clinic.co.uk | Social, behavioural & communication therapy. https://www.asdclinic.co.uk/conditions/childhood-disintegrative-disorder/occupational-therapy-for-childhood-disintegrative-disorder.php work with children to "increase the individual's ability to perform activities of daily living to their highest potential, including bathing, dressing, eating, feeding, and personal hygiene/toileting. It involves activities that have a purpose and are goal-directed to enable restoration or an improvement in functional performance."
Occupational therapy is useful to children in a variety of scenarios where there is a need to learn adaptive skills.
Speech and Language Therapy
Communication loss or impairment is one of the greatest struggles affected children and their families face.
When working with autism or other pervasive developmental disorders, speech and language therapists will work with children to maintain their present level of language and communication, as well as potentially relearn skills that have been lost.
Is your child nonverbal? Speech and language therapists can also explore alternative ways of communicating, such as:
Sign language
Picture, sign, or symbol boards
Electronic and/or computer communication aids
Vitamin Therapy
Emerging research has focused on the relationship between vitamin deficiencies and symptoms of autism.
Published in 2020 in Medicina by Robea et al, a study entitled Relationship between Vitamin Deficiencies and Co-Occuring Symptoms in Autism Spectrum Disorder1414. Robea, M.-A., Luca, A.-C., & Ciobica, A.. Relationship between vitamin deficiencies and co-occurring symptoms in autism spectrum disorder. Medicina. 2020;56(5), 245. https://doi.org/10.3390/medicina56050245 describes "there is an increased awareness for micronutrients in ASD due to the presence of gastrointestinal (GI) problems that can be related to feeding issues. For example, levels of vitamins B1, B6, B12, A, and D are often reported to be low in ASD children. Thus, in ameliorating the ASD symptoms, vitamin supplementations are recommended as alternative therapy."
Remember that overdosing vitamins in a child can also have negative effects. Consultation with your child's healthcare team is necessary before the administration of extra vitamins to ensure your child's safety.
Children with CDD require lifelong support. However, supportive care is available for these children and their families to live the healthiest life possible.
FAQs
What kind of help is available for families of children with Heller's syndrome?
Caregiving for a child with a physical or intellectual disability, especially those who require lifelong support, can strain a parent's coping abilities. Life expectancy for children with CDD is roughly that of the general population, except for those who experience epilepsy, which tends to shorten their lifespan1515. Mouridsen, S. E., Brønnum-Hansen, H., Rich, B., & Isager, T.. Mortality and causes of death in autism spectrum disorders. Autism. 2008;12(4), 403–414. https://doi.org/10.1177/1362361308091653 due to complications from this disease.
Consider that support groups for caregivers or family members may be of great benefit to safely express emotions with others with an intimate understanding of life with children with CDD.
Many support groups also have the availability to meet virtually, which may help increase access to isolated or busy families in need.
References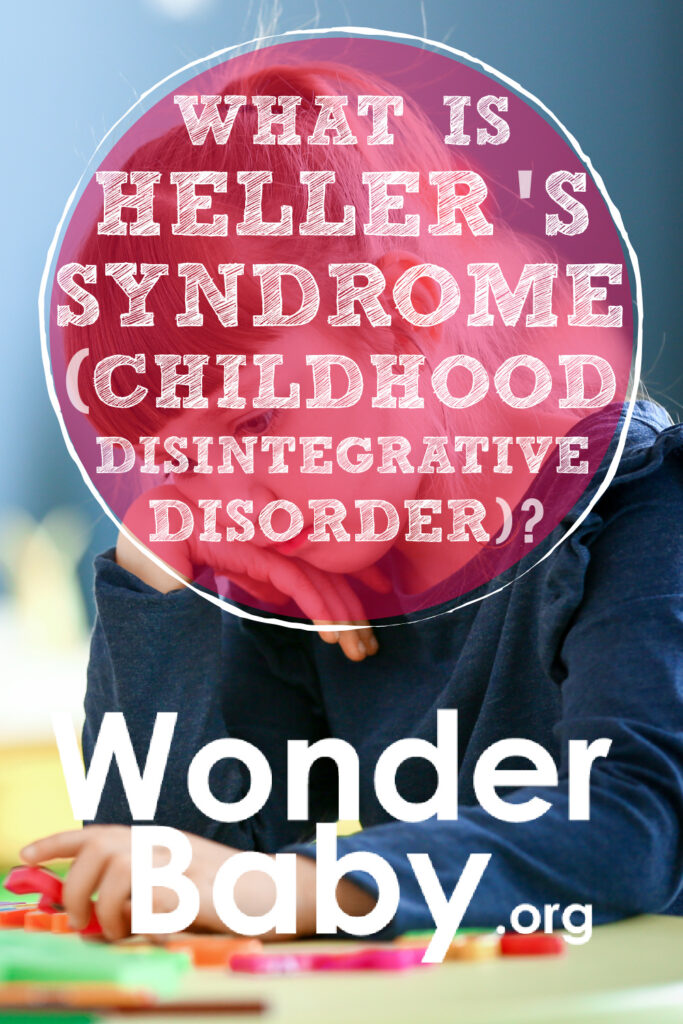 The information WonderBaby provides is not intended to be, and does not constitute, medical or other health advice or diagnosis and should not be used as such. Always consult with a qualified medical professional about your specific circumstances.
Related Posts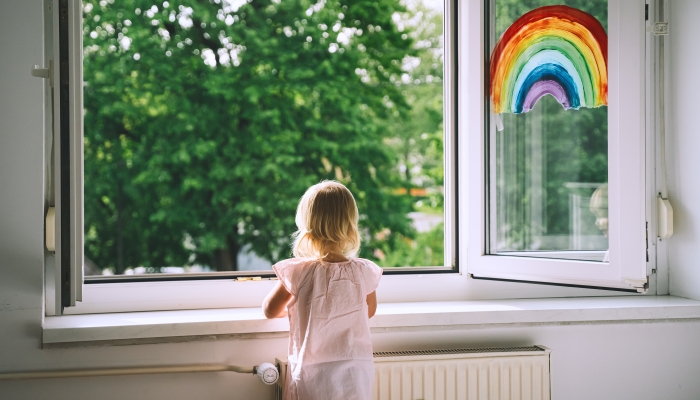 Autism
A sensory-friendly home promotes a safe environment, reduces anxiety and stress, improves focus, and establishes better sleep patterns.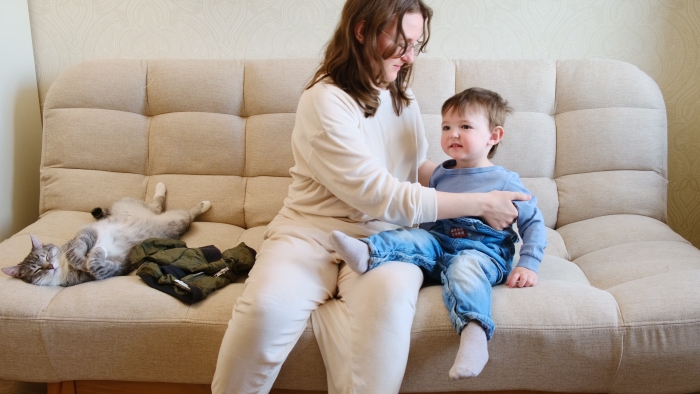 Autism, Special Needs
Sensory-friendly clothes are ideal for children with sensory sensitivities, help with overall comfort, and can help reduce anxiety.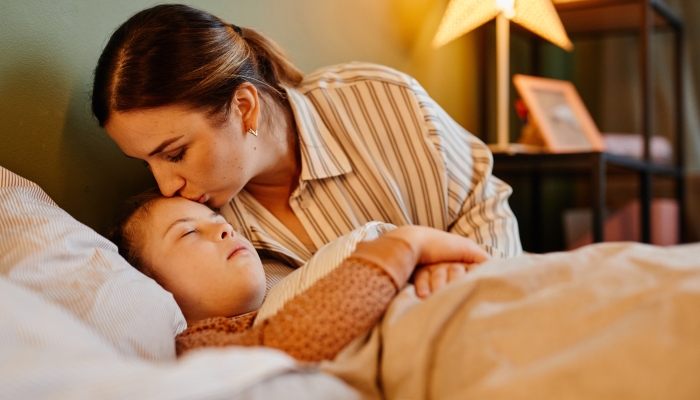 Autism, Sleep
When sleep training a child with autism, it's helpful to eliminate background noises and unnecessary noises, along with establishing a solid bedtime routine.