9 Best Outdoor Toys for One Year Olds in 2023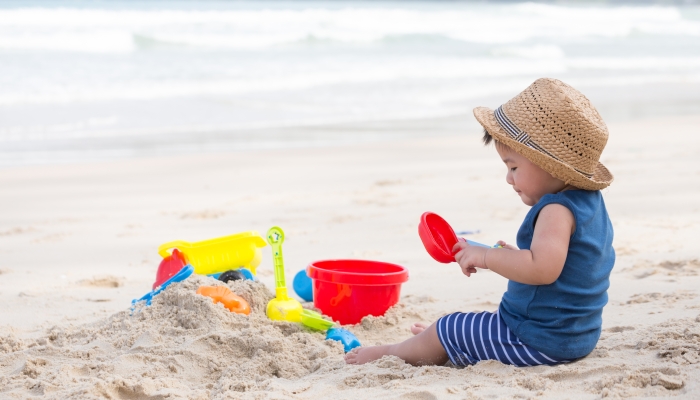 This post may contain affiliate links; please see our terms of use for details.
Outdoor play is important for your toddler's gross motor movement, engagement with learning, and overall physical well-being.
Children who play outside have a lower risk of obesity, spend less time on screens, and develop respect for nature.
There are lots of great outdoor toys for one-year-olds that will last them long into toddlerhood.
The benefits of outdoor play for little kids have never been more important. With so much of their—and our—attention taken up by screens, outdoor play allows kids to practice their physical skills and gives them space to develop their imaginations and love for nature.
You don't have to fill up your backyard with a ton of fun outdoor toys to make the outdoors fun for your one-year-old, though. Just a few well-chosen toys that can be used in various ways are enough to encourage your little one to exercise and enjoy playing outside.
Look for age-appropriate toys that may grow with your child and have some longevity. We've looked into some of the best outdoor toys for one-year-olds in 2023 to help you and your little tike get ready for some outdoor fun!
Best Choice
Best Creative Outdoor Toy
Best Classic Outdoor Toy
Step 2 Cascading Cove Sand and Water Table
Regal Games Sidewalk Glitter Egg Chalk
Best Choice
Step 2 Cascading Cove Sand and Water Table
Best Creative Outdoor Toy
Regal Games Sidewalk Glitter Egg Chalk
Best Classic Outdoor Toy
Our Choice: Step 2 Cascading Cove Sand and Water Table
Sale
Step 2 Cascading Cove Sand and Water Table
2-IN-1 DESIGN: Sand and water table separated into two parts, multiple children can play, use water, moon sand, snow, beans, soil, or anything else to construct a mini water park outside, dimensions 42.52 x 24.02 x 22.99 inches
INTERACTIVE ACCESSORIES: 6-piece water accessory set, comes with a molded-in roadways lid, providing more room for play
EASY TO CLEAN: High-quality materials to ensure durability, removable drain cap, making it easy for parents to maintain indoors and outdoors, elastic tie-downs on the ends of lid to securely cover
STEM EDUCATIONAL TOYS: Let the Indoor/Outdoor playset stimulate your child's interest and encourage them to engage in hands-on activities that boost creativity, problem-solving, and sensory exploration
Pros

Cons

Simple and not overstimulating
Cover protects sand and creates another way to play

Expensive compared to other sand tables
There are many sand and water tables on the market, but the Step 2 Cascading Cove Sand and Water Table is a uniquely simple version of this outdoor toy staple. Other sand and water tables have so many bright colors and moving parts that they can overwhelm a one-year-old.
It's just the right size for toddlers and is divided into two sections. Use it with water or sand in both parts, or with water in one and sand in the other. It has a convenient plug-hole for easy emptying.
The durable cover protects sand from the elements. In addition, the cover has molded roadways for use as a different toy, on or off the table. The cute umbrella keeps little ones in the shade when they're playing.
This toy is excellent for sensory play, practicing motor skills, and learning basic STEM concepts around water. You can use a ton of vocabulary with your little one for practicing language skills about their activities here.
It's also a toy that your child will return to play with in a million different ways. So if you only choose one backyard toy for your one-year-old, this sand and water table is a great pick.
View on Amazon | View on Walmart.com | View on Sears.com
Regal Games Sidewalk Glitter Egg Chalk: Best Creative Outdoor Toy
Regal Games Sidewalk Glitter Egg Chalk
6 PIECES: Our 6 set of sidewalk Easter shaped eggs includes 6 different chalk colors and is packaged in a novelty egg carton for easy transport and storage
6 SPARKLY COLORS: Choose from six different glittery chalk colors and allow your creativity to be limitless whether it's inside the classroom, on the chalkboard, or outside on the sidewalk or driveway
EASY TO HOLD: Each piece of easter chalk is shaped like an egg and has a rounded edges for an easy grip for all spring crafts
QUALITY: Our Chalk Farm sidewalk chalk is safe, non-toxic, washable and specially formulated to minimize chalk dust so it can be safely used indoors and outdoors
Pros

Cons

Encourages creativity
Inexpensive
Washable

Soft chalk wears down quickl
Sidewalk chalk is an excellent way to let your one-year-old get messy, experiment with color, and start to work on the fine motor skills that lead to writing.
Regal Games Sidewalk Chalk is washable and non-toxic. It's also a nice shape for toddler hands and sturdy so it won't break into a million tiny choking hazard pieces.
It's designed to minimize chalk dust, so it's a fun, safe chalk option for younger toddlers. It comes in variousoptions, from neon to tie-dye.
Always supervise your toddler when they're using chalk.
View on Amazon | View on Walmart.com | View on eBay.com
Retrospec Cricket Baby Walker Balance Bike: Best Baby Balance Bike
Retrospec Cricket Baby Walker Balance Bike
BEGINNER BABY BIKE: Retrospec Cricket is designed for toddlers ages 12-24 months of age to develop the motor skills needed to walk and eventually ride. Great first birthday gift for boys and girls!
SAFE & DURABLE: Sturdy, comfortable, and safe. Cricket's design ensures your child's feet are always touching the ground, so they stay in control of their speed, stopping, and movement. Teaches advanced motor skills at a young age!
SCRATCH RESISTANT WHEELS: Its non-slip, no-scratch wheels prevent scratched floors and provide a secure grip both indoors and outdoors. Keep them safe while improving their balance and motor skills.
EASY TO CONTROL: Soft handlebars, a cushy seat, and a steering limit keep your child safe, comfortable, and in control the entire time. The first step in learning how to ride a bike!
Pros

Cons

Feet stay on the ground for good control
Four wheels to prevent side tipping
Great price

Can only be used up to about age two
The Retrospec Cricket Baby Walker Balance Bike is the perfect first birthday gift for the one-year-old in your life. This adorable four-wheel bike is a great first ride-on toy designed specifically for toddlers from 12 to 24 months old.
Your baby's feet will always be on the ground so that they can control their speed and direction. It has a comfortable cushioned seat with rubber handle grips and non-slip wheels.
It's an excellent first bike and a super fun way for your baby to work on those big gross motor movements.
View on Amazon | View on Walmart.com | View on Sears.com
Little Tikes Cozy Coupe: Best Classic Outdoor Toy
Sale
Little Tikes Cozy Coupe
GROWS AS KIDS DO. The removable floorboard makes this ride-on transition easily between parent-controlled and kid-powered modes
KIDS TAKE THE WHEEL. Take the removable floorboard out and kids can roll themselves around using their feet
Includes: working doors, steering wheel with working horn, moving, clicking ignition switch, gas cap open and closes, rugged, durable tires, front wheels spin 360 degrees
KEEPS KIDS ACTIVE & ENGAGED. Kids love playing with the steering wheel, key, horn, & cup holders. TONS OF CONVENIENT STORAGE. Kids can access easy storage in the trunk. V15WORKS INDOORS OR OUTDOORS. This ride-on has durable tires that are designed for indoor and outdoor use
Pros

Cons

Removable floor board adjusts with your growing toddler
Can use up to age 5

Wheels struggle on uneven surfaces
The Little Tikes Cozy Coupe has been beloved by generations of toddlers. Kids adore this classic toy, suitable for little kids 18 months up.
Although you can find it in pink and dinosaur themed, the red and yellow coupe you probably had as a toddler is still very popular today. It's the perfect toy for pretend play and role-playing while getting kids to use their muscles to power the car by foot.
For use indoors or outdoors, it's no wonder this toy has been around for decades.
View on Amazon | View on Walmart.com | View on Sears.com
Simplay3 Young Explorers Activity Climber: Best First Outdoor Climbing Toy
Simplay3 Young Explorers Activity Climber
INDOOR OR OUTDOOR ACTIVITY CLIMBER: This kid's playset climber is great for adventurous toddlers, and even fits through a standard door frame for easy transitions inside or out.
FUN FEATURES: This climber and slide for kids and toddlers features two levels of play with crawl-through spaces, climbing wall with easy-grip hand and foot holds, steering wheel and extra-wide slide helps develop gross motor skills.
BUILD A BIGGER BACKYARD PLAYSET: The Activity Climber is part of Simplay3's Young Explorers Modular Play System. Each play set can be enjoyed by itself or combined with other sets to add to the adventure and build a bigger backyard play set.
DURABLE CONSTRUCTION: Double wall plastic construction has rounded, child-friendly edges, is weather and UV resistant and will stand up to the toughest of play to last for years. Our products are recyclable and can be passed down, too!
Pros

Cons

Good size for young toddlers
Part of a modular system

Expensive for a small piece of equipment
Climbing toys encourage your child to spend time outdoors. However, it can be hard to find one that's suitable for a one-year-old who's still unsteady on their feet or just starting to walk.
The Simplay3 Young Explorers Activity Climber is an excellent first climbing outdoor climbing toy with a sturdy slide, easy-to-use climbing wall, and mini ladder. These features are great for using those muscles and working on hand-eye coordination.
This climber can be used up to age 6, so it's also got quite a few years of fun in store for your child.
Use it with Simplay3's other outdoor toys as a modular system for loads more fun outside!
View on Amazon | View on Walmart.com | View on Sears.com
Dazmers 3-in-1 Kids Sports Center: Best Toy for Longevity of Use
Sale
Dazmers 3-in-1 Kids Sports Center
3-in-1 KID ACTIVITY CENTER: give your toddler a safe area in which to play, this kids sport center can be used to play basketball, soccer and ring toss games. Encourage your little one to stay active while improving their hand-eye coordination skills, aim and practice their slamming, kicking and hooking skills. The playset comes with 1 basketball,1 soccer ball, 4 rings, and 1 inflator.
EASY TO SETUP AND STORE: assembling is super easy, you don't need to use any extra tool to put it up together. The set includes an air pump to inflate balls. Let your kid have fun playing with it, then take apart and store it hassle-free
ADJUSTABLE BASKETBALL HOOP: this little basketball hoop for toddlers is adjustable between 34 inches and 4 feet in height. Allows you to adjust the difficulty level and fit your growing kiddo for a long time.
OUTDOOR AND INDOOR PLAY: super portable, you can take this activity center everywhere to play outdoor and indoor, solo, or with other kids. Take it to the park, beach, play in the yard, or just stay at home with it! This versatile sports center is made of plastic, sturdy enough to endure outdoor weather and kids playing yet light to keep your little ones safe and to avoid any damage to your indoors! Children will enjoy great fun playing with it!
Pros

Cons

Adjustable so will grow with your toddler for several years
Multi-tasking toy can be played with in multiple ways

Assembly instructions are tricky
The Dazmers 3-in-1 Kids Sports Center is a clever toy your baby will love for years.
This mini sports center features a soccer goal, a height-adjustable basketball hoop, and a ring toss, with balls and rings included.
Suitable for little kids from 18 months, they can start by rolling the ball into the goal, placing the rings, and pushing the basketball through the hoop. Before you know it, they'll graduate to kicking, tossing, and slam-dunking!
This is an excellent toy for practicing a multitude of physical skills. Since the hoop is adjustable up to four feet, your child can use it for several years.
View on Amazon | View on Walmart.com | View on Sears.com
Step2 Play and Shade Pool for Toddlers: Best Multi-Tasking Kiddie Pool
Step2 Play and Shade Pool for Toddlers
Features two molded-in seats in the shade and the designs molded-in to the bottom of the pool provide traction.
Relax in the shade of the included 40 in. (1.02 m.) umbrella that nests on the side of the pool!
Includes 3 funnel cups and a fun spinning water wheel that attach easily to the umbrella post for added play.
Holds up to 12 gal. (45.4 L) of water or 165 lbs. (74.8 kg.) of sand (water and sand not included).
Pros

Cons

Can be used year round in different ways
Umbrella for shade
Water toys included

Small, so may be outgrown as a pool quickly
A kiddie pool for your one-year-old is a must in summertime. Water play is great for learning about nature and physics, having a fun sensory experience, and developing social and language skills.
The Step2 Play and Shade Pool for Toddlers can be used in so many more ways than your average kiddie pool.
Use as a pool for cooling off in summer, with two molded seats and cups on the umbrella stand for water play. Use it as a sandbox in springtime. Or, fill it up with balls, and you've got a ball pit.
Many parents buy an inflatable kiddie pool every summer because they get punctured or moldy when not in use. The Step2 pool is made of molded plastic, so you only have to buy it once—smart!
Never leave a child of any age unattended in water.
View on Amazon | View on Walmart.com | View on Sears.com
Kiddey Kids Play Tunnel for Toddlers: Best Indoor Outdoor Crawling Tunnel
Sale
Kiddey Kids Play Tunnel for Toddlers
ENCOURAGES EARLY DEVELOPMENT – Each premium polyester tent is strong and flexible to help build creativity, imagination and muscle development.
EASY POP UP DESIGN – Our tunnel is held closed with Velcro tabs, so when it's time to play you simply release and extend and starting enjoying it in seconds.
EASY TO STORE – The Kiddey play tunnel folds flat for easy storage with a zipper carry bag making it easy to use at home, the park, daycare, or birthday parties.
VIBRANT COLORS, BREATHABLE MESH – Kids will enjoy four fun colors, a soft, padded interior safe for knees, and a breathable mesh side for cool airflow.
Pros

Cons

Breathable mesh sides
Simple colors that aren't overstimulating

Can be used outside, but must be brought in for storage
The Kiddey Kids Play Tunnel for Toddlers is an excellent choice for a crawling tunnel for a one-year-old because of its breathable mesh sides. Little ones can have fun exploring in the tunnel, but you can also see them easily.
So many tunnels are overwhelmingly colorful. This tunnel lets your child focus on moving and crawling instead of getting distracted by too much visual stimuli.
Great for use indoors or out, as soon as you're done, just fold it up and put it away in its included storage bag. Your little one will love using this tunnel for years!
View on Amazon | View on Walmart.com | View on Sears.com
Green Toys Wagon: Best Eco-Friendly Outdoor Toy
Sale
Green Toys Wagon
Package Dimensions: 40.106 H x 14.503 L x 24.307 W (centimeters)
Package Weight: 0.839 kilograms
Country of Origin : United States
Pros

Cons

Recycled and made in the USA
Simple concept
Multiple ways to play with it

Expensive for a small toy
As soon as your one-year-old is walking, they will want to start pulling something. This Green Toys Wagon is the perfect toy for indoor or outdoor play.
This wagon is so simple in its concept, making it the perfect toy for young toddlers. It's also small so that your baby can manage it. They'll love filling it up with toys, rocks, and leaves, and taking those treasures from all around your backyard.
This toy is excellent for pretend play, engaging with nature, and encouraging your child to walk and practice their motor skills. It will become a lasting favorite.
In addition, this cute wagon is made in the USA of 100% recycled plastic so you can feel good about your purchase.
View on Amazon | View on Walmart.com | View on Target.com
Why Playing Outdoors is Good for Toddlers
Playing outside in the fresh air has many benefits for children. Children learn through play. Play encourages physical development and helps with problem-solving skills and engagement with learning.
Exercise
Climbing, running, jumping, and swinging outside are key activities for developing gross motor skills. They also help your child gain physical strength and confidence in their body.
The American Academy of Pediatrics also reports that outdoor play leads to lower obesity rates and a lower risk of myopia or nearsightedness.
Time in Nature
Outdoor play in nature encourages your child to engage with the natural world and develops their innate curiosity. There is no better way for children to learn about animals, plants, and the world than to spend time outdoors in the woods, on the beach, or just in the backyard.
According to Harvard Medical School, exposure to Vitamin D from the sun daily is also important for developing a robust immune system, better sleep, and better mood.
Critical Thinking and Creativity
Play and exploration outside encourages critical thinking skills, creativity and problem-solving. Kids engage with the environment and each other differently when they're outside. Time outdoors inspires socialization, games, and imaginative play in ways that you don't get indoors.
It also gets your kids away from the tablet, phone, TV, or any other screens and gets them to use their brains in a different way.
Messiness Allowed!
Doing messy activities outside, like finger painting, chalk drawing, bubble chasing, water games, and even playing with mud, is much easier to clean up and much more fun.
Outdoor playtime gives your toddler more freedom to make a mess which is an integral part of their learning and growth.
Choosing the Best Outdoor Toys for Your One-Year-Old
Check out this list of features to look for when choosing outside toys for a one-year-old.
Feature

Why It's Important

Encourages gross motor movement

Crawling tunnels, balance bikes, climbing toys, and balls encourage your toddler to practice walking, running, crawling, and climbing to strengthen gross motor skills.

Simple, intuitive features

A good outdoor toy shouldn't have too many pieces.
It should be simple for your toddler to understand and to use.
It should not have small pieces that could be a choking hazard.

Encourages engagement with nature

A water table, sand box, or mud kitchen encourages your child to use elements of nature as part of their games.

Inspires imaginative play

A crawling tunnel, mud kitchen, and play tent will all encourage pretend play.

Longevity

If it's a toy your child will be interested in for at least a few years, it's probably worth buying.
Toys your child is likely to outgrow quickly are not a great investment, and fill up your back yard and garage pretty quickly.

Made for outdoor use

Make sure the toy is built to last in the outdoors and withstand the weather in your area.
If it has to be brought inside every day because it's too delicate, it's likely to be forgotten or not used very much and won't last long.

Safety for a one-year-old

Check manufacturers' instructions for age minimum for toys.
Avoid toys with sharp edges, small pieces, or that easily splinter.
Always supervise your one-year-old when they're playing outside.
FAQ
How do you clean outdoor toys?
Outdoor toys often get neglected when it comes to cleaning, but it's just as important to clean them as the things your child plays with indoors. They're constantly exposed to the elements, animals, and dirt.
For larger equipment like playhouses, water tables, climbers, and any toy that lives outside, a power washer should do the trick to get rid of dirt and grime.
If you don't have a power washer, use a non-toxic cleaning solution, either store-bought or homemade. All you need is a hose or bucket and a sponge. There are many recipes online for homemade cleaners made with vinegar to disinfect outdoor toys without dousing them in harmful bleach.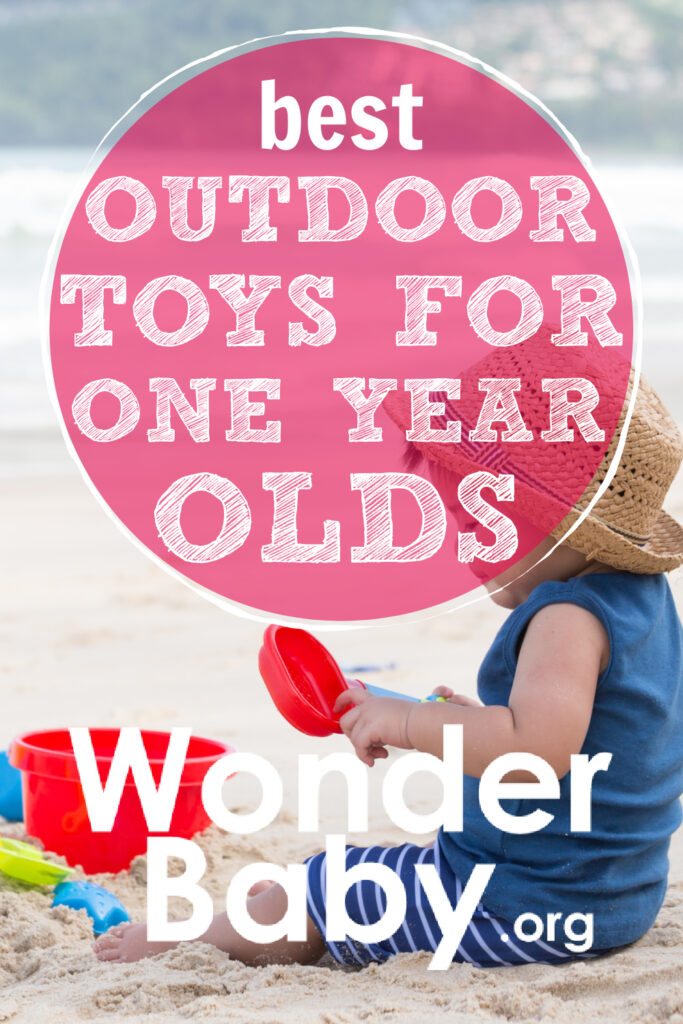 Related Posts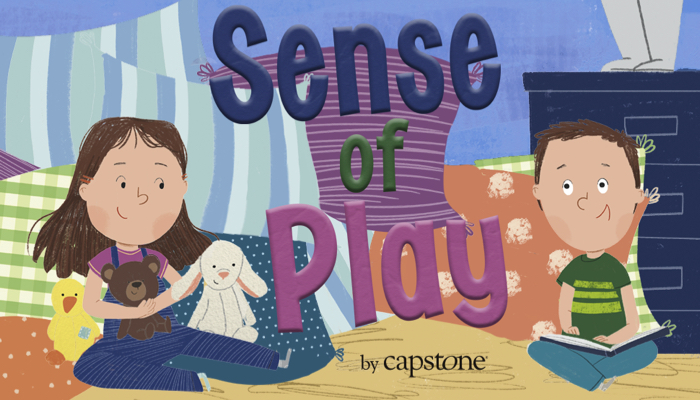 Braille and Literacy, Product Reviews, Visual Impairment
Dana Meachen Rau's book, Sense of Play, follows the adventures of Chip and Joy as they play. Chip is blind, but this doesn't get in the way of their play!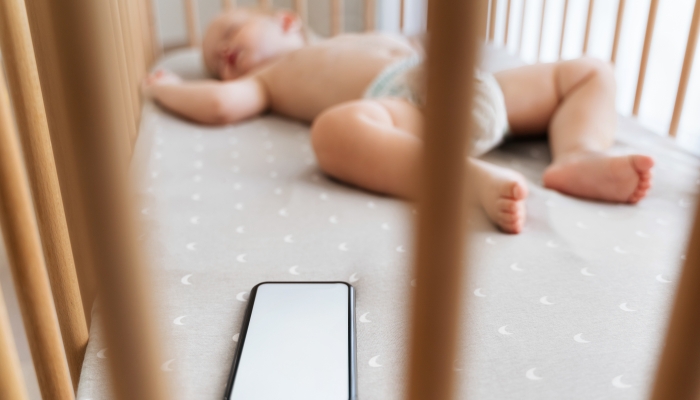 Product Reviews
Wondering whether white noise will help your little one sleep better? Here's our guide to the best baby sound machines to help your baby fall asleep soundly.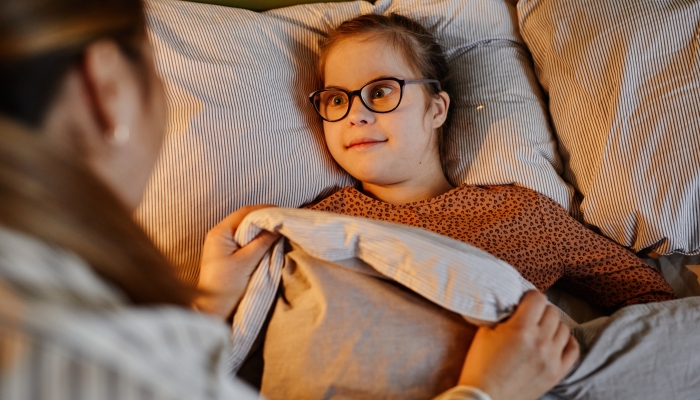 Product Reviews
Heard a lot about weighted blankets and lap pads and wondering how to choose one? Here's our guide to the ins and outs of finding the right weighted blanket.