7 Best Baby Swings for Small Spaces of 2023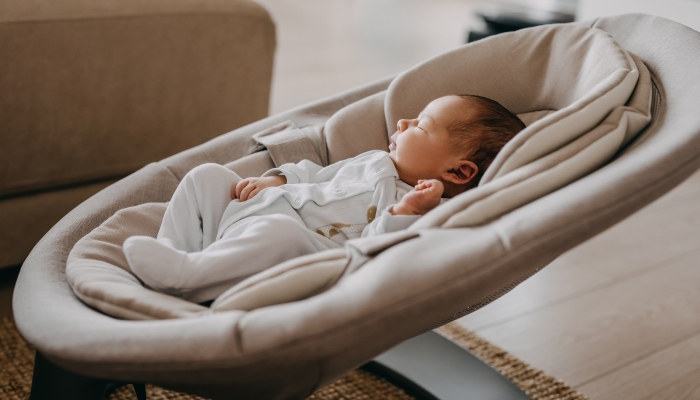 This post may contain affiliate links; please see our terms of use for details.
You can find a quality baby swing with all the necessary features to fit your small space easily.
An extra insert, toys, an outlet cover, and more batteries are great accessories for your swing.
Size, portability, weight limit, safety, and comfort features are elements to consider before purchasing.
Once you have a baby, it feels like your home is taken over by baby gear. Bottles and drying racks line the kitchen counters. Diaper pails make their home in the corner, and hampers are now filled with the cutest (and stinkiest) little clothes. As a minimalist, it took some getting used to, and I rejected many of the so-called "must-haves."
One item I would make space for a thousand times over, though, is a baby swing. Some days, the swing was the only way I could coax my babies out of my arms long enough to shower or eat. It's a tool I know I couldn't have survived without but also one that tends to take up a good amount of space—space that was hard to find!
Luckily, you don't have to sacrifice this valuable piece of gear to save space. If you're searching for the best baby swing for small spaces, you'll find it on the list below. Explore which one is right for your baby, and give yourself a much-deserved break!
Best Choice
Best in Versatility
Ingenuity Comfort 2 Go Compact Baby Swing
Graco Soothe My Way Swing
Best Choice
Ingenuity Comfort 2 Go Compact Baby Swing
Best in Versatility
Graco Soothe My Way Swing
Our Choice: Ingenuity Comfort 2 Go Compact Baby Swing
Pros

Cons

Foldable
240-hour battery life
Plays music
Plush hanging toys
Quiet movement
Ultra-soft seat pad

No power adapter option
No volume control on the music
If you're sharing a small space with a baby but still want a great baby swing and all its benefits, you'll find everything you need in the Ingenuity Comfort 2 Go Compact Baby Swing. This one makes it to the top of our list as the best baby swing for small spaces. Functioning much like a full swing but with foldable, space-saving features, it's perfect for transporting.
With its 240-hour battery life, you have plenty of swing time without any cords to trip over. A soft padded swing seat and quiet movement mean you can count on a comfortable space for your baby to rest. Likewise, the soothing music and overhead plush toys will keep your baby entertained.
It's worth mentioning that there is no power adapter option, so you will have to rely on battery replacements. There's also no volume control for the music, so using it will depend on whether your baby is comfortable with the sound level.
Material: Plush | Manufacturer Recommended Age: 0-9 months | Maximum Weight Recommendation: 20 pounds
View on Amazon | View on Walmart.com | View on Target.com
Best for Outdoor Use: Nova Baby Swing
No products found.
Pros

Cons

Bluetooth and USB connectivity
Auto-off timer
Remote control
Anti-skid base grips
Full manufacturer's warranty
Mosquito net included

Only for babies below 20 lbs
Swing speeds aren't varied enough
If you like getting fresh air, the Nova Baby Swing is for you. With a zip-on and off mosquito net, you can be confident taking your baby outdoors with you as they'll be protected against bugs. The anti-skid base grips and a full manufacturer's warranty also give any parent peace of mind.
Turn it on and off from anywhere close by using the remote too! Also, you can use its Bluetooth capability to connect your smartphone and play your baby's favorite lullabies.
Be aware that this swing is only suitable for babies below 20 pounds, so it's not for long-term use and definitely not ideal for use as a toddler swing. The adjustable swing speeds can also seem pretty similar, with little noticeable difference.
Material: Aluminum | Manufacturer Recommended Age: 0-6 months | Maximum Weight Recommendation: 20 pounds
View on Amazon | View on Walmart.com | View on buybuyBABY.com
Best in Versatility: Graco Soothe My Way Swing
Graco Soothe My Way Swing
9 soothing motions in 2 directions, for 16 ways to soothe
Swing seat doubles as removable rocker for use throughout the home
Large removable body support for added comfort
Multi-directional seat allows baby to swing facing front, left, or right
Pros

Cons

Transforms into a removable rocker
Nine unique swinging motions
The seat can face front, left, or right
Removable body support
Adjustable toy bar
Two-speed vibration

Some sounds aren't quality
It makes an odd sound on up and down motion
For a space-saving swing that does more than one job, the Graco Soothe My Way Swing is the way to go. Use it as a swing with nine unique swinging motions, including zigzag, circle, swing, and bounce, with multidirectional seating to face front, left, or right. You can also remove it from the base to create a portable rocker.
This swing's got some excellent features to boot, one of them being removable body support. This, combined with the two-speed vibration, will make for one comfy baby. The adjustable, removable toy bar also gives them something fun to look at, moving into their eye line with any position.
There's some room for improvement, though. Certain sounds aren't very clear and can come off staticy. The seat can also make a creaking noise on the up and down setting in specific. These are definitely not deal breakers, but they're something to consider.
Material: Polyester | Manufacturer Recommended Age: 0-12 months | Maximum Weight Recommendation: 44 pounds
View on Amazon | View on Walmart.com | View on GracoBaby.com
Best in Weight: Munchkin Lightweight Baby Swing
Munchkin Lightweight Baby Swing
Emulates parents' natural side-to-side sway with 5 levels of range of motion
Bluetooth enabled to play your child's favorite music from your phone
Winner of the Best of Baby Awards, The Bump, for Best Swing/Bouncer/Rocker, 2021
Touchscreen display is smart, intuitive and easy to use
Pros

Cons

Ultra lightweight
Emulates swaying
Bluetooth enabled
Preloaded sounds and music
Touchscreen display
Collapses down

Slower than conventional swing
The cord is short
As light as a gallon of milk, the Munchkin Lightweight Baby Swing is simple to move around and collapse. Its side-to-side swaying mimics parents rocking motion, which is sure to offer them some comfort.
Your little one can listen to the swing's preloaded sounds and music or use the Bluetooth connection to play your own. A touchscreen display makes it easy to use when adjusting the range of motion and sound.
This swing's motion is a bit slower than conventional swings, so you'll want to consider how this might mesh with how your baby prefers to be comforted. Also, the cord is short, so you won't have much space to move it from side to side or away from the wall.
Manufacturer Recommended Age: 0-9 months | Maximum Weight Recommendation: 20 pounds
View on Amazon | View on Walmart.com | View on Target.com
Best in Technology: MamaRoo Multi-Motion Baby Swing
MamaRoo Multi-Motion Baby Swing
5 parent-inspired motions, 5 speeds, and 4 built-in sounds
Find Your Roo, exclusively on the 4moms app, takes the guesswork out of finding the right motion and speed combination for baby
Bluetooth functionality – stream your favorite music for baby, and easily adjust motion, speed, or sound with the 4moms app
Wi-Fi smart home integration – voice control with Amazon Alexa and Google Home (currently in Beta phase)
Pros

Cons

Five unique motions and speeds
Four sounds
App controls
Wi-Fi smart home integration
Convertible harness
Adjustable recline

Sounds come off staticy
Startling vibration on some motions
For all the tech parents out there, the MamaRoo Multi-Motion Baby Swing is a match made in heaven. You can adjust the speeds, sounds, and motions all with a simple touch on your app. Even better, connect your MamaRoo to your smart home devices and control it all with your voice!
This swing also has an adjustable recline which is helpful as your baby needs different levels of support depending on age. Similarly, the harness adjusts with growth, starting as a five-point harness and moving to three as they require less propping up.
Keep in mind that some of the motions produce a vibrating feel which can be startling if your baby is easily disturbed in their sleep. The sounds also come off staticy, more like white noise than clear, calming music.
Material: Polyester, Plastic | Manufacturer Recommended Age: 0-6 months | Maximum Weight Recommendation: 25 pounds
View on Amazon | View on Walmart.com | View on 4moms.com
Best in Motion: Ingenuity Anyway Sway Baby Swing
Sale
Ingenuity Anyway Sway Baby Swing
The Ingenuity AnyWay Sway Portable Swing rotates 180° & moves in 3 directions to keep baby comfy & in sight; Gender neutral print blends in with any décor & makes a great gift
2 modes of use: swing easily locks in place to become stationary seat; 2 reclining positions while in stationary mode; Soothing vibrations help calm baby in both seat & swing mode; Removable, pivoting toy bar with 1 fox plush toy helps entertain
GentleTouch control pad allows you to adjust music & volume without pressing buttons; Includes 19 melodies with nature sounds & white noise; Music auto shut-off after 20 minutes; WhisperQuiet technology keeps swinging sounds low; 30, 45, or 60-minute swing timer with auto shut-off after 2 hours
Compact SlimFold design folds flat for easy storage & travel; Assembled dimensions 26.38″H x 28.35″W x 36.61″D; Convenient easy-clean design includes machine washable seat pad & headrest; Toys & frame wipe clean; Use from birth to 9 months or up to 20 pounds
Pros

Cons

Rotates 180 degrees
Moves in three directions
Can be locked in place for seating
Swing timer with increments
19 different melodies
USB cord included

Can be squeaky
Buttons are tough to operate
With the Ingenuity Anyways Sway Baby Swing, there's a motion to suit every baby. The seat rotates 180 degrees so it can swing in 3 different directions. It also locks into place so you can use it as a stationary seat, reclining in two comfy positions. Additionally, it comes with a USB cord for plugging in.
The swing is also set with a timer that comes in increments of 30, 45, and 60-minute time frames. With an auto shut-off at two hours and auto shut-off for the 19 melodies and nature sounds at 20 minutes, you won't find it running when it's not in use.
Though the settings are great, the control pad can be tough to operate. Also, though the varying motions are nice, depending on which you choose, it can make a squeaking sound.
Material: Metal, Plastic | Manufacturer Recommended Age: 0-9 months | Maximum Weight Recommendation: 20 pounds
View on Amazon | View on Walmart.com | View on Target.com
Best in Adjustability: Graco Slim Spaces Baby Swing
Graco Slim Spaces Baby Swing
Compact baby swing designed to save space in the home, making it ideal for any room
Carry handle makes it easy to move from room to room
Height-adjustable legs to easily transition from compact to full-size swing
Easy, compact fold to store between uses or when extra space is needed in the home
Pros

Cons

Height-adjustable legs
Carry handle for easy movement
Easy, compact fold
Three-speed adjustability
Quiet movement

It goes through batteries quickly
Speed settings are off
Swings for small spaces are often made so compact that they're stuck in one size. The Graco Slim Spaces Baby Swing breaks the mold in that regard! With height-adjustable legs, you can go from a compact, short size to a full-size height in a flash. It also folds up for easy storage with a carrying handle to make moving effortless.
With three-speed adjustability, there's a setting for each of your baby's moods. Plus, you can count on your little one getting the rest they need as the swing's movements are quiet.
While the swing speed is adjustable, it does seem like there's really only a fast and slow speed, no in-between. It'll run through batteries fast, too, which can get costly over time. Rechargeable batteries could be a solution for this, though.
Material: Polyester | Manufacturer Recommended Age: 0-9 months | Maximum Weight Recommendation: 25 pounds
View on Amazon | View on Walmart.com | View on Target.com
Recommended Accessories
Sometimes sharing small spaces with a baby can be difficult, especially when it comes to finding a place for everything. Make the day-to-day even easier on yourself with these recommended accessories. While you don't have to have them, they're sure to come in handy if your little one uses their swing a lot!
Extra Insert: It never failed that I'd try to put my babies in their swing only to have them spit up or have their diaper blow out on the cover. Having an extra insert on-hand made things easy to swap out.
Hanging Toys: Get a little extra length out of your baby's time in the swing with some fun hanging toys. The visual stimulation is great for them, and they can be used in the car seat and crib as well!
Outlet Box Cover: When my second-born came home, my first was very intrigued by the swing. She'd sit by it when her brother was swinging and inevitably pull the cord out. An outlet box cover quickly fixed the problem.
Batteries or Cord: Whether your baby swing runs on a cord or batteries, it's a great idea to keep extras on hand, just in case!
Choosing the Best Baby Swing for Small Spaces
If you're struggling to pin down precisely what it is you should look for, consider the list below. Weigh which features are most important and prioritize those when making your baby swing purchase.
Size: Since your space is smaller, you'll want to avoid standard-size swings and opt for a compact baby swing.
Portability: If you plan to take your swing from place to place, look for a portable swing with lightweight and folding features that make it easy to transport.
Weight Limit: Identifying the baby swing weight limit is a critical element to consider both in terms of safety and length of use.
Safety Features: A harness is essential to keep your baby safe in their swing. Extra head support doesn't hurt, either!
Comfort Features: Certain comfort features like extra cushioning, music, vibration and the like may keep your baby happier longer in their swing.
FAQs
Are there any alternatives to a baby swing if I don't have enough space for one?
Even the best portable baby swing might not work for some spaces. If that's the case, there are still some alternatives that should calm your fussy baby and give you a safe place to put them down. Bouncers and rockers are solid alternatives, both with similar seating space, just with fewer features than you'd find on a baby swing.
How do I maintain and clean a baby swing in a small space?
Fortunately, the modern baby swing is far easier to clean than those of the past. Most baby swings come with removable covers that can be tossed in the wash and dried on low heat. You can also clean the plastic and metal parts with mild dish soap combined with warm water to break down any surface dirt, spit-up, and the like.
Are there any weight or age limitations to consider when choosing a baby swing for a small space?
You'll find that most baby swings with a standard build will have a higher weight limit than those that fit in smaller spaces like the ones above. In many ways, space-saver baby swings will feel more like an infant swing as their weight limit usually doesn't exceed about 20 pounds. Standard swings, on the other hand, will go up to 35 pounds.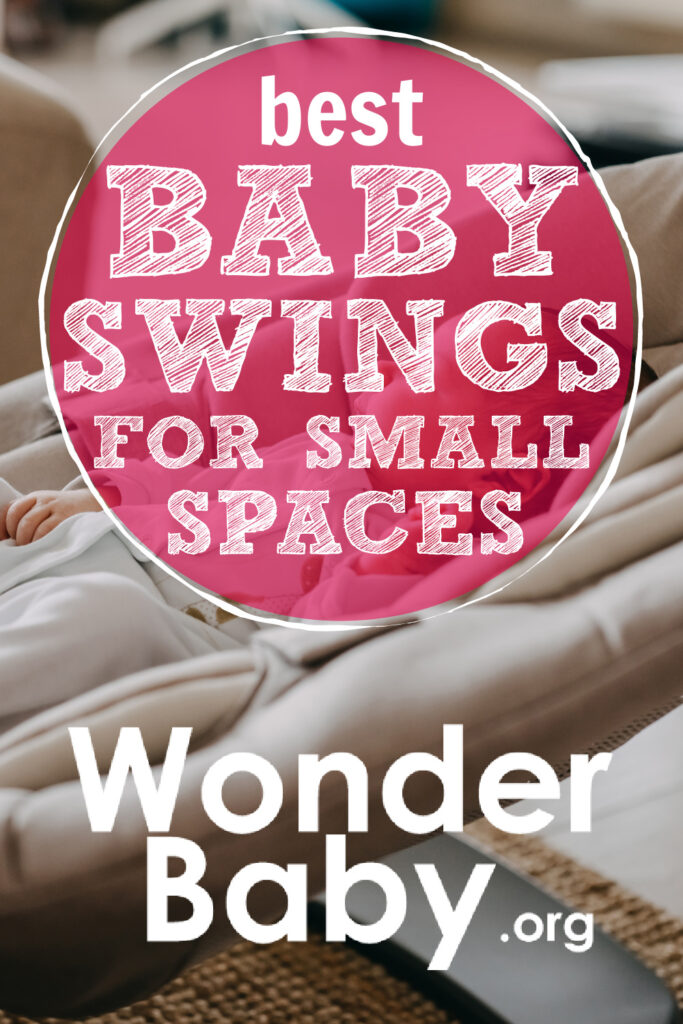 Related Posts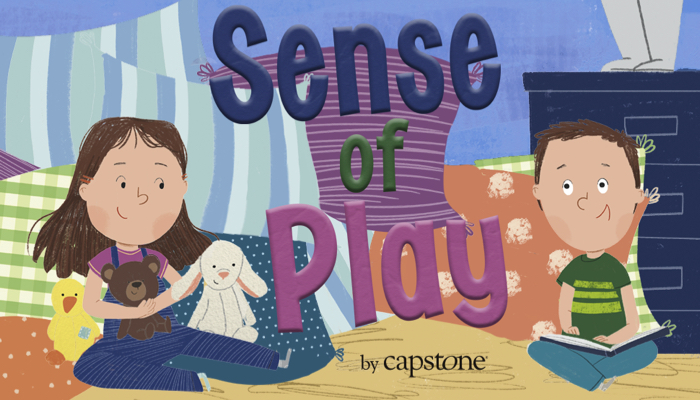 Braille and Literacy, Product Reviews, Visual Impairment
Dana Meachen Rau's book, Sense of Play, follows the adventures of Chip and Joy as they play. Chip is blind, but this doesn't get in the way of their play!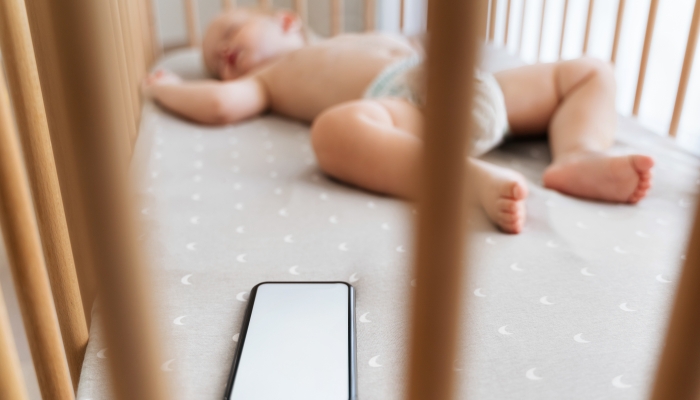 Product Reviews
Wondering whether white noise will help your little one sleep better? Here's our guide to the best baby sound machines to help your baby fall asleep soundly.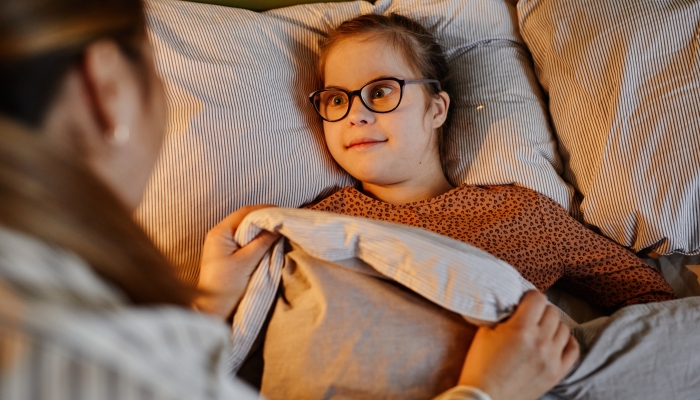 Product Reviews
Heard a lot about weighted blankets and lap pads and wondering how to choose one? Here's our guide to the ins and outs of finding the right weighted blanket.