10 Playroom Organization Ideas to Keep Playspaces Tidy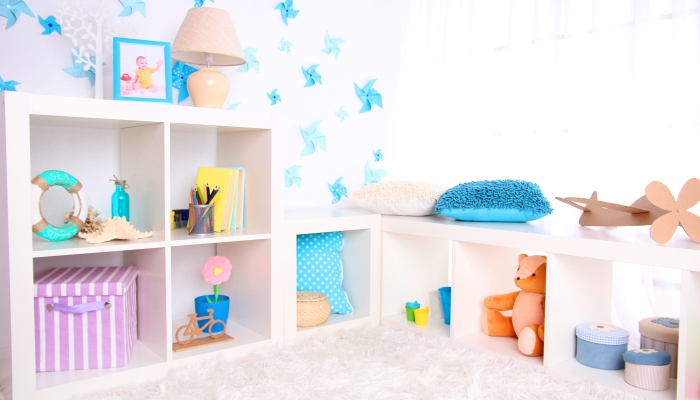 Good toy storage will reduce the time you spend tidying the playroom.
A well-organized playroom makes for better play.
It's possible to encourage your child's independence without letting them trash the playroom.
Your kids will be better at keeping the playroom tidy if everything has a place.
A playroom is a place where magic happens. It's where your kids get lost in imagination games, construct impressive dens and wreak havoc with their art supplies. The playroom is probably their favorite room in the house.
All their favorite toys live in the playroom, from board games and marble runs to fancy dresses and small-world toys. The tricky thing is keeping the playroom organized because it can quickly descend into chaos, especially if your kids play elaborate games featuring lots of props.
Luckily, some clever playroom organization ideas can help you to stay on top of the mess. For example, with creative playroom storage, you can keep the playroom tidy. Even better, with child-friendly storage, the kids can tidy up themselves.
What Makes a Good Playroom?
A good playroom is big enough to house your child's toys and has sufficient space for them to play. The playroom will need to grow with your child, which is worth considering when you first set up the room. If you have kids of multiple ages, you'll need to design a playroom that works for them all.
The best thing about a playroom is that it confines all toys (and associated messes) to one room. You won't have to trip over toys in the living room or worry about toy clutter in the rest of the house. With everything confined to one room, the rest of the house can remain (mostly) toy-free.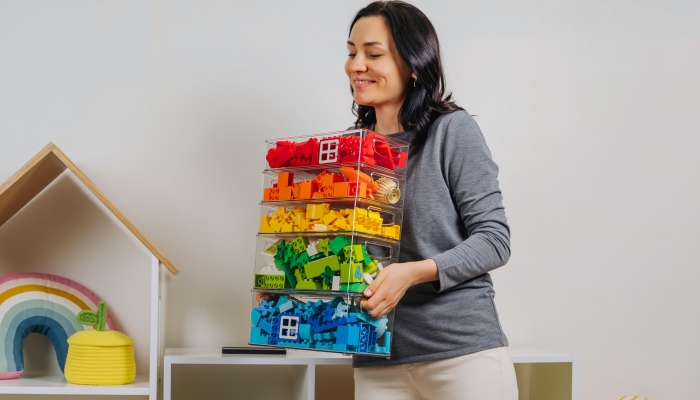 What Are the Necessary Things to Put in a Playroom?
What you include in a playroom will depend on your child, their toys, and how they like to spend their time. There are no hard and fast rules when it comes to playroom design. Instead, you must figure out how to best use the available space.
The most important thing to put in a playroom is playroom storage. Without decent toy storage, there will be toys all over the floor.
Some people choose to put a couch in the playroom, but this is a personal choice. If you have plenty of space, a sofa will be a comfy place to sit while you watch your kids play. If space is limited, however, you should focus on creating a space for play rather than your comfort.
Why Should You Keep Your Kids' Playroom Organized?
An organized playroom is nicer to spend time in, but there are plenty of other reasons to keep the playroom organized. For example:
A clean, spacious room is ideal for inviting imaginative play.
The more floor space available, the more physical games your child can play.
Toys left on the floor may get broken or lost in a mess.
If the playroom is messy, your kids will seek out tidy rooms to play in, thus spreading the mess.
Tidying is an important life skill, and it's best to start teaching it early.
What to Consider When Organizing a Playroom
There are lots of things to think about when designing a playroom, including:
Space
If space is limited, use it wisely. Don't choose huge toys that take up more floor space than you can spare. Instead, think carefully about how your child might use a toy before dedicating half the available floor space to it.
You might find it easier to have toys that can be packed up and stored away than huge toys that dominate the floor. There are usually plenty of options, so shop around before choosing new toys.
Storage Space
You'll need to get creative about where and how you store toys. Wall storage is ideal for cleverly using the wall space in a kids room. Wall shelves are great for storing toys out of reach but can also improve the decor. Why not display colorful toys on an open wall shelf?
Ease of Tidying
If you want your kids to take charge of the tidying, it should be as easy as possible. For example, stuffed animals can live in a big basket for soft toys. Likewise, fancy dress clothes are easier to put away in a box or basket rather than hanging on a rail.
Make tidying up as easy as possible to encourage your kids to do it themselves. Regarding playroom storage ideas, it's crucial to consider how easy the storage solution will be for your kids. Will they be able to tidy things away by themselves? If not, you may be creating more work for yourself.
Budget
You can easily spend a small fortune on playroom storage, but it's essential to stick to your budget. Don't overspend on the playroom. Your kids will love the room even if it's not Insta-worthy because all they want is a place to have fun.
Remember, you don't have to buy everything all at once. You can use old shoe boxes as temporary storage while you save to afford permanent storage and organization solutions.
How Do You Organize Kids Toys With Limited Space?
If space is limited, you'll need to organize toys creatively. First, you'll need storage solutions to house all the toys. Mess can happen quickly in a playroom, and this is especially true in a small playroom.
You can get clever with your toy organization if you have limited space. For example, floor-to-ceiling shelving is an innovative use of space that will house plenty of kid toy clutter. If space is at a premium, you want to opt for high storage that doesn't eat into the floor space your kids need to play.
10 Playroom Organization Ideas
1. Use Wall Storage to Keep Things Out of Reach
This may not align with the Montessori method, but it will help you stay sane. Using wall space for adult-height storage bins will save you a lot of tidying time. For toys with lots of small parts, it's easiest to keep them out of reach. This way, you can ensure they are tidied away correctly at the end of play.
Set a rule where only one box of these toys can be out at once; this will prevent things from getting muddled and lost. Teach your children to take care of their things and look after their toys by ensuring they are tidied away properly after each use.
2. Have Child-Height Storage, Too
If you keep everything out of reach, it won't be a very child-friendly playroom. Make sure some of the toy storage is within your child's reach. Have storage boxes or baskets with easy-to-tidy toys at your child's height. Make sure they can reach things like their cars, small world figures, and building blocks. If you're concerned about the mess, limit the number of toys in each box. You can rotate the toys as often as you like.
Your child will enjoy the independence of choosing toys and getting them out without help. Autonomy is an important part of growing up, so give your child plenty of opportunities to make decisions for themselves.
3. Have a Place for Everything
If you want your kids to tidy up after themselves, make it easy for them. Make sure it's easy peasy to keep the playroom organized. Having a place for everything makes tidying up much easier, especially for little kids.
Make sure you organize toys in a commonsense way that will be easy for your kids to remember. If you have too many toys without places, the room will end up chaotic.
4. Have Too Much Storage
Every Christmas and birthday, your kids get a bunch of new toys, and you must find somewhere to store them. It's always better to have too much storage rather than too little. Opt for versatile storage that will grow with your child. For example, toy storage bins can hold baby toys for a baby, building blocks for a toddler, and lego sets for an older child.
Remember, there's no such thing as too much storage in a kids playroom. You'll fill that extra storage in no time.
5. Pack Art Supplies Away
Giving your kids creative freedom is fantastic. Coloring in is a great calming activity, especially when your kids are bickering or feeling emotional. It's worth keeping some plain paper and pencil crayons within reach, but you should pack away the rest of the art supplies. If not, you'll regularly find glitter, glue, and scraps of paper all over the floor.
Keep messier art supplies out of reach, but get them out each week for some dedicated crafting time. Your kids will love making a mess and getting creative, and you can get everyone involved in the tidy-up operation at the end. Also, make sure the playroom features somewhere to display art projects so your kids can show off their creations.
6. Encourage Imaginative Play
Imaginative play is king, and it's always fun to hear your kids lost in a game of their own making. A play kitchen is a great way to encourage imaginative play. Your kids will love playing cafes or families with a toy kitchen.
Fancy dress costumes are another fantastic way to encourage imaginative play. Have a mix of costumes, so your kids can dress up and take on different characters. Think carefully about storage for dress-up clothes; otherwise, you will spend too much time tidying them away. Clothes hangers are not great for younger children, but they'll be able to tidy clothes into a storage basket.
A chalkboard encourages artistic creativity and can also set the scene for a classroom. When your child starts school, you might notice they spend their free time playing schools.
7. Label The Toy Storage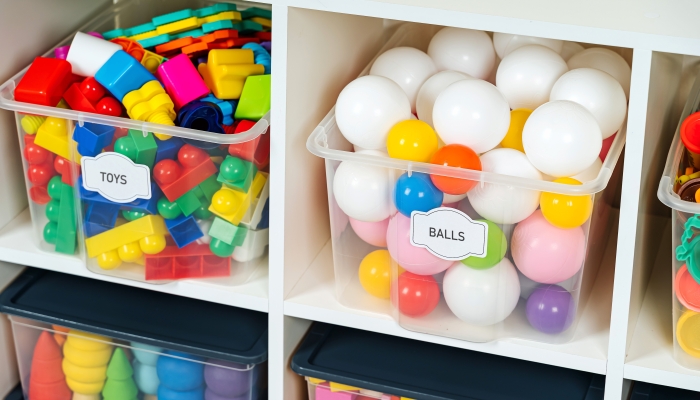 Though you will know where things go, your kids will forget. Labeling the toy storage will increase the chance of items being put away in the right place. For younger children who can't yet read, stick a photo of the toy to the box. Labeling the storage baskets will help to keep the room tidy, as long as you can convince the kids to tidy up after themselves.
8. Have Some Toys on Display
If every toy is neatly stored away, your child might forget what they have. So instead, choose a couple of toys to display each week. Display these toys at child height, so your kids can get them down and play with them whenever they want. You should change the toys every so often as an invitation to play.
9. Use Bench Storage
Bench storage is fantastic because it keeps toys hidden while providing somewhere comfortable to sit. This storage won't take up too much space and is great for toys you want to be kept out of sight. Under-seat storage is an excellent way of providing seating without losing too much floor space.
10. Have Some Kid-Friendly Bookshelves
As our child grows, so too will their book collection. Traditional bookshelves provide plenty of storage but are tricky for young kids to use. You'll likely end up with an unsightly pile of books half hanging off the shelves. For younger children, book display shelves are much better. Not only are these easier for kids to use, but they also make it easier to choose a book.
For a neater playroom, have some book display shelves that your child has easy access to. It's also important to have traditional book storage as overflow because your child will end up with hundreds of books.
Create a reading nook in the playroom and ensure sharing stories is a part of your daily routine. Researchers of a study published in Developmental Science found that early parent-child reading was associated with language skills development and reading comprehension.
FAQs
How do I keep my playroom tidy?
The key to a tidy question is regular tidying. Make it a part of your daily routine to do a quick tidy-up at the end of the day. While it can be tempting to close the door and forget about the mess in the playroom, it's much easier if you tackle it regularly.
With good storage, it won't take long to tidy things away at the end of the day. As well as this, encourage your children to tidy up each time they finish playing. Tidying is an important life skill, so help your child learn this skill early.
How do I get my kids to clean up the playroom?
If you want your kids to help clean up the playroom, you should:
Model tidying for them. Make a point of putting things away straight after you use them and generally tidying up after yourself.
Praise them each time you notice them tidy something away. Always comment on when they've done something without being asked.
Play a designated tidy-up song (my kids like to play It's A Hard Knock Life) or set a timer and see how much of the room you can get tidy before it finishes. Of course, this works best if everything has a place.
Be realistic. Young kids can't tidy away a whole room of toys, so accept you'll have to help. Keep toys to a minimum if that makes it more manageable for you as a family.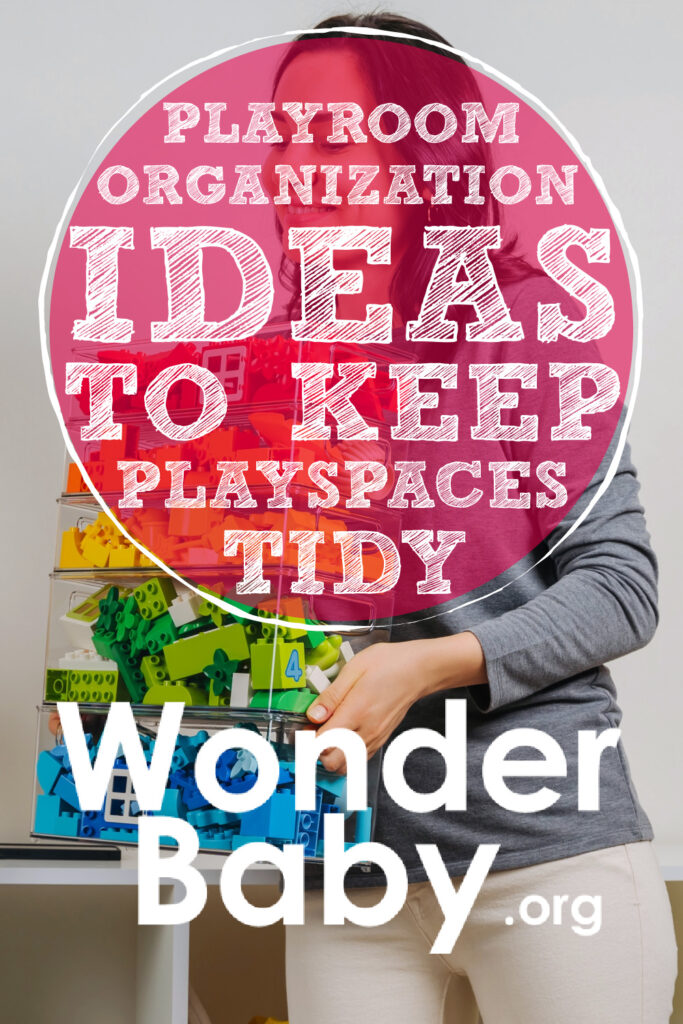 Related Posts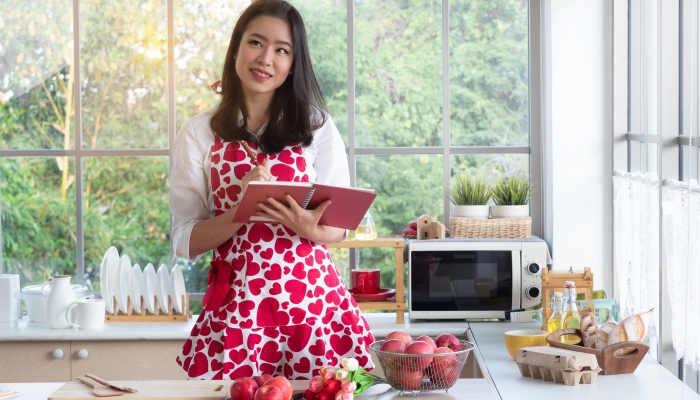 Parenting
Staying motivated as a stay-at-home mom isn't easy when you're responsible for so much. But these motivation boosters are sure to keep you going!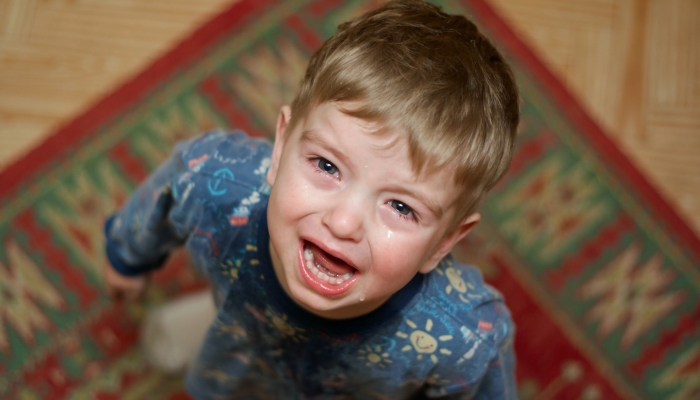 Parenting
Wondering if your child is having a tantrum or a meltdown? Read this article to know the difference between these emotional outbursts!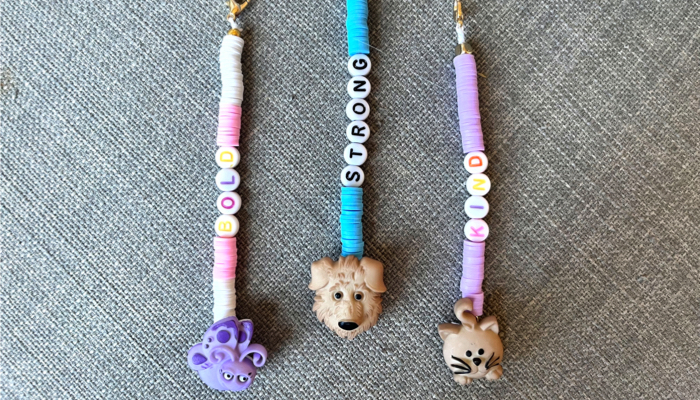 Parenting, Play, Tactile Art
These affirmation backpack buddy keychains are adorable and easy to make. Give your child a little encouragement with this simple craft as they head to school.